R.A. Thorburn, better known by his stage name R.A. the Rugged Man, is an American rapper. He began his music career at age 12, building a reputation locally for his lyrical skills. After a nine-label bidding war for his services, R.A. signed to major label Jive Records at age 18. Eventually R.A. and the label parted ways. His first album, Night of the Bloody Apes, was never released.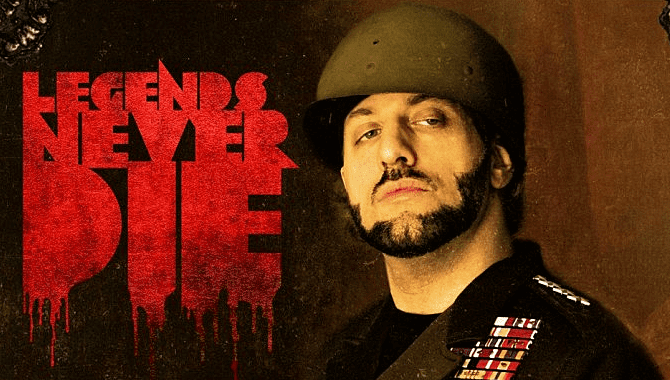 Since then, he has worked with the likes of Mobb Deep, Wu-Tang Clan, Kool G Rap, and Notorious B.I.G, as well as producers Erick Sermon, Trackmasters, DJ Quik, The Alchemist, J-Zone, and Ayatollah. He was featured on all three of Rawkus's Soundbombing albums, as well as the platinum-selling WWF Aggression album. After a brief stint on Capitol Records (during which he recorded another unreleased album, American Lowlife), R.A. signed with independent label Nature Sounds and released his official debut, Die, Rugged Man, Die. In 2013, R.A. released his second album, Legends Never Die. The album was released on April 30, 2013 by Nature Sounds.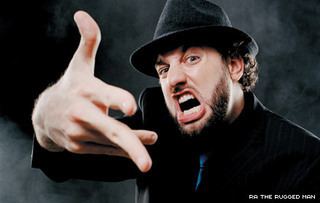 In addition to his hip hop career, Thorburn has been active as boxing commentator and film critic. He has contributed to Vibe, King, Complex, Rides, XXL,The Source, The Ring, among others. He wrote and produced the cult film Bad Biology, and also hosts the web series "Film School" on MTV's Film.com.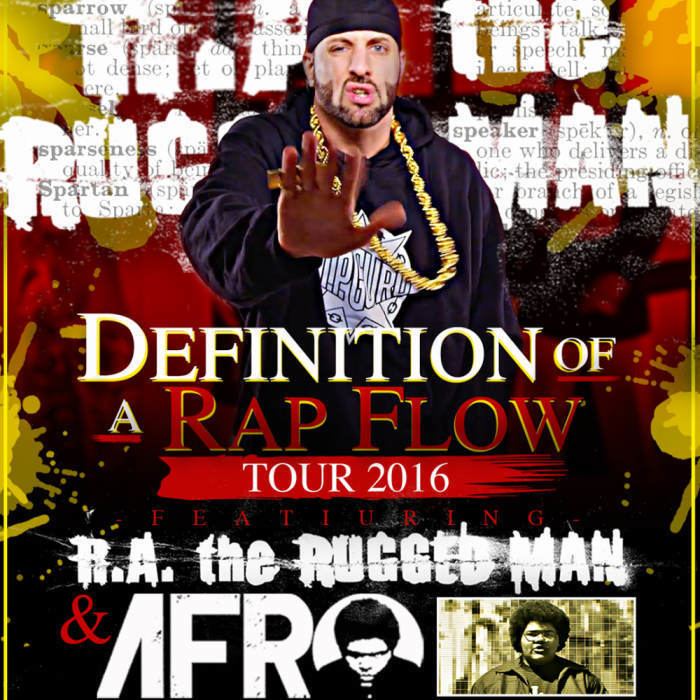 In 1992, Thorburn signed with Jive Records, then in the mid-1990s signed with Priority Records/EMI. His contract was later absorbed by Capitol Records but he began recording independently in the early 2000s. He has worked with MC's such as The Notorious B.I.G., Mobb Deep, Chuck D of Public Enemy, Jedi Mind Tricks, Tech N9ne, Hopsin, Talib Kweli, Masta Ace, Kool G Rap, Wu-Tang Clan, Rakim, Killah Priest, and producers Trackmasters, Erick Sermon, DJ Quik, Buckwild, The Alchemist, and Ayatollah. He was featured on all three of Rawkus's Soundbombing albums, as well as the platinum-selling WWF Aggression album, performing the theme song for Chris Jericho. In Ego Trip Vol. 1, Issue 3, the Notorious B.I.G. was quoted as saying, "I thought I was the illest," when referring to Thorburn He is closely associated to the Wu-Tang Clan and its various associates.
In 2004 he released his first album Die, Rugged Man, Die on the Brooklyn-based label Nature Sounds. Thorburn has cameos in several music videos including Havoc from Mobb Deep's I'm the Boss, Sadat X's Throw the Ball and Old Man featuring Wu-Tang Clan's RZA, Masta Killa and Ol' Dirty Bastard in one of ODB's final video appearances.
The October 2006 issue of The Source featured Thorburn's verse on Uncommon Valor: A Vietnam Story as its "Hip-Hop Quotable" of the month and HipHopDX named it as the "Verse of the Year" AllHipHop.com states that "This record will be remembered most for R.A.'s robotic flow recounting his own father's story of war while absolutely murdering the beat." Rolling Stone Magazine recently compared Thorburn's rap flow to that of a blue-eyed Biggie Smalls. When reviewing his song "On the Block", Vibe Magazine said, "I love this song. It give me goosebumps. It's very inventive."
In addition to his hip hop career, Thorburn wrote a monthly movie column for Mass Appeal Magazine, was a contributor to The Ego Trip Book of Rap Lists (St. Martin's Press) and Ego Trip's Big Book of Racism (HarperCollins), and has written numerous articles for other magazines including Vibe, King, Complex, Rides, XXL and The Source.
A horror film fan, Thorburn has written three screenplays with cult film director Frank Henenlotter and is writer-producer of the Henenlotter film Bad Biology. The film has an original score by Josh Glazer (J. Glaze) with additional production by Prince Paul, and cameos by Playboy model Jelena Jensen and Penthouse Pet Krista Ayne. Thorburn is working on his directorial debut, a film based on his family, God Take, God Give.
Thorburn's second studio album Legends Never Die was released on April 30, 2013. Guest appearances include Brother Ali, Masta Ace, Tech N9ne, Talib Kweli, Hopsin, Eamon (singer) and Krizz Kaliko. His first single of the album was 'The Peoples Champ'. The second single was "Learn Truth' Feat. Talib Kweli. Upon release the album debuted at number 1 on the US Billboard Heatseekers Albums chart, number 17 on the Billboard Top R&B/Hip-Hop Albums chart, and at number 131 on the Billboard 200, with first-week sales of 4,000 copies in the United States and ended up selling over 40,000 units worldwide to date.
The initial "R" stand for Richard, in honor of his uncle Richard W. Jurgensen, who served in Vietnam alongside his father, then returned to marry his father's sister.
Thorburn's father, Staff Sgt. John A. Thorburn, was a Vietnam veteran affected by Agent Orange. Thorburn's family was significantly affected by the potent chemical. His brother Maxx was born handicapped and blind, eventually dying at the age of 10. Thorburn's sister, Dee Ann, was born without the ability to walk or speak. She died in 2007 at the age of 26. Thorburn tells his father's story in "Uncommon Valor: A Vietnam Story," from the Jedi Mind Tricks album Servants in Heaven, Kings in Hell (which was also re-released on the compilation Legendary Classics vol. 1). John A. Thorburn died 7 January 2010 from cancer. Thorburn said that his father was truly happy within his last year of life, due to his mindset that he could plan for his death. Thorburn is of German, Scottish and Sicilian descent.
Studio albums
2004: Die, Rugged Man, Die
2013: Legends Never Die
Compilation albums
2009: Legendary Classics Vol 1
Unreleased albums
1994: Night of the Bloody Apes
1999: American Lowlife
EP's
1998: Poor People
Mixtapes
2007 Ruff Rugged & Raw
2010 Crazy Man (The Best, The Forgotten & The Worst)
2011 Murderous Verses