Preceded by

Lynne Abraham




Name

R. Williams




Nationality

American




Role

Attorney





Political party

Democratic




Party

Democratic Party




Occupation

Lawyer




Ex-spouse

Sonita Williams







Residence

Philadelphia, Pennsylvania, U.S.




Alma mater

Georgetown University Law Center Pennsylvania State University




Service/branch

United States Army Reserve




Education

Georgetown University, Georgetown University Law Center, Pennsylvania State University
Philly DA Seth Williams Will Not Seek Re-Election
Rufus Seth Williams (born January 2, 1967) is a former district attorney of the city of Philadelphia. He began his term January 4, 2010. He formerly served as an assistant district attorney. Williams is the first African-American district attorney in Philadelphia and in the Commonwealth of Pennsylvania. On March 21, 2017, Williams was indicted on 23 counts of bribery, extortion, and fraud. His trial began June 19, 2017. He resigned and pleaded guilty to one charge on June 29, 2017.
Contents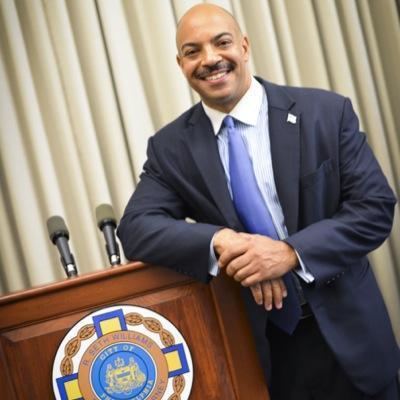 Early life
Williams was put up for adoption after his birth. After placement in two foster homes, he was adopted and grew up in West Philadelphia, the only child of Rufus O. Williams, a teacher at Sulzberger Middle School, and his wife, Imelda, a secretary at the Philadelphia Naval Ship Yard.
He attended Friends' Central School, Central High School and Penn State, where he served as President of the Penn State Student Black Caucus, the Undergraduate Student Government, and was member of the Alpha Phi Alpha fraternity. As a student activist, he led a 102-mile march to the state capital at Harrisburg to get Penn State to divest from South Africa. He was a parishioner of St. Carthage Roman Catholic Church (now known as St. Cyprian's), and was altar boy of the year at age 14 in 1981. He graduated from Georgetown University Law in 1992 with distinction as a Public Interest Law Scholar.
Early career
After graduating from Georgetown, Williams joined the district attorney's office. He served 10 years as an assistant district attorney. In that time, he was appointed assistant chief of the Municipal Court, where he supervised the 30 newest prosecutors. He also created and led the Repeat Offenders Unit with the goal of reducing the high percentage of crimes committed by repeat offenders. His courtroom experience includes 37 jury trials, more than 1,500 bench trials and more than 2,500 felony preliminary hearings.
In 2005, he challenged Lynne Abraham, Philadelphia's longtime incumbent district attorney, in the Democratic primary, but lost with 46% of the vote. Following the election, he was appointed Inspector General of the City of Philadelphia, where he was responsible for investigating allegations of corruption, fraud, waste, abuse and employee misconduct among municipal workers and companies doing business with the city. He left in 2008 to take a position as counsel at Stradley, Ronon, Stevens & Young, a Center City law firm.
District Attorney
On November 3, 2009, Williams was elected District Attorney of Philadelphia. Winning more than 75% of the vote, he became the first African American district attorney of Philadelphia and in the entire Commonwealth of Pennsylvania. He was sworn in January 4, 2010, succeeding Abraham.
In January 2011, Williams' office brought multiple charges through a grand jury against Philadelphia abortionist Kermit Gosnell primarily for killing infants after birth. In 2013, Gosnell was convicted of killing three infants who were born alive during abortion procedures and is now serving a life sentence.
In 2011, Williams initiated the prosecution of what became known as the "Billy Doe" case - the prosecution of three priests and a schoolteacher for sexual abuse of an altar boy and student (pseudonym Billy Doe), whose account of the alleged abuse changed so as to call into doubt the veracity of the charges that Williams had brought. According to a Newsweek article by Ralph Cipriano, Williams "has not explained any of the factual discrepancies in Billy's many stories, and why the D.A. would proceed with what Williams described as a 'historic' prosecution of the church with a star witness so lacking in credibility." The Catholic League claimed that the four men had been "railroaded by an ambitious D.A."
In 2015, Williams came under fire for not firing prosecutors who were involved in sharing pornographic, misogynistic, and racially charged emails on Pennsylvania government computers. The scandal, labeled "Porngate" by the state media, forced Pennsylvania Supreme Court Justice Seamus McCaffery to resign. It also forced the suspension of Supreme Court Justice J. Michael Eakin. After considerable backlash, Williams reassigned the prosecutors, but did not fire them.
On February 10, 2017, Williams announced he would not seek re-election of a third term in office due to several political scandals, including failing to disclose $160,500 worth of gifts between 2010 and 2015 as well as an FBI/IRS investigation into his finances. On March 21, he was indicted on 23 Federal corruption counts.
Downfall
Williams' hiring of the controversial "Porngate" prosecutors, E. Marc Costanzo, Patrick Blessington, and Frank Fina, proved problematic. Fina was permitted by Williams to voluntarily resign in 2016 in order to fulfill a pre-determined plan to start his own private law practice at age 50, but Williams refused to terminate the employments of Costanzo and Blessington despite the urging of many members of City Council.
On March 21, 2017, the US Department of Justice announced that they had indicted Williams on "bribery and extortion charges".
Williams is accused of accepting bribes, totaling more than $175,000 in undisclosed "gifts," for which he had already been fined $62,000 by the Philadelphia Board of Ethics. Williams is also accused of having misappropriated more than $20,000 in Social Security and pension income that was intended to pay for his mother's nursing home expenses and using those funds to pay his personal mortgage and utility bills.
On June 29, 2017, Williams pleaded guilty to one count of bribery contrary to Pennsylvania law. It is punishable up to 5 years in prison with the maximum potential fine of $250,000. The plea agreement was announced during the eighth day of his trial where federal prosecutors outlined their 29-count corruption case against Williams. U.S. District Judge Paul Diamond announced to the court that though the plea agreement convicted Williams of one of the 29 charges he faced, Williams had to admit to the underlining facts of the other 28 charges, including extortion, fraud and bribery. Diamond revoked Williams' bail and remanded him to a federal jail in Philadelphia, where he will await his sentencing hearing on October 24, 2017.
Other
In 2010, Williams was awarded an Eisenhower Fellowship.
He has also been selected for the Aspen Institute-Rodel Fellowship Program for Public Leadership. This program is only open to 24 U.S. political leaders - 12 Democrats and 12 Republicans – deemed as "rising stars" in their communities. The two year fellowship is designed to briefly break down partisan barriers and provide officeholders with an opportunity to step back from their daily responsibilities to consider broader questions of good governance.
In October 2011, he received an Alumni Fellow Award from Pennsylvania State University.
Williams is an adjunct professor at Temple and Villanova Universities, as well as an advisory board member at Penn State Abington. He is a major in the Judge Advocate General's Corps, United States Army.
Personal life
Williams resides in Philadelphia with his three daughters. He is a Roman Catholic who regularly attends Mass at St. Cyprian Parish, where he was an altar boy while growing up.
References
R. Seth Williams Wikipedia
(Text) CC BY-SA