Nationality

American




Name

R. Peebles




Children

R. Donahue Peebles III




Website

Official website




Education

Rutgers University




Employer

The Peebles Corp




Spouse

Katrina Peebles (m. 1994)




Occupation

Entrepreneur




Role

Author







Full Name

Roy Donahue Peebles




Born

March 2, 1960 (age 55) (

1960-03-02

)

Washington D.C.




Known for

Real Estate Development, Politics, and member of Phi Beta Sigma Fraternity, Inc.




Title

Founder, Chairman and CEO




Parents

Roy Donahue Peebles Sr., Ruth Yvonne Willoughby
R donahue peebles featured on fox news for black history month february 2013
Roy Donahue "Don" Peebles (born March 2, 1960) is a real estate entrepreneur, author and political activist. Peebles is the Founder, Chairman and Chief Executive Officer of the Peebles Corporation, the largest African American-owned real estate development and ownership company in the US, with a multibillion-dollar development portfolio of luxury hotels, high-rise residential and commercial properties in New York City, Washington, D.C., Philadelphia, Las Vegas, San Francisco, Miami Beach, has a real estate presence in Boston, Massachusetts and Charlotte, North Carolina. In April 2015, Black Enterprise named Peebles as one of the "The Business Trailblazers and Titans of Black America: 40 most powerful African Americans in business".
Contents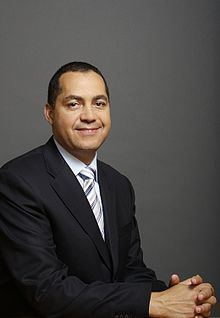 Peebles and his firm have been featured by The New York Times, The Washington Post, The Wall Street Journal, Forbes, Black Enterprise, Ebony, The Miami Herald, CNBC and ABC, and he appears regularly as a guest host or commentator on CNBC, CNN and Fox to advise on real estate, economic and political issues. In May 2009, Forbes listed Peebles in the top ten of the wealthiest black Americans, and in January 2015 it estimated his net worth to be over $700 million.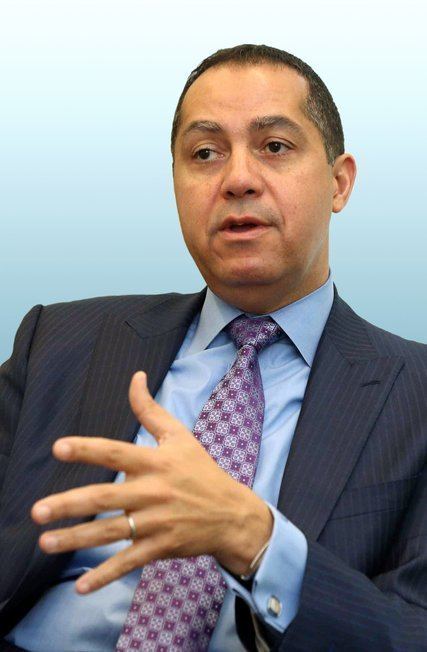 R donahue peebles on larry king discussing obama s foreclosure plan
Background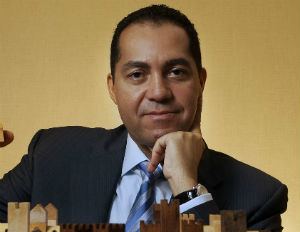 Peebles was born in Washington, D.C. to Ruth Yvonne Willoughby and Roy Donahue Peebles Sr. His grandfather was a doorman at the Marriott Wardman Park hotel in Washington D.C. Peebles has said that assisting his father as car mechanic while still a child contributed to his strong work ethic. At the age of eight, Peebles moved to Detroit, where he spent five years until returning to Washington D.C. and completed high school while serving as a Congressional Page.
Career
In 1979, after completing his freshman year as a premed student at Rutgers University —he did not complete his degree— Peebles became a real estate sales agent and appraiser in Washington, D.C. On January 9, 1983, at the age of 23, he established RDP Corporation, a residential and commercial real estate appraisal firm. Later that year, he was appointed to Washington's Board of Equalization and Review, the real estate tax appeals board currently known as the Board of Real Property Assessments and Appeals. One year later, when Peebles was 24, Washington's Mayor Marion Barry appointed him Chairperson of the Board where he served until 1988.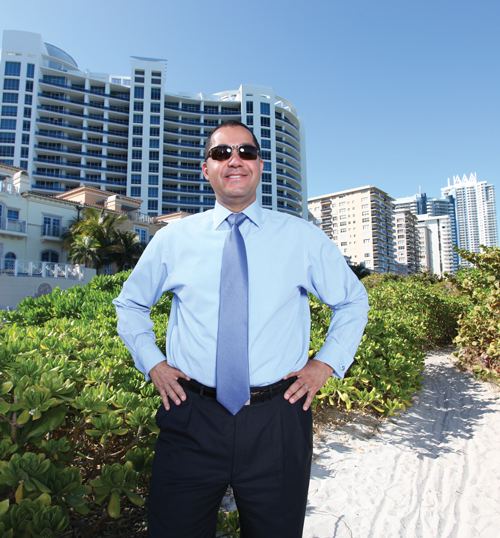 In 1986, Peebles acquired the rights for his first real estate development: a 100,000-square-foot (9,300 m2) Class-A office building at 2100 Martin Luther King Ave. SE. The building was the first new major commercial building built in the Anacostia section of Washington, D.C. in decades. Peebles was 27 when the project broke ground.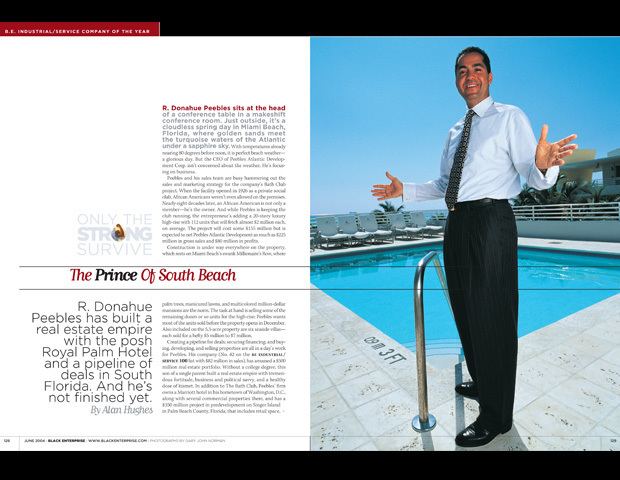 In 1990, Peebles founded RDP Assessment Appeals Services, a Washington-based commercial tax assessment appeals firm. Peebles continued to acquire commercial buildings and development sites in Washington, D.C. throughout the 1990s, including 10 G Street NE, and the Convention Center Courtyard by Marriott.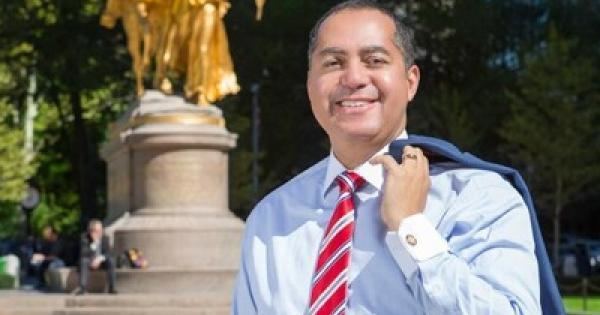 In 1995, while on vacation with his family in Miami Beach, Peebles learned of the city's plans to solicit bids for the redevelopment of the 1930s Royal Palm hotel. Peebles won the project, developing it into a 420-room and suite ocean-front resort consisting of three towers, in the heart of Miami Beach overlooking the Atlantic Ocean. A few years later, he relocated his corporate headquarters to Miami. Other Miami projects include The Residences at The Bath Club, a luxury residential tower, and The Lincoln, a mixed-use development featuring Class A office space in South Beach.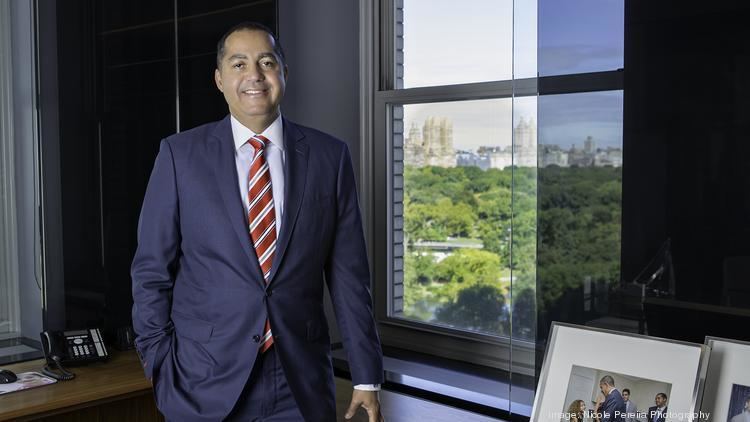 In November 2010, D.C. Attorney General Peter Nickles sued Peebles' company for alleged overbilling; Peebles says the charges are politically motivated. The suit was settled in November 2012 by Nickles' successor, D.C. Attorney General Irvin Nathan. The court dismissed the over-billing claims, and the remaining claim was settled.
Peebles had been a member of the Real Estate Board of New York's Board of Governors, the former Chairman of the Greater Miami Convention and Visitors Bureau, an invitee to then-President-elect Clinton's 1992 Economic Summit in Arkansas, and in 2013 was named to Miami-Dade County Mayor Carlos A. Gimenez's Mayoral Business Roundtable.
Peebles had developed properties in Miami; Miami Beach; Washington, D.C.; New York City and in Boston.
His present development projects include: 108 Leonard Street (a.k.a. 346 Broadway), a luxury hotel and condominiums in Manhattan's landmarked "Clocktower Building;" 1801 Vine Street, a luxury boutique hotel in Philadelphia's historic Family Court Building; and 5th & I, a luxury hotel and condominiums in Washington, D.C.'s Mount Vernon Triangle; a mixed use development called Viola in Boston's Back Bay, and a 17-acre development in Mecklenburg County, North Carolina, called Brooklyn Village.
Developments
The Peebles Corporation is known for its transformative residential, commercial and mixed-use developments in major American gateway cities. Peebles stated in a Forbes article, "Our number one focus is that our buildings are vehicles or symbols of opportunity. Our goal is to develop projects that transform communities."
Select signature developments include 2100 Martin Luther King, Jr. in Washington, D.C., which has been credited with contributing to the area's economic revitalization; the Courtyard by Marriott Hotel and Convention Center in D.C., a top-performer among Courtyard Hotels; The Royal Palm Hotel, one of the first nationally branded hotels on South Beach; and luxury condominium, The Residences at The Bath Club, in conjunction with his restoration of the historic Bath Club, the oldest social club in the southeast United States.
In 2013, Peebles acquired 346 Broadway for $160 million in what was the largest single-building sale in New York City government history. Development plans for the Renaissance Revival landmark and former New York Life Insurance Building include luxury condominiums.
In 2014, Peebles was selected to redevelop Fifth and Eye, a parcel in Washington, D.C.'s burgeoning Mount Vernon Triangle neighborhood, into a nearly 250,000-square-foot project to include a boutique hotel, branded residences and more. As part of Peebles' transformative plan, the company will develop workforce housing in an under-developed area east of the Anacostia River, as well as two parks into family-friendly recreation areas.
In 2015, the Massachusetts Bay Transportation Authority and Massachusetts Department of Transportation chose Peebles for the development of a critical intersection in Boston's historic Back Bay neighborhood. Plans for the proposed $330 million, 390,000-square-foot project – Peebles' first in Boston – include a hotel, condominiums, rental apartments, retail, and a Hynes MBTA station.
In addition, Peebles is currently developing 1801 Vine Street, the historic neo-classical former courthouse on Philadelphia's Logan Circle into a boutique hotel, which will be the first major hotel in Center City to be developed by a minority-owned firm. Miami and Miami Beach projects include a 900,000-square-foot mixed-use project in Downtown Miami and The Bath Club Estates, a super-luxury condo development consisting of just 13 custom residences on the Atlantic Ocean.
In 2016, Charlotte's Mecklenburg County selected Peebles for the development of Brooklyn Village, a development site consisting of 16 acres located in the heart of the historic neighborhood within Uptown Charlotte, NC. The proposed $700 million project will be transformed into a 2.3 million square foot transit-friendly urban village, and will be constructed over multiple phases. The development will include hotel, office, residential, and retail components.
Awards
In 2004, Peebles was elected as chairman of the Greater Miami Convention and Visitors Bureau and has been recognized by various organizations for his leadership and innovation. Also in 2004, the Peebles Corporation was recognized by Black Enterprise as "Company of the Year."
He has received numerous awards over the last 25 years for his entrepreneurial leadership, community service efforts and development abilities. Peebles' most recent awards include Entrepreneur of the Year presented by Rev. Jesse Jackson at the 11th annual Wall Street Project Economic Summit; Corporate Citizen Award from One Hundred Black Men of New York; the NV Award for Entrepreneurship; the Hennessy Privilege Award for extraordinary community contributions; induction to the Martin Luther King International Board of Renaissance Leaders Hall of Fame at Morehouse College in Atlanta; the Reginald F. Lewis Award for Entrepreneurship; and Corporate Honoree at Amsterdam News' 100th Anniversary Gala alongside Secretary of State Hillary Clinton, Congressman Charles Rangel and Robert F. Kennedy, Jr.
Peebles has also been awarded honorary doctorate degrees from Johnson & Wales University and Sojourner-Douglass College.
He was named "Trailblazer of the Year" by the Metropolitan Black Bar Association in 2016
In 2017, the New York City Mission Society honored Peebles with its "Champions for Children" award.
Politics
Peebles is a lifelong Democrat but has demonstrated his independence by challenging Democratic leaders on key issues such as taxes and access to equal economic opportunities for minorities and women. At the age of 14, he volunteered for Council of the District of Columbia Chair Sterling Tucker's campaign during the summer of 1974. From 1976 to 1978, Peebles attended the United States Capitol Page School at the Library of Congress. He served as a page, a legislative intern in the offices of Representative Ronald V. Dellums (D-Calif) and Representative Charles Rangel (D-NY), and served as a staff aide to Representative John Conyers, Jr. (D-Mich).
Peebles and his wife have supported various congressional, mayoral, gubernatorial, and presidential candidates over the years. In the early 1990s, Washington Business Journal wrote an article citing Peebles as one of the "top fundraisers" in the city. In 1992, he hosted Presidential hopeful and Arkansas Governor Bill Clinton in his home for a fundraiser. Peebles served as a member of President Barack Obama's National Finance Committee for the 2012 reelection campaign, where he established himself as one of the campaign's leading fundraisers in the nation. Peebles hosted President Obama at the home he owned in Washington D.C. for a campaign fundraiser on August 8, 2011.
In 2010, he considered running to become mayor of Washington, but he decided against a run due to his mother-in-law's illness. Peebles' mother-in-law died later that year.
In 2013, Peebles was elected Vice Chairman of the Board of Directors of the Congressional Black Caucus Foundation. In February 2016, he was elevated to Chairperson of the CBCF's Board of Directors. a role he held until February 2017.
Peebles' involvement in New York City beyond his business concerns has raised speculation that he may be a potential candidate for the Mayor of New York in the 2017 election cycle for the term beginning January 2018.
Writing
The Peebles Principles: Tales and Tactics from an Entrepreneur's Life of Winning Deals, Succeeding in Business, and Creating a Fortune from Scratch. R. Donahue Peebles with J. P. Faber. John Wiley and Sons (2007). ISBN 0-470-09930-5.
The Peebles Path to Real Estate Wealth: How to Make Money in Any Market. R. Donahue Peebles with J. P. Faber. John Wiley and Sons (2008). ISBN 0-470-37280-X.
Personal life
Peebles moved to Miami, Florida in 1998 then Coral Gables in 2001, owns a home in Bridgehampton, and lives in New York City with his wife Katrina, whom he married in 1994, is a former PR executive and model that serves on the Board of Directors of the Peebles Corporation.
His son Donahue is a Columbia University graduate and is currently working as the Senior Associate of Development at The Peebles Corporation, where he is leading the company's Washington, D.C. development efforts, His daughter is a top equestrian competitor.
References
R. Donahue Peebles Wikipedia
(Text) CC BY-SA