Covid-19
Musician




R. Nakai




www.rcarlosnakai.com





1982–present




Native American music





April 16, 1946 (age 69) (

1946-04-16

)


Flagstaff, Arizona, United States




University of Arizona, Northern Arizona University




Canyon Trilogy, Ancestral Voices, Winds of Devotion, Mythic Dreamer, Inside Canyon de Chelly




Native American flute



Raymond Carlos Nakai (born April 16, 1946) is a Native American flautist of Navajo/Ute heritage.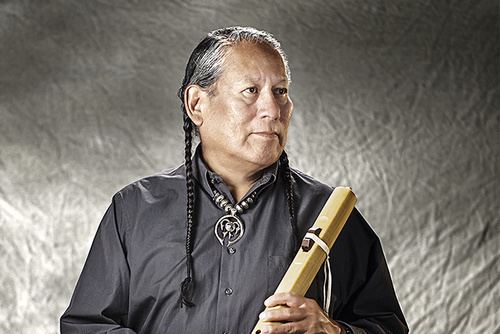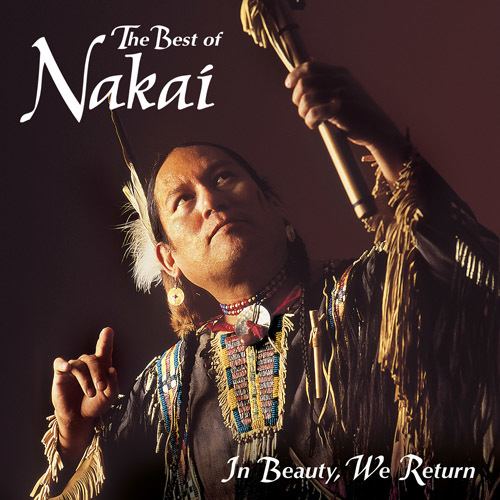 Ray Carlos Nakai was born in Flagstaff, Arizona on April 16, 1946 and now resides in Tucson, Arizona. He began his musical career as a freshman at Northern Arizona University studying brass instruments and playing in the NAU marching band. In his second year, he enlisted in the US Navy with the hope of eventually playing in the Armed Forces Band. He passed the highly competitive auditions for the Armed Forces School of Music and was 28th on the waiting list for admission. Playing with the Armed Forces Band became impossible, however, because an auto accident damaged his mouth, making it impossible to produce the correct embouchure to continue playing brass instruments. Shortly after this accident, he was presented with a gift of a traditional Native American cedar flute and challenged to master it.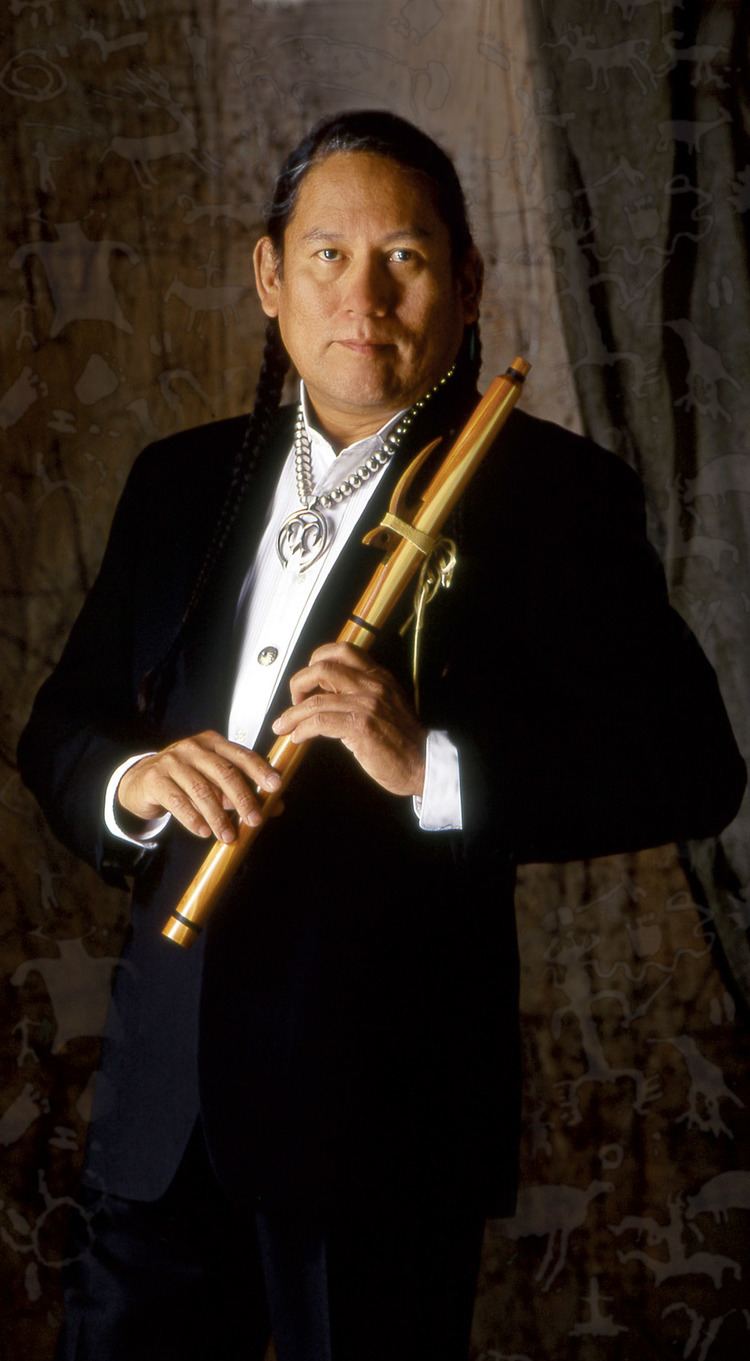 Nakai has said that most of his inspiration comes from the expressions of native communities and his desire to preserve his own Native American heritage. In addition, he likes to blend his native music with that of other cultures, thereby helping to preserve their heritage as well. To that end, he has collaborated with a Japanese folk ensemble, the Philadelphia Orchestra's Israeli cellist Udi Bar-David, guitarist William Eaton, American composer Philip Glass, Tibetan flutist Nawang Khechog and flutist Paul Horn. A 2005 collaboration with slack key guitar master Keola Beamer fused two very different indigenous American cultural forms and resulted in the album Our Beloved Land. He has expressed his philosophy and views of Native American culture in the modern world in an interview with Native Digest.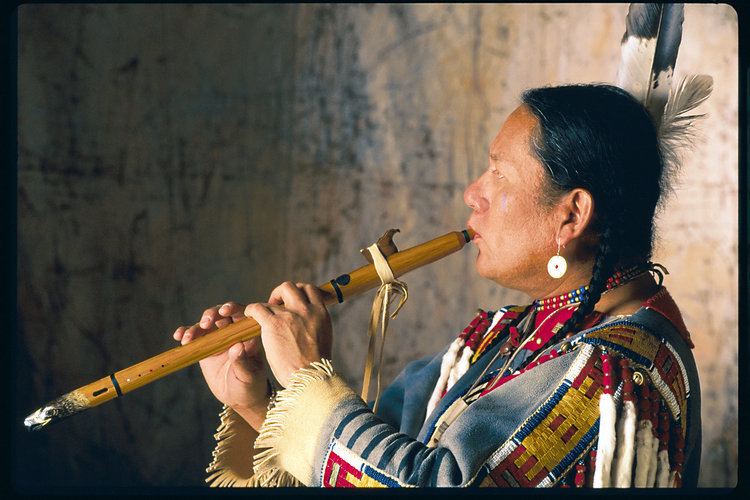 The Library of Congress has more than 30 of his recordings preserved in the American Folklife Center.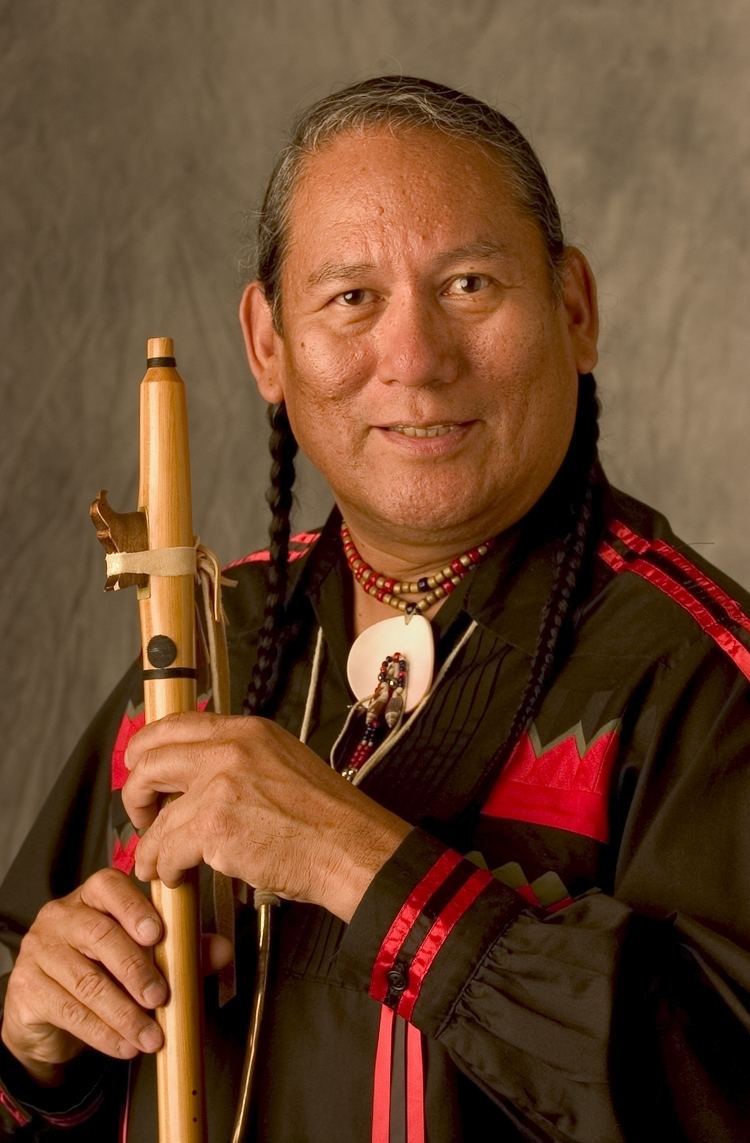 His Earth Spirit and Canyon Trilogy albums are the only Native American albums to be certified gold and platinum, respectively, by the RIAA.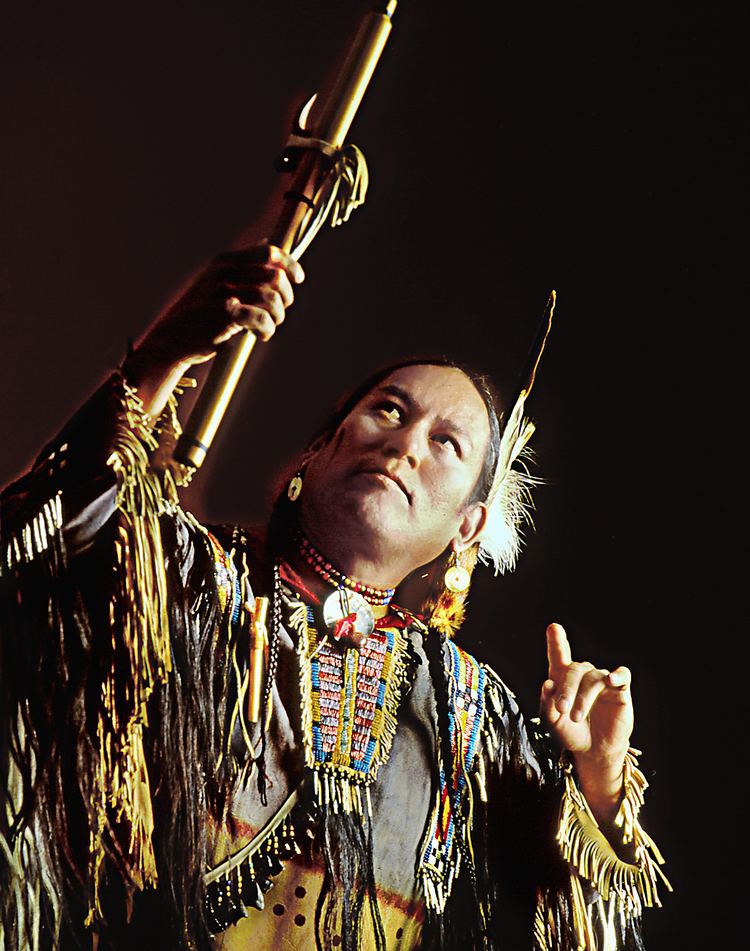 Nakai developed a system of tablature notation (commonly known as Nakai tablature) that could be used across a wide variety of flute keys and tunings. He published this in The Art of the Native American Flute (1996) with James Demars, Ken Light and David P. McAllester. This provided resources and support for other musicians playing the Native American flute.
In 2005, he was inducted into the Arizona Music & Entertainment Hall of Fame. He was awarded the Arizona Governor's Arts Award in 1992. He received an honorary doctorate from Northern Arizona University in 1994 and the NAUAA Dwight Patterson (1934) Alumnus of the Year Award in 2001. Nakai earned a master's degree in American Indian studies from the University of Arizona.
Songkeepers (1999, 48 min.). Directed by Bob Hercules and Bob Jackson. Produced by Dan King. Lake Forest, Illinois: America's Flute Productions. Five distinguished traditional flute artists – Tom Mauchahty-Ware, Sonny Nevaquaya, R. Carlos Nakai, Hawk Littlejohn, Kevin Locke – talk about their instrument and their songs and the role of the flute and its music in their tribes.
The New World (2005, 135 min.). Directed by Terrence Malick. Produced by Sarah Green and Terrence Malick. Performed "Water Bearer", "Ancient Voices", "Ritual 1" and "Spiral Journey". Courtesy of Celestial Harmonies/Mayflower Music Corporation.
Changes (1983, Canyon Records)
Cycles (1985, Canyon Records)
Journeys (1986, Canyon Records)
Jackalope (1986, Canyon Records) with Jackalope
Earth Spirit (1987, Canyon Records)
Sundance Season (1988, Celestial Harmonies)
Carry the Gift (1988, Canyon Records) with William Eaton
Desert Dance (1988, Celestial Harmonies)
Canyon Trilogy (1989, Canyon Records)
Winter Dreams (1990, Canyon Records) with William Eaton
Natives (1990, Silver Wave Records) with Peter Kater
Spirit Horses (1991, Canyon Records) with James DeMars
Emergence: Songs of the Rainbow World (1992, Canyon Records)
Ancestral Voices (1992, Canyon Records) with William Eaton
Weavings (1992, Canyon Records) with Jackalope
Migration (1992, Silver Wave Records) with Peter Kater, David Darling, Paul McCandless and Mark Miller
Boat People (A Musical Codex) (1993, Canyon Records) with Jackalope
Dances With Rabbits (1993, Canyon Records) with Jackalope
How the West Was Lost (1993, Silver Wave Records) with Peter Kater
Honorable Sky (1994, Silver Wave Records) with Peter Kater, David Darling, Paul McCandles and Mark Miller
Native Tapestry (1994, Canyon Records) with James DeMars
Island of Bows (1994, Canyon Records) with Wind Travelin' Band, Shonosuke Okhura and Oki Kano
Feather, Stone & Light (1995, Canyon Records) with William Eaton and Will Clipman
Awakening the Fire (1995, Canyon Records) with Will Clipman
How the West Was Lost Volume Two (1995, Silver Wave Records) with Peter Kater
Kokopelli's Cafe (1996, Canyon Records) with The R. Carlos Nakai Quartet
Improvisations in Concert (1996, Silver Wave Records) with Peter Kater
Two World Concerto (1997, Canyon Records) with James DeMars
Inside Canyon de Chelly (1997, Canyon Records) with Paul Horn
Mythic Dreamer (1998, Canyon Records)
Red Wind (1998, Canyon Records) with William Eaton and Will Clipman
Winds of Devotion (1998, EarthSea Records) with Nawang Khechog
Inside Monument Valley (1999, Canyon Records) with Paul Horn
Inner Voices (1999, Canyon Records)
Big Medicine (1999, Canyon Records) with The R. Carlos Nakai Quartet
Ancient Future (2000, Canyon Records) with The R. Carlos Nakai Quartet
In a Distant Place (2000, Canyon Records) with William Eaton, Will Clipman and Nawang Khechog
Edge of the Century (2001, Canyon Records) with AmoChip Dabney
Enter >> Tribal (2001, Canyon Records)
Through Windows & Walls (2001, Silver Wave Records) with Peter Kater
Fourth World (2002, Canyon Records)
Sanctuary (2003, Canyon Records)
In Beauty, We Return (2004, Canyon Records)
People of Peace (2005, Canyon Records) with The R. Carlos Nakai Quartet
Our Beloved Land (2005, Canyon Records) with Keola Beamer
Reconnections (2006, Canyon Records) with Cliff Sarde, William Eaton and Randy Wood
Voyagers (2007, Canyon Records) with Udi Bar-David
Talisman (2008, Canyon Records)
Guadalupe, Our Lady of the Roses (2008, Canyon Records) with James DeMars, Isola Jones, Robert Breault, Carole FitzPatrick and Robert Barefield
Dancing into Silence (2010, Canyon Records) with William Eaton and Will Clipman
Ritual (2014, Mysterium Music) with Peter Kater, Paul McCandless, Jaques Morelenbaum and Trisha Bowden
Narada Film and Television Music Sampler (1998, EMI)
The Rough Guide to Native American Music (1999, World Music Network)
The Art of the Native American Flute, 1996. R. Carlos Nakai with James Demars, Ken Light and David P. McAllester
R. Carlos Nakai Wikipedia