Sport country

Australia


Nickname

The Wizard of Oz




Name

Quinten Hann




Professional

1995–2006




Highest ranking

14




Career winnings

GB£427,275






Born

4 June 1977 (age 46) (

1977-06-04

)


Best ranking finish

Semi-final: Irish Masters (2004)



Highest break

143 (Grand Prix 1997)

Ronnie o sullivan quinten hann interview
Quinten Hann (born 4 June 1977) is an Australian former professional snooker player who now plays professional pool. He was the 1999 WEPF World Eight-ball Champion and 1994 world under 21 champion. His highest break is 143. He was given an eight-year ban from snooker in February 2006.
Contents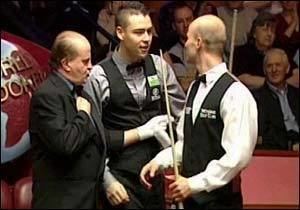 Quinten Hann - Exploding snooker - Brainiac Science Abuse
Snooker career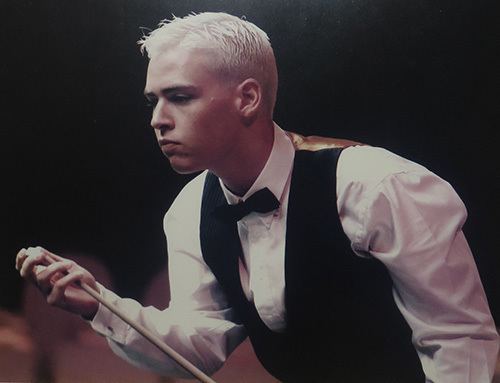 Hann was ranked in the top 16 for two seasons (2002–2003 and 2003–2004), ranked at No. 14 for both seasons. He reached the quarter-finals of several ranking tournaments and the semi-final of the 2004 Irish Masters.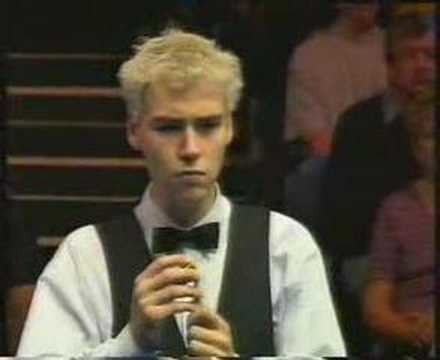 He missed several Ranking events after breaking his wrist and collar bone whilst motorcycle racing in 1999. He also broke his foot in a parachute jump in 2000, and was forced to play shoeless in the UK Championship.
At the 2004 World Championships, he was rebuked for making threatening comments to Andy Hicks when he lost 10–4 to the unseeded outsider. After Hann had made offensive gestures and remarks throughout the match, Hicks commented at the end that the result would put Hann outside the top 16 (which it did). Following the acrimony over this defeat Hann challenged Hicks to a fight. In the event fellow snooker player Mark King stood in for Hicks at a charity boxing match with Hann which the latter won. Hann also fought Dublin GAA player, Johnny Magee, in a charity boxing match in Dublin in September 2004 after Hann suggested that Gaelic footballers were not as robust as Australia rules footballers; but he had his nose broken, with Magee winning in three rounds.
In the 2005 World Championship Hann was forced to play with a new cue after his original cue was lost after the China Open earlier that year. The original cue was eventually retrieved just before the World Championship but was found to be damaged and unusable. Having borrowed a friend's cue, he decided against practising, and instead went out drinking. He played his first round match against Peter Ebdon hungover, and rather predictably lost the match by 10 frames to 2. When asked about the defeat to Ebdon, Hann said: "I intended to go out for a few beers but when the cue wasn't there I went out for a lot of beers. I had a hangover, and the migraine kicked in during the second session. By the end, I was in bits."
Other cue sports
In 1998, he won the Lindrum Masters (named after fellow Australian Snooker/Billiard player, Walter Lindrum), an event consisting of Snooker, English Billards and US 8 and 9-Ball Pool. In 1999, he won the WEPF World 8-Ball Pool Championship and also successfully defended his Lindrum Masters title. He also reached the semi finals of the World 8-Ball Championship in 2000 and the quarter finals in 2004.
Departure from snooker
Hann is known in snooker for his "bad boy" image, and in 2002 he was tried in the UK for allegedly raping a woman while both were intoxicated, but was acquitted.
Hann was cleared of further sex attacks on two women in 2005. The women accused Hann of behaving like a "crazed animal" and said that they thought they were going to die. One of them claimed that he repeatedly struck her, an accusation that Hann strongly denied explaining that his mother had taught him to never raise a hand to a woman. Ultimately the case turned on the credibility of his accuser, which was undermined when it was admitted she had lied consistently under oath throughout the trial. The day after his acquittal The Sun alleged that Hann had agreed to lose his opening match against Ken Doherty at the China Open in return for large amounts of money. The story had been held back so it would not prejudice the outcome of Hann's trial. A hearing at the World Professional Billiards and Snooker Association was convened after the WPBSA panel was shown transcripts of video and audio footage of the meetings which took place between Hann and the undercover Sun journalists in March and April 2005.
On 14 February 2006 he resigned from the WPBSA, just a couple of days before he was due to attend the hearing. Hann did not attend and was found guilty in absentia. The newspaper did not go through with any agreement, but by agreeing to lose the game Hann was in breach of rule 2.8, which states "a member shall not directly or indirectly solicit, attempt to solicit or accept any payment or any form of remuneration of benefit in exchange for influencing the outcome of any game of snooker or billiards." Hann was banned from snooker until 2014 and also fined £10,000.
Life after snooker
In October 2014, it was reported that the Australian Securities and Investments Commission (ASIC) has started court proceedings at the Federal Court of Australia against Hann (now going under the name Quinten Hunter), general manager of broker Monarch FX (Monarch FX Group Pty Ltd). ASIC temporarily banned Monarch FX and Hann from offering financial services in until November 2014 when the hearing resumes. Hann was later banned from the financial services industry for four years.
References
Quinten Hann Wikipedia
(Text) CC BY-SA