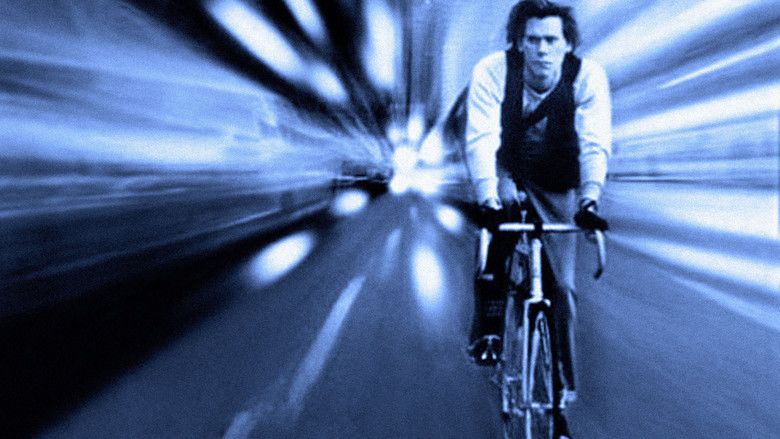 Jack Casey (Kevin Bacon) is a young floor trader who loses all of his company's and family's savings on a risky business decision. Deflated and disenchanted with his profession, he quits his job and becomes a bicycle messenger. Casey has to deal with his parents and his girlfriend, who are disappointed with his new job. Along with the colorful characters that work with him, he saves a troubled young woman named Terri (Jami Gertz) from a gang.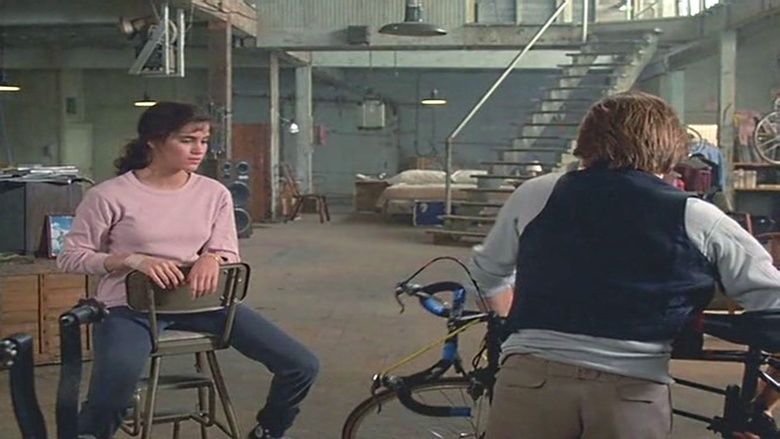 Although frustrated, Casey enjoys the freedom that comes with his lower responsibility. He also uses his education and business acumen to help his co-workers. When some of them are involved in dangerous or difficult matters, Casey must decide whether he should become involved. Those matters lead to a sinister web of murder and intrigue.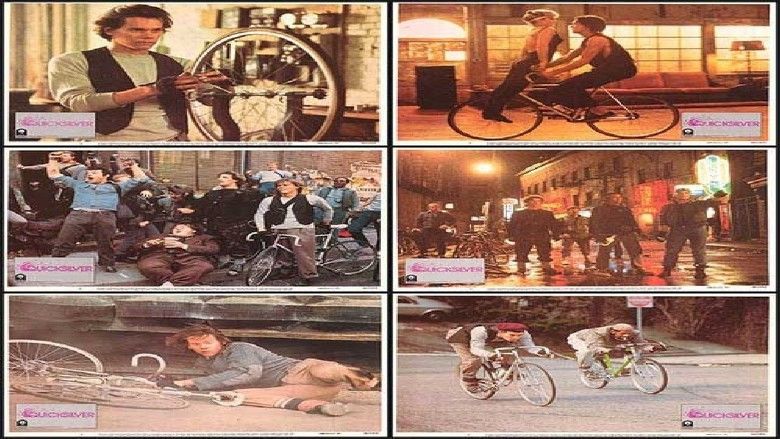 Casey later makes a killing on the stock market, restoring his family's fortune and securing his friends' financial future.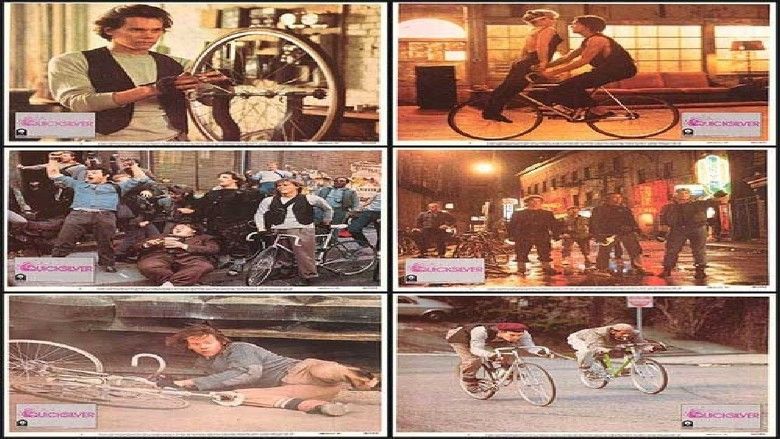 Kevin Bacon as Jack Casey
Jami Gertz as Terri
Paul Rodriguez as Hector Rodriguez
Rudy Ramos as Gypsy
Andrew Smith as Gabe Kaplan
Gerald S. O'Loughlin as Mr. Casey
Laurence Fishburne as Voodoo
Louie Anderson as Tiny
Charles McCaughan as Airborne
David Harris as Apache
Whitney Kershaw as Rand
Joshua Shelley as Shorty
Georgann Johnson as Mrs. Casey
Although a variety of bicycles are used in the movie, 1984–85 Raleigh USA road bikes are used throughout by notable players in the movie.
Kevin Bacon's bicycle is a singlespeed '84 Raleigh Competition. While no differentiation is made in the film, at least three different configurations are seen on Bacon's bike during the movie: fixed-gear, singlespeed, and outfitted with 0-degree trick forks during various scenes in Bacon's apartment. A possible freewheel is suggested early in the film when Bacon dismounts while in motion and a distinct clicking sound is heard until the bike stops moving.
A 1984/5 Raleigh Grand Prix (ridden by 1984 US Olympic silver medalist and former bike messenger Nelson Vails) is used for the opening chase sequence, and a 1984 or '85 Super Course makes a brief appearance in the opening credits.
The film's theme song is "Quicksilver Lightning" by Giorgio Moroder and Dean Pitchford. Performed by Roger Daltrey - the B-side being "Love Me Like You Do", written by Andy Nye and taken from Daltrey's solo album Under A Raging Moon – it was a minor hit on the pop charts. The film score was composed by Tony Banks, of Genesis fame. Other music is contributed by performers such as Ray Parker Jr. and Peter Frampton.
"Quicksilver Lightning" – Roger Daltrey
"Casual Thing" – Fiona
"Nothing At All" – Peter Frampton
"Shortcut to Somewhere" – Fish and Tony Banks
"Through the Night (Love Song from Quicksilver)" – John Parr and Marilyn Martin
"One Sunny Day/Dueling Bikes from Quicksilver" – Ray Parker Jr. and Helen Terry
"The Motown Song" – Larry John McNally
"Suite Streets-From Quicksilver" - Thomas Newman
"Quicksilver Suite I/Rebirth/The Gypsy" – Tony Banks
"Quicksilver Suite II/Crash Landing" – Tony Banks
The DVD for Quicksilver was released on December 10, 2002 by Sony Pictures Home Entertainment.
The film received negative reviews and as of August 2013 has only a 15% "fresh" rating on Rotten Tomatoes based on 13 reviews.
In The New York Times, Walter Goodman wrote "As long as the characters are doing stunts or whizzing impossibly through city traffic to a strong rock beat, there's something to watch. For the rest of the time, Quicksilver is as much fun as a slow leak."
In 2008, Kevin Bacon called the film "the absolute lowest point of my career."