8.4

/

10

Alchetron

Rate This





Genre

Biography, Drama, History




Music director

Herbert Stothart




Language

English






Director

Rouben Mamoulian




Budget

1.114 million USD




Duration




Country

United States







Writer

S. N. Behrman

,

Ben Hecht




Release date

December 26, 1933 (1933-12-26)




Cast

Greta Garbo

(Christina),

John Gilbert

(Antonio),

Ian Keith

(Magnus),

Lewis Stone

(Oxenstierna),

Elizabeth Young

(la comtesse Ebba Spare),

C. Aubrey Smith

(Aage)


Similar movies

Star Wars: Episode I - The Phantom Menace

,

Frozen

,

Dallas Buyers Club

,

The Wolf of Wall Street

,

Goodfellas

,

Jobs



Queen christina 1933 official trailer greta garbo movie hd
Queen Christina is a pre-Code Hollywood biographical film, produced by Metro-Goldwyn-Mayer in 1933 by Walter Wanger and directed by Rouben Mamoulian. It stars Swedish-born actress Greta Garbo and John Gilbert in their fourth and last film together.
Contents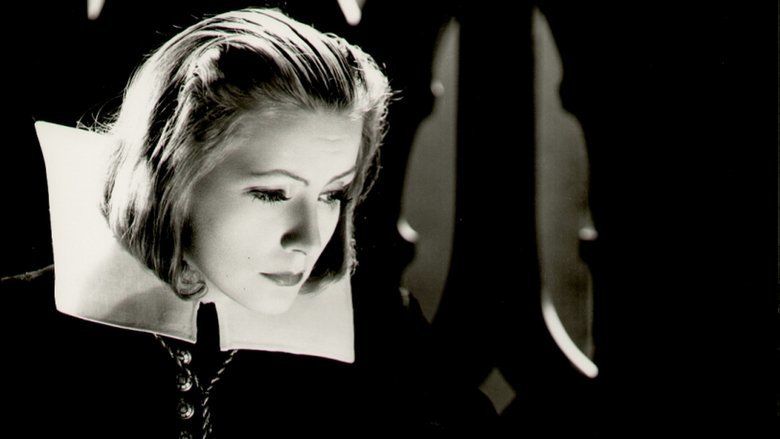 The film portrays the life of Queen Christina of Sweden who became monarch at the age of six in 1632 and grew to be a powerful and influential leader. As well as the demands of being a war-leader during the Thirty Year's War Queen Christina is expected to marry a suitable royal figure and produce an heir. However, she falls in love with a visiting Spanish envoy whom she is forbidden to marry as he is a Roman Catholic and must choose between love and her royal duty.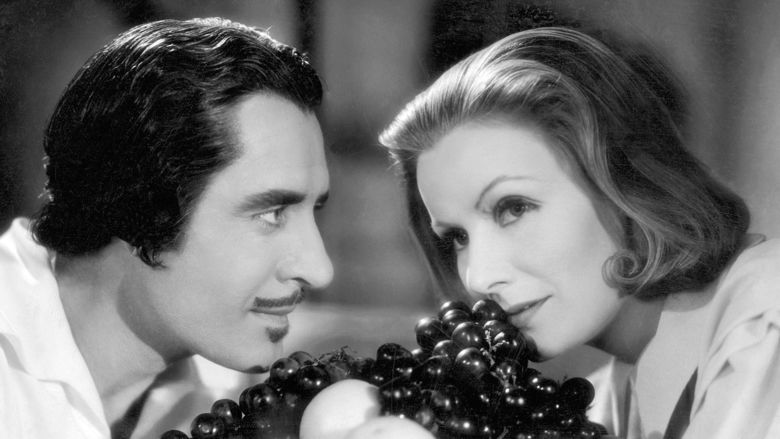 The film was a major commercial and critical success in the United States and worldwide.
Queen christina 1933 memorizing this room greta garbo scene
Background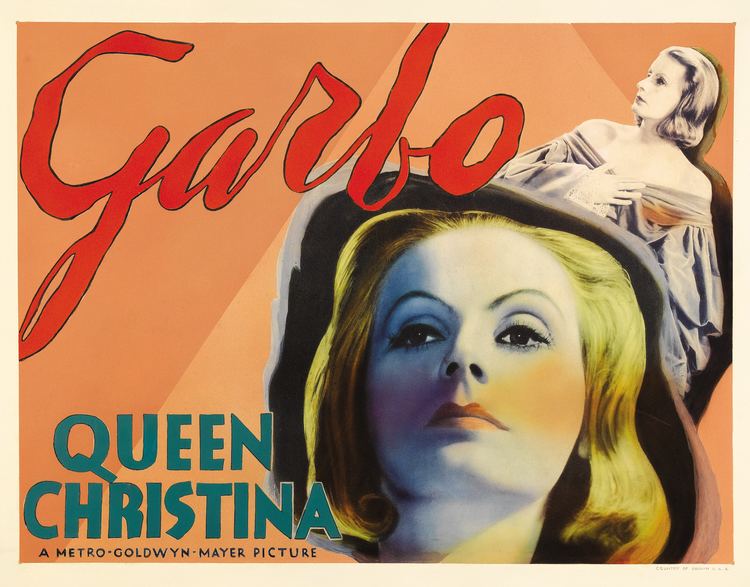 The film was directed by Rouben Mamoulian in 1933, and written by H. M. Harwood and Salka Viertel, with dialogue by S. N. Behrman, based on a story by Salka Viertel and Margaret P. Levino. Leading roles are played by Greta Garbo and John Gilbert, whose career heavily declined with the rise of talkies. Garbo herself insisted on Gilbert as her co-star. It was the fourth and the last time they starred together in the same film. Queen Christina was billed as Garbo's return to cinema after an eighteen-month hiatus. Prior to the shooting, while on holiday in Sweden, the actress read a treatment by Salka Viertel about the life of Christina and became interested in the story. At the time of shooting the film, Garbo was 28, the age of her character.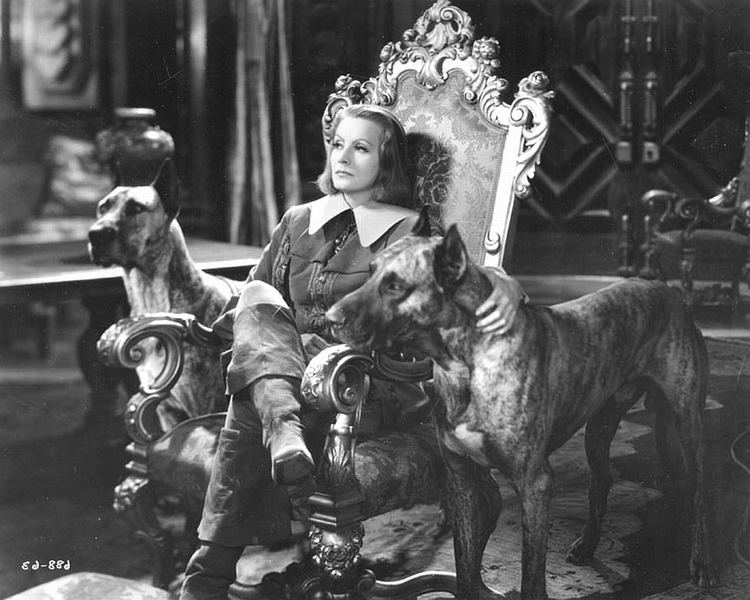 Queen Christina is a historical costume drama, loosely based on the life of 17th century Queen Christina of Sweden and still more loosely of Stindberg's history play Kristina. Apart from her, a number of other authentic historical characters appear in the film, such as Charles X Gustav of Sweden and Magnus Gabriel De la Gardie. Some events that took place in history, like the Thirty Years' War, are represented in the work, although Queen Christina is not a film closely depicting facts. In this historical fiction account, Queen Christina of Sweden falls in love during her reign but has to deal with the political realities of her society. In real life, Christina's main reason for abdication was her determination not to marry and to be able to convert to Catholicism. Another fictionalized, if not entirely fictitious, element is the romantic affair between Christina and Antonio. However, the queen's habit of dressing as a man in order to broaden the options available to her as a person is clearly marked in the film: "I shall die a bachelor!" she declares, wears manly clothes and even disguises herself as a man. The only concession to the real Christina's sexuality were some subtle hints that the film character was romantically attracted to one of her ladies in waiting. The film itself is remembered for no less than two cult scenes. The first one, over three minutes long, shows Christina walking around the room, having spent a night with Antonio at the inn. She touches various objects to imprint the space on her memory. The second one, arguably the most famous image in the film, is the closing shot, showing Christina standing as a silent figurehead at the bow of the ship bound for Spain. With the wind blowing through her hair, the camera moves into a tight close-up on her face. Prior to shooting the final scene, Mamoulian suggested that Garbo should think about nothing and avoid blinking her eyes, so that her face could be a "blank sheet of paper" and every member of the audience could write the ending of the film themselves. Amusingly, this shot also contains one of the greatest continuity errors in movie history: The wind blowing Garbo's hair is moving in the opposite direction from the wind blowing the ship's sails.
Plot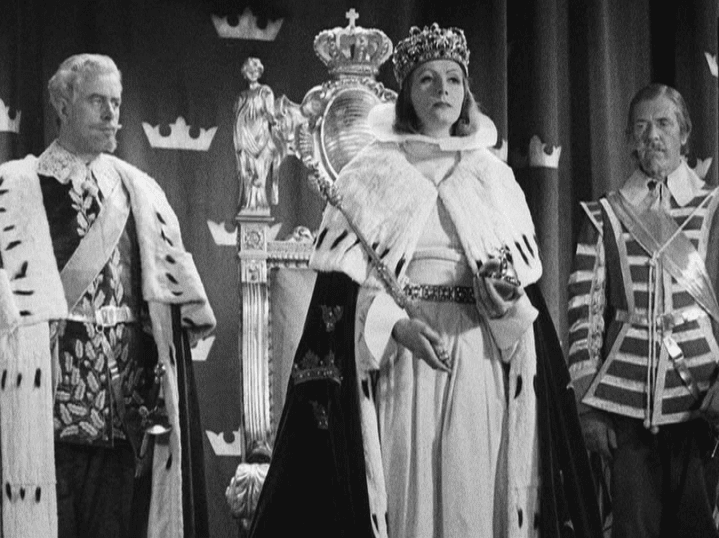 Queen Christina of Sweden (Greta Garbo) is very devoted to her country and the welfare of her people. As queen, Christina favors peace for Sweden. At one point in the film, she argues for an end to the Thirty Years' War, saying: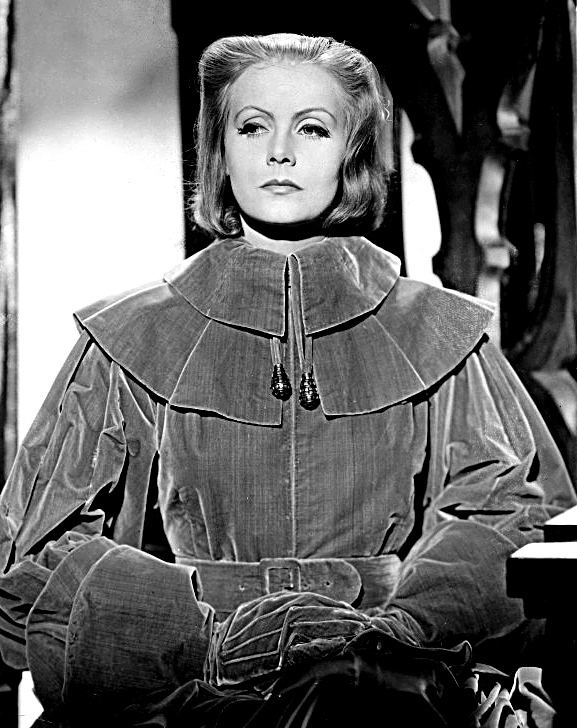 Spoils, glory, flags and trumpets! What is behind these high-sounding words? Death and destruction, triumphals of crippled men, Sweden victorious in a ravaged Europe, an island in a dead sea. I tell you, I want no more of it. I want for my people security and happiness. I want to cultivate the arts of peace, the arts of life. I want peace and peace I will have!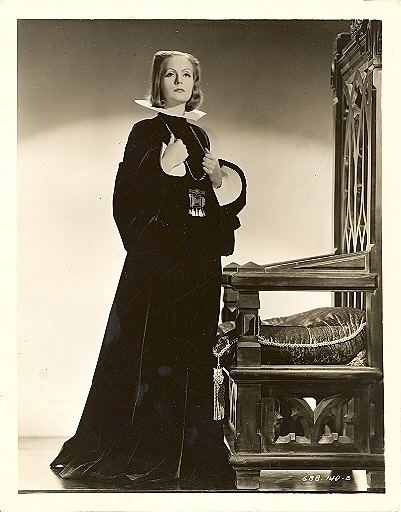 Christina, who first took the throne at age six upon the death of her father in battle, is depicted as so devoted to both governing well and educating herself that she has spurned any kind of serious romance or marriage despite pressures from her councilors and court to marry her hero-cousin Karl Gustav (Reginald Owen) and produce an heir. One day, in an effort to escape the restrictions of her royal life, she sneaks out of town, disguised as a man, and ends up snowbound at an inn, where she has to share a bed with also stranded Spanish envoy Antonio (John Gilbert) on his way to the capital. After befriending, and upon revealing that she is a woman, then sharing the same bed, the two fall in love; however, she still has not revealed that she is the queen. After a few idyllic nights together, Christina and Antonio are compelled to part, but Christina promises to find him in Stockholm – which she does, when the Spaniard presents his embassy to the Queen, whom he recognizes as his lover. Antonio is angry as he has come to present an offer of marriage from the King of Spain to Queen Christina and feels that his loyalty to the king has been compromised. She makes clear that she will not accept the king's proposal, and Christina and Antonio patch up their differences.
When Count Magnus (Ian Keith), who wants the Queen's affections for his own, riles up the people against the Spaniard, Christina abdicates the throne, nominating her cousin Karl Gustav as her successor while declining to marry him. She leaves Sweden to catch up with Don Antonio who has just left for a neighboring country, but she finds him gravely wounded from a sword duel he had with Magnus, which he lost. Antonio dies in her arms. She resolves to proceed with her voyage to Spain where she envisions residing in Antonio's home on the white cliffs overlooking the sea.
Critical reception and box office
The film premiered on December 26, 1933 in New York City, and throughout 1934 in the rest of the world.
Queen Christina turned out a success, gathering numerous positive reviews. Critic Mordaunt Hall, writing for The New York Times, gave the film a positive review and liked the screenplay, calling the dialogue "a bright and smooth piece of writing" and referred to Mamoulian's direction as "entrancing". Positive opinions came also from Modern Screen's Walter Ramsey, who proclaimed it a "triumph for Garbo", and a reviewer for Photoplay, who acclaimed Garbo's "glorious reappearance".
Motion Picture Daily called the film "creaky in spots" but reported that Garbo "does beautifully" and that the film was "well above the average in content and value." The New York Daily News wrote, "The picture moves a little slowly, but with grace, from one lovely setting to another. It is a picture that must not be missed, because Garbo is at her best in some of its scenes."
Some reviews were more mixed. "Garbo overwhelms the picture", wrote John Mosher in The New Yorker. "The story, the setting, her support cannot live up to her." Variety found the film "slow and ofttimes stilted", though it wrote that Garbo's "regal impression is convincing, which counts for plenty." The Sun of New York wrote that "Garbo seems to be suffering from an acute case of glamour. And that is probably not her fault. Gilbert tried very hard, but his performance is a little stilted. Queen Christina misses fire, somehow, and that is disappointing." Queen Christina received an 89% "Fresh" rating at Rotten Tomatoes, based on eighteen reviews.
The film grossed over $2,500,000, recording a profit of $632,000 and becoming one of Garbo's most commercially successful films. It was the most popular film at the U.S. box office for 1933.
It was nominated for the Mussolini Cup award at the Venice Film Festival in 1934, but lost to Man of Aran. The part of Queen Christina is regarded as one of the best in Garbo's filmography. The film is especially notable for its resoundingly disproving rumours that John Gilbert's lack of success in the sound era was due to an unsuitable voice.
References
Queen Christina (film) Wikipedia
(Text) CC BY-SA
Queen Christina (film) IMDb
Queen Christina (film) Rotten Tomatoes
Queen Christina (film) themoviedb.org