Distributor(s)

PAL: Deep Silver




Producer(s)

Mizuki Hosoyamada




Initial release date

6 February 2014




Publisher

Sega




Genre

Puzzle video game




Director(s)

Koji Shindo




Designer(s)

Hiroyuki Yamazura




Developer

Sonic Team




Series

Puyo Puyo






Programmer(s)

Naoto Ogawa Hiroki Hayami




Artist(s)

Shoko Kambe Akira Mikame




Platforms

PlayStation 4, Nintendo 3DS, Xbox One, PlayStation 3, Wii U, PlayStation Vita, Nintendo Switch




Similar

Puyo Puyo games, Sega games, Other games
Puyo puyo tetris official nintendo switch trailer
Puyo Puyo Tetris (ぷよぷよテトリス, Puyopuyo Tetorisu) is a puzzle video game developed by Sonic Team and published by Sega. The game is a crossover between the Puyo Puyo series and the Tetris franchise, and features various gameplay modes incorporating both aspects. The game includes characters modeled after the seven Tetriminos, which are different puzzle pieces each made of four blocks.
Contents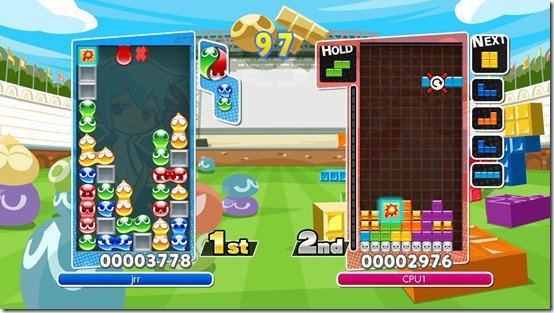 Puyo Puyo Tetris was the first Tetris-related title published by Sega since Tetris Collection, an installment in the Sega Ages series, in 2006, eight years prior. Puyo Puyo Tetris adopts the guidelines used in current Tetris titles, so the rotation patterns and colors of the Tetriminoes differ from Sega's previous releases.
Puyo Puyo Tetris was released for the Nintendo 3DS, Wii U, PlayStation Vita and PlayStation 3 in Japan in February 2014. Versions for PlayStation 4 and Xbox One were later released in Japan in December 2014. The PlayStation 4 and Nintendo Switch versions will be released worldwide in April 2017, marking the first localization of a Puyo Puyo game since Puyo Pop Fever.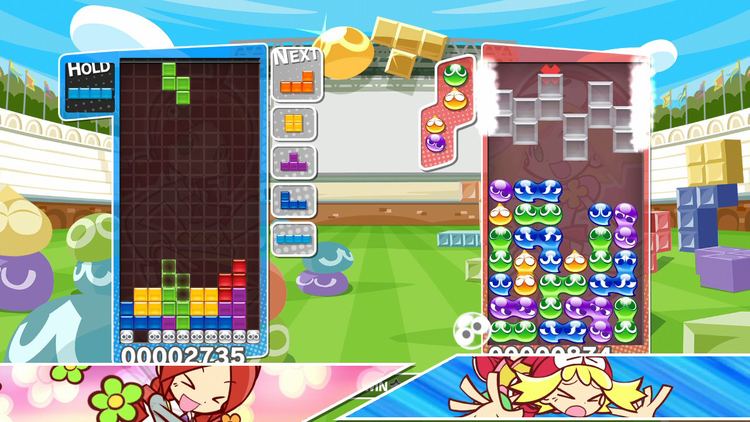 Puyo puyo tetris demo game watch nintendo switch
Gameplay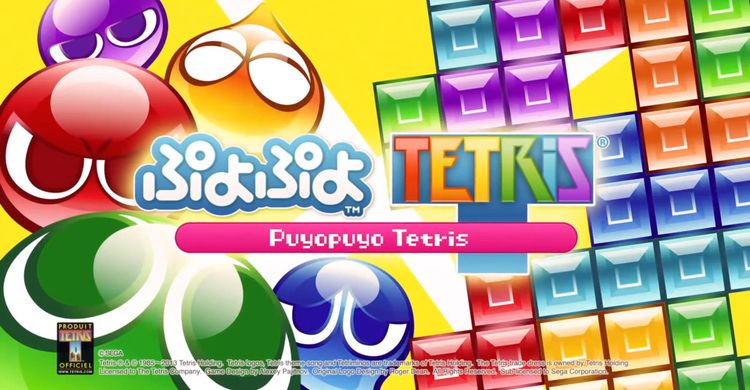 Puyo Puyo Tetris employs basic gameplay mechanisms from both Puyo Puyo and Tetris games, as well as other. The game features five major battle rules:
VS
Players play with either the basic Puyo Puyo (using Puyo Puyo Tsu rules) or Tetris (with Super Rotation System rules), attacking with obstructions as they clear Puyo Puyo chains or Tetris lines. If there is at least one Puyo Puyo player and at least one Tetris player, every Tetris player will be assigned an attack gauge. Tetris attacks get stored in an attack gauge when the associated Tetris player performs any action that would immediately send penalty lines to opposing players in a multiplayer Tetris game with no Puyo Puyo players (e.g. clear multiple lines at once, generate a consecutive chain of moves where each move clears one or more lines, perform T-Spin techniques that clear one or more lines, or fully clear the matrix). If a Tetris player either fully clears the matrix or fails to clear a line when the attack gauge is not empty, the stored attack will be processed under an offset rule (if there are any incoming attacks, either enough of the attack the player is sending is sacrificed to nullify the incoming attack and the remainder is sent to the opponents if the Tetris player's attack is large enough to completely nullify the incoming attack, or the entire attack is sacrificed to weaken the incoming attack. If there is no incoming attack, the attack is sent to the opponents). If all players are Tetris players, attacks from Tetris players are immediately processed under the offset rule when they are generated instead of being stored in an attack gauge. When a player tops out, the player is eliminated. The last player (or side) standing wins the round.
Fusion
Puyos and Tetriminos are dropped into the same puzzle field, allowing for mixed chains when clearing Puyo Puyo chains and Tetris lines consecutively. Tetriminoes sink down, with any colored puyo appearing back above. Nuisance blobs do not reappear when crushed. This mode is similar to the active mode in Puyo Puyo!! 20th Anniversary, where both line clears and erased puyo are counted as individual chains within short intervals. Taking too long to clear another line or puyo resets the chain count to zero. When a player tops out, the player is eliminated. The last player (or side) standing wins the round.
Swap
Players play either Puyo Puyo or Tetris upon the start of a match. After a set time, the field "swaps" from Puyo Puyo to Tetris and vice versa. Players can perform mixed chains by clearing puyo or lines before swapping, and then chain with the current field. When a player tops out, the player is eliminated. The last player (or side) standing wins the round.
Big Bang
Puyo Puyo are sent to Fever mode and Tetris players are sent to Lucky Attack. Fever Mode fields require clearing a group of Puyo to trigger the whole chain. Similar to Tetris: Axis and Tetris Blitz, Lucky Attack fields are given a stack to clear with given Minos. If the players fail at clearing a field (or setting the required number of chains), they will be given a smaller stack of Puyo or Tetrominoes; if they succeed, they are given a bigger stack. When time expires, all the garbage created will form a "Big Bang". The player who generates more garbage will damage others. When a player's field shatters, the player is eliminated. The last player (or side) standing wins the match.
Party
Various items drop into the fields, giving a special effects when cleared together with other Puyo or Tetrominoes. The effects may hinder opponents, improve one's score, etc. Every time a player tops out, the player's opponents get a bonus and the player's board is cleared with no bonus. The player (or side) with the highest number of points when time expires wins the match.
Story
Settled about a year after Puyo Puyo!! 20th Anniversary, Amitie, Arle, and Carbuncle accidentally fell into Ringo's world again, thus reuniting the protagonists. But there's a bit of trouble after tetriminos start falling in Ringo's world. Ringo, Amitie, Arle and Carbuncle are transported into a spaceship where they meet Tee and his partner O. Now all of them must work together to solve the case of why tetriminos are falling from the sky.
The game starts out with Ringo at Suzuran Junior High. She sings about the place being peaceful until Amitie and Arle drop out of nowhere. Ringo inferred that the cause of the event was by clearing Puyo. Suddenly, Tetriminoes went crashing down the place. The trio became confused about these blocks that disappeared when placed down in a horizontal line. The trio were then transported to a mysterious ship called the Spaceship Tetra. Tee and O discover Ringo in one of the rooms in the ship. They had a battle with their own pieces, Ringo used Puyo Puyo while Tee used Tetris. After getting to know each other, the duo searched for Amitie and Arle. Amitie had a confrontation with S and Arle was trapped with Z. After rescuing Arle, the ship ceases to function properly and Tee declares they had to make an emergency landing on a nearby 'Blue Planet'.
The Spaceship Tetra crew were separated. The 'Blue Planet' turned out to be Earth, and they landed on Ringo's place. The Spaceship Tetra needed parts but first they all conducted a search for the missing crew members. After locating everybody, I and Risukuma started repairing the ship. The ship was fixed albeit it only flied short distances. All of a sudden three figures appeared, namely Feli, Raffine and Rulue. These three characters were under the effects of the Tetris and Puyo Puyo worlds 'combining' together and exhibited suspicious character such as telling them to 'move out' of the way. To repair the ship, Ringo and the crew needed to go to space to look for parts.
Development
Puyo Puyo Tetris was originally scheduled to be the direct sequel to Puyo Puyo 7. However, due to various circumstances, it was rescheduled that Puyo Puyo!! 20th Anniversary be released next and this game was pushed later.
Reception
PlayStation LifeStyle gave the Vita version 8/10 and called it "an example of a franchise entry done right", somewhat disliking Big Bang Mode but with high praise for Adventure and Swap. Famitsu gave the game a score of 9/9/9/8.
The 3DS version was the best-selling one in Japan, with 44,627 units sold in the first week compared to 10,306 for the PS3 version and 8,973 for the PS Vita version. The Wii U version did not chart.
References
Puyo Puyo Tetris Wikipedia
(Text) CC BY-SA