Psychomania (a.k.a. The Death Wheelers) is a 1973 British horror-cult film starring Nicky Henson, Beryl Reid, George Sanders (in his final film) and Robert Hardy.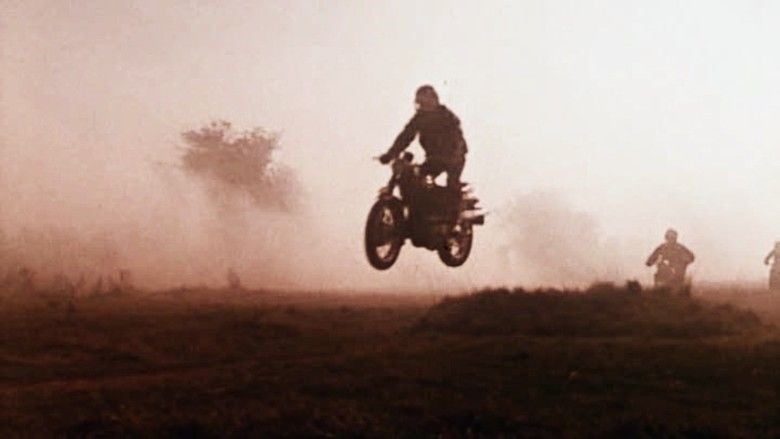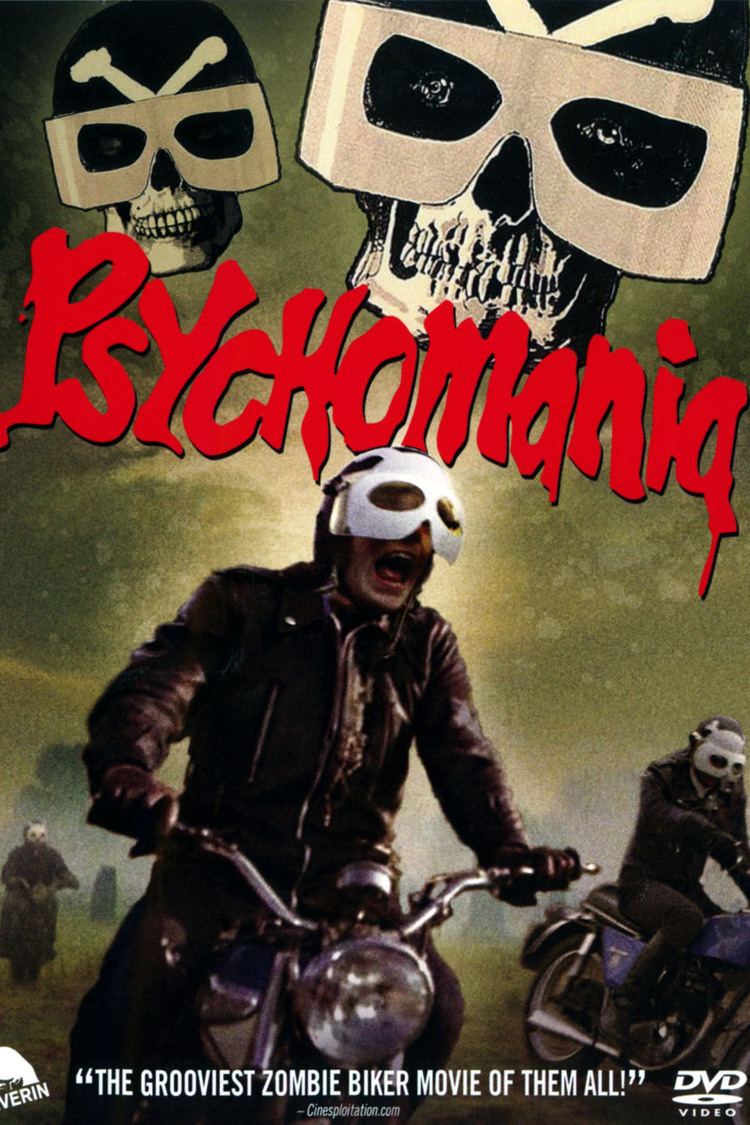 Tom Latham, an amiable psychopath and the leader of a violent teen gang, enjoys riding his motorcycle with his girlfriend and loves his mother. His gang dabble in black magic and call themselves "The Living Dead". In a similar vein, his mother and her sinister butler get their kicks out of holding séances in their home. With her help (and following in his father's footsteps) Tom returns from the dead. One by one, he and his fellow bikers commit suicide with the goal of returning as one of the "undead". One of them fails, but the ones who do return gather together at a secret place called "The Seven Witches" (a circle of standing stones), after which they continue to terrorize the locals.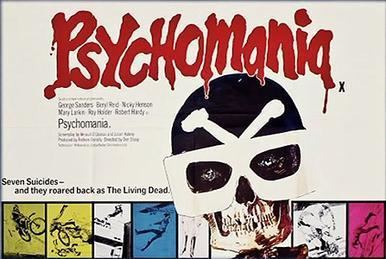 George Sanders as Shadwell
Beryl Reid as Mrs. Latham
Nicky Henson as Tom Latham
Mary Larkin as Abby Holman
Roy Holder as Bertram
Robert Hardy as Chief Inspector Hesseltine
Ann Michelle as Jane
Denis Gilmore as Hatchet
Miles Greenwood as Chopped Meat
Peter Whitting as Gash
Rocky Taylor as Hinky
Patrick Holt as Sergeant
Alan Bennion as Constable
John Levene as Constable
Roy Evans as Motorist
Bill Pertwee as Publican
Denis Carey as Coroner's Assistant
June Brown as Mrs. Pettibone
Martin Boddey as Coroner
Heather Wright as Girl with Parcels
Larry Taylor as Lorry driver (uncredited)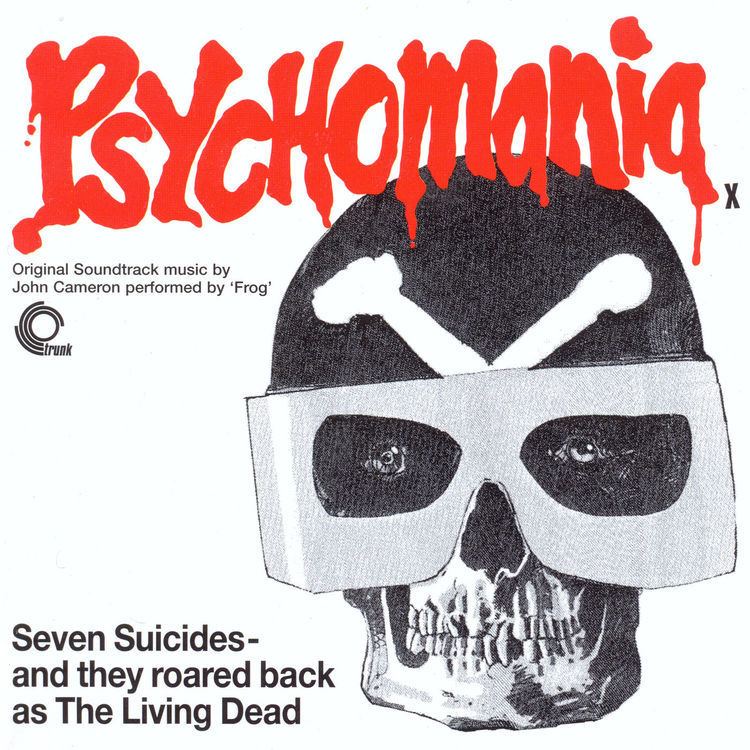 Psychomania was filmed at Shepperton Studios in 1971 with some exterior scenes filmed in the (now demolished and rebuilt) Hepworth Way shopping centre and Wellington Close housing block in Walton-on-Thames, Surrey. It was produced by Benmar Productions, which predominately made Spaghetti Westerns in Spain but also produced Horror Express later that same year.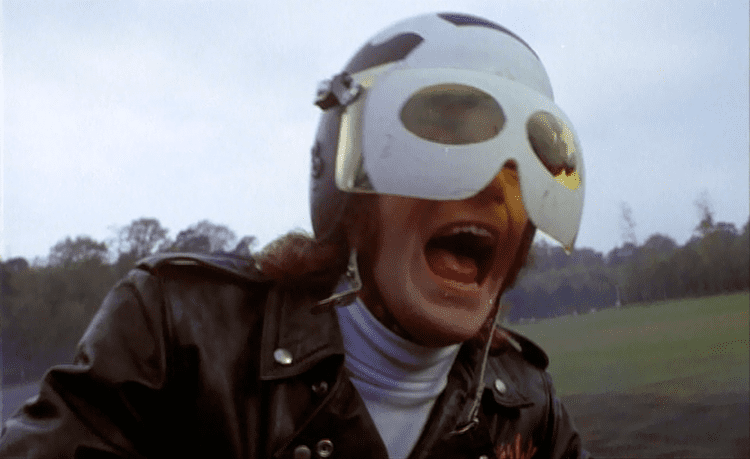 The film's soundtrack, composed by John Cameron, was released on LP and CD in 2003 by Trunk Records.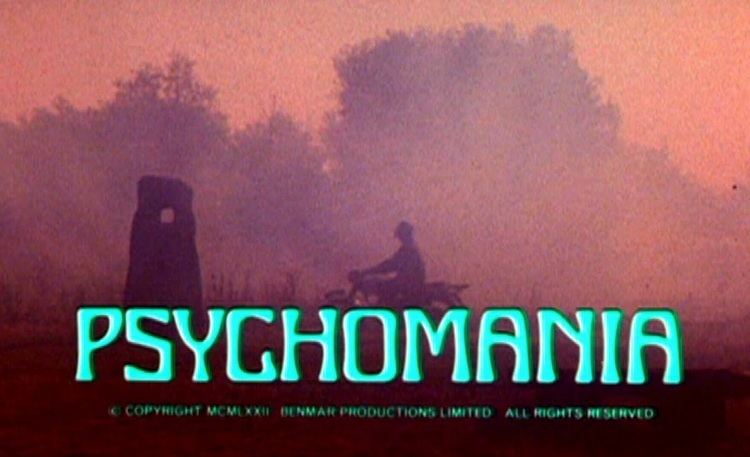 Two of Cameron's pieces from the score—"Witch Hunt (Title Theme from the Film Psychomania)" and "Living Dead (Theme from the Film Psychomania)"— were released in 1973 as a 7" single on the Jam label, using the artist name "Frog". This Frog record was reissued in 2011 by Spoke Records as a limited edition vinyl 7".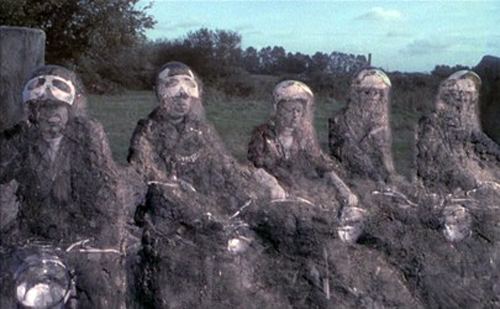 The initial reception was mixed, but over time, the film has come to be more highly regarded. It holds a rating of 80% at Rotten Tomatoes.
Shock Till You Drop called the film "a great one-shot horror movie filled with weird, something eerie atmosphere, crazy stunt work, cheeky performances, mild kink and a unique charm all its own." Variety called it "a low-budget, well-done shocker with a tightly-knit plot and a believable surprise ending". Nerdist called it "very effective thanks to the mixture of heavy action, moody guitar music, and dreamy visuals."
Severin Films released a restored print on DVD in 2010.
Arrow Films released a dual-format Blu-ray/DVD edition on 22 February 2017.