Covid-19
7.2

/

10

1

Votes

Alchetron

Rate This




Jeff Warrick




Jeff Warrick




Jeff Warrick




English






Documentary





United States






June 8, 2010 (2010-06-08) (Seattle True Independent Film Festival) August 19, 2011 (2011-08-19) (United States)




Evan Evans, Robin Scott Fleming




Douglas Rushkoff

(Himself),

Noam Chomsky

(Himself),

Amy Goodman

(Herself),

Dennis Kucinich

(Himself),

Mark Crispin Miller

(Himself)


Knock Knock

,

Thank You for Smoking

,

The Voyeur

,

All Ladies Do It

,

Body of Evidence

,

Nymphomaniac: Vol. II




Are we all brainwashed? Or have we lost our minds?
The filmmaker spotlights purported uses, influences and effects of subliminal content in media.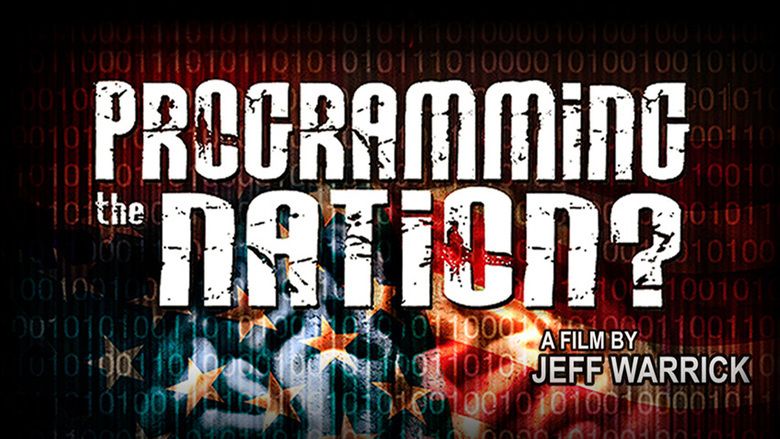 Programming the Nation? is a 2011 feature social documentary written, produced and directed by Jeff Warrick. The film revisits the alleged history, research, implementation, and potential effects of subliminal programming in American mass-media, including interviews with Noam Chomsky, Amy Goodman, Dennis Kucinich, Eldon Taylor, Wilson Bryan Key, and other authors and experts in the field of advertising, psychology, music, film, politics, and military weaponry.
LA Timess Kevin Thomas reviewed Programming the Nation? noting that "Warrick is ... rightly concerned by the power of media conglomerates to manipulate the news." However, the film is only carrying a 38% rating on Rotten Tomatoes.
Programming the Nation? takes an encompassing look at the history of subliminal messaging in America. According to many authorities, since the late 1950s subliminal content has been tested and delivered through all forms of mass-media including Hollywood filmmakers Alfred Hitchcock and William Friedkin. Even our modern military has been accused of these practices in the "war on terror" against soldiers and civilians both abroad and at home. With eye-opening footage, revealing interviews, humorous anecdotes, and an array of visual effects, the film categorically explores the alleged usage of subliminals in advertising, music, film, television, anti-theft devices, political propaganda, military psychological operations, and advanced weapons development. Director Jeff Warrick makes it his personal mission to determine if these manipulative tactics have succeeded in "programming the nation?" Or, if subliminal messaging belongs in the category of what many consider urban legend.
Noam Chomsky, co-creator of Manufacturing Consent: The Political Economy of the Mass Media, Profit Over People, and Failed States. Chomsky is a retired and world-renowned Massachusetts Institute of Technology Professor (Department of Linguistics & Philosophy), and asserts that "The purpose of the ad is to delude and deceive you with imagery… [The public] will be uninformed and make an irrational choice. That's what businessmen spend hundreds and millions of dollars a year on…what they want is coercion and control."
Wilson Bryan Key, "The Godfather of Subliminals," wrote The Age of Manipulation, Media Sexploitation, and best seller Subliminal Seduction. "You look at something, smell something, hear something, its going into your brain at the speed of light... And all being retained..." Key claims that only small bits and fragments of this actually rise to the "conscious surface." Key states that Freud warned about "toying" with the subconscious due to its highly unexplored and misunderstood nature, coupled with its capacity to set off unpredictable pathological response.
August Bullock, author of The Secret Sales Pitch, discusses Sigmund Freuds probing of the subconscious mind, and his postulations about the presence of hidden emotions and drives. According to Bullock, Freud believed the barrier between conscious and subconscious awareness relaxed and through analyzing and interpreting dreams, we could better understand out underlying motivations and emotions and the conflicts caused by them.
Dennis Kucinich assumed office in 1997 as a member of the U.S. House of Representative from Ohio's 10th district. He is currently an incumbent and the Chairman of the Domestic Policy Subcommittee of the House Committee on Oversight and Government Reform. From 1977 to 1979, Kucinich was the mayor of Cleveland, Ohio. A candidate for the Democratic nomination of the US President in 2004 and in 2008 elections, popularized his title of attaining "the strongest liberal" perspective. "There should be criminal implications for this kind of behavior [media manipulation]" Kucinich states.
Douglas Rushkoff, author of Coercion, asserts that Edward Bernays, Freuds nephew, utilized Freudian psychoanalytic theory to provide consumers with substitutes for their carnal urges in the form of a product.
Dr. Eldon Taylor, author of 2010 book Mind Programming, claims that public relations pioneer Edward Bernays, in his 1928 book Propaganda, states that its "the duty of marketing people to lead an otherwise, unleadable, irrational, free people to making a consensus or a decision that was a responsible decision." Taylor says marketing is founded on manipulation and influence.
Amy Goodman is a progressive American broadcast journalist, columnist, author, and investigative reporter. She is the principal host and co-founder of the independent global news program, Democracy Now!. Goodman has received many awards for her accomplishments such as the Robert F. Kennedy Journalism Award, George Polk Award, and the Islamic Community Award for Journalism. Her books are nationally recognized and have appeared on the New York Times bestseller list. Goodman's narration of the film One Bright Shining Moment: The Forgotten Summer of George McGovern won the Sarasota Film Festival's award for "Best Documentary Feature." Goodman's stance on mainstream news media practices :"They have a responsibility to bring out full diversity of opinion and to get to the truth, not to bring you news stories that are disguised as their own when they are simply government or corporate propaganda."
Peace - Propaganda & the Promised Land (2004). Art & Copy (2009). POM Wonderful Presents: The Greatest Movie Ever Sold (2011). Drunk Stoned Brilliant Dead: The Story of the National Lampoon (2015). Miss Representation (2011).
Seattle True Independent Film Festival - June 8, 2010
Carnegie Community Center Vancouver, B.C. - June 12, 2010
St. Pete for Peace Film Series - Wednesday, October 27, 2010
Theatrical Premiere - New York City - August 19–25, 2011
True Crime New York Series: Post 9/11 Universe - Sept. 16, 2011
Programming the Nation? Wikipedia
(Text) CC BY-SA
Programming the Nation? IMDb
Programming the Nation? themoviedb.org