Albert Maltz was nominated for an Academy Award for Writing Adapted Screenplay.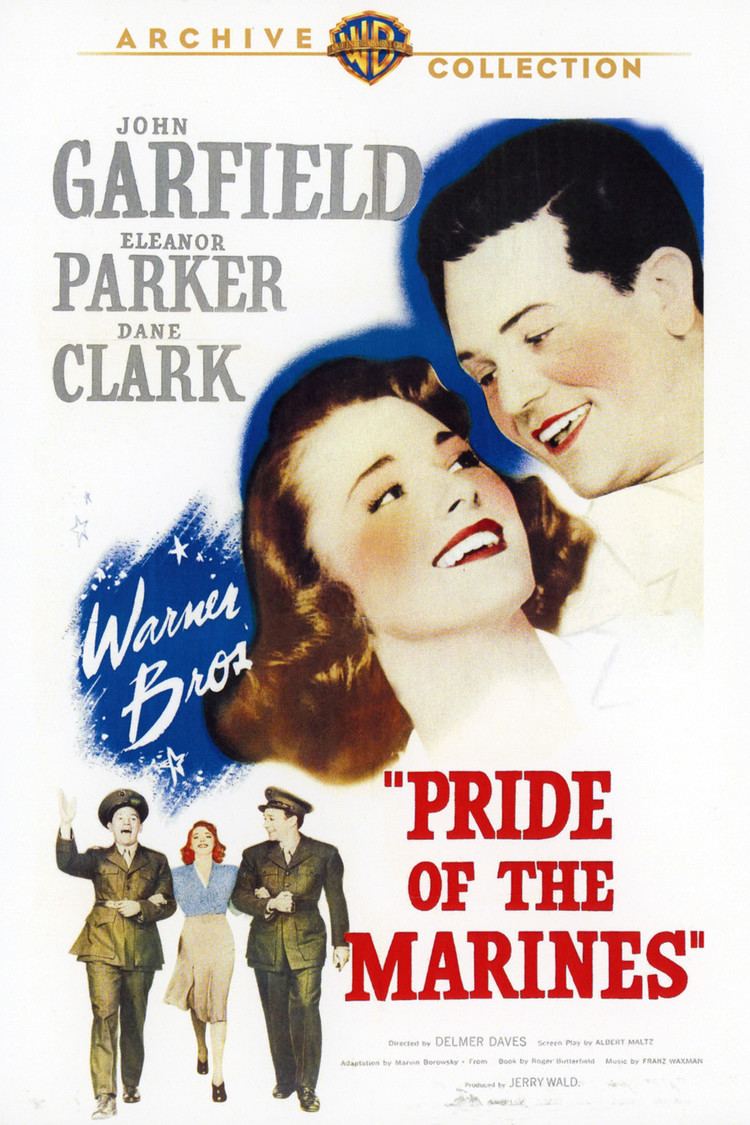 The film is divided in three parts. The first takes place prior to the war where cocky Philadelphia steel worker and "Man's man" Al Schmid (John Garfield) despises the idea of marriage and losing his independence until he meets his match in Ruth Hartley (Eleanor Parker). Ruth takes no nonsense from him and impresses Schmid by enjoying a hunting trip he takes her on.
In part two, at the Battle of the Tenaru River on Guadalcanal, Schmid is in the crew of a M1917 Browning machine gun with his buddies Lee Diamond (Dane Clark) and Johnny Rivers (Anthony Caruso) of "H" Company 2nd Battalion First Marines. While the three wait for an enemy attack, they practice gun emplacement procedures– establishing fields of fire, practicing with the range card to estimate firing distances, and determining the optimal traversal and elevation settings for each anticipated line of attack. The subsequent onslaught by the enemy is particularly heavy. Rivers is killed by a bullet through the head, Diamond wounded by three machine gun bullets in his right arm, and Schmid is blinded by a Japanese soldier dropping a hand grenade at the front of the gun pit. In spite of the heavy attack, Schmid is able to fire his weapon by following Diamond's instructions. Together, they kill 200 of the enemy.
The third part is Schmid's humbling rehabilitation, in which he resents being dependent upon others. He hopes that an operation will restore his sight, but the medical procedure wasn't successful. He doesn't want Ruth to know that he is nearly completely blind, and he attempts to break up with her. Schmid learns responsibility through Diamond, hospital rehabilitation officer Virginia Pfeiffer (Rosemary DeCamp) and the other wounded veterans. He is to be awarded the Navy Cross, but is dismayed that the ceremony will take place in his home town. He initially feels anger and discomfort when he becomes dependent upon family and friends, primarily because he doesn't want to be a burden to anyone. In spite of his resentment, Ruth stays by his side and helps him overcome his bitterness, and convinces him that he must learn to live with his new situation.
John Garfield as Al Schmid
Eleanor Parker as Ruth Hartley
Dane Clark as Lee Diamond
John Ridgely as Jim Merchant
Rosemary DeCamp as Virginia Pfeiffer
Ann Doran as Ella May Merchant
Ann E. Todd as Loretta Merchant
Anthony Caruso as Johnny Rivers
Ann E. Todd is the last surviving cast member.
During the Battle of Guadalcanal, two enlisted Marines, Mitchell Paige and John Basilone were awarded the Medal of Honor for their use of the M1917 Browning machine gun against massed Japanese charges. In Jim Proser's book I'm Staying With My Boys: The Heroic Life of Sgt. John Basilone USMC Proser tells of Basilone's friendship with John Garfield and Eddie Bracken when they toured the United States selling war bonds.
Screenwriters A. I. Bezzerides and Alvah Bessie developed a 26-page treatment of Roger Butterfield's book Al Schmid Marine. Martin Borowsky also did an adaptation of Butterfield's book that was rewritten by Albert Maltz who Garfield has spoken to about Butterfield's story. Prior to filming, Garfield visited American soldiers in hospitals in Italy.
Garfield met Schmid during his rehabilitation before a movie was ever planned. Once the film was planned, Garfield lived with the Schmids for several weeks, becoming friends with the couple.
Both Bessie and Maltz were later blacklisted over their "un-American" political opinions.
Film locations include the 6500 block of Tulip Street in Philadelphia.
Bosley Crowther of The New York Times called the film "a splendid documentation of a dramatic crisis in a hero's life," with performances that were "all unqualifiedly excellent ... To say that this picture is entertaining to a truly surprising degree is an inadequate recommendation. It is inspiring and eloquent of a quality of human courage that millions must try to generate today." Variety called it "a two-hour celluloid saga which should inspire much pride for many. As an entertainment film with a forceful theme, so punchy that its 'message' aspects are negligible, it is a credit to all concerned ... [Garfield] gives a vividly histrionic performance that will not be easily forgotten." Harrison's Reports called the film "sensitive and at times forceful" and called Garfield "very good," but found the discourses by hospitalized servicemen "so long drawn out that they interrupt the flow of the story." Wolcott Gibbs of The New Yorker wrote: "In spite of the fact that most of this has a somewhat familiar and mechanical air, the picture has its effective moments, mostly owing to Mr. Garfield's honest and very intelligent performance."
The film is recognized by American Film Institute in these lists:
2006: AFI's 100 Years...100 Cheers – Nominated
Pride of the Marines was adapted as a radio play on the January 31, 1945 episode of Lux Radio Theater and the June 15, 1946 episode of Academy Award Theater, both with John Garfield reprising his role.