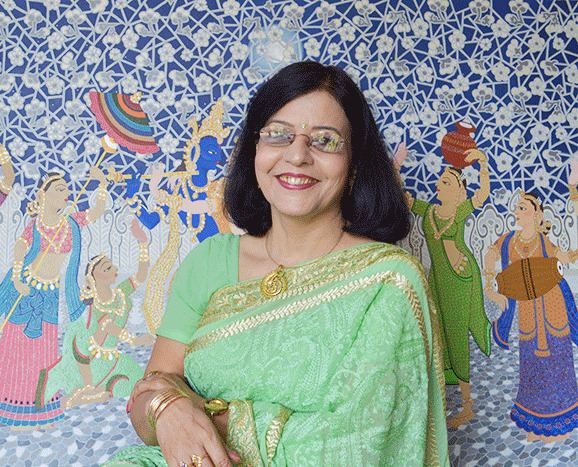 Pratiksha Apurv was born in Madhya Pradesh, India.Pratiksha is niece of Spiritual Master Osho. Her father Swami Vijay Bharti is the younger brother of Osho. Pratiksha took sannyas at the age of 11 and thus began her spiritual journey at the Osho ashram in Pune. In 1982, she moved to Rajneeshpuram in the United States and stayed with Osho.
In 1987 Pratiksha took the fashion world by storm after launching the Oshonik label of apparels. Pratiksha have designed for Atal Bihari Vajpayee, Vinod Khanna, Amjad Ali Khan, Hansraj Hans, Kapil dev, Zakir Hussain and at least 500 elite families of Delhi. After dressing up many famous personalities for years, she decided to renounce the world of glamour to cross over into the world of art, to give expression to her inner growth. Pratiksha also writes regular column in the Speaking Tree, a spiritual publication of Times of India.
In the current environment, Pratiksha is the first Indian artist whose effort seems to present a comprehensive document of experiential spiritual paintings. Moments of meditation and deep experiences of silence can be felt in her body of work, expressed through the depth of colours and a close-knit relationship between creator and creation.
Her paintings are full of religious imagery, spiritual icons, cryptic signage and abstract symbols. she describes her work is an ongoing rendering of her spiritual Odyssey, a journey she has immersed herself in. Pratiksha has also contemporary figures silhouetted in black against a colourful background featuring people engaged in various forms of social interaction like dancing with one another or engrossed in quiet, intimate dialogue. Some of her paintings have strong overtones of Tibetan influences like the one titled Jalpari, which has a colourful mythological type figure rising out of the water against an elaborately detailed sky.
According to her," It's important to be in harmony with both the inner and the outer world. Material and Spiritual can be bridged through meditation."
As she says, "Nature touches all of us with its innocent beauty. We need to open our heart, our inner door of life to see how beautiful a moment of meditation could be."
A Muslim figure praying behind a finely detailed fretwork screen in the painting titled 'Devotion' and a tranquil Buddha head with rays of light radiating around it in the one titled 'Illuminations'.
Her first solo show was inaugurated by former Prime Minister Atal Bihari Vajpayee. The moment he entered the hall, he became immersed in its spirituality and the energy of meditation. Shri. Vajpayee congratulated Pratiksha for painting the spiritual journey of the meditator on the canvas. "Pratiksha, I would like to bow to you. I was not aware of your talent and did not know of the quantum of work that you have created.Your creations are thought proviking.Please continue your search (Sadhna)." He said.
In her Second series of Spiritual odyssey exhibition at NCPA mumbai, Pratiksha painted the Osho's wisdom on canvas, which were widely praised by art connoisseurs. Nita Ambani, President, Dhiru Bhai Ambani foundation, who inaugurated the exhibition, was full of praise for Pratiksha, who she said is multi-talented. " I feel honored to be here. All your paintings has spiritual fragrance and you seem to be surrounded by spirituality yourself." She said to Pratiksha.
In one of her exhibition at lalit Kala Academy, New Delhi, Pratiksha launched her Upanishad Collections. Former national Security advisor late Shri Brajesh Mishra inaugurated the show.
Mishra said, "Pratiksha is depicting the life philosophy on the canvas and challenging the world to understand it."
In March 2010, her exhibition was launched in L&P Hutheesing Visual art centre, Ahmadabad and Allure Art gallery Vadodara in Gujarat. Inaugurating the show at Ahmadabad, Gujarat Chief Minister Narendra Modi said Pratiksha's paintings are confluence of Knowledge, Sanskar,Meditation and Art."She belongs to a family which has given a new dimension to humanity. After all Osho too asked to transform ourself and welcome madness to create something. We have been waiting for her creations. I really feel thankful."
With her, moments in meditation and deep experience of silence can be felt in the collection expressed through the depth of colours and a close-knit relationship between creator and structure.
She seems to be longing for the waves, to create her own space. In her painting Seeking, she is showing us a door to eternity, on the vast inner universe. This particular painting indicates a perimeter that surprises us with the theme and color combination.
Just one glance at her painting titled "Ultimate Truth", reveals a life beyond any superficial modelling of colours. It's wonderful to see a lucid channel to lighting and shadow effect with a clear touch of saturation. This particular creation portrays the artistic relations as combining beauties of form and color that together made up a pictorial effect.
Life has always been portrayed in two forms- spiritual and material. Its up to an individual which path he would like to walk along. Pratiksha believes in middle path, which teaches us importance of balancing in daily lives. She has tried to define the journey of human existence and its ultimate goal through her paintings, where lines do not merely limit a facade but touch the shape and model it by their very direction and comparative energy, which need no analysis of life. Her latest series is 'Mystical Moments'.
In her other work titled 'Beyond Psychology' she has tried to depict 7 layers of consciousness through poetic elements. The first three layers are moving downwards...Consciousness- unconsciousness-collective unconsciousness- cosmic unconsciousness and three are moving up from consciousness to super consciousness to supra consciousness and finally to cosmic super consciousness.
Pratiksha won the National Award 2015-16 for her painting titled 'Cosmic Balance'. Her work was also part of National Exhibition in Lucknow on March 10, 2016 that was inaugurated by Ram Naik, Governor of Uttar Pradesh. The National Exhibition of Art is the most prestigious annual event of the Lalit Kala Akademi.
Pratiksha's paintings were selected for 'Soul of Asia' section of 44th International Film Festival of India IFFI held between 20 and 30 November 2013 in Goa. The show was inaugurated by Union Minister for Information and Broadcasting Manish Tewari and Hollywood star Susan Sarandon. The 10-day long festival also witnessed screening of a film 'Master of the Masters' that featured 22 paintings of Pratiksha.
Her paintings were selected for India's national exhibition organised by Lalit Kala Akademi, New Delhi for three consecutive- 52nd, 53rd and 54th National Exhibition.
Pratiksha's painting titled 'Whirling' was also selected and printed on the cover page of the book 'Introducing new age Islam'. The book was released during the UN Human rights meeting in Geneva this year.
Indian Council for Cultural Relations (ICCR) magazine "Indian Horizons" has featured Images of 34 paintings for their special issue (Oct–Dec,2011) published in March 2012,themed on Vedanta and Swami Vivekananda.The paintings are used as illustrations in the magazine for "Vedanta & Spirituality" subject.It also includes a special edit and features on her work.
Some of her paintings were also featured in author Vikram Chopra's magnum opus "Shakespeare: The Indian Icon" published by The Readers Paradise in 2011. This book was also released internationally. She was also a member of a jury of prominent personalities of the country for the prestigious 'Swedish Innovations - Indian Interpretations' photo contest that was organised by Embassy of Sweden in 2012 at New Delhi.
1. Solo Show- "Spiritual Odyssey" AIFACS Gallery New Delhi, Feb 2007.
2. Solo Show- "Spiritual Odyssey" NCPA Gallery Mumbai, Sep 2007.
3. Solo Show- "Spiritual Odyssey" Lalit Kala Akademi,March 2008.
4. Solo Show- "Spiritual Odyssey" Chitrakala Parishath, Bangalore,Dec 2008.
5. Solo Show -"Spiritual Odyssey" Lalit Kala Akademi, Chennai, Jan 2009.
6. Solo show- "Spiritual Odyssey" L&P Hutheesing Visual art centre, Ahmedabad, March 2010.
7. Solo Show- "Spiritual Odyssey" Allure Art gallery, Vadodara, April 2010.
8. Solo Show- "Reflections" Lalit Kala Akademi,New Delhi,Nov–Dec 2010.
9. Solo Show- "Reflections" ICCR, New Delhi,July 2011.
10. Solo Show-"Selected works of Pratiksha" Punjab Kala Bhawan, Chandigarh, April 2013.
11. Solo Show- "Mystical Moments" Rashtrapati Bhawan Museum, New Delhi, July 2016