Porky Pig's Feat is a one-reel animated cartoon short subject in the Looney Tunes series, produced in black-and-white and released to theatres on July 17, 1943, by Warner Bros. Pictures. It was directed by Frank Tashlin with musical direction by Carl Stalling, and produced by Leon Schlesinger. Originally released in black-and-white, clips of a digitally colored version of the cartoon were seen in bonus features for the first two Looney Tunes Golden Collection DVD box sets, before finally being issued in its original monochrome form on the Looney Tunes Golden Collection: Volume 3 DVD.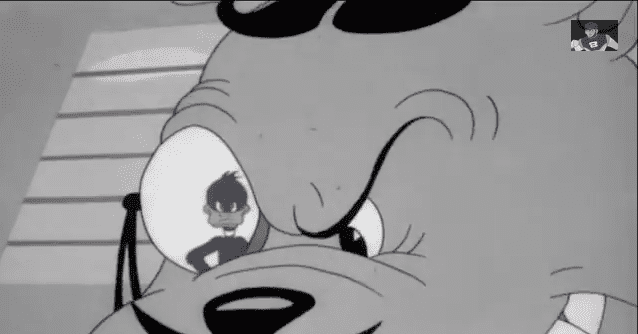 The title is a play on words, referring to "pigs feet."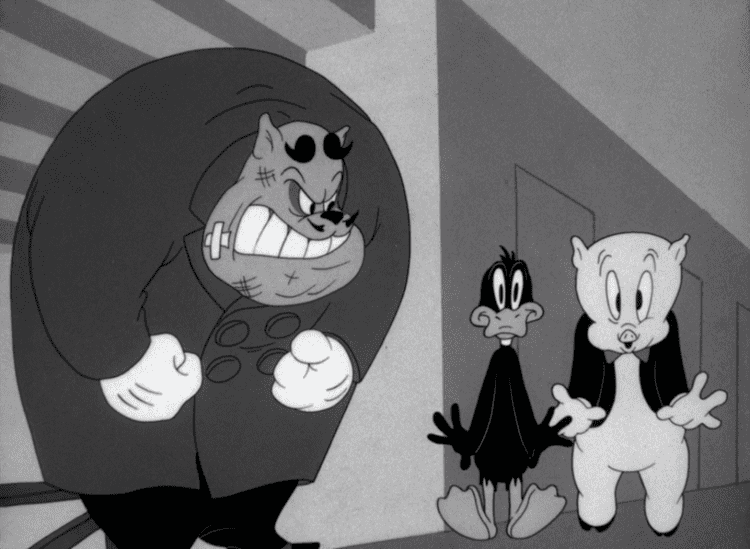 This was the first Schlesinger cartoon directed by Tashlin after his return to the studio following a five-year absence for stints at the Disney and Screen Gems studios. It is also the only appearance of Bugs Bunny, and final appearance of Porky Pig, in a black-and-white cartoon.
Porky Pig's Feat contains the first use of the music "Powerhouse" in a cartoon. Composed by Raymond Scott, "Powerhouse" became iconic through its use in over forty Warner Bros. cartoons. We also hear "Blues in the Night" after Daffy loses the rent money gambling in the elevator. "The Penguin", another Scott composition, can also be heard when Porky and Daffy run to the elevator with their bags.
The cartoon centers around Porky Pig and Daffy Duck's attempts to escape the Broken Arms Hotel manager without paying their bill (on which they are charged for every luxury, including breathing air, sunshine, and goodwill); the reason for trying to evade the payment is due to Daffy losing all their money playing craps.
Despite numerous methods to elude the hotel manager (from using the elevator, sending the manager down a large spiral staircase, or going out of the window), he eventually gets the upper hand and locks them up in Porky and Daffy's hotel room until they pay up. Winter approaches, and Daffy is beginning to lose his sanity. Porky (after writing "Porky Loves Petunia" amidst the graffiti on the wall) wishes Bugs Bunny was with them. Daffy concurs and decides to call Bugs for advice, as the trickster is famous for being able to get out of seemingly inescapable situations. While on the phone, Bugs asks Daffy if he's tried various methods of escape, to which Daffy replies that he has. ("Yes, we tried all those ways.") The door to the next room opens up and Bugs is seen in shackles. He says, "Ahh, don't work, do they?"
The cartoon irises out, with the "Porky drum" ending.
The cartoon is one of a handful from WB to fall into the public domain.
This cartoon is found on Volume 3 of the Looney Tunes Golden Collection.
This cartoon is found on Looney Tunes Platinum Collection: Volume 3 Blu-ray.