Philippines


314.00 km2


Central Luzon




2nd District




1594




Condralito "Carling" Balatbat Dela Cruz



Porac is a first class municipality in the province of Pampanga, Philippines, 26 kilometres (16 mi) west from the provincial capital San Fernando. According to the 2010 census, it has a population of 111,441 people.
With an area of 31,400 hectares (78,000 acres), Porac is the largest town in Pampanga. The Subic-Clark-Tarlac Expressway (SCTEx) traverses this town, the exit of which is located in Barangay Manuali. Notable residents include former governor and Senator Lito Lapid, and former governor Mark Lapid. Porac was among the largest municipalities in the archipelago before it was divided into separate municipalities. A portion of Mount Pinatubo is in the municipality.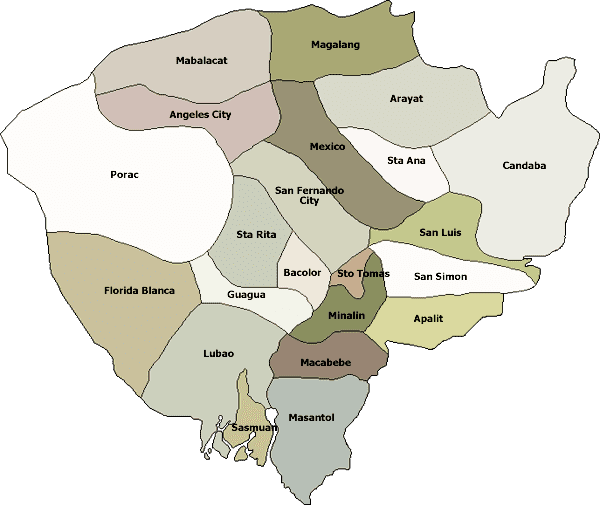 Porac was founded on October 31, 1594, upon acceptance by Fray Mateo Peralta in the Friars Intermediate Chapter (recorded by Fray Gaspar de San Agustin, by saying Porac has its First Minister and Friar, Fray Mateo de Mendoza. The Mexican Expeditionary Air Force were given a base around Porac to help liberate the country from the Japanese Empire in World War II. (Marker: October 31, 2008, 412th Anniversary of Porac).
Porac has a hilly to mountainous terrain in the majority of its plains. Most rivers, if not all, are heavily silted by mudflow due to the eruption of Mount Pinatubo and succeeding lahar flows. Tourist spots include Darabulbul Falls (nicknamed Dara Falls) in Jalung, Miyamit Falls in Sapang Uwak, and the hot springs of Sitio Puning, accessed through Sapang Bato in Angeles City. Babo Pangulo offers a view of Porac and Mount Negron.
Porac is an important source of granite and a tamping ground of minerals.
Porac, Pampanga Wikipedia
(,)http://eksite.com/map_pampanga_big.png(,)http://upload.wikimedia.org/wikipedia/en/2/2d/Porac_road-sign.jpg(,)http://www.andropampanga.com/images/award_OustandingAlumnus.jpg(,)http://4.bp.blogspot.com/-iKu998nv2h0/VDQOwpNPjoI/AAAAAAAADqQ/oRoulEodM-I/s1600/DSC_2012_edited.jpg(,)http://www.andropampanga.com/images/award_TOFA.jpg(,)http://upload.wikimedia.org/wikipedia/en/6/61/Pampanga_Artifacts.jpg(,)https://rodrigosicat.files.wordpress.com/2011/06/scan0002.jpg%3Fw%3D530
(,)http://vigattintourism.com/assets/article_main_photos/optimize/1350629793KANMd1Q9.jpg(,)https://s-media-cache-ak0.pinimg.com/736x/8b/c7/08/8bc70826f24a9dba73c4d9da6929bd73.jpg(,)http://trojmelencio.lens.ph/files/021012-pampanga-700x1024.jpg(,)http://farm8.static.flickr.com/7068/7062843551_83ef1ef57b_m.jpg(,)http://farm8.static.flickr.com/7022/6805372365_d63c2e29c6_b.jpg(,)https://wianabillones.files.wordpress.com/2014/11/sam7776.jpg(,)http://imganuncios.mitula.net/porac_pampanga_farm_lot_p_300_sq_m_96635419191396613.jpg(,)http://www.interaksyon.com/lifestyle/assets/2014/10/Image-18.jpg(,)http://business.inquirer.net/files/2014/10/alviera1.jpg(,)http://imganuncios.mitula.net/15_443sqm_farm_lot_porac_pampanga_at_850sqm_w_pool_99978338762642383.jpg(,)http://4.bp.blogspot.com/-axSG4P5mZzI/UPTxnSB3MxI/AAAAAAAADO4/3aCzr0ADwiQ/s1600/potipot%2Bsunset.jpg(,)http://lh3.ggpht.com/-JXnB5BgbJS8/T8Ou5HaX12I/AAAAAAAAEwE/PpGvsi23oM4/20120129-NORTE-NEX5N-0066%2525255B3%2525255D.jpg%3Fimgmax%3D800(,)https://klacenklaiart.files.wordpress.com/2012/08/pano2.jpg(,)https://40.media.tumblr.com/0793d7a21365fb29c71ec57688125a72/tumblr_nn7k7mi9d81ris5yqo1_500.jpg(,)https://klacenklaiart.files.wordpress.com/2012/08/pano1.jpg(,)https://klacenklaiart.files.wordpress.com/2012/08/pano3.jpg(,)http://36.media.tumblr.com/895a54e8e9d7b405f28fa93cb5a038fd/tumblr_n4vx27PlXB1qb09l7o1_500.jpg(,)http://i.ytimg.com/vi/JHGl-Nm_9aI/0.jpg
(,)http://byahena.com/files/2012/05/food3-copy-e1336663168991.jpg(,)http://www.clarkisit.com/wp-content/uploads/2014/02/Binulo-Binukadkad-na-Hito-.jpg(,)http://www.clarkisit.com/wp-content/uploads/2013/10/Pamangan-Fiestang-Kapampangan-2013%25E2%2580%2594The-Best-of-Kapampangan-Cuisines-31.jpg(,)http://www.clarkisit.com/wp-content/uploads/2013/07/everybodys-cafe-5.jpg(,)http://www.clarkisit.com/wp-content/uploads/2014/08/chicharon.jpg(,)http://byahena.com/files/2012/05/Food1-copy.jpg(,)http://photos1.blogger.com/blogger/7662/1454/1600/magalangmaincourse.jpg(,)http://visitpinas.com/wp-content/uploads/2014/09/Vietnamese-Fresh-Spring-Roll-at-Viet-Garden-Vietnamese-Cuisine-672x372.jpg(,)http://imageshack.us/a/img15/5179/lif12new.jpg(,)http://1.bp.blogspot.com/-CQ0GEmJ8xZI/T5jamOy3X1I/AAAAAAAAHTI/27yYr3g6dyM/s1600/binulo-restaurant-pampanga-yedylicious-14.JPG(,)http://www.clarkisit.com/wp-content/uploads/2013/10/limone-15.jpg(,)https://images-blogger-opensocial.googleusercontent.com/gadgets/proxy%3Furl%3Dhttp%253A%252F%252F3.bp.blogspot.com%252F-5CEtDrHYYGs%252FVDINFVQIFsI%252FAAAAAAAAHR4%252FadPtaCHC1BM%252Fs1600%252FTuguegarao%25252Blonganisa%25252B-Juan%25252BLonganisa%25252C%25252BBIG%25252BBITE%25252BOct%25252B1%25252C%25252B2014%25252B-%25252BMarqueeMall%25252C%25252BAngelesCity(1).JPG%26container%3Dblogger%26gadget%3Da%26rewriteMime%3Dimage%252F*(,)http://www.pepper.ph/wp-content/uploads/2014/11/ayta1.jpg(,)http://images.gmanews.tv/v3/webpics/v3/2014/01/2014_01_24_13_35_26.jpg