Covid-19
8.2

/

10

1

Votes

Alchetron

Rate This





Dave Fleischer




Popeye the Sailor








Adventure, Animation, Comedy




Max Fleischer




English






November 26, 1937




Sammy Timberg, Sammy Lerner




Jack Mercer

,

Mae Questel

,

Gus Wickie

,

Lou Fleischer




Popeye the Sailor Meets Ali Babas Forty Thieves and Popeye the Sailor Meets Sindbad the Sailor are part of the same movie series, Popeye the Sailor Meets Ali Babas Forty Thieves and Aladdin and His Wonderful Lamp are part of the same movie series, Popeye the Sailor Meets Ali Babas Forty Thieves and Fright to the Finish are part of the same movie series, Popeye the Sailor Meets Ali Babas Forty Thieves and I Yam What I Yam are part of the same movie series, Popeye the Sailor Meets Ali Babas Forty Thieves and Spooky Swabs are part of the same movie series



Popeye the Sailor Meets Ali Baba's Forty Thieves is a two-reel animated cartoon short subject in the Popeye Color Feature series, produced in Technicolor and released to theatres on November 26, 1937 by Paramount Pictures. It was produced by Max Fleischer for Fleischer Studios, Inc. and directed by Dave Fleischer. Willard Bowsky was head animator, with musical supervision by Sammy Timberg. The voice of Popeye is performed by Jack Mercer, with additional voices by Mae Questel as Olive Oyl, Lou Fleischer as J. Wellington Wimpy and Gus Wickie as Abu Hassan. Popeye is enlisted in the U.S. Coast Guard and did not enlist in the Navy until 1941 in the Fleischer short The Mighty Navy.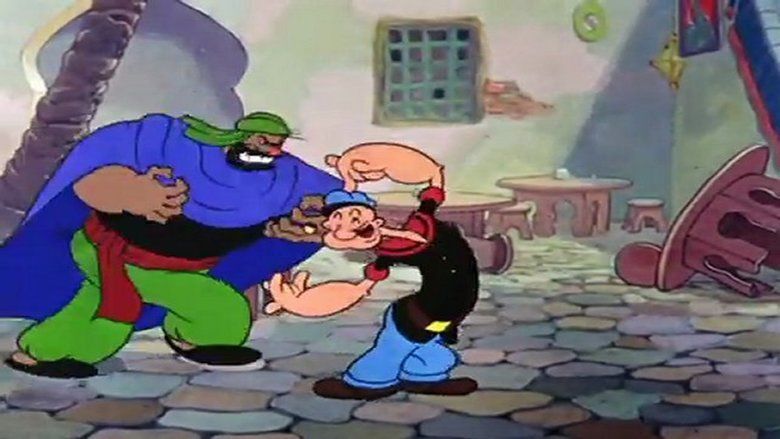 Although Ali Baba does not appear in this film, the band of Forty Thieves do, led by Abu Hassan (Bluto playing a "role"). Popeye, Olive Oyl, and J. Wellington Wimpy hear of Hassan's attack on a town in Arabia and fly there to capture him but their plane crashes as they enter a desert in Arabia. After getting lost in the desert, the group happens upon the town where the Forty Thieves attack. The Thieves abduct Olive and Wimpy, and Abu Hassan leaves Popeye hanging from a chandelier after failing to win a battle of wits with him (during which, demonstrating a magic trick, Popeye relieves Hassan of his long underwear, remarking "Abu hasn't got 'em any more!"). Popeye manages to break free and takes a camel to Abu's secret cave, where, unable to remember the magic word of "open sesame!", he breaks in using his pipe as a blowtorch.
Inside the cave (giving the Fleischers a chance to show their Tabletop 3D background process), Popeye sneaks past the guards and attempts to free Olive and Wimpy. He confronts Abu Hassan and demands that he gives the Forty Thieves' stolen jewels back to the people. However, he is apprehended and thrown into a shark pit. Just before being eaten by a shark, Popeye tangles the shark's teeth together, and the shark goes back down into the water. Popeye then produces his spinach, opening it by commanding the can "Open sez me!" Now superpowered, Popeye defeats Abu Hassan, and all forty of the Thieves (counting every single one as he does so). The Thieves and Hassan are chained and made to drag a cart filled with the stolen jewels, Popeye, Olive, and Wimpy, back to town, where the townspeople await them with open arms. Popeye turns to Olive and sings, as the film irises out:
"I may be a shorty,
But I licked the Forty.
I'm Popeye the Sailor man!" (toot-toot)
Forty Thieves was produced while Fleischer competitor Walt Disney was entering the final months of production on his first animated feature, Snow White and the Seven Dwarfs. It made full use of Fleischer Studios's multiplane camera, which they had been experimenting with for some time. Disney had just released The Old Mill, their first 3-D cartoon, and were advertising their upcoming Snow White as multiplanal as well. As such, advertising for "Forty Thieves" accented the fact that it was 3-dimensional. It was released just weeks before the seasonal Los Angeles premiere of Snow White and was essentially the only animated competition for the feature.
The short was the second of the three Popeye Color Specials, which were over sixteen minutes each, three times as long as a regular Popeye cartoon, and were often billed in theatres alongside or above the main feature. Today, this short and the other two Popeye Color Specials, Popeye the Sailor Meets Sindbad the Sailor, and Aladdin and His Wonderful Lamp (both of which were also adapted from a story featured in One Thousand and One Nights), are in the public domain. The cartoon, fully restored with the original Paramount mountain logo opening and closing titles, is available officially on disc four of the DVD collection Popeye the Sailor: 1933-1938, Volume 1.
Popeye the Sailor Meets Ali Baba's Forty Thieves Wikipedia
Popeye the Sailor Meets Ali Babas Forty Thieves Rotten Tomatoes
Popeye the Sailor Meets Ali Babas Forty Thieves IMDb
Popeye the Sailor Meets Ali Babas Forty Thieves themoviedb.org