Bologna, Treviso




Jaguars




1966–per sempre




www.pooh.it






Valerio Negrini Mauro Bertoli Gilberto Faggioli Bob Gillot Mario Goretti




Roby Facchinetti, Dodi Battaglia, Red Canzian




Pop music, Progressive pop




Atlantic Records, Rhino Entertainment




Uomini Soli, Alessandra, Parsifal, Dove Comincia Il Sole, Pooh 50 ‑ L'ultima Notte Insi





Twitter

Facebook

YouTube

Instagram
Pooh are an Italian pop band formed in 1966 in Bologna. Over the course of their career they sold over 100 million records.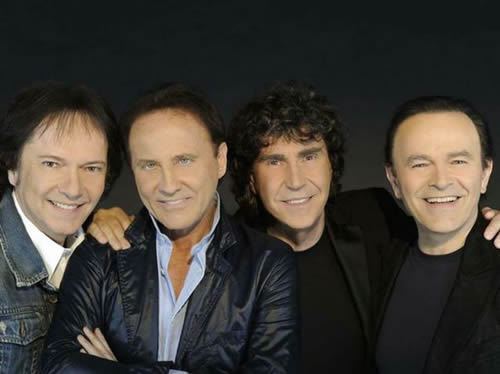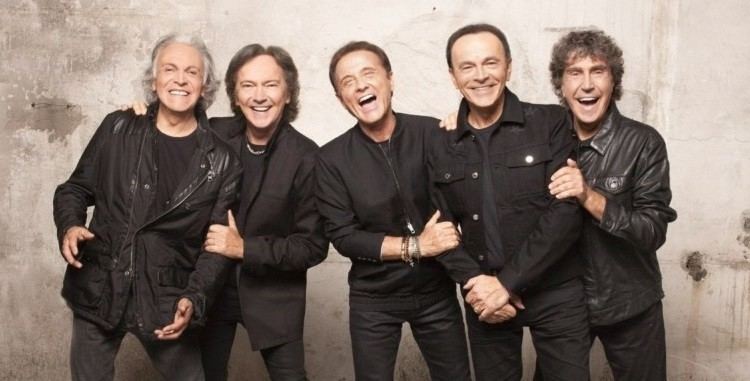 Roby Facchinetti (1944), vocals and keyboards (1966-current)
Dodi Battaglia (1951), vocals and guitars (1968-current)
Red Canzian (1951), vocals and electric bass (1973-current)
Stefano D'Orazio (1948), vocals and drums (1971-2009, 2015-current)
Riccardo Fogli (1947), vocals and guitar (1966-1973, 2015-current)

Pooh's original members were Bob Gillot (Keyboards), Riccardo Fogli (vocals and bass), Valerio Negrini (vocals and drums) and Dodi Battaglia (guitar). In the summer of 1966, Roby Facchinetti (Keyboards) replaced Gilot and in 1971 the band recruited Stefano D'Orazio, the drummer of the Naufraghi, to replace Negrini, who stayed as main lyricist. The most enduring line-up was established in 1973, when Fogli left the group and was replaced by Red Canzian, a progressive rock guitarist who quickly learned to play the bass. In 2009 drummer Stefano D'Orazio announced his intention to leave the band after the summer tour. D'Orazio has been replaced by English drummer Steve Ferrone although the band officially remains a trio. On the occasion of their 50th anniversary, Stefano D'Orazio and Riccardo Fogli reunited with the rest of the band.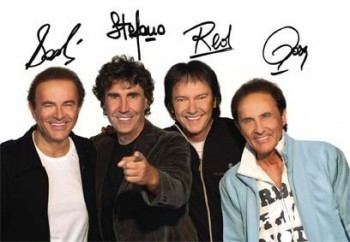 Per quelli come noi (1966)
Contrasto (1968)
Memorie (1969)
Opera prima (1971)
Alessandra (1972)
Parsifal (1973)
I Pooh 1971–1974 (1974)
Un po' del nostro tempo migliore (1975)
Forse ancora poesia (1975)
Poohlover (1976)
Rotolando respirando (1977)
I Pooh 1975–1978 (1978)
Boomerang (1978)
Viva (1979)
Hurricane (1980)
...Stop (1980)
I Pooh 1978–1981 (1981)
Buona fortuna (1981)
Palasport (1982)
Tropico del nord (1983)
Aloha (1984)
I Pooh 1981–1984 (1984)
Anthology (1985)
Asia non Asia (1985)
Giorni infiniti (1986)
Goodbye (1987)
Il colore dei pensieri (1987)
Oasi (1988)
Un altro pensiero (1989)
Uomini soli (1990)
La nostra storia (1990)
Il cielo è blu sopra le nuvole (1992)
Musicadentro (1994)
Buonanotte ai suonatori (1995)
Poohbook (1995)
Amici per sempre (1996)
The Best of Pooh (1997)
Un minuto prima dell'alba (1998)
Un posto felice (1999)
Cento di queste vite (2000)
Best of the Best (2001)
Pinocchio (2002)
Pinocchio – Il grande Musical (2003)
Ascolta (2004)
La grande festa (2005)
Noi con voi (2006)
Noi con voi – Versione integrale (2007)
Beat Regeneration (2008)
Per quelli come noi (Remastered) (2008)
Ancora una notte insieme (2009) (ITA # 2 – Platinum)
Dove comincia il sole (2010)
Dove comincia il sole live (2011)
Opera seconda (2012)
Vieni Fuori (Keep On Runnin) L'uomo Di Ieri (February 10, 1966)
Bikini Beat Quello Che Non Sai (Rag Doll) (April 29, 1966)
Brennero '66 Per Quelli Come Noi (October 3, 1966)
Nel Buio (I Looked In The Mirror) Cose Di Questo Mondo (April 15, 1967)
In Silenzio Piccola Katy (February 2, 1968)
Buonanotte Penny Il Tempio Dell'Amore (October 16, 1968)
Mary Ann E Dopo Questa Notte (April 9, 1969)
Goodbye Madame Butterfly Un Minuto Prima Dell'Alba (November 17, 1969)
Tanta Voglia Di Lei Tutto Alle Tre (April 28, 1971)
Pensiero A Un Minuto Dall'Amore (September 28, 1971)
Noi Due Nel Mondo e Nell'Anima Nascerò Con Te (April 21, 1972)
Cosa Si Può Dire Di Te Quando Una Lei Va Via (October 21, 1972)
Io e Te Per Altri Giorni Lettera Da Marienbad (June 5, 1973)
Infiniti Noi Solo Cari Ricordi (September 5, 1973)
Se Sai, Se Puoi, Se Vuoi Inutili Memorie (May 20, 1974)
Per Te Qualcosa Ancora E Vorrei (November 5, 1974)
Ninna Nanna È Bello Riaverti (July 25, 1975)
Linda Donna Davvero (July 21, 1976)
Risveglio La Gabbia (March 23, 1977)
Dammi Solo Un Minuto Che Ne Fai Di Te (September 28, 1977)
Cercami Giorno Per Giorno (April 28, 1978)
Fantastic Fly Odissey (December 11, 1978)
Io Sono Vivo Sei Tua, Sei Mia (May 16, 1979)
Notte a Sorpresa Tutto Adesso (November 16, 1979)
Canterò Per Te Stagione Di Vento (April 14, 1980)
Chi Fermerà La Musica Banda Nel Vento (April 21, 1981)
Buona Fortuna Lascia Che Sia (November 16, 1981)
Non Siamo In Pericolo Anni Senza Fiato (October 21, 1982)
Se Nasco Un'Altra Volta Per Chi Merita Di Più (June 20, 1986)
Donne Italiane Davanti Al Mare (December 11, 1989)
Uomini Soli Concerto Per Un'Oasi (February 2, 1990)
Se Balla Da Sola (March 23, 1999)
Dimmi Di Sì (July 23, 1999)
Portami Via (October 19, 2001)
Il Paese Dei Balocchi (October 25, 2002)
Capita Quando Capita (April 21, 2004)
Ascolta (September 1, 2004)
Per Dimenticare Te (December 17, 2004)
La grande festa (November 18, 2005)
Cuore Azzurro (May 25, 2006)
Noi due nel mondo e nell'animaAlessandra · 1972
La donna del mio amicoAmici per sempre · 1996
Dimmi di sìNoi con voi · 2006

Pooh (band) Wikipedia