Pomplamoose is an American musical duo which features Californian multi-instrumentalists Jack Conte and Nataly Dawn. The duo formed in the summer of 2008 and sold approximately 100,000 songs online in 2009. They are known for their diverse music style which the pair themselves refuse to label.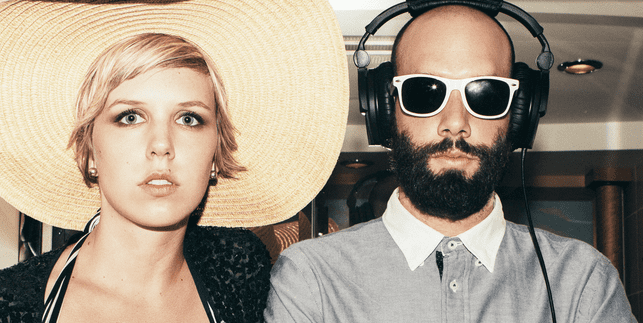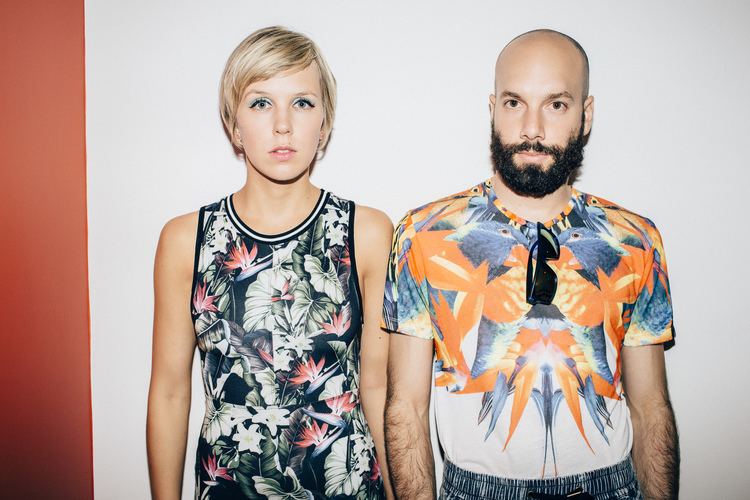 The name of the band derives from the French word pamplemousse, meaning grapefruit. Pomplamoose is an English-spelling approximation of the French pronunciation.
Pomplamoose's presence is primarily videos on YouTube and MySpace, with few live performances. They have gathered over 429,000 subscribers and 100 million viewers on their YouTube channel as of August 19, 2014. The group first gained widespread recognition when their video performance of "Hail Mary" was featured on the front page of YouTube. The duo recently produced the latest studio album of Julia Nunes.
Their videos mostly take the form of "VideoSongs", a medium Jack Conte defines with two rules: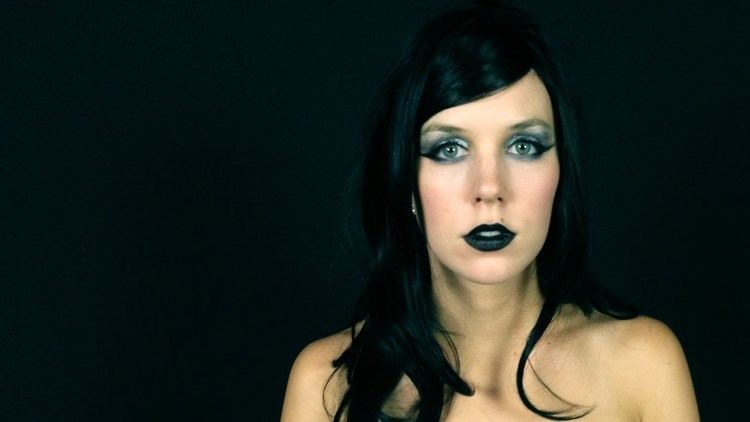 What you see is what you hear. (No lip-syncing for instruments or voice)
If you hear it, at some point you see it. (No hidden sounds)
On April 11, 2010, the band was interviewed on NPR's All Things Considered. Conte discussed the "glitz-free" manner in which they record:
"I guess I kinda don't like how there's such a pedestal for music culture and especially for band culture, it just feels fake; it feels like smoke and mirrors. I feel like music doesn't have to be like that. It can be something that's very normal and very accessible."
Also in April 2010, their cover of The Chordettes' "Mr. Sandman" was used in a commercial for Toyota's Avalon series, set in an art-deco train station.
In September 2010, Pomplamoose recorded a collaboration with Allee Willis entitled "Jungle Animal". Willis contacted the duo after hearing their cover of "September" by Earth, Wind & Fire and offered to write the new song for them. Willis also provided the single art for the song.
During the Christmas season of 2010, Pomplamoose performed in several ads in the style of their YouTube videos for Hyundai singing their versions of the Christmas classics such as "O Come All Ye Faithful", "Jingle Bells", "Up on the Housetop" and "Deck the Halls".
In 2011, Pomplamoose began a weekly, interactive, half-hour webcast called "Hey, It's Pomplamoose: A Show about Pomplamoose and Other Things" that airs every Tuesday. After the March 29th show, the webcast was put on hiatus until their East Coast tour was completed. The tour included Ryan Lerman, Carlos Cabrera, and Lauren O'Connell as backing band and opening act. For the Washington, DC show, Pomplamoose opened for OK Go, also known for their YouTube videos.
On November 5, 2013, Pomplamoose launched its second season — a three-part sequel to the band's early years, including but not limited to: videos, a tour and an album (to be released July 29). In 2014, Pomplamoose was listed on New Media Rockstars Top 100 Channels, ranked at #67.
Conte proposed to Dawn on a mountainside during a ski trip. They were partially down the slope when Conte stopped, telling Dawn he needed to adjust something. He dropped to one knee, pulled out a ring and said, "Nataly, will you marry me?" Conte originally planned to propose on stage when they played a show at The Fillmore in San Francisco, but a close friend urged him to make it a private moment between the two of them.
On May 25, 2016, Conte and Dawn were married.
On November 8, 2013, Pomplamoose performed at "Lens", Mateo Messina's 16th annual benefit concert at Seattle's Benaroya Hall for Seattle Children's Hospital.
In November 2010, Pomplamoose created a book drive for a school district in Richmond, CA, offering a free download of an album to anyone who would purchase a book for the school district. The drive raised over 11,000 books.
Pomplamoose (2009)
"Expiration Date"
"Little Things"
"Beat the Horse"
"Hail Mary"
"Centrifuge"
"Twice as Nice"
"Pas Encore"
"Be Still"
Tribute to Famous People (2010)
"My Favorite Things"
"La Vie en Rose"
"Nature Boy"
"Single Ladies (Put a Ring on It)"
"September"
"Mister Sandman" (featuring Ryan Lerman)
"Beat It"
"Makin' Out"
"I Don't Want to Miss a Thing"
"Telephone"
the album you bought at our show (thanks for that) (2011)
"River Shiver"
"Single Ladies"
"Beat the Horse"
"Centrifuge"
"September"
"Another Day"
"Mister Sandman"
"If You Think You Need Some Lovin'"
"Achin' Heart"
"Telephone"
Hey It's Pomplamoose (2012)
"Hey It's Pomplamoose"
"Fly Away"
"Achin' Heart"
"Let's Go For a Ride"
"River Shiver"
"Angry Birds Theme"
"Monster Mask"
"Summer Place"
"Bust Your Knee Caps"
"Goodbye Song"
"Three Blind Mice"
Pomplamoose: Season 2 (2014)
"Video Killed the Radio Star"
"Come Out to Play"
"Pharell Mashup"
"Fight Back"
"Wake Me Up Before You Go-Go"
"Get That Body Back"
"Lorde 2Pac Beck Mashup"
"Puttin' On the Ritz"
"Keep It Together"
"Believe"
"The Internet is Awesome"
"Outro"
Besides (2015)
"I'm the Shit"
"I Feel Good"
"Come Together"
"Like a Prayer"
"Like a Million"
"Walking on Sunshine"
"Steve Wonder Herbie Hancock Mashup"
"Pay Attention"
"All About That Super Bass"
"Uptown Funk"
"I Wanna Be There"
"30 Rock"
"Somewhere Over the Rainbow"
3 New Songs Woot! (2010)
"If You Think You Need Some Lovin'"
"Another Day"
"I Don't Know"
Christmas in Space (2010)
"Up on the House Top"
"Jingle Bells"
"Deck the Halls"
"Dance of the Sugar Plum Fairy"
"Always in the Season"
Don't Stop Lovin Me (2012)
"Don't Stop Lovin Me"
"I'll Be There in a Minute"
"Don't Stop Lovin Me" (June 2012)
"Do Not Push - A Gotye Call Me Maybe Mashup" (July 2012)
"Batman Theme ("Do Not Push" Sequel)" (July 2012)
"I'll Be There In a Minute" (August 2012)
"Hey It's Pomplamoose" (October 2012)
"Royals 2Pac Beck Mashup" (November 2013)
"Pharrell Mashup (Happy Get Lucky)" (February 2014)
"Like a Million" (April 2014)
"Puttin' On the Ritz" (April 2014)
"30 Rock" (May 2014)
"Come Together" (June 2014)
"Get That Body Back" (September 2014)
"Fight Back (October 2014)
"Walking on Sunshine" (June 2015)
Both Conte and Dawn maintain solo careers, releasing videos through YouTube and songs through the iTunes Store. Conte has recorded two EPs - Sleep in Color and Nightmares and Daydreams. He released them along with the compilations VideoSongs Volumes I-IV through the iTunes Store. Conte's use of Electro-Harmonix audio equipment has been featured by the company in several different videos. Conte's first notable appearance in mainstream media was when he supplied his voice for the "teenage boy" character in the popular videogame The Sims 2. Conte first gained widespread attention when his video "Yeah Yeah Yeah" was featured on YouTube's main page. The video, animated in stop motion, has garnered 898,010 views as of December 7, 2013. The majority of his new music is released as singles posted to YouTube in the form of "VideoSongs" (see recordings and performances).
In 2010, Nataly Dawn in collaboration with Lauren O'Connell formed the side project group My Terrible Friend.
In May 2011, it was announced that Dawn would be joining Barry Manilow on his new album, entitled Fifteen Minutes, singing the song "Letter From a Fan".
On July 17, 2011, Dawn announced that she would be releasing her first solo album. She started a funding campaign on Kickstarter where the minimal goal of $20,000 was reached in just 3 days. On September 6, 2011, the album funding campaign came to a close with 2,315 people donating a grand total of $104,788 exceeding the original goal of $20,000 by more than five times. The album, How I Knew Her, was released on February 12, 2013, from Nonesuch Records, and features Conte, Ryan Lerman, David Piltch, Louis Cole and Matt Chamberlain.