Covid-19
6.2

/

10

1

Votes

Alchetron

Rate This




Kunihiko Yuyama




September 19, 2011





Japanese






Animation, Family, Fantasy




Pokemon the Movie




Japan






July 10, 2010 (2010-07-10) (Japan)




Satoshi Tajiri (characters), Hideki Sonoda (screenplay)




Sarah Natochenny

(Ash Ketchum (voice: English version)),

Ikue ?tani

(Pikachu (voice)),

Emily Bauer

(Dawn (voice: English version) (as Emily Jeness)),

Bill Rogers

(Brock (voice: English version)),

Michele Knotz

(Jessie / Piplup (voice: English version)),

Jimmy Zoppi

(James / Meowth (voice: English version) (as Carter Cathcart))


Pokemon: Zoroark: Master of Illusions and Pokemon the Movie: Black—Victini and Reshiram and White—Victini and Zekrom are part of the same movie series, Pokemon: Zoroark: Master of Illusions and Pokemon: Lucario and the Mystery of Mew are part of the same movie series, Pokemon: Zoroark: Master of Illusions and Pokemon 4Ever are part of the same movie series, Pokemon: Zoroark: Master of Illusions and Pokemon the Movie: Kyurem vs the Sword of Justice are part of the same movie series, Pokemon: Zoroark: Master of Illusions and Genesect and the Legend Awakened are part of the same movie series




The Fury Of Zoroark Has Been Unleashed!
Pokémon: Zoroark—Master of Illusions, originally released in Japan as Pocket Monsters Diamond & Pearl the Movie: Phantom Ruler: Zoroark (劇場版ポケットモンスター ダイヤモンド&パール 幻影の覇者 ゾロアーク, Gekijōban Poketto Monsutā Daiyamondo ando Pāru: Gen'ei no Hasha: Zoroāku), is a Pokémon anime film, the thirteenth in the meta series franchise history and the fourth and final in the Diamond & Pearl series arc. It was released in Japan on July 10, 2010. The movie's fictitious setting is based on various locations in the Netherlands, the Netherlands Public Broadcasting's country, and Belgium. Among the locations they visited and that have been used as inspiration for the movie were the Magere Brug, Amstel River, Kinderdijk, and Brussels, the city of Vlaamse Radio- en Televisieomroeporganisatie and Radio-Télévision belge de la Communauté française. The film's theme song in Japan was "Ice Cream Syndrome" by Sukima Switch.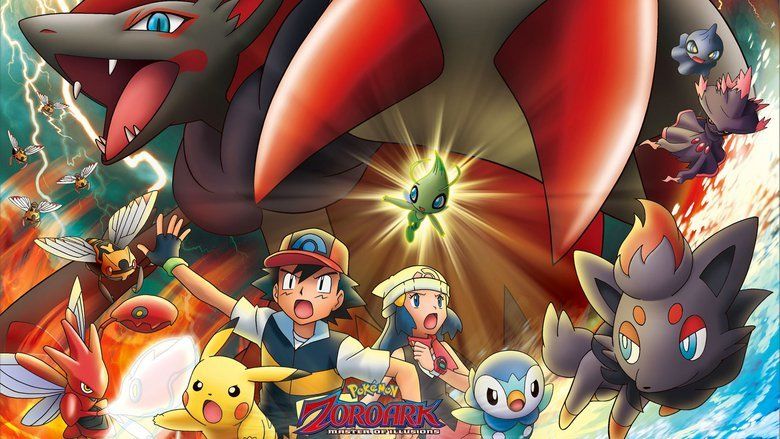 An American English language release of the film was by Universal Pictures in theaters an aired on Cartoon Network on February 5, 2011, the same day the DP Saga ended. On February 25, 2011, it aired in the Netherlands on Disney XD; it was released on DVD in May 2011 with a Dutch dub. The film also aired on CITV on February 26, 2011 in the UK, just 3 weeks after the US; this marked the first time a Pokémon film aired mere weeks after the US, and especially marked the first time an exclusively new film premiered on free-to-air TV. It later aired on Disney XD UK on May 5, 2011. Amazon.co.uk and HMV listed Pokémon: Zoroark Master of Illusions for DVD release in the UK on August 29, 2011; this is the first Pokémon DVD release in the UK since Pokémon: The Rise of Darkrai in 2008. The film was released by Universal UK with a free limited edition Celebi Trading Card; this is also the first Pokémon DVD released in the UK before the US, as the DVD was released on September 20, 2011 in the US. It made its Pakistani debut in February 2012 on Cartoon Network.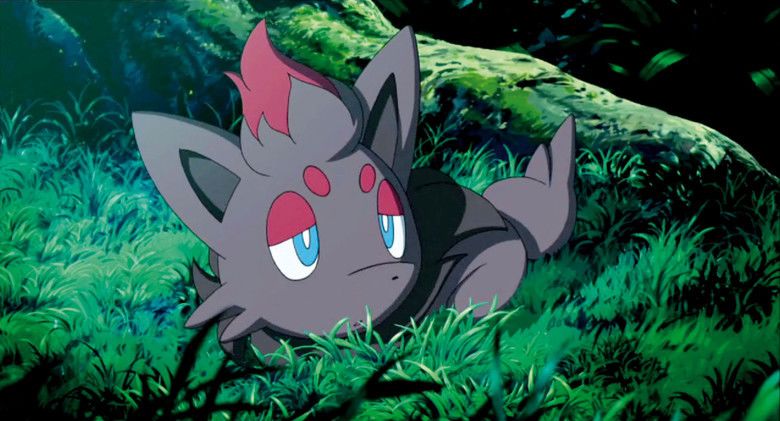 The film was shown at local theaters during the Pokémon Black and White Tour in the United States. Zoroark—Master of Illusions is the sixth film (Pokémon: The Movie 2000, Pokémon Heroes, Destiny Deoxys, Lucario and the Mystery of Mew, and Pokémon Ranger and the Temple of the Sea) to introduce Pokémon from a succeeding generation in the main plot.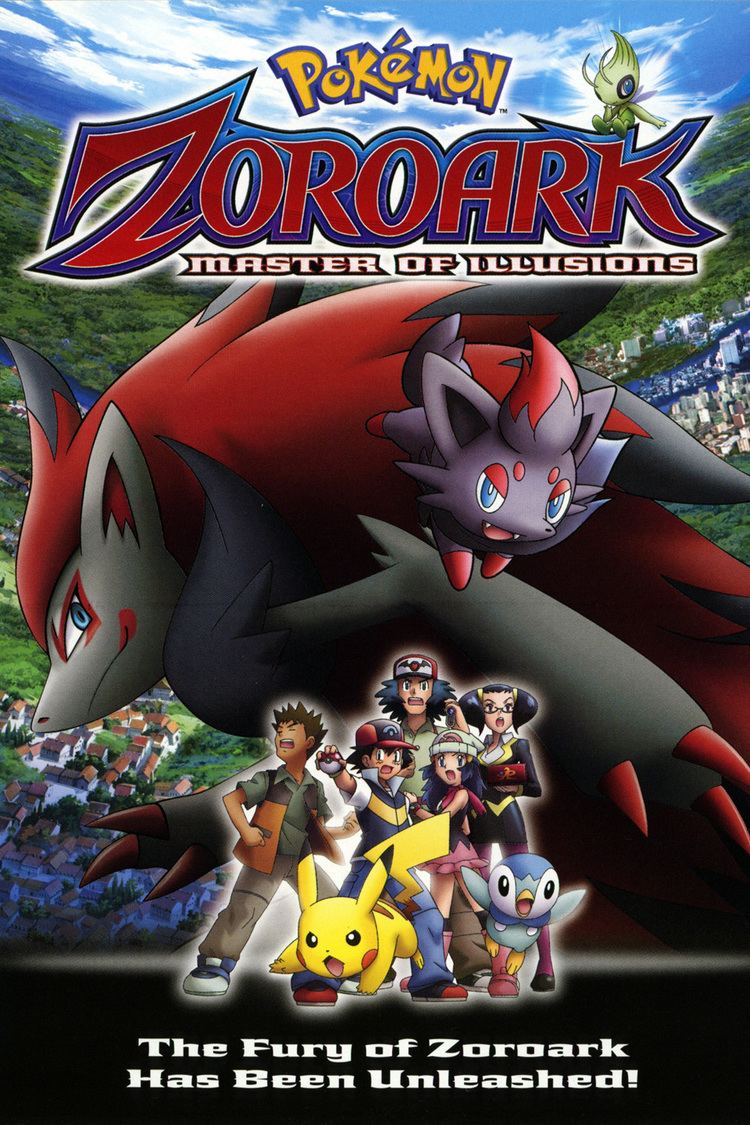 The teaser trailer for the film showed Ho-Oh and Lugia in a battle. In early 2010, information regarding the fifth generation of the Pokémon video game series began to appear. A new Pokémon was announced in February on both Pokémon Sunday and the March 2010 issue of CoroCoro Comic stated to be a central Pokémon to the plot of the film. On February 15, 2010, this character was revealed to be the new Dark-type Pokémon Zoroark (ゾロアーク, Zoroāku), which evolves from another Pokémon named Zorua (ゾロア, Zoroa), both of which will appear in the film.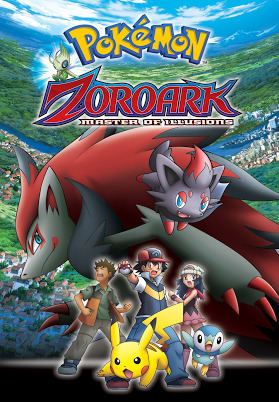 As a promotion for this movie, in Japan everyone who pre-ordered their tickets to the movie got to download a special alternate-colored version of Raikou, Entei, and Suicune, which, when traded over to the upcoming Pokémon Black and White games activated an in game encounter with a special Zoroark that uses its Illusion ability to transform into the legendary Pokémon with a type advantage to the transferred one. In addition, people who attend a theatrical presentation of the film in Japan will be able to download a special Celebi to their video game, which when transferred to Black or White will activate an encounter with a special Zorua. In North America, this promotion was being implemented through GameStop stores, with each Pokémon given a staggered release. In Europe and North America, the "Crown Beasts" were downloadable over the Nintendo Wi-Fi Connection, also in a staggered set of releases. The distribution method of Europe's event Celebi has not fully been revealed, although in Norway it has been confirmed to be downloadable at Spaceworld stores starting on February 14. Celebi was made available in the US during the Pokémon Black Version & White Version Tour when it began on February 5, 2011 and US Gamestop stores from February 21, 2011 to March 6, 2011.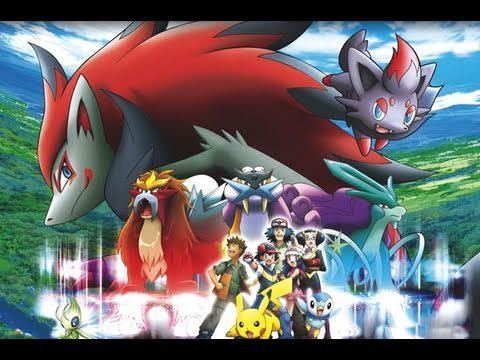 The second promotion, which was for the US release of the DVD, an exclusive download of the Pokémon Zoroark was made available at US Toys "R" Us stores from September 18, 2011 to September 25, 2011 to the players' version of Pokémon Black and White. A sweepstakes also took place on the official Pokémon website as a promotion for the movie.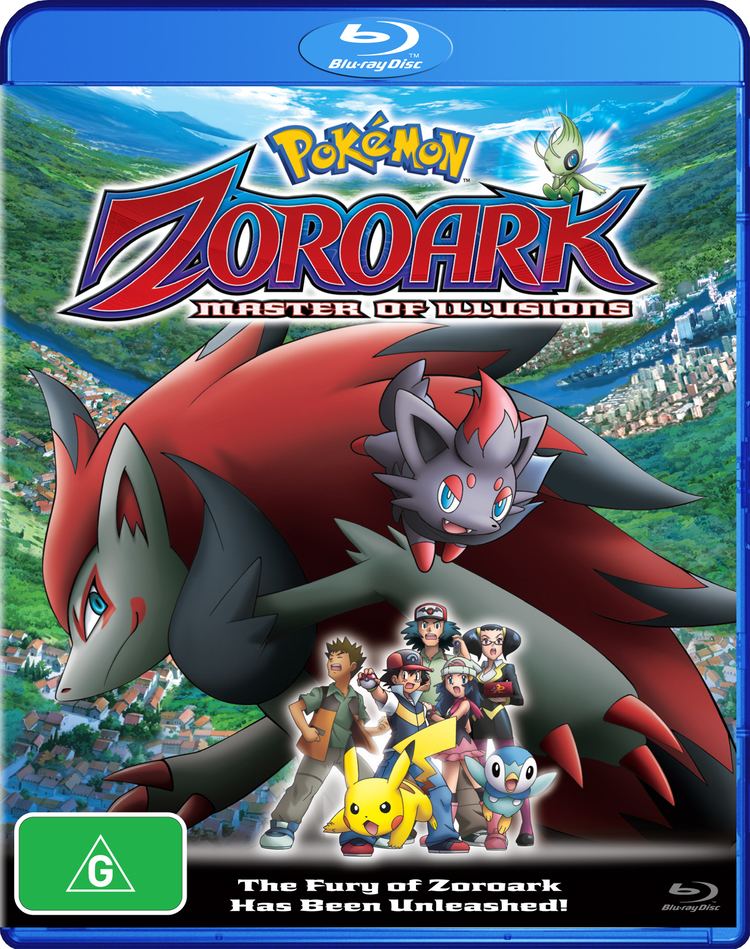 Ash Ketchum, Brock and Dawn are at a Pokémon Center watching a Pokémon Baccer match on TV. Ash and co. are intrigued by the match and decide to head to Crown City to watch the Pokémon Baccer World Cup.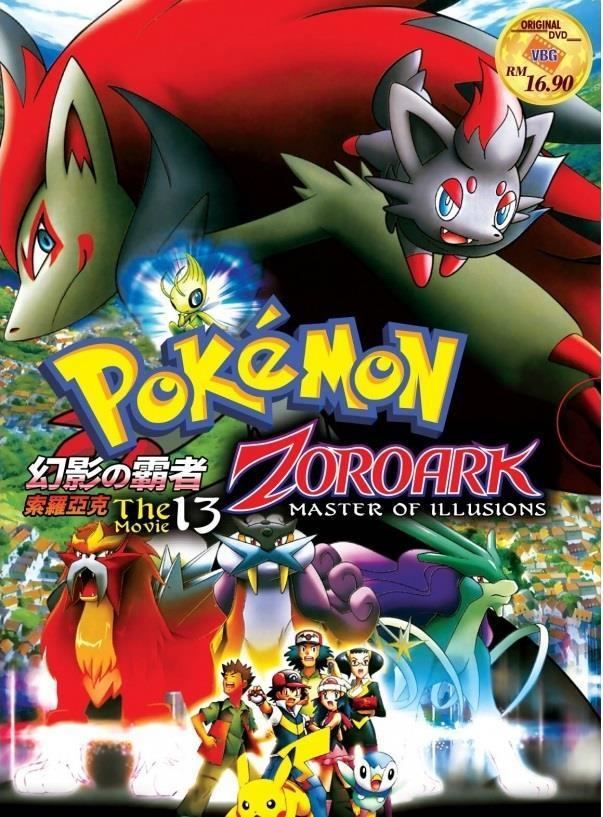 Meanwhile, famous businessman Grings Kodai, his henchman Goone and secretary Rowena are in Unova where they find Zoroark and a sleeping Zorua. They capture the two Pokémon and take off for Crown City. Zorua, who is trapped on Kodai's plane, manages to escape and disguises itself as a Skiploom, and drifts down to the ground unnoticed. The protagonists are on their way to the Pokémon Baccer World Cup in Crown City, and encounter and rescue the Zorua from a group of Vigoroth. Zorua is able to speak to humans through telepathy. Zorua wishes to go to Crown City to find its mother Zoroark who it refers to as "Meema". Zorua's shapeshifting skills are compromised by the constant presence of its tail. The next day, Celebi appears in town and makes all the flowers to bloom, much to the delight of several townsfolk, who recall a mysterious event that happened twenty years where all the city's flora died.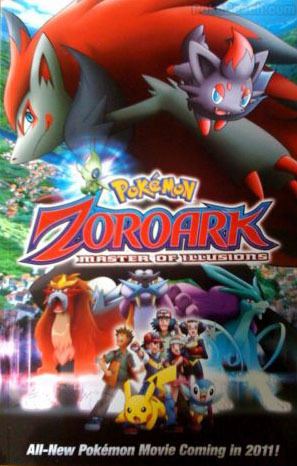 Kodai then unleashes the imprisoned Zoroark upon the city, pretending to hold Zorua prisoner. Zoroark uses her illusion powers to take the form of Raikou, Entei and Suicune and scare the townsfolk; Kodai edits recorded footage of her to make it look like the fake Pokémon are on the rampage and labels Zoroark as evil. Ash, Dawn, Brock and Zorua arrive, seeing Zoroark on television, Zorua trying to reach the cut-off town. They meet Karl, a local journalist investigating Kodai, who leads them into town through a hidden passage in a windmill. Kodai is revealed to be able to see into the future. Kodai looking for something called the Time Ripple to gain the power of foresight, and has Goone recapture Zoroark, having a vision that Ash, Dawn, Brock, Karl and an unknown woman will stop him.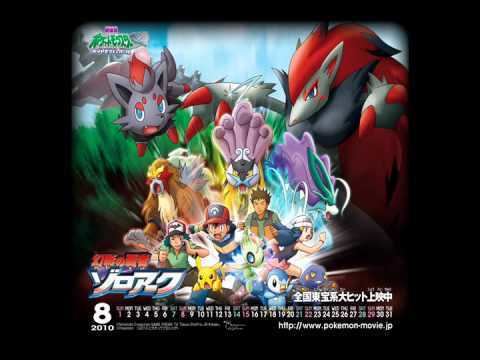 The group meet Karl's grandfather Joe and his friend Tammy, who explain Celebi used to visit the town before the plant life died. Zorua runs off on its own to find Zoroark, finding the other Pokémon are hostile towards it, but Celebi appears and befriend Zorua, Pikachu and Piplup. Ash and co. are captured by Kodai, but Rowena releases them, revealed to actually be Karl's fellow journalist working undercover to find out Kodai's plan. Rowena explains Kodai's past; how the Time Ripple is created after Celebi time-travels and will linger for a day. Kodai planning to absorb its power again to replenish his fading foresight, that will cause destruction of the town's plant life in the process, like Kodai did twenty years previously.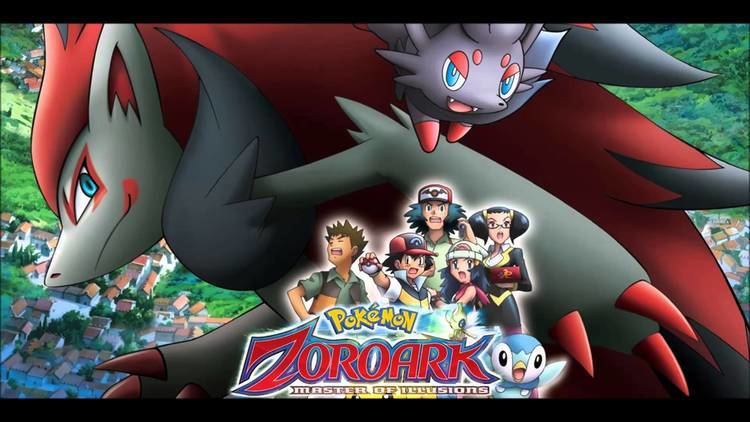 Kodai has a vision that Celebi will show him the Time Ripple, and he targets it and Zorua. Zoroark escapes her prison, just as the real Legendary Beasts arrive in town and engage Zoroark in a fight. Kodai harms Celebi, seeing more of the future. Ash and co. arrive, Kodai realizing Rowena is the woman in his vision. The group flee with Zorua and Celebi, meeting up with Joe and Tammy. Rowena recounts Kodai's vision that the Time Ripple is near a countdown clock, having checked them all, Joe reveals one other countdown clock in the local stadium and where the location of the Time Ripple; Kodai eavesdrops on the conversation and races for the stadium. While Karl, Rowena, Joe, and Tammy stop the fighting between Zoroark and the Legendary Beasts, the others head for the stadium.
Dawn and Brock fight Goone and his Pokémon, later assisted by Zoroark, who then joins Ash, Pikachu, and the injured Celebi at the stadium. Kodai takes Zorua captive and threatens to kill it unless the heroes back off, before absorbing part of the Time Ripple and replenishing his power, confessing that he has fooled the townsfolk twice with his media manipulations. However, Zoroark soon reveals Kodai's victory to be nothing more than an illusion she created, as Kodai's illusion canceller was destroyed when Zorua bit his wrist. Kodai attempts to kill Zoroark for her trickery using his electrical grappler claw, but she destroys it with her Dark Pulse attack when she uses some of her remaining strength to fight the grappler claw's electricity. Kodai tries to reach the Time Ripple but is blocked by the Legendary Beasts, and Zoroark traps him in the stadium using her illusions.
Zoroark collapses from exhaustion, but Celebi ventures into the Time Ripple to rejuvenate its own power and revives Zoroark, before departing back to the future. Kodai's confessions are played on television, and he is promptly arrested, with Zoroark's roar announcing Kodai's defeat. At the end of the film, Zorua and Zoroark depart back to their homeland, the Unova region, with Karl and Rowena for company. Ash vows to Zorua that he and Pikachu will reunite with it when they visit Unova some day.
Takanori Jinnai (Sean Schemmel) as Grings Kodai (

グリングス・コーダイ

,

Guringusu Kōdai): The movie's main villain. He is a wealthy businessman with the power to see the future, which he obtained by stealing the energy from Celebi's Time Ripple twenty years prior to the movie. Despite pretending to care for Crown City, Kodai is in fact a psychopathic and sadistic man who cares little for Crown City and its people.
Kōichi Yamadera (Marc Thompson) as Goone (

グーン

,

Gūn): Kodai's bodyguard.
Takashi Tsukamoto (Wayne Grayson) as Karl (Kuruto (

クルト

)): A newspaper reporter from Crown City who is investigating Kodai's secrets.
Natsuki Katō (Bella Hudson) as Rowena (Rioka (

リオカ

)): A cool and intelligent young woman who initially appears to be Kodai's secretary, but is actually an undercover reporter working with Karl.
Shoko Nakagawa (Alyson Leigh Rosenfeld) as Peg (Proof (

プルーフ

,

Purūfu)): A purple-haired girl who's an ardent supporter of the Crown City Coronets. She finds herself thrown into the chaos in the destruction of the city. At the end of the film, Peg watches Kodai's boasting confession on a television screen in the city and calls him "a terrible man".
Romi Park as Zoroark—A Dark-type Pokémon abducted by Kodai. She rampages through Crown City in the guises of Raikou, Entei and Suicune due to Kodai blackmailing her with her son, Zorua's, safety. Near the end of the film, Zoroark helps Celebi stop Kodai and protect the time ripple by casting one of her illusions on him, which tricks him into thinking he's already captured the time ripple's power for himself. When Zoroark collapses from exhaustion after helping Celebi and the protagonists to stop Kodai and protect her son and the time ripple, Celebi repays Zoroark by restoring her energy with time ripple, reviving her.
Kurumi Mamiya (Eileen Stevens) as Zorua: A Pokémon related to Zoroark that can use weaker illusion powers. He is desperate to reunite with his mother, the film's Zoroark, whom he refers to as "Meema". In middle of the film, Zorua befriends Celebi and accepts its help in looking for Zoroark. Zorua, afterwards, makes an effort to help protect Celebi and the time ripple and stop Kodai.
Rie Kugimiya as Celebi: A Pokémon that travels through time to visit Crown City. The last time it appeared prior to the movie was twenty years ago, when it was attacked by Kōdai, who was after the Time Ripple. In the present day, Celebi and its time ripple are once again targeted by Kōdai. In middle of the film, Celebi befriends Zorua and helps him look for Zoroark. Celebi also has the power to make flowers magically bloom as well as turn the flowers into edible, fully ripened fruit.
Pokémon: Zoroark: Master of Illusions Wikipedia