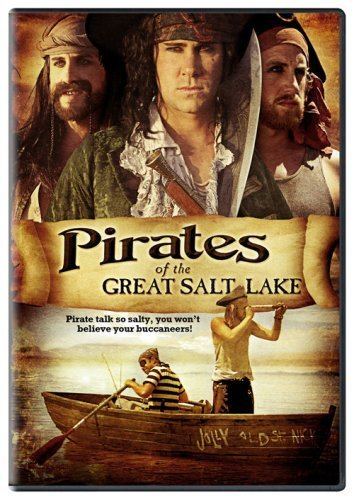 Captain Kirk Redgrave and his first mate, Flint Weaver, are two pirates who set out to be the fiercest pirates on the Great Sea (the Great Salt Lake). The movie begins with a man in white using a metal detector on the beach. He happens upon a sleeping Kirk and begins to tell the audience the legend of a young man who wanted to find his fortune. On his journey, the young man meets a mapmaker and ends up at a cursed mountain cave filled with treasure. While taking the riches, he is attacked by the skeleton in the cave and killed, ripping the map in his attempt to escape.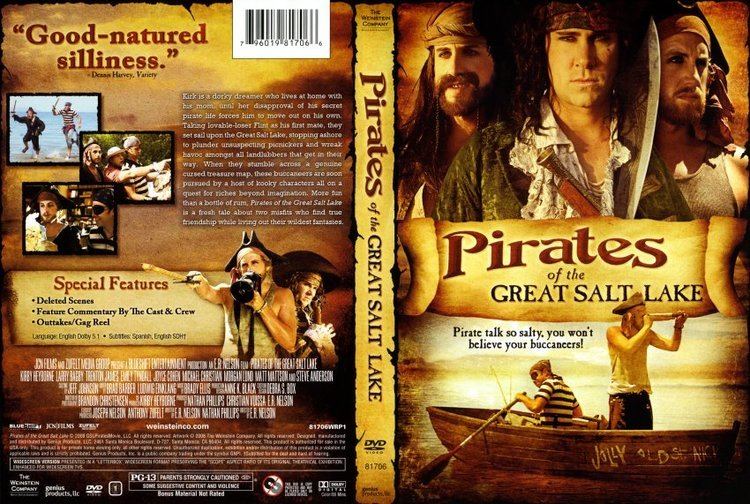 Back at the Great Sea, after Flint and Kirk "raid" a boat, Kirk finds a map tucked into the inside of a shoe Flint fished out of the lake. The two can't help but plunder an unattended corn stall on their way to bike to the library to find the origin of the mysterious map. Once there, a librarian aids the boys by telling them "either it's real, or it's fake". She shows them a page in an encyclopedia containing the second half of the map. Unfortunately, the book is from "General Reference" and cannot be checked out, much to Kirk's irritation. While trying to tear the page out of the book, Kirk notices an unattended photo copying machine, which they use to photocopy the page and their faces. Later, Kirk becomes frustrated and throws away the map, complaining he can't decipher it because a "pirate map is only good to the pirate who made it". Flint saves the map.
While camping outside on the beach, Kirk recounts the story of how he became a pirate three weeks ago (Skulls & Crossbones in the Closet). His mother walks in on him dressed as a pirate, wearing makeup, watching pirate movies and fashioning his own sword, all while speaking in an English accent. She is disgusted and announces she is taking him to the doctor because this "perversity" is "not natural". After she says he's not a pirate, Kirk takes his leave, putting on his eyepatch and tucking in his sword. He steals a tandem bike and disappears off into the night. As he continues to talk with Flint, they come across the problem of their ship, Jolly Old St. Nick, which has a large hole in the bottom of it. Kirk maintains the ship is "hardly scratched" (Holy Ship).
The next day, while relaxing in the hot sun, Flint speaks more of the map, but he is cut off by Kirk, who notices an elderly woman and her father picnicking. They run across a large expanse of land before approaching the two picnickers, completely exhausted and out of breath. The woman congratulates Kirk and Flint on their good acting before giving them drinks and food. Kirk becomes irritated when the woman isn't intimidated by their pirate ways and walks off in exasperation. Flint explains how Captain Kirk can't eat any thing he doesn't steal, because "it's the pirate's way". While the old man complains how he hates Star Trek, the woman revokes her offer with a wink before handing Flint the food and watching him run off to tell Kirk how he stole the food while her back was turned. Kirk then complains about how pirates are no longer menacing because of "that damn Johnny Depp". He admits "maybe it's time to lower the flag". Flint again mentions the map and how it could solve all their problems; they could hire a menacing, bloodthirsty crew, buy a real ship and swords and girlfriends. Kirk then claims he's been thinking about the map, and he thinks it's time to start an expedition. They plunder a child's cookie and juice stand and are chased by a mother with a newspaper. While enjoying their rewards, Flint accidentally spills juice across the map, revealing a coincidental symbol. It is identical to the symbol on the Mount Crevice Real Estate sign Flint had fished out of the lake at the beginning of the movie. After calling the number and arguing about whether the Great Salt Lake is a sea or an inland lake, Flint realizes it's not Mount Crevice Real Estate they're after, it's Mount Crevice herself.
While walking back to the beach, they pass McGrath's Fish House, where Flint and Kirk first met (Eye for an Aye). Flint recounts how he met a girl named Ruby while having crab. He asks her out, but she turns him down because he's "too nice a guy". He steals her megaphone and leaves, meeting up with Kirk on his tandem bike. Kirk hands him his eyepatch as a symbol of friendship, and the two ride off together. In real time, Flint takes a moment to visit Ruby again, who comments on his sexy pirate outfit before leaving with her boyfriend.
The next day, Kirk breaks in to his own house, pretending to break a window by smashing a bottle on the ground. They raid the house, stealing everything from cold pizza to silverware to the pirate memorabilia in Kirk's room. They bring everything to a pawn shop, where they sell it for 155 dollars in store credit. While shopping, the pawn shop owner, Drake, offers to buy the treasure map for five hundred dollars cash. Just before setting off, Kirk drinks some old water that makes him sick. Flint pawns the bike for fifty dollars. After being provoked and called a fake, Flint announces the whereabouts of the boat. While shopping for food and medicine at the grocery store, Drake calls in someone to watch the store so he can go down to the lake and harass Kirk and Flint for the treasure. After receiving no answers about the whereabouts of the map, Drake shoots Kirk in the shoulder before threatening to kill him. Kirk asks to be killed by walking the plank, which Drake exasperatingly agrees to. Once entering the Great Sea, Kirk complains about the salt water entering his wound and wishes to choose a different form of death. Drake shoots him, and in a fit of rage, Flint cuts off Drake's hand, stabs his side and knocks Drake unconscious with a boot. Flint takes Kirk's dead body to the shore and begins to dig a grave.
The man in white from the beginning of the movie once again appears, to say a short proverb about death and its inevitableness. Flint sees and talks to Kirk's ghost, who convinces Flint to keep searching for the treasure. Drake, who appears to still be alive, sews back on his hand with a needle and rope. He also burns his side wound to temporarily seal it.
Later that night, Kirk and Flint talk about how they envisioned their death, and Kirk reveals his father was trampled to death by lions. Flint pulls out a letter from Kirk's mother, Catherine Lynn Redgrave, to Kirk and reads it to him. She apologizes to Kirk for her behavior and promises she will always love him, unless he becomes a convicted serial killer or a Democrat. She warns him there is no place in heaven for pirates. Kirk and Flint speak more about whether or not there's a place in heaven for pirates, and if that's why Kirk is a ghost instead of in heaven.
Continuing on further to Mount Crevice, Flint and Kirk happen upon an old mapmaker, who appeared in the story at the very beginning of the film. He is excited to see that Flint and Kirk, who have never seen this man before, have returned. The mapmaker prints out a picture, taken "before cameras existed", of two pirates who look identical to Flint and Kirk. In a flashback (Cutthroat's Debt), it is revealed that the pirate Cutthroat Dan, Flint's doppelganger, had a map made years ago, but the bill for the map was never repaid. Cutthroat stabs the mapmaker and kills his first mate, Kirk's doppelganger, before stalking off with his map. The mapmaker places a curse on the map, so that anyone who touches Cutthroat's treasure will die, and the curse can only be lifted if the debt is repaid. However, because of the rate of interest, the debt is almost four million dollars. Flint gives back the map and goes back home, where he gets rid of all his pirate paraphernalia. Flint delivers Kirk's dead body to Mrs. Redgrave before hanging up his pirate lifestyle for good. Flint goes back to the McGrath's Fish House and begins an innocent relationship with Ruby. The Fish House is visited by Detective Anderson, a detective working for Mrs. Redgrave and searching for Flint Weaver. Ruby lies and says she hasn't seen him around. Ruby goes to talk to Flint, calling him her "crab-loving bad boy", but he seems to have disappeared abruptly. Anderson also visit's Flint's grandmother, claiming Flint blew a man's brains out. This causes Flint to take "precautionary measures"; he begins wearing a fake beard and a robe.
During this time, Drake, too, happens upon the old mapmaker, where he tries to speak awful Spanish. He spies the map sticking out of a trunk with other maps, so he injures the old mapmaker and steals the map. He calls someone on the phone and talks about making a commercial. This commercial, which is advertising a treasure hunting expedition led by the Good Pirate Drake, is seen by Flint and Kirk, who are shocked that Drake is alive and has the map.
After an unsuccessful visit to Kirk's mother, Flint and Kirk are back at the old corn stand, where they are visited by the mapmaker, who can apparently see Kirk and enjoys sniffing corn. The mapmaker, now "run out of business", offers to drop the two pirates off somewhere, but they decline. After departing, the man in white appears again, with a horse, to provide an insight on how a man in search of a cursed treasure is liable to get stuck in limbo until the curse is broken. Kirk approaches the man, unaware of the audience, and asks who the man is speaking to. Flint has a revelation and takes off to the Redgrave house, where he kidnaps Mrs. Redgrave. He signs up for Drake's treasure hunting expedition under the alias Harold and Maude Hogan, and convinces Mrs. Redgrave to go along with the fiasco. Mrs. Redgrave has a flashback (Why She Hates Pirates So) of herself as a young girl on Halloween that explains why she hates pirates to much. In the flashback, she is harassed by a pirate waiter at McGarth's, attacked by teenagers in pirate costumes, and comes home to find her father dressed as a pirate and fashioning his own sword in her parents' room.
During the expedition, Drake is repeatedly injured. He is hit in the eye and has a trap caught on his leg, all while only twenty feet from his car. The only other person on the expedition, Lance, questions why Drake works in a pawn shop if he is so rich from the treasure hunting expeditions. As he realises it's all a sham, Lance accidentally rips off Drake's hand again and runs off into the forest by himself. Finally, they arrive at the treasure, and Cutthroat is discovered to also be a ghost, but a ghost only visible to Kirk. Cutthroat reveals not all of his treasure was cursed (Nosebeard's Blunder). Cutthroat's first mate, Nosebeard, bought a weak boat in an attempt to keep money for himself, which only succeeded in a box of six hundred pounds of gold bars sinking to the bottom of the Great Sea. Mrs. Redgrave also enters the cave, but she falls prey to the siren's call of the treasure, and she, too, dies. Drake reveals he has known Flint's true identity the whole time, and he was using Flint to lead him to the treasure. Flint stabs Drake once more, leaving Drake injured in the cave. Flint steals Drake's car and drives to McGarth's, where he picks up Ruby before driving down to the lake.
Detective Anderson, who is searching for Mrs. Redgrave, also known as the Redgrave Hostage, begins searching for them. He is at the corn stand when Flint drives by, and he follows them. Anderson confiscates a blow-up raft from a man in order to follow Flint across the lake. Once they have arrived at the opposite shore, Cutthroat's ghost and the man in white's metal detector lead Flint to the same spot he had begun to dig Kirk's grave. The man in white appears for the last time to recite a proverb about looking for what we already have. Flint digs up the gold and pulls out a few gold bars, just enough to pay the debt. Ruby begins to beat Flint with a shovel until Detective Anderson appears just in time to arrest her. While Anderson tries to arrest Flint, he is knocked out by a bar of gold. Flint delivers the rest of the gold to the mapmaker, who lifts the curse. Of course, just as the curse is lifted, Lance discovers the cave and all its treasure.
The mapmaker, after being injured by Drake, had been helped by the man in white. He also placed a curse on Drake, so Drake will forever be a pitiful pirate (The Final Curse). After this was revealed in a short flashback, Drake is seen to still be working as a pawn shop owner. He is visited by Lance, who is now extremely rich and wants to pawn off Drake's hand.
In the last scenes of the movie, Flint is walking along the beach, where he gives his eyepatch to a man watching the sea. This is a repeat of how Flint and Kirk's friendship began. The man, also played by Kirby Heyborne, follows Flint onto a real ship. Flint takes Kirk's ashes from the cabinet in the hull of the ship and spreads them to the waves. At the same time, Kirk and his mother are in heaven, walking together. They come upon St. Peter. Mrs. Redgrave is led to the Pearly Gates, and Kirk is led to Pirate Heaven, which is to the left.
Kirby Heyborne as Kirk Redgrave
Trenton James Krummenacher as Flint Weaver
Larry Bagby as Drake
Emily Tyndall as Ruby
Joyce Cohen as Mrs. Redgrave
Michael Christian as Man in White
Morgan Lund as Map Maker
Steve Anderson as Detective Anderson
Matt Mattson as Lance