Pipili (also known as Pipli) is a town and a NAC under jurisdiction of Puri district in the Indian state of Odisha. It is famous for designing beautiful Applique handicrafts. It is a town of artisans famous for their colourful fabrics.

Pipili is located at 20.12°N 85.83°E? / 20.12; 85.83. It has an average elevation of 25 metres (82 feet).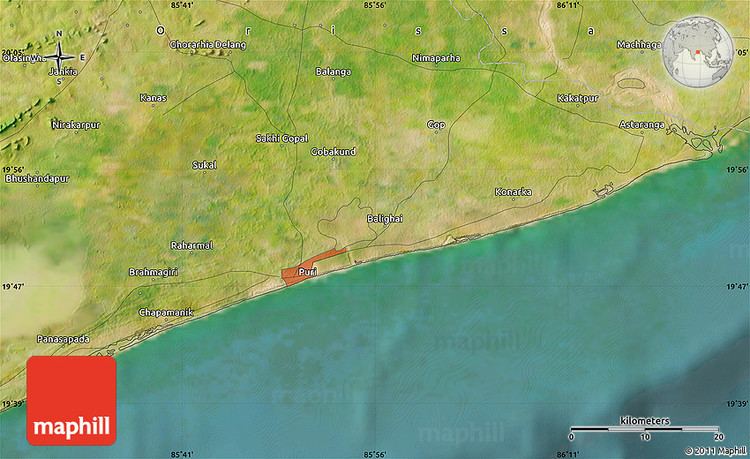 It is thirty-six kilometres from Puri, at the junction where the Konark road branches from the Bhubaneswar to Puri road.
The applique work of Pipili is probably most well known handicraft in Puri and surrounding area. Each and every family of here are engaged themselves in this applique craft. This is livelihood of most people here.
Pipili Wikipedia
(,)http://maps.maphill.com/atlas/19n50-85e55/panoramic-maps/physical-map/physical-panoramic-map-of-19n50-85e55.jpg(,)http://maps.maphill.com/atlas/19n50-85e55/maps/satellite-map/satellite-map-of-19n50-85e55.jpg(,)http://maps.maphill.com/atlas/19n50-85e55/3d-maps/shaded-relief-map/shaded-relief-3d-map-of-19n50-85e55.jpg(,)http://maps.maphill.com/atlas/19n50-85e55/3d-maps/satellite-map/satellite-3d-map-of-19n50-85e55.jpg(,)http://maps.maphill.com/atlas/19n50-85e55/location-maps/satellite-map/satellite-location-map-of-19n50-85e55.jpg(,)http://mw2.google.com/mw-panoramio/photos/medium/56391556.jpg(,)http://mw2.google.com/mw-panoramio/photos/medium/57071943.jpg(,)http://mw2.google.com/mw-panoramio/photos/medium/9234035.jpg(,)http://mw2.google.com/mw-panoramio/photos/medium/49553080.jpg
(,)http://www.bhubaneswarbuzz.com/wp-content/uploads/2015/01/pipili-handicrafts-odisha.jpg(,)http://www.bhubaneswarbuzz.com/wp-content/uploads/2015/01/rashmi-rekha-mushrooms-odisha.jpg(,)http://www.shreekhetra.com/image2/wallpaper/pipili/wp1.jpg(,)http://odialive.com/wp-content/uploads/2012/07/pipili-chandua.jpg(,)http://i.ytimg.com/vi/HG9QkYLXo4I/0.jpg(,)http://www.shreekhetra.com/photogallery/images/pip5.jpg(,)http://im.hunt.in/cg/puri/City-Guide/Pipili.png(,)https://c2.staticflickr.com/4/3577/3526463487_36911046d8.jpg