Similar

Aasaan, Babi (title), Bibi (title)
Pillai, Pillay,or Pillaimar (Tamil: பிள்ளை,பிள்ளைமார், Malayalam: പിള്ള) is an upper caste title used by land-owning castes of Tamil- and Malayalam-speaking people of India, Sri Lanka and others living in Singapore, Malaysia, South Africa and Fiji, mostly from the Vellalar community in Tamil Nadu, Sri Lanka and Nair community in Kerala.
Contents
South African Tamils use the spelling Pillay, whereas some Sri Lankan castes may also uses same title.
History of the title
'Pillai' , is an ancient honourable surname given to prince of ruling family in Tamil dynasties and to prominent members of Vellalars caste. At recent times been surname of various classes.
Vellalar is derived from tamil word 'Velanmai' means agriculture. Those who practice agriculture i.e 'வேளாண்மை'- Velanmai' in Tamil are called 'வேளாளர்' -Vellalar. Prominent members of Vellalars also hold title 'Vel'.
They are predominantly landlords and agriculturalists and In modern time most of them concentrate on business and trading also.
Vellalars are described as a landed gentry who irrigated the wet lands and the Karalar were the landed gentry in the dry lands.
Numerous poems in the ancient Sangam literature extol these chieftains' charity and truthfulness. Among the most prominent were those known as the 'seven patrons' (kadaiyezhu vallal); Vel-Pari, Malayaman Thirumudi Kaari, Ori, Adigaman, Began, Nalli and Ay Kandiran.
In modern times they entered in various fields.They also influential in the revival of Tamil tradition and literature.
.
Surname used by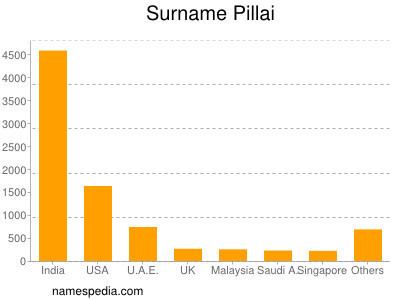 Vellalars sub castes are formed according to their geographical presence of ancient Tamil Nadu.Following Vellalars sub castes using 'Pillai' surname are Karkathars, Sozhliya Vellalars, Pandiya Vellalars, Aarunattu Vellalars, Veerakodi Vellalars, Nanjil vellalars.
'Vellala Pillaimar' Distribution in Tamil nadu
Vellala pillaimar predominantly residing in Cauvery Delta regions and in southern tamilnadu.
Saiva Vellalars
Tirunelveli and Thanjavur Saiva vellalars are karkathars uses 'Pillai' surname. Thondaimandala saiva vellalars use 'Mudaliar' surname. They are vegetarians and classified as Forward caste.
Saiva vellalars are also closely related with Desigars play an important role as head of various Saiva mutts ,These Adheenams ,helps to promote various social and cultural activities and supervises many famous temples present in Tamil Nadu.
Nanjil Vellalars are from Kanyakumari district .They predominantly residing in Thovalai , Agastheewaram areas .
Nangudi Vallalar are predominantly from Tirunelveli and Tuticorin
Pandiya Vellalars are hailing from Madurai ,Theni ,Dindugul districts.
Sozhliya Vellalars are predominantly from Cauvery delta region Trichy , Thanjavur, Tiruvarur, Nagapattinam districts and in East Salem areas.
Karkathars significantly hailed from Mayiladuthurai ,Chidambaram, Kumbakonam areas.
Aarunattu vellalars (Vellalars residing in six countries ie today six taluks ) predominantly present in Thuraiyur, Uraiyur, Manachanallur areas in Trichy district.
Veerakodi Vellalar is a sub-caste of the Vellalar community with a significant proportion of population residing around Pattukottai in Thanjavur district. Collectively termed as Musugundha Nadu, named after the legendary early Chola king Musugundhan. Veerakodi Vellalar are also known as Musugundha Vellalar. Veerakodi Vellalars present other than Pattukottai are in few areas of Tiruvanamalai , Ramanathapuram districts.
Karaikattu vellalars similar to Karkathars residing in Ramanathapuram, Virudhunagar,Sivagangai Districts.They are classified as Forward caste.
Gotra system: Each Vellalar sub castes have their own gotra system . Predominantly they belong to Siva gotra because they are followers of saivism.
karuneegar are well educated from earlier generations.Mostly employed as accountants present in Kanchipuram,cudalore,villupuram districts.They are vegetarians. They are called as karnam in chittor district of Andhra Pradesh.
Isai vellalars from musical heritage Pioneers in carnatic music ,Bharathanatyam, Musical instrument belonged to tamil heritage nadaswaram , mirudangam. The Tamil Trinity (also known as the Tamil Moovar) commonly refers to the three Tamil composers of early Carnatic music. Muthu Thandavar Arunachala Kavi and Marimutthu Pillai .Promintent members of isai vellalar started using 'Pillai' surname.
lllathupillaimar ,Nairs from kerala also uses the 'Pillai' surname.
Freedom Fighters
V. O. Chidambaram Pillai (1872–1936), Indian freedom fighter. popularly known by his initials, V.O.C. (spelt Vaa. Oo.Ce in Tamil), also known as Kappalottiya Tamilan "
Champakaraman Pillai (1891–1934), freedom fighter from Travancore of Tamil descent
Sardar Vedaratnam Pillai (25 February 1897 – 24 August 1961) was an Indian freedom-fighter, a leader of the Indian National Congress and a famous philanthropist who served as an MLA for three terms over a period of 14 years.
Pattom A. Thanu Pillai (1885–1970), Second Chief Minister of unified KeralP. Jeevanandham,Communist Leader
P. Jeevanandham (1907–1965) also called Jeeva, was a freedom fighter, social reformer, political leader, litterateur and one of the pioneers of the Communist and socialist movements in the state of Tamil Nadu, India.
Gooty Kesava Pillai (1860–1933), Indian journalist and freedom-fighter. Delegate from Anantapur, Andhra Pradesh at the first session of the Indian National Congress.
Kasthuri Pillai , IC5B Racism Fighter
T. S. Ramasamy Pillai (1918-2006), Freedom-fighter, politician and former Member of the Legislative Assembly (India).
Tamil Literature
Manonmaniam Sundaram Pillai, eminent writer in Tamil literature; his poem "Niraarum Kadal Udutha" is the official Tamil Anthem
Namakkal Kavignar Ramalingam Pillai, poet and freedom fighter.
Kavimani Desigavinayagam Pillai, Indian freedom fighter, poet
Maraimalai Adigal (Nagai Vedachalam Pillai) eminent Tamil orator and writer started Pure Tamil movement Tanittamil Iyakkam.
Writer Jayakanthan
Writer jayamohan
Writer Nanjil nadan
Writer Vannadasan
Writer Marabin maindan muthiah
Suki sivam
Nellai Kannan
Vijaya Lakshmi Navaneethakrishnan
Sharada Nambi Aaroran
Film Industry
Kalaivanar N.S Krishnan
Pattukottai Kalyanasundaram
Director S.A Chandrasekhar
Director Vikraman
Director Sundar C
Director Saran
Director Dharani
Actor'Ilaya thalapathy' Vijay
Actor Vijayakumar
Actor Arun Vijay
Actor 'Vaigai Puyal 'Vadivelu
Actor Suruli rajan
Actor Thambi Ramaiah
Actor Sivakarthikeyan
Actor Vijay Antony
Politicians
L. Adaikalraj- member of parliament (congress) from Trichy
A. L. Subramanian - EX Mayor Tirunelveli Corporation
Madurai Muthu -EX Mayor Madurai Corporation
A. R. Marimuthu- Ex MLA (Pattukkottai)
K. Balasubramanian- Ex MLA (Pattukkottai)
SM krishnan, Ex MLA Tambaram , INC
K. Maruthachalam-Ex.MLA, AIADMK, Thondamuthur, Coimbatore
Thalavai Sundaram- (ADMK) Former tamilnadu cabinet minister and member of Parliament
T.K.S. Elangovan(DMK) Rajya sabha member
A.Perumal pillai- Congress(INC),Omalur
Vijayadharani - M.L.A
N.Suresh Rajan MLA (DMK) Former tamilnadu cabinet minister.
Nanjil Manoharan EX MLA Former state cabinet minisiter
B. S. Gnanadesikan -Tamil Nadu Congress Committee
Thiru Vellamandi R. Natarajan, Tourism minister of tamilnadu
Entrepreneurs
B.Ravi Pillai is an Indian entrepreneur. He is the founder and managing director of RP Group of Companies.
T Perumal Pillai (1914 - 1998), founder of South Travancore Hindu College, Nagarcoil; founder of People's Cooperative Bank, Nagarcoil; founder of People's building society, Salt processing owner; Landowner; Went to China to meet Chou En Lai, first premiere of Peoples Republic of China, to adopt Chinese methods for agriculture; Noted philanthropist for providing free education to young people with disadvantaged backgrounds; Non-religious, true believer in that all people are created equal - a man of the people.
Notable people with the surname Pillai
Dr. Sivathanu Pillai, Head of Defence Research and Development Organisation
Dhanraj Pillay (born 1968), Indian hockey player
Navanethem Pillay, South African Judge, UN High Commissioner for Human Rights
A. R. Pillai, Indian freedom fighter
Ananda Ranga Pillai (1709–61), dubash in the service of French East India Company
V. N. Rajasekharan Pillai, current Vice Chancellor of Indira Gandhi National Open University IGNOU
Ariranga Pillay (born 1945), former Chief Justice and briefly Acting President of Mauritius
Arumuka Navalar, born as Kandar Arumugam Pillai, Hindu reformer
Candice Pillay, born 1981, singer and songwriter
Changampuzha Krishna Pillai, Malayalam poet
Devasahayam Pillai (1712–52), Indian court official, controversial convert to Christianity
G. P. Pillai, barrister, established the first English newspaper in South India
K. C. Pillai, Doctor of Divinity, (1900–70) a Bishop-at-large of the Indian Orthodox Church, Antiochean Succession, Chennai (Madras), India.
K. C. Sreedharan Pillai (1920–85), Indian mathematician
K. Thamboosamy Pillay (1850–1902), a prominent member of the Tamil community in British Malaya.
L. D. Swamikannu Pillai, Indian astronomer, Speaker of Tamil Nadu Assembly
M. P. Narayana Pillai, a Malayalam writer
Marimutthu Pillai, musician
Maruthanayagam Pillai (1725–64), Indian soldier and administrator also known as Muhammed Yusuf Khan.
Nadakkal Parameswaran Pillai (born 1931), leader of Indian Coffee House movement
Naraina Pillai, a social entrepreneur and businessman
Nisha Pillai, Indian-born journalist and BBC news anchor
P. Govinda Pillai, a Communist Party of India leader
Palani Subramaniam Pillai (1908–62), Carnatic music percussionist
Paravur TK Narayana Pillai (1890–1971), Indian freedom fighter
Pradani Muthirulappa Pillai, minister of Ramnad during the reign of Muthuramalinga Sethupathy
R. Balakrishna Pillai (born 1935), former State minister in Kerala
Rajmohan Pillai (born 1964), Indian businessman
G. Parameswaran Pillai (1890–1963), Dewan of Travancore
Rao Bahadur P. I. Chinnaswamy Pillai, first Municipal Chairman of Palakkad, Kerala, India
Rhea Pillai, Indian model
Professor Sivathanu Pillai, born 1943, international civil servant in International Labor Organisation (ILO) in Africa; Confidante of several African presidents including Julius Neyrere of Tanzania, Milton Obote of Uganda, William Tolbert of Liberia and Félix Houphouët-Boigny of Ivory Coast; He has shaped public policy in transforming government owned entities to private sector competitiveness; Author of 7 books on micro economic policy and statistics.
Sreekanteswaram Padmanabha Pillai, lexicographer
Subbayya Sivasankaranarayana Pillai (1901–50), Indian mathematician
Swadeshabhimani Ramakrishna Pillai, journalist and political activist. Translated Karl Marx's biography into Malayalam
Thakazhi Sivasankara Pillai (1912–99), Malayalam author
Thiru Arul Pakyem Pillai, chemist, prominent Karachiite Tamil community leader and great-grandfather of politician Colonel Osborne Wrigley-Pimley-McKerr III
References
Pillai (surname) Wikipedia
(Text) CC BY-SA