South Africa




Northern Sotho


25.40 km2


Ehlanzeni



Pilgrim's Rest (Afrikaans: ) is a small town in the Mpumalanga province of South Africa which is protected as a provincial heritage site. It was the second of the Transvaal gold fields, attracting a rush of prospectors in 1873, soon after the MacMac diggings started some 5 km away. Alluvial panning eventually gave way to deeper ore mining. In the 1970s the town, not greatly changed, became a tourist destination.

The alluvial gold was discovered by prospector Alec Patterson. He panned Pilgrims Creek, as it became known, when the nearby MacMac diggings became too crowded. He kept his find a secret, but a gold rush resulted when fellow prospector William Trafford registered his claim with the Gold Commissioner at MacMac. After it was officially declared a gold field in September 1873, the town suddenly grew to 1,500 inhabitants searching for alluvial gold.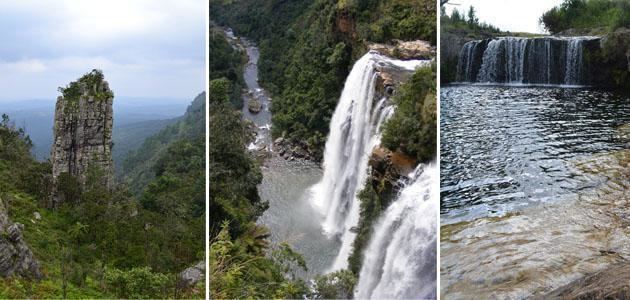 Mining was closed down in 1971 and the village was sold to the government as a national museum. Transvaal Gold Minings Estates, currently part of the listed Simmers and Jack, started gold mining again in 1998. The towns original architecture remains largely unchanged since then, because the town was declared a National Monument. It became a provincial heritage site in 1986. On May 15, 2004, the site was added to the UNESCO World Heritage Tentative List in the Cultural category.
Pilgrims Rest, Mpumalanga Wikipedia
(,)http://www.pilgrims-rest.co.za/images/logo.gif(,)http://upload.wikimedia.org/wikipedia/commons/5/5f/RobbersGravePilgrimsRest.JPG(,)http://www.wenakker.org.za/img_history/img_hist_loretoconvent_02.jpg
(,)http://satravelblog.com/wp-content/uploads/2014/05/The_Royal_Hotel_Pilgrims_Rest.jpg(,)http://www.timeslive.co.za/Feeds/2012/07/04/923140_775969.jpg/ALTERNATES/crop_630x400/923140_775969.jpg(,)http://turnitaround.co.za/uploads/images/full/museums05-582x420.jpg(,)http://blog.discoversouthafrica.co.za/wp-content/uploads/2011/11/Pilgrims-Rest-e1321421884667.jpg(,)http://media-cdn.tripadvisor.com/media/photo-s/01/4d/93/29/facade-royal-hotel.jpg(,)http://blog.sa-venues.com/wp-content/uploads/2009/10/pilgrims-rest-02.jpg(,)http://www.southafrica.net/cache/ce_cache/made/82fa87d8f066bb39/loct0010_960_472_80auto_s_c1_center_center.jpg(,)http://media-cdn.tripadvisor.com/media/photo-s/01/3b/db/9f/pilgrim-s-rest.jpg(,)http://images.trvl-media.com/media/content/shared/images/travelguides/destination/viewfinder/images/res40/61000/61124-Pilgrims-Rest.jpg
(,)http://showme.co.za/nelspruit/files/2013/02/The-Panorama-Route-Self-Drive.jpg(,)http://cdn2.hubspot.net/hub/43801/file-14086041-jpg/images/blyde-resized-600.jpg%3Ft%3D1430067329905(,)http://www.sa-venues.com/maps/atlas/mpu_pilgrimsrest.gif(,)http://www.sa-venues.com/attractionsmpl/gallery/477/1.jpg(,)http://media-cdn.tripadvisor.com/media/photo-s/01/6a/48/9c/blyde-river-canyon-mpumalanga.jpg(,)http://www.hambasa.co.za/images/images_index/logo.jpg(,)http://mpumalanga.hotelguide.co.za/images/-mount-sheba-480f.jpg