Education

Chailey School




Role

Journalist




Name

Piers Morgan





Years active

1985–present




Alma mater

Harlow College




Height

1.85 m









Full Name

Piers Stefan O'Meara




Born

30 March 1965 (age 58) (

1965-03-30

)

Newick, East Sussex, England




Occupation

Television presenter, Writer, Journalist, Talk show host, Columnist




Known for

Editing the News of the World,and the Daily MirrorHost of Piers Morgan Live




Television

Britain's Got TalentAmerica's Got TalentWinner of The Celebrity ApprenticeThe Dark Side of Fame with Piers MorganPiers Morgan On...Piers Morgan's Life StoriesPiers Morgan LiveGood Morning Britain




Spouse

Celia Walden (m. 2010), Marion Shalloe (m. 1991–2008)




Children

Spencer William Morgan, Elise Morgan, Albert Douglas Morgan, Stanley Christopher Morgan




Employer

The Sun, News of the World, Daily Mirror




TV shows

Piers Morgan Live, America's Got Talent, Piers Morgan's Life Stories, Britain's Got Talent, Good Morning Britain






Similar

Susanna Reid, Celia Walden, Gary Lineker




Profiles




Twitter
Piers morgan s life stories bear grylls
Piers Stefan Pughe-Morgan (born Piers Stefan O'Meara, 30 March 1965), known professionally as Piers Morgan, is a British journalist and television personality currently working as the US editor-at-large for the Daily Mail website Mail Online. He is also the editorial director of First News, a British national newspaper for children.
Contents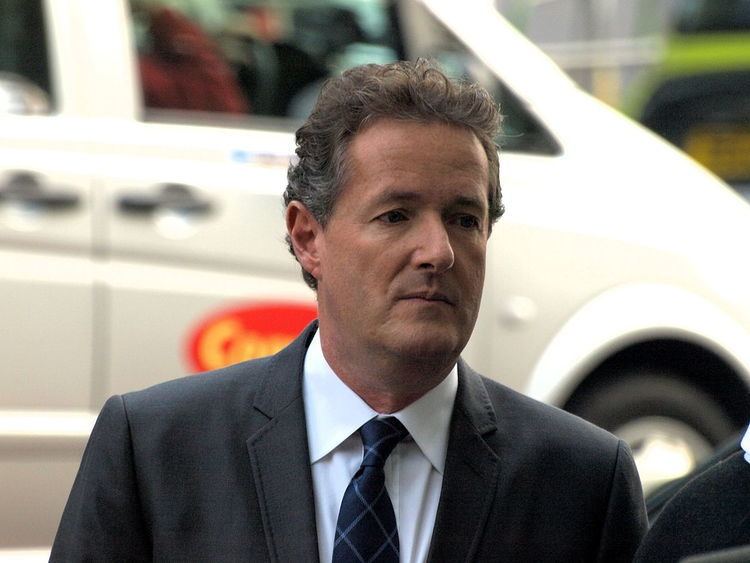 Morgan began his journalism career in Fleet Street as a writer and editor for several tabloid papers, including The Sun, News of the World and the Daily Mirror. In 1994, aged 29, he was appointed editor of the News of the World by Rupert Murdoch, which made him the youngest editor of a British national newspaper in more than half a century. He later edited the Daily Mirror, and was in charge during the period that the paper was implicated in the phone hacking scandal. In 2011 Morgan denied having ever hacked a phone or "to my knowledge published any story obtained from the hacking of a phone". In 2012 he was heavily criticised in the findings of the Leveson Inquiry, when the chair Brian Leveson stated that comments made in Morgan's testimony about phone hacking were "utterly unpersuasive" and "clearly prove ... that he was aware that it was taking place in the press as a whole and that he was sufficiently unembarrassed by what was criminal behaviour that he was prepared to joke about it".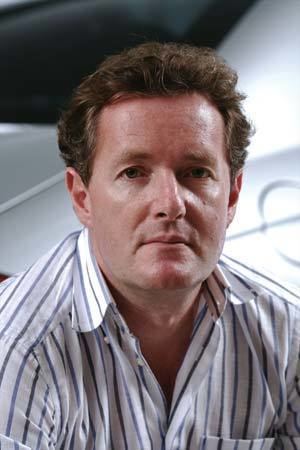 On television, he hosted Piers Morgan Live on CNN from 2011 to 2014, replacing Larry King Live in the timeslot following King's retirement. He was a judge on America's Got Talent and Britain's Got Talent. In 2008, Morgan won the seventh season of the US Celebrity Apprentice. In the UK, he presents Piers Morgan's Life Stories (since 2009) has anchored Good Morning Britain since 2015. Morgan has written eight books, including four volumes of memoirs.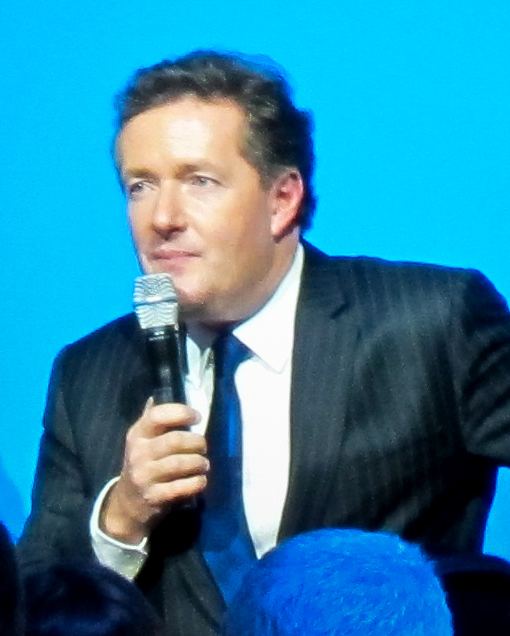 Piers morgan debates headscarf ban with muslim women good morning britain
Early life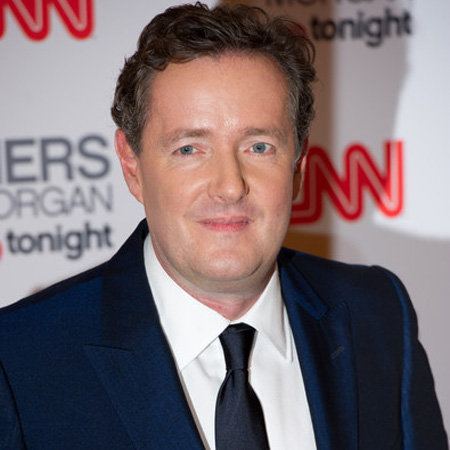 Piers Morgan was born Piers Stefan O'Meara on 30 March 1965 in Newick, Sussex, England, to Vincent Eamonn O'Meara, an Irish-born dentist, originally from County Offaly, and Gabrielle Georgina Sybille (née Oliver).
He took his stepfather's surname and became known as Piers Stefan Pughe-Morgan. He attended the independent school Cumnor House from the ages of seven to thirteen, and then Chailey School, a comprehensive secondary school in Chailey, near Lewes, East Sussex, followed by Priory School for sixth form. Morgan studied journalism at Harlow College. After a brief career at Lloyd's of London, he joined the Surrey and South London Newspaper Group in 1985, where he worked as a reporter on the South London News, and the Streatham and Tooting News. Morgan was recruited (he says headhunted by editor Kelvin MacKenzie) to join The Sun, to work on the Bizarre column.
At the Murdoch titles
Morgan's first high-profile post in the British media was as the main writer of "Bizarre", The Sun's show business column, while the newspaper was being edited by Kelvin MacKenzie. In 1994, aged 29, he was appointed editor of the News of the World by Rupert Murdoch, becoming the youngest national newspaper editor in more than half a century. He quickly gained notice for his prying, forthright style and lack of sympathy for celebrities' privacy, claiming that they could not manipulate the media to further their own ends without accepting the consequences of a two-way deal.
Morgan left this post in 1995 shortly after publishing photographs of Catherine Victoria Lockwood, then wife of Charles, Earl Spencer, leaving an addictive disorders clinic in Surrey. This action ran against the editors' code of conduct, a misdemeanour for which the Press Complaints Commission upheld a complaint against Morgan. Murdoch was reported as having said that "the boy went too far" and publicly distanced himself from the story. Fearful of a privacy law action if he had not criticised one of his employees, Murdoch is said to have apologised to Morgan in private.
The incident was reported to have contributed to Morgan's decision to leave for the Daily Mirror editorship. Morgan's autobiography The Insider states that he left the News of the World of his own choice and somewhat against owner Rupert Murdoch's wishes when he was offered the job of Editor at the Daily Mirror.
Daily Mirror editor
As editor of the Daily Mirror, in 1996 Morgan was forced to apologise on television for the headline (rendered in upper case) "Achtung Surrender! For You Fritz Ze Euro Championship Is Over" on 25 June 1996, a day before England met Germany in a semi-final of the Euro '96 football championships.
A £16 million package of investment in the title was rolled out from January, including the dropping of "Daily" from the masthead in February, which was later reversed. Roy Greenslade wrote in August 1999 that Morgan's editorship "has made a huge difference: his enormous enthusiasm, determination and focus is a major plus".
Morgan was the subject of an investigation in 2000 after Suzy Jagger wrote an article for The Daily Telegraph revealing that he had bought £20,000 worth of shares in the computer company Viglen soon before the Mirror 's "City Slickers" column tipped Viglen as a good buy. Morgan was found by the Press Complaints Commission to have breached the Code of Conduct on financial journalism, but kept his job. The "City Slickers" columnists, Anil Bhoyrul and James Hipwell, were both found to have committed further breaches of the Code and were sacked before the inquiry concluded. Further enquiry by the Department of Trade and Industry in 2004 cleared Morgan of any charges. On 7 December 2005, Bhoyrul and Hipwell were convicted of conspiracy to breach the Financial Services Act. During the trial it emerged that Morgan had bought £67,000 worth of Viglen shares, emptying his bank account and investing under his (first) wife's name, too.
The Mirror attempted to move mid-market in 2002, claiming to eschew the more trivial stories of show-business and gossip. Morgan rehired John Pilger, who had been sacked in 1985 early in Robert Maxwell's ownership of the Mirror titles.
Morgan was fired as Editor of the Daily Mirror "with immediate effect" on 14 May 2004, after refusing to apologise to Sly Bailey, then head of Trinity Mirror, for authorising the newspaper's publication of photographs which had been shown to be false. These were alleged to show Iraqi prisoners being abused by British Army soldiers from the Queen's Lancashire Regiment. When, within days the photographs were shown to be crude fakes, under the headline "SORRY..WE WERE HOAXED", the Mirror responded that it had fallen victim to a "calculated and malicious hoax" and apologised for the publication of the photographs.
Post-Mirror press career
In partnership with Matthew Freud, he gained ownership in May 2005, of Press Gazette, a media trade publication together with its "cash cow", the British Press Awards, in a deal worth £1 million. This ownership was cited as one of the reasons many major newspapers boycotted the 2006 awards. Press Gazette entered administrative receivership toward the end of 2006, before being sold to a trade buyer.
First News was launched by Morgan on 4 May 2006. A weekly paper aimed at seven to 14-year-olds, he claimed at its launch that the paper was to be "Britain's first national newspaper for children". Morgan was editorial director at First News, responsible for bringing in celebrity involvement. He referred to the role as "editorial overlord and frontman".
Morgan was filmed falling off a Segway, breaking three ribs, in 2007. Simon Cowell and others made much of Morgan's previous comment in 2003, in a Mirror headline after former U.S. President George W. Bush fell off a Segway: "You'd have to be an idiot to fall off wouldn't you, Mr President".
In 2012, following the revelation of Jimmy Savile's sexual abuse against children, Morgan claimed to have "never met" Savile in his lifetime – although it was pointed out that in a 2009 piece by Morgan in The Mail on Sunday's Night & Day magazine claiming that "As I left, Jimmy Savile came up to me. 'Your TV shows are BRILLIANT!. he exclaimed. ... I've always loved Jimmy Savile." Later, in 2017, Morgan accused Ewan McGregor of being a "paedophile-loving hypocrite" for his past support of Roman Polanski cancelling an appearance on Good Morning Britain due to Morgan's comments opposing the Women's March on Washington.
He became the editor-at-large of Mail Online's US operation in September 2014 and Morgan writes several columns a week. He also writes a weekly diary for the Mail on Sunday Event magazine, having also written one for its predecessor Live.
Television
Morgan's career expanded into television presentation before he was forced to leave the Daily Mirror. He presented a three-part television documentary series for the BBC titled The Importance of Being Famous (2003), about fame and the manner in which celebrities are covered by modern media. At the annual Pride of Britain Awards broadcast on ITV, Morgan chaired a panel of celebrities and well-known figures from various backgrounds that chose the recipients of the awards from 1999 to 2006.
He co-hosted his own current affairs interview show on Channel 4 with Amanda Platell, Morgan and Platell. Morgan and Platell were put together because of their opposing political viewpoints; Platell interrogated guests from the right wing, Morgan from the left wing. The show was dropped after three series allegedly because of poor viewing figures, although the chairman of Channel 4 Luke Johnson was reported not to like the programme.
Throughout 2006, Morgan appeared as a judge on the television show America's Got Talent alongside Brandy Norwood and David Hasselhoff on NBC. Morgan was chosen by Simon Cowell as a replacement for himself because of the conditions of his American Idol contract. Morgan appeared as a celebrity contestant on Comic Relief Does The Apprentice in 2007, to raise money for the BBC charity telethon Comic Relief. After his team lost, Morgan was selected by Sir Alan Sugar as the contestant to be fired.
Also in 2007, Morgan appeared as a judge for the second season of America's Got Talent and also appeared as a judge on Britain's Got Talent on ITV, alongside Amanda Holden and Simon Cowell. He also presented You Can't Fire Me, I'm Famous on BBC One. He fronted a three-part documentary about Sandbanks for ITV entitled Piers Morgan on Sandbanks in January 2008.
Morgan signed a two-year "golden handcuffs" deal with ITV in May 2008, reportedly worth £2 million per year. As part of the deal, he would continue as a judge on Britain's Got Talent for at least two more series and front a new chat show. He also made some interview specials, plus three more documentaries from various countries. Morgan's golden handcuffs deal was the first signing by ITV's new director of television, Peter Fincham. On 8 September 2008, Morgan featured in The Dark Side of Fame with Piers Morgan, produced by BBC Scotland.
He returned to ITV in February 2009, with the series, Piers Morgan On..., which saw him visit Dubai, Monte Carlo and Hollywood. The series positioned Morgan as a modern-day Alan Whicker and received strong viewing figures for the channel. The programme returned for a second series in 2010 when Morgan visited Las Vegas.
His show, Piers Morgan's Life Stories, began on ITV in 2009 with Sharon Osbourne as the subject of the first episode. Other guests on the programme included Cheryl and the then Prime Minister Gordon Brown.
CNN announced on 8 September 2010 that Morgan would replace Larry King in the network's evening line-up with his show, Piers Morgan Live, beginning on 17 January 2011. After poor ratings, CNN announced that the show was to be axed. It was cancelled in February 2014 and ended its run in March 2014. Commenting on the viewing figures, Morgan said that he was "a British guy debating American cultural issues, including guns, which has been very polarizing, and there is no doubt that there are many in the audience who are tired of me banging on about it."
From 13 April to 17 April 2015, Morgan guest-hosted five episodes of Good Morning Britain on ITV and became a permanent co-host on November 2015, appearing alongside Susanna Reid and Charlotte Hawkins.
Donald Trump
Morgan was the winner of the U.S. celebrity version of The Apprentice, in 2008. He was eventually the overall winner, being named Celebrity Apprentice by host Donald Trump on 27 March, ahead of fellow finalist, American country music star Trace Adkins, and having raised substantially more cash than all the other contestants combined.
Morgan interviewed Donald Trump on Good Morning Britain in March 2016. He predicted Trump's election as President of the United States and describes himself as a close personal friend of Trump. Morgan strongly objected to the Women's March on Washington on 21 January 2017, the day after Trump's inauguration, describing protesters as "rabid feminists". The actor Ewan McGregor was booked for Good Morning Britain the following Tuesday, but pulled out after arriving at the studios when he discovered Morgan would be conducting the interview. He disagreed with Morgan's statements on the women's march.
Morgan appeared on ITV's Loose Women panel show in late January 2017, however, did object to the then recent Executive Order 13769 which bans visits to the US from citizens of seven Muslim-majority countries, "but let's not just say that every time he speaks he's a monster, because it's not true". Nearly a fortnight later, on the American talk show Real Time with Bill Maher, Morgan said "There is no Muslim ban", as "85% of the world's Muslims are allowed in the country". Another participant in the discussion, Australian comedian Jim Jefferies, immediately told him to "f*** off", adding in part "Hitler didn't kill the Jews on the first day, he worked up to it". After the novelist J. K. Rowling tweeted "Yes, watching Piers Morgan being told to f*** off on live TV is *exactly* as satisfying as I'd always imagined", the two began an exchange of words on the social media site.
Ian Hislop
Morgan appeared as a guest on the satirical news quiz Have I Got News for You in an episode transmitted on 24 May 1996. In it, show regular Ian Hislop accused Morgan of having him followed and having his house watched. The conflict escalated and at one point the host, Angus Deayton, asked if they wished to go outside and have a fight. Later on, guest panellist Clive Anderson confronted Morgan commenting, "the last time I was rude to you, you sent photographers to my doorstep the next day", to which Piers Morgan retorted, "You won't see them this time." The audience responded loudly in favour of Hislop. "We're about to start exposing the moon-faced midget", Morgan was quoted as saying in 2002, to which Hislop responded, "all he's been offering for information about my private life is a £50 reward. My friends think that's not nearly enough."
In 2007, Hislop chose Morgan as one of his pet hates on Room 101. In doing so, Hislop spoke of the history of animosity between himself and Morgan and revealed that after their exchange on Have I Got News For You (which was shown as a clip), Morgan's reporters were tasked with trying to get gossip on Hislop's private life (including phoning acquaintances of Hislop), and photographers were sent in case Hislop did anything untoward or embarrassing while in their presence. Neither the reporters nor the photographers succeeded. Hislop also revealed that Morgan had attempted to quell the feud in an article in The Mail on Sunday, saying, "The war is over. I'm officially calling an end to hostilities, at least from my end. I'm sure it won't stop him carrying on his 'Piers Moron' stuff", a reference to the habit of Private Eye, the fortnightly satirical magazine which Hislop edits, referring to Morgan as Piers "Morgan" Moron. Hislop, who had been engaged in work on a World War I documentary at the time, responded by asking "Is that an armistice or an unconditional surrender?" Although the show's host Paul Merton agreed to put Morgan into Room 101, he was comically rejected as being "too toxic", even for Room 101.
Jeremy Clarkson
In October 2003, journalist and television personality Jeremy Clarkson reportedly emptied a glass of water over Morgan during the last flight of Concorde. In March 2004, at the British Press Awards, Clarkson punched Morgan three times in a clash over The Mirror's coverage of his private life, and accusations that Clarkson did not write his column in The Sun himself. Morgan reported on a rapprochement with Clarkson in the epilogue of his book, Don't You Know Who I Am?
Janet Mock
On 4 February 2014, transgender advocate Janet Mock appeared as a guest on Piers Morgan Live to discuss her memoir, Redefining Realness. After the interview aired, Mock sent a series of tweets criticising Morgan for describing Mock as being "formerly a man". Morgan responded that he had "never been treated in such a disgraceful manner" by a guest. On 5 February, Mock appeared as a guest again to debate the dispute.
Banned guests
On 28 March 2012, MTV referred to the bad relations between Piers Morgan and Madonna, reporting that "Morgan has apparently felt slighted over the years by Madonna ... he claims he was lied to by the singer's publicist".
In September 2012, it was reported that Morgan had also banned actor Kelsey Grammer. Morgan himself claimed, "Kelsey Grammer saw a photo of his ex-wife Camille in the open of our show and legged it." TVGuide reported, "All plans were still a go for the segment until Grammer actually got in the hot seat and saw the footage the producers had planned to peg to the segment, including a picture of his ex-wife". On 26 September 2012, Fox 11 Los Angeles reported that "many say [it] was an ambush by Piers". The Huffington Post reported that "before the interview was scheduled, it was made clear that Grammer would answer all questions, including those about [his ex-wife]. His sole request was not to show any images of her ... Keeping it classy, Grammer doesn't seem at all concerned that he won't be welcome back to Morgan's show, which has been struggling in the ratings on CNN."
Morgan also has banned actor Hugh Grant, denigrating Grant on Twitter in May 2011: "Hugh Grant is now banned, in perpetuity, from @PiersTonight ... And anything else I ever do. Tedious little man."
The British Press
On 19 July 2017, Morgan antagonised other journalists when he willingly breached a BBC news embargo. This was in connection with the publication of details of BBC presenters earning more than £150,000 annually. He announced the details via his Twitter account about an hour earlier than the agreed time of publication of the report. He attempted to excuse his action by falsely describing it as a 'scoop'. "Breaking an embargo is typically considered a serious breach of trust and can result in the source barring the offending news outlet from receiving advance information for a long period of time".
Phone hacking allegations
During Morgan's tenure as editor, the Daily Mirror was advised by Steven Nott that voicemail interception was possible by means of a standard PIN code. Despite staff initially expressing enthusiasm for the story it did not appear in the paper, although it did subsequently feature in a South Wales Argus article and on BBC Radio 5 Live in October 1999. On 18 July 2011 Nott was visited by officers of Operation Weeting.
He came under criticism for his "boasting" about phone hacking from Conservative MP Louise Mensch, who has since apologised for these accusations.
In July 2011, in a sequence of articles, the political blogger Paul Staines alleged that while editor of the Daily Mirror in 2002 Morgan published a story concerning the affair of Sven-Goran Eriksson and Ulrika Jonsson while knowing it to have been obtained by phone hacking.
On 20 December 2011, Morgan was a witness by satellite link from the United States at the Leveson Inquiry. While he said he had no reason to believe that phone hacking had occurred at the Mirror while he was in charge there, he admitted to hearing a recording of an answerphone message left by Paul McCartney for Heather Mills, but refused to "discuss where that tape was played or who made [it] - it would compromise a source." Appearing as a witness at the same Inquiry on 9 February 2012, Mills was asked under oath if she had ever made a recording of Paul McCartney's phone call or had played it to Piers Morgan; she replied: "Never". She said that she had never authorised Morgan, or anybody, to access or listen to her voicemails. Mills told the inquiry that Morgan, "a man that has written nothing but awful things about me for years", would have relished telling the inquiry if she had played a personal voicemail message to him.
On 23 May 2012, Newsnight presenter Jeremy Paxman was a witness at the Leveson Inquiry. He recalled a lunch with the Mirror editor in September 2002 at which Morgan outlined the means of hacking into a mobile phone.
On 28 November 2012, the Channel 4 documentary Taking on the Tabloids, fronted by actor and phone hacking victim Hugh Grant, showed footage from a 2003 interview with Morgan by the singer and phone hacking victim Charlotte Church, during which he explained to her how to avoid answerphone messages being listened to by journalists. He said: "You can access ... voicemails by typing in a number. Now, are you really telling me that journalists aren't going to do that?"
On 29 November 2012, the official findings of the Leveson Inquiry were released, in which Lord Justice Leveson said that Morgan's testimony under oath on phone hacking was "utterly unpersuasive". He stated: "[The] evidence does not establish that [Morgan] authorised the hacking of voicemails or that journalists employed by TMG [Trinity Mirror Group] were indulging in this practice ... What it does, however, clearly prove is that he was aware that it was taking place in the press as a whole and that he was sufficiently unembarrassed by what was criminal behaviour that he was prepared to joke about it."
On 6 December 2013, Morgan was interviewed, under caution, by police officers from Operation Weeting investigating phone hacking allegations at Mirror Group Newspapers during his tenure as editor.
On 24 September 2014, the Trinity Mirror publishing group admitted for the first time that some of its journalists had been involved in phone hacking and agreed to pay compensation to four people who sued for the alleged hacking of voicemails. Six other phone-hacking claims had already been settled. The BBC reported that it had seen legal papers showing that although the alleged hacking could have taken place as early as 1998, the bulk of the alleged wrongdoing took place in the early 2000s when Morgan was the Daily Mirror editor. The admissions by Trinity Mirror came whilst the London Metropolitan Police investigation into the phone hacking allegations was ongoing. Morgan has always denied any involvement in the practice.
Personal life
Morgan married Marion Shalloe in 1991 in Hampshire. They have three sons. Morgan and Shalloe divorced in 2008, and he remarried; his second wife is Celia Walden, a newspaper columnist and feature writer, and daughter of the former Conservative MP George Walden.
Morgan claims to be a fan of Premier League football club Arsenal F.C. He has been an outspoken critic of the entire club including Arsenal manager Arsène Wenger on social media and on the radio, and has called for his sacking. Former Arsenal goalkeeper Bob Wilson in defence of Wenger labelled Morgan a "pompous individual". When Arsenal midfielder Aaron Ramsey met Morgan on 26 April 2015, Ramsey refused to shake his hand due to the criticism he received from Morgan during the 2012–13 season. Morgan has responded by calling Ramsey 'whatshisname'.
Morgan is a Roman Catholic.
Books
Morgan, Piers; John Sachs (1991). Secret Lives. Blake. ISBN 0-905846-95-8.
Morgan, Piers; John Sachs (1991). Private Lives of the Stars. Angus and Robertson. ISBN 0-207-16941-1.
Morgan, Piers (1992). To Dream a Dream: Amazing Life of Phillip Schofield. Blake. ISBN 1-85782-006-1.
Morgan, Piers (1993). "Take That": Our Story. Boxtree. ISBN 1-85283-839-6.
Morgan, Piers (1994). "Take That": On the Road. Boxtree. ISBN 1-85283-396-3.
Morgan, Piers (2004). Va Va Voom!: A Year with Arsenal 2003–04. Methuen. ISBN 0-413-77451-1.
Morgan, Piers (2005). The Insider: The Private Diaries of a Scandalous Decade. Ebury Press. ISBN 0-09-190849-3.
Morgan, Piers (2007). Don't You Know Who I am?. Ebury Press.
Morgan, Piers (2009). God Bless America: Misadventures of a Big Mouth Brit. Ebury Press. ISBN 978-0-09-191393-9.
Morgan, Piers (2013). Shooting Straight: Guns, Gays, God, and George Clooney. Gallery Books. ISBN 978-1-4767-4505-3.
References
Piers Morgan Wikipedia
(Text) CC BY-SA