Governor

Peter Shumlin




Political party

Republican




Name

Phillip Scott




Preceded by

Brian Dubie




Alma mater

University of Vermont




Born

August 4, 1958 (age 57) Barre, Vermont, U.S. (

1958-08-04

)
Philip "Phil" Scott (born August 4, 1958) is an American politician and businessman serving as the 82nd and current Governor of the state of Vermont, since January 2017. A Republican, he won the 2016 general election with over 52% of the vote. He was previously the 80th Lieutenant Governor of Vermont, an office he held from 2011 to 2017. Before serving as lieutenant governor, he was a Vermont State Senator representing the Washington County District from 2001 to 2011.
Contents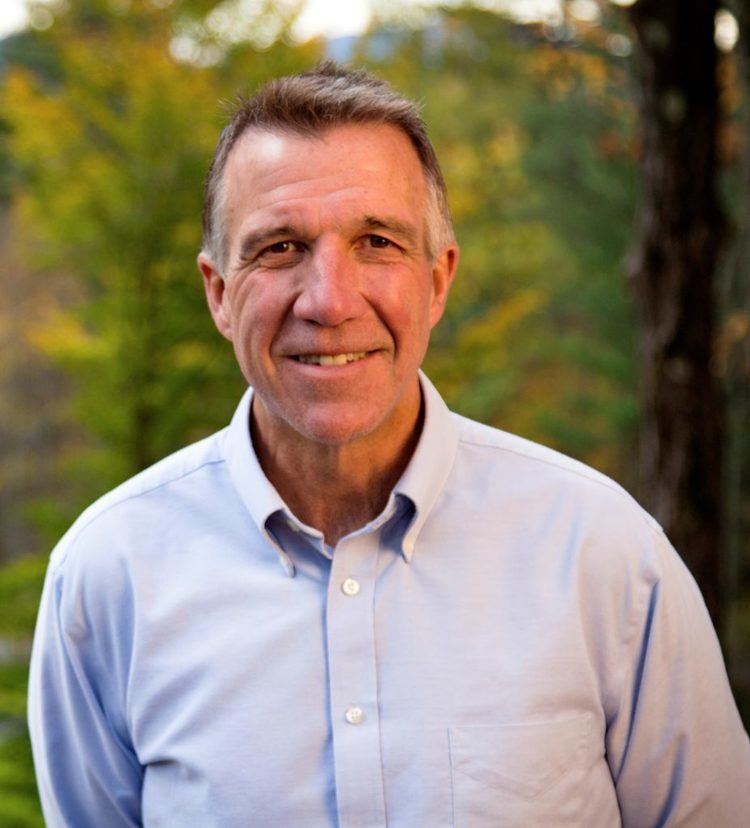 Early life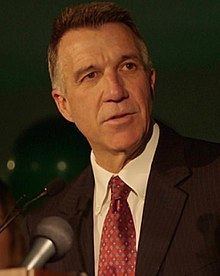 Scott was born on August 4, 1958 in Barre City, Vermont. He graduated from Barre's Spaulding High School in 1976, and is also a 1980 graduate of the University of Vermont, where he received a Bachelor of Science degree in Industrial Education.
Business career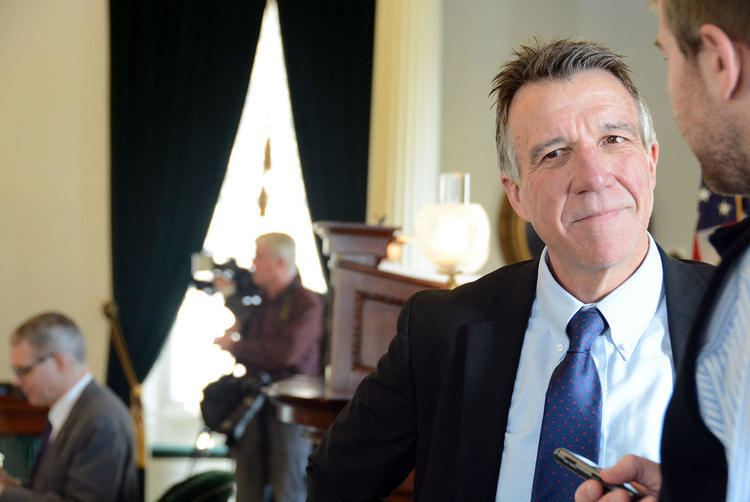 With his cousin, he was a co-owner of DuBois Construction, a small construction business based in Middlesex, Vermont which was founded by his uncle; Scott began working there after his high school graduation, and became a co-owner in 1986. Scott is a past President of the Associated General Contractors of Vermont.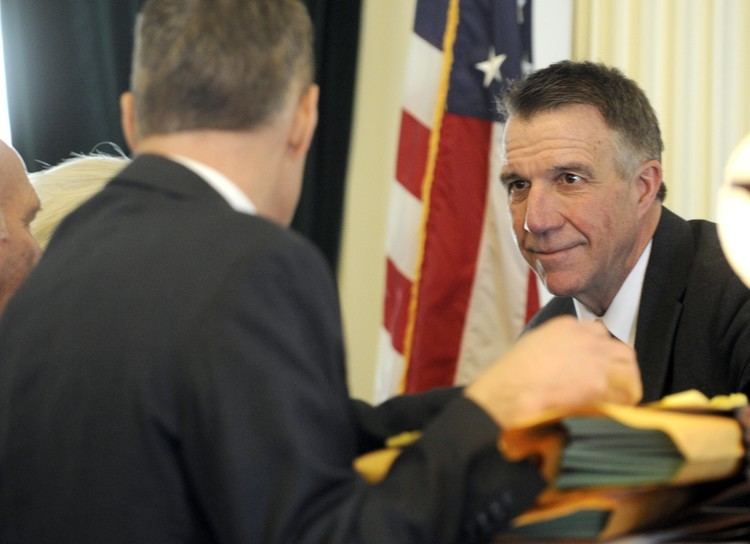 On January 6, 2012, a fire at Dubois Construction caused substantial damage. The owners were able to rebuild and continue operations.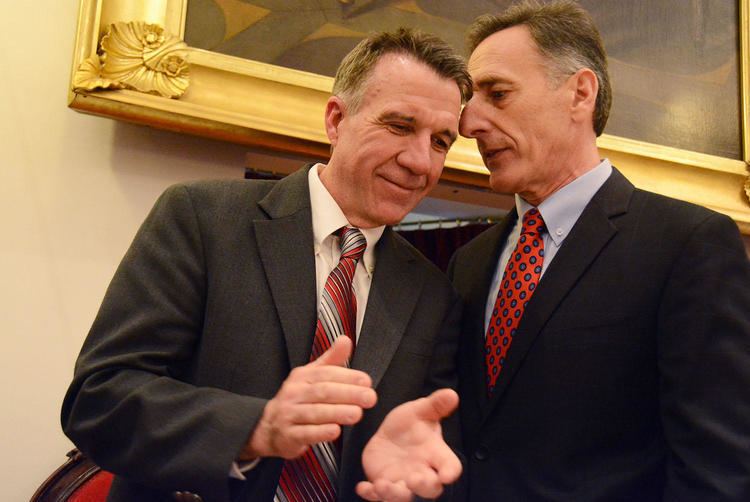 During his campaign for governor, Scott indicated that he intended to sell his share of the company if he won the election to avoid possible conflicts of interest, since DuBois Construction does business with the State of Vermont.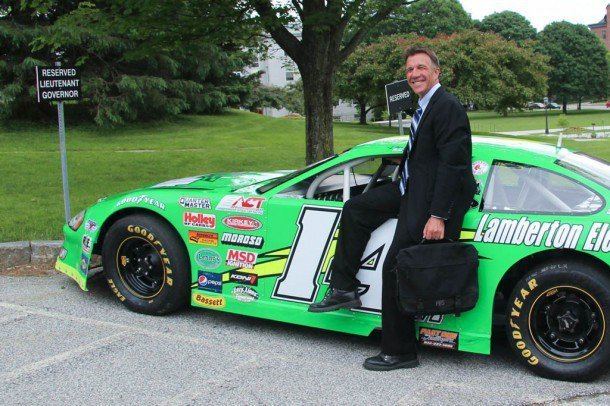 On January 11, 2017, Scott responded to a reporter's question by indicating that he had sold his share of DuBois Construction in a transaction that was finalized on December 30, 2016, and that he would provide additional details later in January. Press accounts on January 13 indicated that Scott had sold his share of DuBois Construction to the company for $2.5 million, plus 3 percent interest, payable over 15 years. During a meeting with reporters, Scott indicated that he opted to finance the sale himself rather than having the company borrow the money to pay him in full in order to preserve the company's bonding capacity, which it requires in order to bid on and complete construction projects and other work. Some critics and observers suggested that Scott's sale of his share in the company doesn't completely eliminate possible conflicts of interest, since some Dubois Construction contracts involve work for the state. Scott and the attorney who negotiated the sale on his behalf responded by indicating their belief that Scott's actions remove him from the business sufficiently to eliminate possible conflicts of interest.
Racing career
Scott is a champion stock car racer. He won the 1996 and 1998 Thunder Road Late Model Series championships and the 1997 and 1999 Thunder Road Milk Bowls. (The Milk Bowl is Thunder Road's annual season finale.)
In 2002, he became a three-time champion, winning both the Thunder Road and Airborne Late Model Series track championships and the American Canadian Tour championship. (Airborne Park Speedway is a stock car track in the town of Plattsburgh, New York). To date, he is the most winning driver of Thunder Road's modern era with 26 career wins in the track's weekly series. He also competed in the 2005 British Stock Car Association (BriSCA) Formula One Championship of the World, but did not finish.
Vermont Senate
A Republican, Scott was elected to the Vermont Senate in 2000, representing the Washington County Senate District. He was reelected four times, and served from 2001 to 2011. During his Senate career, he was the Vice-Chair of the Senate Transportation Committee and Chair of the Senate Institutions Committee. He previously served as a member of the Senate Natural Resources and Energy Committee. As Chair of the Senate Institutions Committee, Scott changed the practices for guiding the state's capital construction budget by establishing an affordable threshold of expenditures, ensuring that expenditures are allocated to long-term investments in infrastructure, and creating a fair process for distributing grants.
During his time in the Senate, Scott served on several special committees, including the Judicial Nominating Board, the Legislative Advisory Committee on the State House, the Joint Oversight Corrections Committee, and the Legislative Council Committee, among others.
Lieutenant Governor
On November 2, 2010, Scott was elected the 79th Lieutenant Governor of Vermont; he defeated Steve Howard and assumed office on January 6, 2011. He was reelected in 2012, defeating Cassandra Gekas, and elected for a third term in 2014, defeating Dean Corren.
As Lieutenant Governor, Scott presided over the Vermont Senate when it was in session. In addition, he served as a member of the committee on committees, the three-member panel which determines Senate committee assignments and appoints committee chairpersons and vice chairpersons. In the event of a tie vote in the Vermont Senate, Scott was tasked with casting a tie-breaking vote. Scott also served as acting governor when the governor was out of state.
Scott also served as Chair of the Emergency Preparedness Council, where he worked with the Department of Emergency Management and Homeland Security, as well as other agencies and departments, on security matters impacting Vermont.
In his capacity as Lieutenant Governor, Scott started a "Vermont Everyday Jobs" initiative, where he spends time working in different jobs throughout the state in order to gain a better understanding of what state government can do to help Vermont businesses work.
As Lieutenant Governor, Scott was a strong proponent of Vermont's "Buy Local" initiative.
As a state senator and as lieutenant governor, Scott was active with a number of community service projects. In 2005, he founded the Wheels for Warmth program, which has raised more than $309,000 for heating fuel assistance programs in Vermont. In 2011, Scott relied on his experience in and contacts with the construction industry to organize the removal and disposal of mobile homes destroyed by Tropical Storm Irene, an effort which was completed at no cost to the homeowners, and without requiring an expenditure of state funds.
Job approval
As of September 2015, Scott maintained both high name recognition and favorability among Vermont residents. A poll conducted by the Castleton University Polling Institute found that more than three-quarters of Vermonters knew who Scott was, and that among those who were able to identify him, 70% viewed him favorably. Despite being a Republican himself, the same poll found that 59% of self-identified Democrats held a favorable view of Scott, while only 15% held an unfavorable view of him.
National Lieutenant Governors Association activities
Scott was an active member of the National Lieutenant Governors Association (NLGA), and served on the NLGA Executive Committee and the NLGA Finance Committee. As a member of the NLGA, Scott joined fellow Lieutenant Governors across the country in two bi-partisan letters opposing proposed cuts to the Army National Guard in both 2014 and 2015. Scott was a lead sponsor on a NLGA resolution to develop a long-term vision for surface transportation in the United States. Scott was also a co-sponsor on resolutions to recognize the importance of arts and culture in tourism to the U.S. economy, to support Science, Technology, Engineering, and Mathematics (STEM) education, to support designating a National Arts in Education Week, and to support a comprehensive system to end homelessness among U.S. veterans.
Campaign
In September 2015, Scott announced his candidacy for Vermont governor.
An early 2016 poll commissioned by Vermont Public Radio and conducted by the Castleton University Polling Institute indicated that among the two candidates for the Republican nomination for governor, Scott was preferred by 42% of respondents compared to 4% for candidate Bruce Lisman. A poll commissioned by Energy Independent Vermont in late June 2016 indicated that Scott had the support of 68% of Republicans, while Lisman had the support of 23% of Republicans.
On May 8, 2016, Scott received the endorsements of nearly all of the Vermont Republican legislators. Scott did not support President-elect Donald Trump in his 2016 presidential campaign.
On August 9, Scott defeated Lisman in the primary election. He defeated Sue Minter, the Democratic Party nominee, in the November general election.
Governorship
Scott became governor of Vermont on January 5, 2017.
Fiscal and budgetary issues
Scott pledged during his campaign for governor to order an independent audit of all Vermont agencies, departments and systems. Scott has called for holding the line on any additional taxes and fees, and has pledged to veto any budget that grows faster than the growth rate of the underlying economy or wages in the previous year, if elected. Scott has also expressed his intent to avoid using one-time funds to plug recurring budget deficits and to establish bonding practices that emphasize a longer-term outlook. Scott supported changing the state's current one-year budget cycle into a two-year budget cycle in order to enhance long-term planning and management, while reducing budgeting costs.
Streamlining business permits
As a Vermont state senator, Scott introduced legislation to streamline the business permitting process in order to mitigate barriers to economic development. The legislation would have consolidated existing routes of permit appeals, simplified the district environmental commission permit review process, and made other miscellaneous changes to permitting law. Scott also voted for similar legislation to consolidate permitting routes, streamline permit appeals, and make other changes to existing law with the intent of enhancing economic development. This legislation was ultimately signed into law as Act 115 of 2003.
Downtown growth incentives
Scott was a co-sponsor of bi-partisan legislation that intended to promote economic development in downtown areas by expanding economic incentives and benefits to town centers, and creating Act 250-exempt downtown zones. Scott voted for similar legislation (which was implemented as part of Act 183 of 2006) to designate downtown growth centers and create a downtown tax credit program.
Job creation, economic incentives, and demographics
Scott co-sponsored legislation that intended to stimulated job creation through expanding financing to small businesses, creating an income tax credit for certain capital investments in Vermont businesses, creating a partnership organization to invest funds in commercial and agricultural enterprises that enhance economic development, authorizing Vermont agencies to offer loans through agricultural and small business programs, creating a sales tax holiday for certain types of purchases, and enacting other miscellaneous economic development incentives. Scott voted for similar legislation which passed (Act 67 of 2003) and also included a research and development tax credit, as well as a sustainable technology export tax credit.
Scott voted to direct American Recovery and Reinvestment Act of 2009 resources toward the Vermont Entrepreneurs' Seed Capital Fund, the Vermont Economic Development Authority, the Job Start Loan Fund, the Agricultural Debt Consolidation Program, the Vermont Jobs Fund, the Micro-Business Development Program, and various other economic development related funds. This proposal was ultimately enacted in Act 78 of 2010. Scott has set a goal to boost the state's economy by increasing the state's population to 700,000 in 10 years, specifically in key working-age demographic groups.
Economic Development Plan
As a candidate for Vermont governor, Scott released his "Comprehensive Blueprint for Economic Growth". The plan is divided into ten major sections: Protecting Jobs & Retaining Employers; Investing In & Expanding Vermont's Workforce; Affordable & Accessible Healthcare; Revitalizing County Economic Centers; Aggressive and Realistic Telecommunications & Broadband Expansion; Pro-Jobs Tax Policies; Affordable & High Quality Housing for Working Families; Responsible Regulatory Reform; Clean & Affordable Energy for Families and Businesses; and Aggressively Marketing Vermont.
Health care
In September 2016, Scott released his "Affordable & Accessible Healthcare" plan. The plan advocates for a transition from Vermont Health Connect to a different exchange (either the federal exchange or a state partnership) and seeks to eliminate the small business mandate for enrolling in the health care exchange. The plan also calls for reforming the Affordable Care Act to allow insurance companies to cross state lines, implementing a health care price transparency law in Vermont, transitioning from a fee-for-service payment system to an outcomes-based system, eliminating the legal necessity for defensive medicine, and rewarding Vermont individuals and businesses for healthy lifestyle choices. In terms of Medicaid, the plan would seek to reduce Medicaid administrative costs, streamline the administration of benefits, and fight for a federal Medicaid safety net. Finally, the plan calls for working with industry stakeholders to recruit and retain medical professionals.
As a Vermont state senator, Scott voted for Act 191 of 2006, a comprehensive health care reform bill. The legislation expanded access to health care by providing subsidies to uninsured Vermont residents to purchase private insurance on a sliding scale basis. The act was also designed to cut health care costs through providing healthy lifestyle insurance discounts to those who participated in programs that improved wellness and prevented disease. Within two years of the law's implementation, Vermont's uninsured rate declined by 25%.
Education
Scott has called for modifying Act 46 to improve cost containment measures, incorporate property tax reduction, preserve local control and school choice, and allow communities to keep the funds that they save through school district mergers. Scott has expressed support for flexible learning plans and the utilization of new technologies in the classroom in order to improve educational outcomes. Scott has indicated that as governor he would increase investments in early education, job training, higher education, and technical education programs.
As a state senator, Scott voted for legislation to reduce education property tax rates.
Violent and sex crimes
Scott was a co-sponsor of Act 83 of 2005 (also known as "The Safe Communities Act"), which increased the scope of stalking laws, increased penalties for stalking with a deadly weapon, designated and made information publicly available regarding high-risk sex offenders, authorized special investigation units for sex crimes, domestic abuse, and violent crimes, affirmed the right of law enforcement to engage in community notification if law enforcement believed a sex offender posed a risk to the community, and made publicly available certain pre-1996 sex offense convictions. Scott also voted for Act 192 of 2006 (also known as "The Sexual Violence Prevention Act"), which increased penalties for sexual assault, as well as lewd and lascivious conduct with a child, expanded special investigation units which specialize in investigating sex crimes, increased public access to the sex offender registry, and made other miscellaneous changes to existing criminal law. Scott voted for Act 58 of 2009, which expanded the sex offender registry and improved the prosecution of sex offenders.
Government reform and modernization
Scott supports limiting the length of the annual Vermont legislative session to 90 days. According to Scott, the unpredictable and long length of the legislative session discourages everyday Vermonters from running for office. A 90-day session, according to Scott, would encourage more individuals to run for elected office by setting clear parameters. Furthermore, Scott states that a 90-day session would force the legislature to focus on key fiscal and operational issues.
As governor, Scott plans to create a Government Modernization & Efficiency Team to implement efficiency audits, strengthen IT planning, implement a digital government strategy, and identify opportunities to eliminate inefficiencies, establish clear metrics and streamline services.
Transportation
In July 2016, Scott outlined his transportation priorities that he would implement as Vermont governor. Scott indicated that he would strengthen the link between economic growth and Vermont's infrastructure; oppose additional transportation taxes, including a carbon tax; oppose accumulating additional state debt for transportation; encourage innovation in transportation through implementing a Research and Development (R&D) Tax Credit and an Angel Investor Tax Credit (a 60% credit toward cash equity investments in Vermont businesses, specifically targeted toward transportation, energy and manufacturing firms); protect the state's transportation fund to ensure it is used for transportation purposes only; advocate for federal reforms and flexibility in transportation policy; and update the Agency of Transportation's long-range plan for transportation.
Drug policy
In August 2016, Scott released his 10-point opiate addiction plan, which covers prevention, treatment, and law enforcement. The plan would expand community based-approaches (such as Rutland's Project VISION); establish a Director of Drug Abuse Prevention Policy; create an Opioid Coordination Council to implement opiate plans and facilitate integration within state government; hold an annual statewide summit on drug abuse prevention; require digital prescriptions from doctors in order to reduce prescription forgeries; fight for updated federal drug disposal regulations; provide law enforcement with more flexibility; expand treatment options and the number of licensed counselors; monitor expansion to Medication-Assisted Treatment Programs; and support in long term treatment programs.
Social issues
Scott is pro-choice and supports the continued legalization of same-sex marriage.
Personal life
Scott lives in Berlin, Vermont with his wife, Diana McTeague Scott, and has two adult children.
Results
2014 Vermont Lieutenant Governor general election
2012 Vermont Lieutenant Governor general election
2010 Vermont Lieutenant Governor general election
2010 Vermont Lieutenant Governor Republican Party primary election
2008 Washington County Senate District general election
2006 Washington County Senate District general election
2004 Washington County Senate District general election
2002 Washington County Senate District general election
2002 Washington County Senate District Republican Party primary election
2000 Washington County Senate District general election
References
Phil Scott (politician) Wikipedia
(Text) CC BY-SA