Birth name

Philip James Lanzon




Name

Phil Lanzon




Genres

Hard rock, heavy metal




Role

Musician





Occupation(s)

Musician, composer




Movies

Uriah Heep: Magic Night




Years active

1966–present






Born

23 March 1950 (age 65) (

1950-03-23

)


Instruments

Keyboards, Piano, Drums, Vocals




Labels

RCA, Legacy Records, Regeneration Ltd, Sanctuary




Albums

The Ultimate Collection, Live in Armenia, Live at Shepperton '74, The Lansdowne Tapes, Sea of Light




Music group

Uriah Heep (Since 1986)



Interview with uriah heep keyboardist phil lanzon
Philip James "Phil" Lanzon (born 23 March 1950) is the keyboardist for British rock group Uriah Heep since 1986.
Contents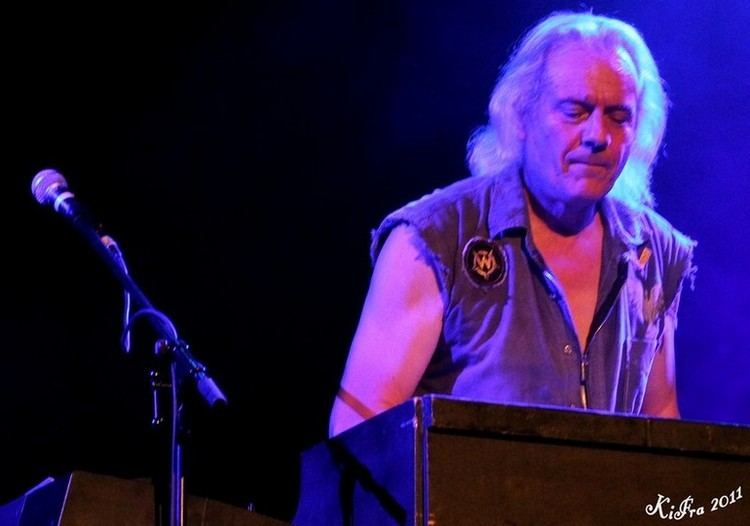 Lanzon has worked both as a session musician and sideman with Grand Prix, Grant & Forsyth, John Lawton (former Uriah Heep-member), Mick Ronson, Chris Spedding, and Sweet, among others.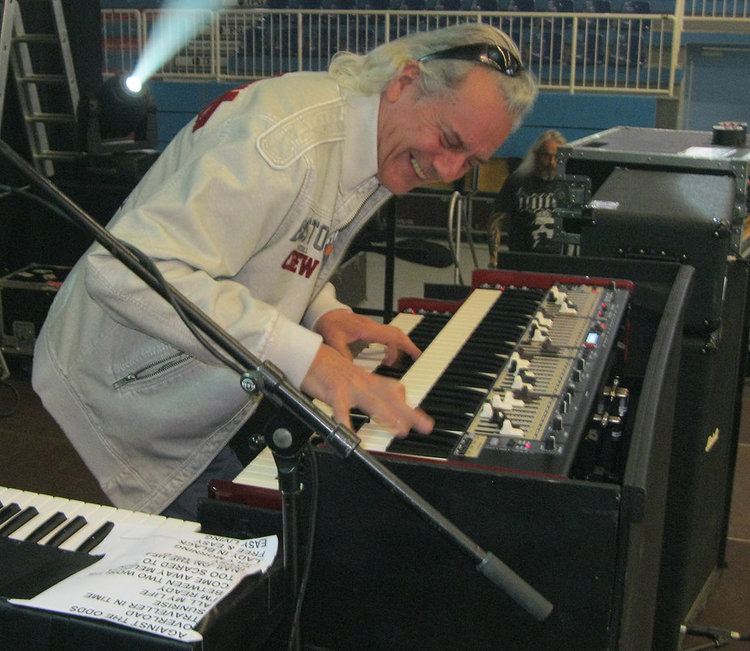 Phil lanzon uriah heep 23 3 happy birthday to sixtysix
Biography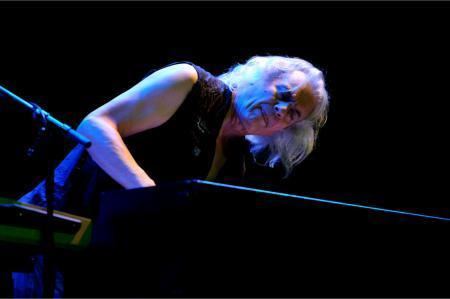 At the age of eight Lanzon learned to play the piano. In 1966, he played in his first band called The Loose Ends. Covers of soul songs were played. With this band Lanzon tours through Europe. Thereafter he played with The Cats Pyjamas from 1968 until 1969. With this one a few singles were recorded. One of them was "Baby I Love You" by The Ronettes. Lanzon married, started a family, and began to study harmony, counterpoint and composition at the Guildhall school of Music and Drama. In 1977 he joined a new band: Romance with Neil Carter, later with UFO and Gary Moore. The band just exist a short time, but had recorded a demo of four good songs; one was a Lanzon: "Show Me the Way to England". This line up also included Simon Hanhart who went on to produce many and numerous acts and coincidentally is producing Lanzon's own solo project at the moment, untitled.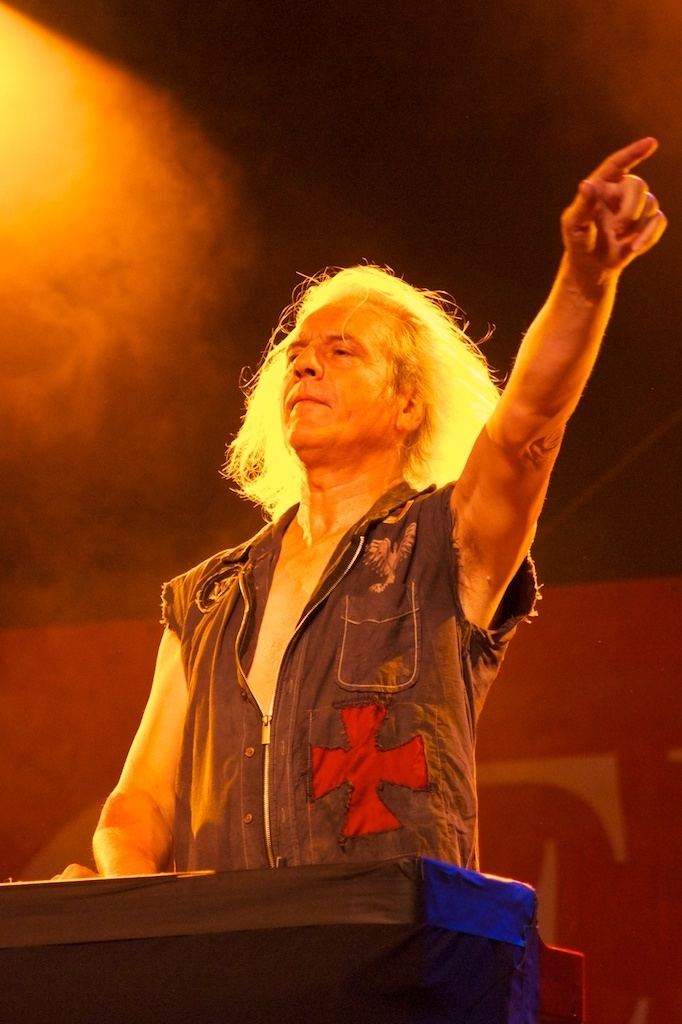 In 1978 Lanzon auditioned for a band called Raw Deal that needed a singer. Lanzon actually auditioned them one by one until Bernie came in with his high range and that suited the band perfectly. This incarnation became Paris. He can be heard on the June 1980 recorded Hot Chocolate hit "No Doubt about it". At the end of 1979 Paris became Grand Prix, and Lanzon played keyboards on three albums. In early 1980 Lanzon played keyboards on the Cris-Spedding album I'm Not Like Everybody Else. The third record Samurai is released in 1983 by Chrysalis Records. The Grand Prix sound can be described as melodic hard rock with some clear Styx and Journey influences. In 1984 Lanzon replaced Vic Emerson of Sad Café for a British tour.
Lanzon appears on both Steve Glen singles "That's Alright by Me"/"Just the Way We Are"/"Down Among the Dead Men"/'I'm Alright Jack". In March 1985 Lanzon joined the band Operator. His fellow band members were: Robin McAuley (vocals), Chris Glen (bass, before with SAHB and MSG), Mick O'Donoghue (guitar) and Phil Taylor (drums; ex - Motorhead). How promising this line up may have looked, it dissolved in May 1985. In November 1985 he played keyboards on Phil Taylor's Naughty Ol' Santas Christmas Classics. O'Donoghue, Glen and Taylor started GMT the same month, and recorded War Games with guitarist Marcus Schleicher, which was released on CD in 1991.
In July 1985 Lanzon played keyboards and drums on Big Bang, an album by German band Tarraco, who recorded their album in Hamburg as in London. It's experimental disco with a lot of drum work by bandleader Dicky Tarrach (Rattles). Lanzon composed one song and did his part on another one. In August 1985 Lanzon left Tarraco. In September 1985 Lanzon joined The Sweet and toured extensively in Australasia. The Sweet recorded their live album Live at the Marquee. He co-wrote three titles on this album, 'Jump the fence,' Shot me down in flames,' 'Over my head.' In July 1986 Lanzon broke up with The Sweet.
Lanzon joins Uriah Heep, replacing John Sinclair, and goes on a US tour. At that point Steff Fontaine was singer for a few months. In February 1987 Lanzon was asked by Andy Scott to play on the debut single of pub-rock band Paddy Goes to Holyhead. Lanzon had his hands free at the time, so he went into the London Bridge Studio and recorded the single and video spoof of "The Green Green Grass of Home"/"(Telling Me) All Those Lies". In December 1987, Lanzon again went into the studio to record the maxi - CD with the cover song "Delilah". Uriah Heep's "Live in Moscow" was recorded and released in 1988. In 1991 the heavily criticized Different World was released. In 1994 a techno/dance version of Gypsy goes around. On this maxi-CD four different versions of the song are recorded.
In 1995 the long-awaited Sea of Light is released. At 8 of the 12 songs Lanzon did his job on the composition part, with "Mistress of all time". In September 1998 Sonic Origami, the latest album by Uriah Heep, was released on the (UK) Eagle Records label, including Lanzon's "Between Two Worlds". During a Scandinavian tour in February 1999, Lanzon began to write short stories. Over the new decade he would go on to perfect one of those stories as a screenplay which was read by a top Hollywood producer, nothing came of it though. This screenplay is now a novel and is with a major UK publisher for consideration. He has written a musical/play with partner Brian Degas, producer/playwright and creator of the Colditz story and board game. Heep recorded Acoustically Driven in 2001. Lanzon scored the arrangements for the string quartet. This was followed by touring and festivals which included the release of various Heep DVDs.
The long-awaited release of "Wake the Sleeper", 2008, and consequently "Into the Wild", 2011, saw Lanzon's songwriting establishing itself again. Some say that "Between Two Worlds", "Golden Palace" and "Trail of Diamonds" were heading more towards the 'prog' side of Heep. Lanzon thinks that the next album may enter those bright waters a little more deeply along with the straight-ahead rock songs. Their 2014 cd 'Outsider' was acclaimed and then more touring festivals and rock cruises.
Personal life
Lanzon lives in East Kent with his partner, Patina. He has three children from his one and only marriage; nine grandchildren and one great-grandchild - all wonderful and living in Hampshire.
With Steve Glen
Look Left Look Right
No Doubt About It Easy Does It
With GMT
War Games
With Grand Prix
Grand Prix
There For None To See
Samurai
With Grant & Forsyth
Let's Dance
With John Lawton & Steve Dunning
Steppin' It Up (2002)
With Lionheart
Unearthed - Raiders of the Lost Archives
With Mick Ronson
Memorial Show
With Chris Spedding
I'm Not Like Everybody Else
With Sweet
Hannover Sessions
Live At The Marquee (live, 1989)
Chronology
With Paddy Goes to Holyhead
Green Green Grass of Home (7 inch)
With Tarracco
Big Bang
With Uriah Heep
Live in Moscow (live, 1988)
Raging Silence (1989)
Different World (1991)
Sea of Light (1995)
Spellbinder (live, 1996)
Sonic Origami (1998)
Future Echoes Of The Past (live, 2000)
Acoustically Driven (live, 2001)
Electrically Driven (live, 2001)
The Magician's Birthday Party (live, 2002)
Live in the USA (2003)
Magic Night (live, 2004)
Between Two Worlds (live, 2005)
Wake the Sleeper (2008)
Live in Georgia (Tbilisi State Music Hall Live) (2010)
Into the Wild (2011)
Outsider (2014)
References
Phil Lanzon Wikipedia
(Text) CC BY-SA