Name

Pez Pez





Pez (Spanish for "fish") (born 1976) is a Spanish graffiti artist.
Contents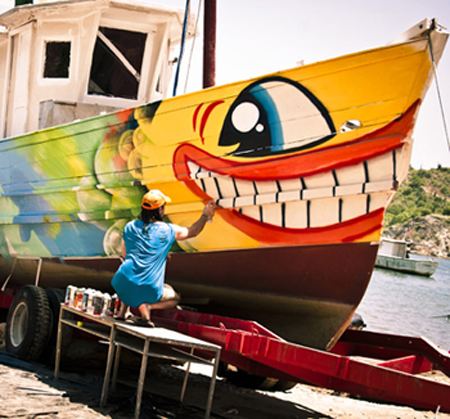 Background
Pez started painting in 1999 in his hometown Barcelona. Specifically, he got into street art writing his signature, which soon took the shape of a fish. "Little by little his tags turned into the shape of a smiling blue fish, and he became a celebrity throughout Barcelona".
Writing that peculiar signature, and influenced by comic and urban subcultures, he is interested in searching for a character whose language was universal. This was the birth of his famous character with the universal and timeless language of the smile, Pez was born! A fish character with a huge smile. He found a way to communicate and spread good vibrations to the pedestrians of Barcelona, this was his way to talk with the Barcelona citizens.
In the early 2000s, Pez began to travel around Spain invited by graffiti contests and urban art exhibitions: Madrid, Pamplona, Las Palmas, Valencia, Bilbao, Sevilla. After a few years he began spreading his smile around Europe and was invited to show his work in art galleries: Paris, Amsterdam, Berlin, Milan, ...
In 2006, he travelled to South America to paint in Caracas, Bogota and Lima. Some months after, Pez took part in the K-Swiss Tour, a brand that leads the Asian painting market. The K-Swiss Tour brought him to Hong Kong, Singapore, Shanghai, Tokyo, Seoul, Taipei.
During the last few years, Pez has exhibited in Bogotá, Barcelona, Hamburg, Paris, London, NY, Portland and Los Angeles.
His works appear in the best-known street art books: Street Logos, Art of Rebellion, Street Art, Bcn New York, ... in specialized magazines and internet websites. His work also appears in documentaries such as: "Bomb It-The Movie", Muros Libres", Free Walls" and "A Primer on Urban Painting".
More recently, Pez has been creating several characters, not only his fish character, but also demons, angels, giraffes, and Martians. There is one thing they all have in common... A huge and infectious unique smile.
As a result of his focus on spreading his "good vibes" further than streets and galleries, he has been able to "talk" with more people around the world and in 2011 he decided to create his own line of products: graffiti spray cans, backpacks, mobile cases, apparel, plushies, ...
Nowadays, Pez is showing his art in galleries, festivals, international art fairs and art auctions.
Notable exhibitions and works
2002 May. "Nine Yards" Exhibition Nine yards Skate Shop. Barcelona. Spain
2002 April. Installation and performance in Carhartt shop. Barcelona. Spain
2002 June. Group Graffiti exhibition in "Iguapop Gallery". Barcelona. Spain
2002 September. "Leust" group exhibition "Magda Danise Gallery". Paris. France
2003 April. "Bulk" graffiti performance. Milan. Italy
2003 May. Exhibition "Pez zone" Zum Zum Gallery, Barcelona.
2004 July. "Bread & Butter" installation for Leust and customized clothes. Berlin. Germany
2004 December. "Pez" solo exhibition, Montana Gallery. Barcelona.
2005 March. "Bollocks" International Street Art exhibition, David Adamson Gallery. Washington.
2005 March. "Big geezers" Collective exhibition, Henks Gallery. Amsterdam.
2005 April. "Surface Tension" graffiti performance. Cork. Ireland.
2005 May. "Smiling from Barcelona" Exhibition, Meninguer Hostel. Berlin.
2005 June. "Vs Colors" graphic exhibition. Lausane, Switzerland.
2005 July. "Stikers" Collective exhibition. México.
2005 September. "Zosen Vs Pez" exhibition, Casal de cultura San Adrian. Barcelona. Spain
2006 May. "Jaminline" graffiti performance. Pamplona. Spain
2006 June. "Decibelio Festival" graffiti performance, Belio Magazine. Madrid. Spain
2006 July. "Mesa y Lopez" graffiti performance. Las Palmas de Gran Canaria. Spain
2006 November. "Desfase". Graffiti Urban Art Festival. Bogotá, Colombia
2007 March. "K-Spray3 Tour". Asia Tour, drawing in Shows for K-Swiss (Singapore, Hong-Kong, Shanghai, Taipei, Seoul, Tokyo)
2007 May. "Iconograff". Graphic exhibition and performance. Sata Cruz de Tenerife, Spain
2007 June. "Sonriendo desde 1999″ Exhibition. Impactes Visuals Gallery. Sabadell. Barcelona. Spain
2007 July. "A pintar" performance. Mataró, Barcelona. Spain
2007 July. 30m wall for sportive installations. Sant Adrià de Besós. Barcelona. Spain
2007 August. "Downtown Reggae Festival", graffiti performance, Barcelona. Spain
2007 September. "Los Martínez" group exhibition. Miscelánea Gallery, Barcelona. Spain
2007 October. "My Friend" group exhibition, Mad Turnip Galery. Paris. France
2007 December. "Ciutat Interior" group exhibition, Kenor+Pez, Espacio artístico contemporáneo Niu Gallery, Barcelona. Spain
2008 May. "Poliniza" International Graffiti Festival. Valencia. Spain
2008 June "Free Artists, Free cities" Vicious Gallery. Hamburg. Germany
2008 July. "Bread & Butter" drawing, stand installation Motana Colors. Barcelona. Spain
2008 July. "Free Artist, free Cities" Collective exhibition. Barcelona. Spain
2008 September. "4 geezers" group exhibition, Adhoc Gallery Brooklyn. NY city. USA
2008 September. " 3 Amigos" group exhibition, Base Elements Gallery. Barcelona. Spain
2008 October. "Big Geezers" group exhibition, Scion installation. Los Angeles
2009 January. "Correquetepiyo" group exhibition, El Garage gallery. Bogota, Colombia
2009 June. "Sonria Por Favor" Solo Show WellDone Gallery. Barcelona. Spain
2009 June. "Espacio Espora" wall 5×10m With Djlu Madrid. Spain
2009 July. "Festival Dj's Contra la Fam" Live Paint. Barcelona. Spain
2009 October. "Zoo" Group Show. Brick Lane Gallery. London
2009 October. Live Paint "La Otra" International Contemporanean Art Fair. Bogota. Colombia
2009 October. "Show Off" International Contemporanean Art Fair. By Nukod Gallery. Paris, France
2009 November. Graffiti wall 7×5m Palais de Tokio. Paris. France
2009 December. Bkmia. Artfair, Miami in the ART BASEL context. Miami. Florida
2009 December. Million Associes. Street Art Auction. Paris. France
2010 February. 8º Salon de Arte Contemporaneo "Diversidad" Galeria Casa Cuadrada. Bogota. Colombia
2010 March. "Pez2009" Exhibition Art Space Luciérnaga. Bogota. Colombia
2011 January. "Kenor-Pez. Amigo mucho fushion show", Galo Art Gallery. Torino. Italia
2011 December. Miami Art Basel. Bogota. Colombia
2012 March. "Pez. Smiling since 1999", Tony's Gallery. London. UK
2012 July. "TedxBogota Live Edimburgo". Bogota. Colombia
2012 July. "Swab Art Fair". Barcelona, Spain
2012 October. "Las Calles Hablan" Collective exhibition. Barcelona, Spain
2012 October. "Odeon Contemporanean Art Fair". Bogota, Colombia
2012 November. "Ard*Pop-Up Graffiti Show". Oslo, Noruega
2012 December. "Espanish Conexion exhibition", organized by High Roller Society. London. UK
2012 December. Exhibition with Alexander Mijares, W South Beach Hotel, in the ART BASEL context. Miami. Florida
2013 February. "Infinite Colors" exhibition in the MOTEUKA NORWAY FASHION WEEK context. Oslo. Noruega
2013 April. "The Power of Smile" exhibition, Las Dos Coronas gallery. Barcelona. Spain
2013 May. Wall "Parc de Belleville". Paris. France.
2013 May. "Barcelona Street Tales" exhibition with Zosen, ArtyFarty Artspace gallery. Köln. Germany.
2013 June. "From Born with Humour" exhibition, Born Art gallery. Barcelona. Spain.
2013 June. Walls "Parc de les Tres Xemeneies" Poble Sec neighbourhood. "Fart" in the context of "Barcelona Design Week". Barcelona. Spain.
2013 June. Bratislava Street Art Festival, European Tour 2013. Bratislava. Slovakia.
2013 October. "White night". Bogota. Colombia
2014 September. "Unsanctioned Art". The Mine. Dubai. UAE
About his work
Pez does not represent any crew of graffiti writers, he paints with the world. The reason for Pez's unique tag is in his words, "I was hoping it would be different from other writers, because i've found the way to mix letters and logo." Pez says he does not play the competitive game, he just paints because he loves to paint. The paint Pez uses is made in Barcelona called Montana Cans. It is Pez's favorite brand but he will use any paint. When asked what his favorite things to paint on his response was, "I love store shutters and rubbish walls at the center of the city. I like track sides too and the highway spots. I'm looking for places that my pieces will remain for the longest time possible."
Straight from the artist
In interviews, Pez has stated he likes paint everywhere, reggae parties, dancehall queens, Caribbean beach, drum and bass Montanan cans, fat-cap, ekosystem.org, happy characters, Bob Sponja, free entry, and free beer. Pez dislikes police in helicopters, TV trash, the airports, hypocrisy, war, and the typical questions of street art. His favorite place in the world is Canary Islands off the coast of Africa. To Pez, Barcelona is the city where he lives, enjoys, works, and does his best parties. His best friends and his best works are on the streets of Barcelona. He does not have a favorite place in Barcelona but he said he likes Las Ramblas a lot. He said "you can enjoy smiling of a lot of crazy people walking on this street, and you have beer 24 hours.
Filmography
Pez on IMDb
Bomb It on IMDb
Exit Through the Gift Shop on IMDb
References
Pez (artist) Wikipedia
(Text) CC BY-SA