Covid-19
United Kingdom




British





Peter Mathieson




Nephrologist






Professor Tsui Lap-chee OC PhD FRS FRSC


18 April 1959 (age 56) England (

1959-04-18

)


University Lodge, University of Hong Kong, Hong Kong




London Hospital Medical College (MBBS) Cambridge University (PhD)




1980-3: eight undergraduate prizes. 1992: Voted "Teacher of the Year" by Cambridge medical students. 1997: Milne-Muehrcke award "most promising young researcher" (UK Renal Association/National Kidney Foundation USA). 2004: Renal Association Lockwood Award (contribution to academic renal medicine). Renal Association: Osman lecturer 2006, de Wardener lecturer 2012. South African Renal Society: Janet Halkett Memorial Lecture 2009. Voted "top teacher" by Foundation doctors at University Hospitals Bristol 2011–12




Johannes Chan, Arthur Li, Lap‑Chee Tsui, Ip Kin‑yuen, Leung Chun‑ying
Peter William Mathieson (Chinese: 馬斐森; born 18 April 1959) is an English nephrologist and current vice-chancellor and president of the University of Hong Kong (HKU). He was the dean of the Faculty of Medicine and Dentistry of the University of Bristol before he assumed office at the HKU on 1 April 2014, and was previously director of studies at Christ's College, Cambridge. He is set to take up the post of vice-chancellor of the University of Edinburgh after leaving HKU in January 2018.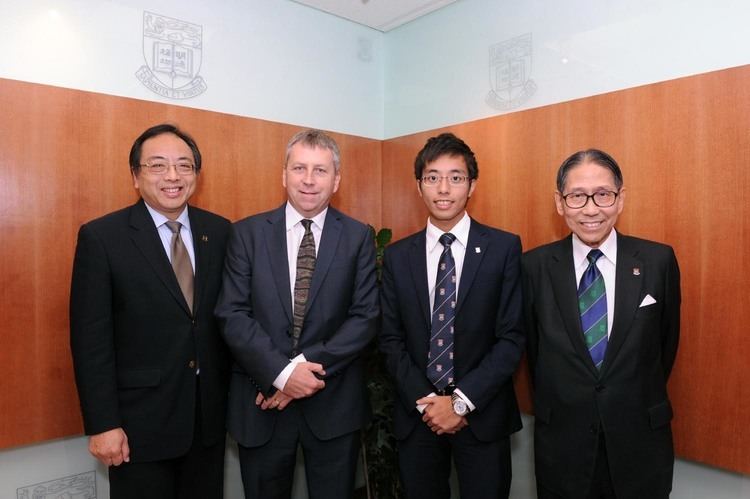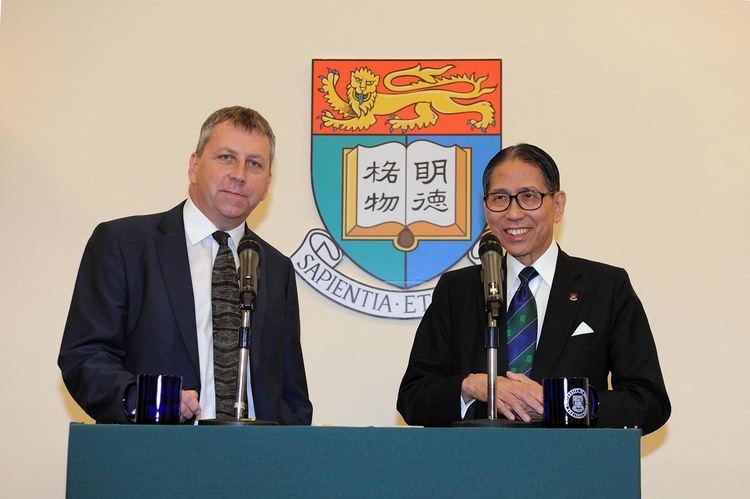 Peter Mathieson went to school in Penzance, Cornwall, then qualified in medicine with first-class honours from London Hospital Medical College in 1983. After junior posts in and around the West End of London, he went to Cambridge as a Medical Research Council (MRC) training fellow, studying for a PhD which was awarded by the University of Cambridge in 1992. After a further MRC-funded fellowship during which he worked on complement/immunology, Mathieson moved to Bristol in 1995 as the foundation professor of renal medicine at University of Bristol and honorary consultant nephrologist, North Bristol NHS Trust.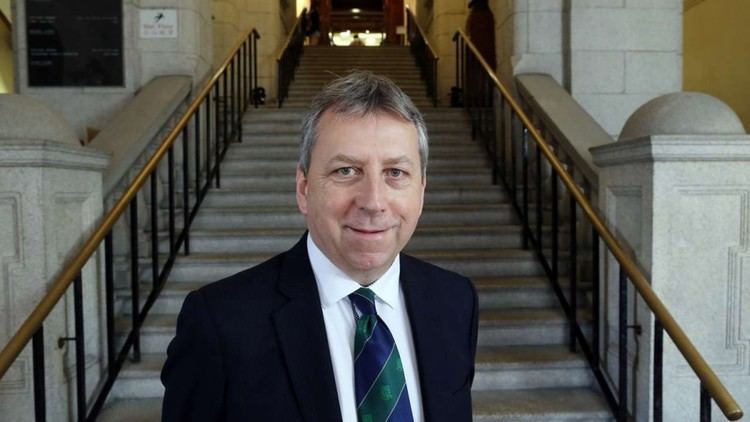 Mathieson was elected fellow of the Academy of Medical Sciences in 1999. In 2007 he was elected as the youngest ever president of the Renal Association and also became head of the University Department of Clinical Science at North Bristol. He was also appointed as director of research & development for the North Bristol NHS Trust. Between 2003 and 2007 he chaired the Research Grants Committee of Kidney Research UK [formerly National Kidney Research Fund]. He was a member of the Renal Association Clinical Trials committee from 1996 to 2007 and its chairman between 2000 and 2003. In 2008 he was appointed dean of the Faculty of Medicine and Dentistry.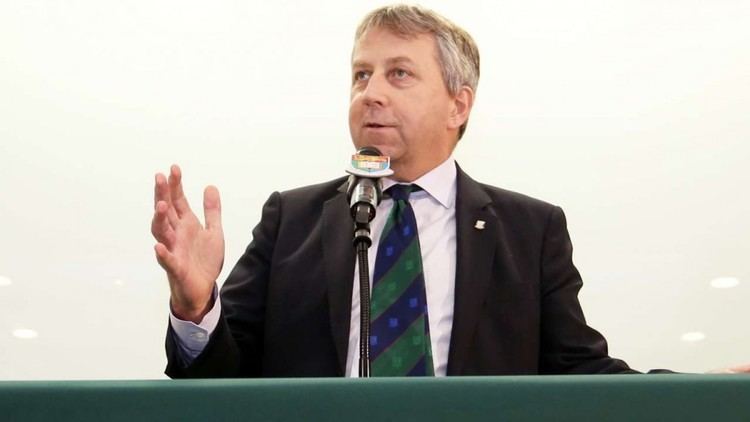 Mathieson's major clinical interest is in autoimmune renal diseases, such as glomerulonephritis, systemic vasculitis, systemic lupus erythematosus. His research interests are in human glomerular cell biology and regulation of glomerular permeability, and he leads the group in the Academic Renal Unit that in recent years has made significant contributions to the study of podocytes and glomerular endothelial cells, interactions between them and factors in the causation and treatment of proteinuria. The work of the group has attracted major research grant funding of about £5 million from sources including Medical Research Council, Wellcome Trust and Kidney Research UK.
Mathieson was the only candidate shortlisted for the post of vice-chancellor of the University of Hong Kong, and his appointment was unanimously endorsed in a council meeting in October 2013 to assume office on 1 April 2014. However, eminent surgeon and member of university council Lo Chung-mau leaked confidential discussions of the search committee, and criticised Mathieson as "ignorant, incompetent and heartless". Mathieson was the 11th non-Chinese vice-chancellor in the history of the university, the other more recent being Dr Kenneth Robinson (1965–1972) and Professor William Ian Rees Davies (2000–2002).
His tenure at HKU is described to be full of "tension and clashes between the university's governing body and students". Five months into his vice-chancellorship, a students-led class boycott, protesting against Beijing authorities' decision of Hong Kong's suffrage, evolved into a 79-day occupy protest. He was embroiled in a controversy when the governing council rejected Johannes Chan to the post of pro-vice-chancellor, for the first time a candidate nominated by the selection committee being rejection by the council. The Students' Union and alumni viewed it as Leung Chun-ying's curtailing of academic freedom by blocking pro-democrat scholars from the university administration.
On 2 February 2017, 2 years before the original expiry of his contract, Mathieson resigned from the post of HKU. It was announced that he will become Principal and Vice-Chancellor of the University of Edinburgh in late-2017/early-2018. Edinburgh was the city where his father was born.
Peter Mathieson (nephrologist) Wikipedia