Peter David Manley (born 7 March 1962 in Cheam, London Borough of Sutton) is a former professional darts player who used to play in the Professional Darts Corporation.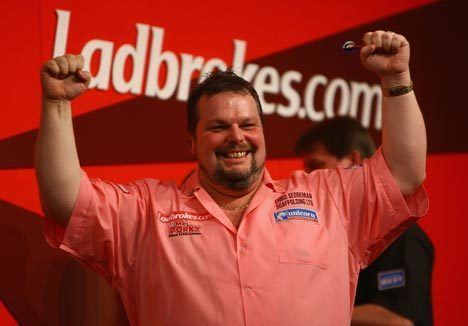 He was named One Dart by commentator Tony Green after hitting the winning double on numerous occasions with his first dart during his first televised appearance at the 1995 Unipart European Masters, where he eventually lost in the final to Mike Gregory.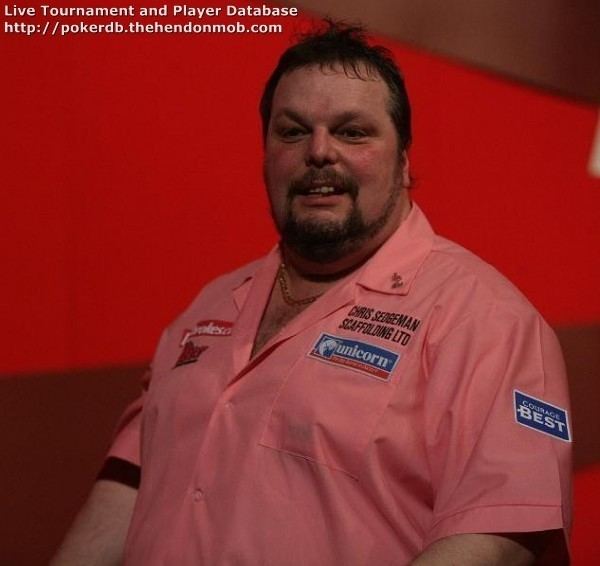 The nickname subsequently proved to be a heavy burden for Manley who despite a confident, outspoken persona only managed one major win - the 2003 Las Vegas Desert Classic - during his professional darts career.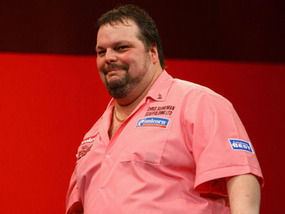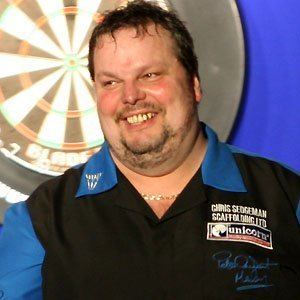 Manley's controversial personality rather than the quality of his darts was often the most notable part of his career and continued poor form resulted in him failing to secure a PDC tour card in 2012. Manley lost several major sponsors including darts manufacturer Unicorn as a result.
Manley is perhaps most famous for his long-running feud with Phil Taylor resulting from his refusal to shake Taylor's hand after losing 7-0 to him in the 2002 PDC World Darts Championship final. He has finished runner-up to Taylor in two other World Championships - losing 6-2 in 1999 and 7-0 in 2006.
His biggest tournament win was 2003 Las Vegas Desert Classic when he beat John Part 16-12 in the final. He is also the chairman of the Professional Dart Players Association, a position he has held for six years. Manley attempted getting a PDC Tour card in the Q-School in 2012, 2013, 2014, 2015, 2016 and 2017 but was unsuccessful.
Manley's refusal to shake Taylor's hand after his 7-0 World Championship thrashing in 2002 led to darts fans booing him for many years. The boos became more ironic and good-natured when in 2005 Manley changed his entrance theme from Chumbawamba's Tubthumping to Tony Christie's Is This the Way to Amarillo. By the end of his career Manley was seen by darts crowds as being more of a 'pantomime villain' rather than subject to genuine animosity which had occurred previously. Manley has even gone on to say that whilst the booing and crowd reaction was hard for him and his family to take in the early days, it helped him as his career went on and ensured his popularity on the exhibition circuit.
Despite being chairman of the Players' Union (the Professional Dart Players Association - PDPA), Manley was often the subject of controversy with fellow players. Most notably Taylor in the aforementioned incident, and also in the 2006 PDC World Darts Championship. During that tournament, Manley was accused of gamesmanship against Dennis Smith and in a later round against Taylor's protégé, Adrian Lewis. Manley muttered words to his opponent, resulting in Lewis leaving the stage in anger. Despite serving as Manley's best man at his wedding Manley also had a notable spat with former PDC professional player Wayne Mardle. Mardle accused Manley of being a cheat in his autobiography. Manley has also had notable spats with the likes of Roland Scholten, John Lowe, Rod Harrington and Wynand Havenga.
Manley currently resides in Carlisle. He is married to Crissy Manley (née Howat), and has two daughters.
In his early years Peter worked at his Parents newsagents, Manleys, in North Cheam.
1998: Quarter-finals (lost to Dennis Priestley 3-4)
1999: Runner Up (lost to Phil Taylor 2-6)
2000: Semi-finals (lost to Dennis Priestley 2-5)
2001: 1st round (lost to Jamie Harvey 2-3)
2002: Runner Up (lost to Phil Taylor 0-7)
2003: 2nd round (lost to Simon Whitlock 1-4)
2004: Quarter-finals (lost to Bob Anderson 2-5)
2005: 3rd round (lost to Josephus Schenk 2-4)
2006: Runner Up (lost to Phil Taylor 0-7)
2007: 2nd round (lost to Wynand Havenga 3-4)
2008: Quarter-finals (lost to Kirk Shepherd 4-5)
2009: 1st round (lost to Mensur Suljović 2-3)
2010: 2nd round (lost to Mark Webster 2-4)