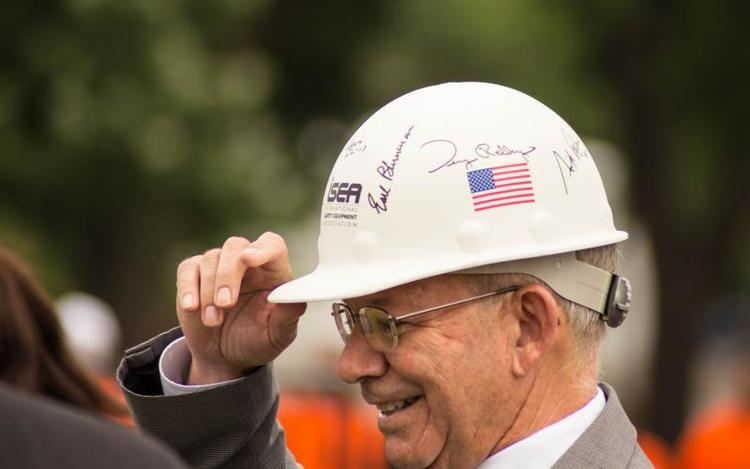 DeFazio was born in Needham, Massachusetts in 1947, a suburb of Boston. He credits his great-uncle with shaping his politics; as a boy, that great-uncle almost never said "Republican" without including "bastard" at the end (or "bastud," as it usually sounds in the Boston accent). He served in the United States Air Force Reserves from 1967 to 1971. He received a Bachelor of Arts degree from Tufts University in 1969 and a Master of Arts degree from the University of Oregon in 1977.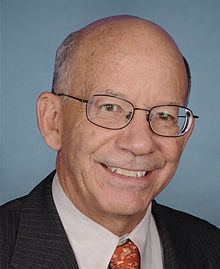 After graduation, DeFazio worked as a gerontologist. From 1977 to 1982, DeFazio worked as an aide for U.S. Representative Jim Weaver. He was elected as a Lane County Commissioner in 1983 and served as chairman from 1985 to 1986.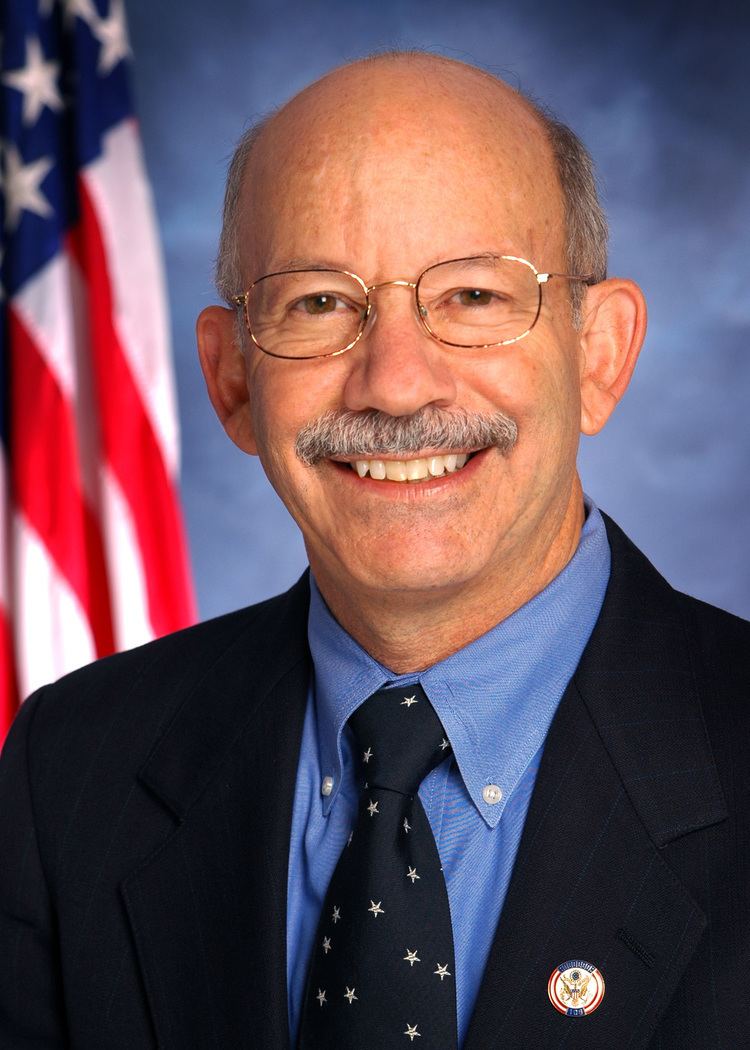 In 1986, DeFazio ran for Oregon's 4th congressional district, vacated by retiring incumbent Democratic congressman Jim Weaver. DeFazio narrowly won in a competitive three-way primary against State Senators Bill Bradbury and Margie Hendriksen 34%-33%-31%. He won the general election with 54% of the vote.
He didn't face another contest nearly that close until 2010, winning every election before then with at least 61 percent of the vote. He has forged a nearly unbreakable hold on a district which is only marginally Democratic on paper; it narrowly voted for George W. Bush in 2000 and John Kerry in 2004.
2008
DeFazio won 82% of the vote over two minor party candidates.
Earlier, he reportedly considered and re-considered running against Smith for the 2008 Senate election. On April 20, 2007, DeFazio announced he would not run for Smith's seat.
After Barack Obama was elected president in 2008, it was reported that DeFazio was under consideration for nomination as Obama's Secretary of Transportation. However, fellow U.S. Representative Ray LaHood, a Republican, was named to the post in December 2008.
2010
In 2010, DeFazio was challenged by Republican Art Robinson and Pacific Green candidate Michael Beilstein. As a result of the SCOTUS decision on Citizens United v. Federal Election Commission, a so-called Super PAC group called The Concerned Taxpayers of America paid $300,000 for ads attacking De Fazio and $150,000 for ads attacking Frank Kratovil of Maryland. It was not revealed until the mid-October 2010 quarterly FEC filings that the group was solely funded by $300,000 from Daniel G. Schuster Inc., a concrete firm in Owings Mills, Maryland, and $200,000 from New York hedge fund executive Robert Mercer, the co-head of Renaissance Technologies of Setauket, New York. The FEC filings prior to then listed only a Capitol Hill address and Republican political consultant Jason Miller as treasurer. According to Dan Eggen at The Washington Post, the group claims "it was formed in September 'to engage citizens from every walk of life and political affiliation' in the fight against 'runaway spending.'" The only expenditures have been for these ads.
DeFazio won with 54% of the vote, his lowest winning percentage since he was first elected in 1986. The Oregonian noted that the reelection of DeFazio to his 13th term was more notable for the amount of outside money spent on the campaign than the candidates themselves.
2012
In September 2011, the National Journal cited DeFazio as an example of "swing-district Democrats seeking reelection in 2012," and who, in "begin[ning] to focus on their reelection bids after Labor Day...are increasingly calculating how close is too close to an unpopular President Obama." It also noted that DeFazio's district "nearly went for Republican George W. Bush in 2004."
DeFazio has a progressive voting record. He voted against the Telecommunications Act of 1996—one of only 16 congressmen to do so. DeFazio particularly objected to a provision that deregulated the cable television industry. According to DeFazio, many of his fellow Democratic congressmen later realized "they were idiots" for backing the bill. He was also the only Oregonian who voted against both NAFTA and GATT. In 1995, he challenged President Bill Clinton's stance on Bosnia, claiming Clinton and his Cabinet did not make a convincing claim for the operation. On the issue of abortion, DeFazio is strongly pro-choice, earning a 100 percent rating from Planned Parenthood in 2010. He is a founding member of the Congressional Progressive Caucus, and was its chairman from 2003 to 2005.
DeFazio has shown a propensity to vote against legislation that would increase the militarism of the United States. In 2000, he voted no on legislation to create a national missile defense network, describing the system as a "comic book fantasy." He has consistently voted against the Patriot Act, including its inception after 9/11 and the recurring reauthorization bills, citing the infringement on the civil rights of Americans. He also voted against the USA Freedom Act, which reauthorized certain provisions of the Patriot Act in modified form. He voted multiple times to set an itinerary for exiting Iraq, and to bring the troops home.
In 2008, DeFazio and California Representative Pete Stark signed a letter to House Speaker Nancy Pelosi proposing a one quarter of one percent transaction tax on all trades in financial instruments, including stocks, options, and futures. Subsequently, DeFazio introduced the "No BAILOUT Act."
Somewhat controversially, DeFazio declined to support the American Recovery and Reinvestment Act of 2009, voting against the final stimulus package on February 13, 2009. He was one of only seven Democratic House members to vote "nay" on the bill. DeFazio said that his vote against the bill was due to his frustration over compromises made to win support from moderate Republicans in the Senate, saying, "I couldn't justify borrowing money for tax cuts," in reference to a bipartisan group's decision to cut funding for education and infrastructure initiatives the Oregon congressman had supported in favor of more tax reductions. He also advocated that the U.S. Senate change its cloture rules, doing away with the filibuster.
DeFazio, speaking to press after the exchange, professed that he was honored that Obama recognized him and the issues of his constituents.
DeFazio made headlines in mid-November 2009 when he suggested in an interview with MSNBC commentator Ed Schultz that President Obama should fire Treasury Secretary Timothy Geithner and National Economic Council Director Lawrence Summers. "We may have to sacrifice just two more jobs to get back millions for Americans," said DeFazio. The quote made top headlines at progressive news blog The Huffington Post. DeFazio also suggested that a formal call by the Congressional Progressive Caucus for Geithner and Summers to be removed might be forthcoming. A year later he called for the impeachment of Chief Justice John Roberts because of the Supreme Court ruling on Citizens United v. Federal Election Commission.
In 2009, DeFazio proposed a financial transaction tax for within the United States only (not internationally). (See DeFazio financial transaction tax.)
During his tenure, DeFazio has butted heads with fellow Democratic politicians, including President Barack Obama, on key Democratic legislation. In December 2010, DeFazio told CNN that "The White House is putting on tremendous pressure" about legislation extending the Bush tax cuts, "the president is making phone calls saying this is the end of his presidency if he doesn't get this bad deal." According to The Hill, "The president hasn't said anything remotely like that and has never spoken with Mr. DeFazio about the issue," said White House spokesman Tommy Vietor. In August 2011, Defazio stated the President lacked the fight to follow-through in restoring the Bush tax cuts for the wealthy, citing the pressure placed on him by the Republicans as the reason. DeFazio, along with fellow congressman Dennis Kucinich and Senator Bernie Sanders, stated that it would be good for the Democratic party if the president faced a meaningful primary, where all the issues would be aired out.
In October 2011, Think Progress noted that DeFazio, "Echoing the demands of the Occupy Wall Street protesters,...is proposing to tax the trading of stocks, bonds, and derivatives. DeFazio, along with his Senate co-sponsor Sen. Tom Harkin (D-IA), has proposed the tax several times in the past. But this time around, the idea is getting a boost of momentum from the popularity of a similar measure in Europe, as well as renewed national media focus on Wall Street profiteering as a result of the 99 Percent Movement."
Also in October 2011, the Daily Caller used DeFazio as an example of the increase in "institutional support" being enjoyed by the Occupy movement. Speaking on the House floor, DeFazio said, "Something is happening. Something in this land is happening. I call it the 'American Awakening.'" He added that "I think the young people and the others who are joining them on Wall Street get it. They may not be totally focused, but they know that this is not a country that gives them a fair shot at the American dream anymore — it is a stacked deck."
DeFazio opposed the Lowering Gasoline Prices to Fuel an America That Works Act of 2014 (H.R. 4899; 113th Congress), a bill that would revise existing laws and policies regarding the development of oil and gas resources on the Outer Continental Shelf. The bill is intended to increase domestic energy production and lower gas prices. DeFazio argued that the bill did not solve the true cause of high gas prices which he blamed on "Big Oil in the United States and speculation on Wall Street." DeFazio called the bill the "drill everywhere" bill.
DeFazio supports gay rights. He voted against the Defense of Marriage Act, and he voted for the Don't Ask, Don't Tell Repeal Act of 2010.
Committee on Transportation and Infrastructure (Ranking Member)
Populist Caucus
Congressional Biomass Caucus
Congressional Progressive Caucus
House Small Brewer's Caucus (Founder and Co-Chair)
International Conservation Caucus
Organic Caucus (Co-Chair)
Sportsmen's Caucus
Congressional Arts Caucus
Northwest Energy Caucus (Co-Chair)
Animal Protection Caucus
Bike Caucus
Coast Guard Caucus
Community Health Care Caucus
Healthy Forest Caucus
Human Rights Caucus
Indian Caucus
Renewable Energy and Energy Efficiency Caucus
Pro-Choice Caucus
Rural Caucus
Veterinary Medicine Caucus
Waterways Caucus
After Senator Bob Packwood resigned in early September 1995, DeFazio ran unsuccessfully for the Democratic nomination for the United States Senate in a special primary, losing to 3rd District Congressman Ron Wyden. Wyden started out with clear advantages over DeFazio; more seniority, a base in the large Portland media market and more cash on hand in his campaign committee. However, DeFazio's scrappy campaign style, underscored by his TV ads featuring his populist musings while driving in his Dodge Dart, made him a favorite among many Democratic activists. Ultimately, DeFazio lost to Wyden by only 6% in the Democratic primary, despite his early lead of 20%. Wyden, bruised by the primary and trailing State Senator Gordon H. Smith, managed to pull off an upset against Smith in the January 1996 special election.
DeFazio had been mentioned to run for the seat of Senator Mark Hatfield, who announced after the special primary election that he would not seek re-election in 1996. However, faced with the prospect of having to take on well-funded millionaires in both the primary and general election, DeFazio announced in February 1996 that he would not run.
DeFazio is a member of the Roman Catholic Church. He and his wife, Myrnie L. Daut, reside in Springfield.