Birth name

Walter Joseph Candoli




Associated acts

Candoli Brothers




Genres

Jazz




Website

www.candoli.com





Instruments

Trumpet




Name

Pete Candoli




Years active

1936–2008




Role

Jazz trumpeter






Born

June 28, 1923 Mishawaka, Indiana, U.S. (

1923-06-28

)


Died

January 11, 2008, Studio City, California, United States




Spouse

Edie Adams (m. 1972–1988)




Children

Caroline Candoli, Tara Candoli




Albums

The Brothers Candoli




Similar People

Conte Candoli, Bob Enevoldsen, Bob Cooper, Don Fagerquist, Jimmy Rowles
Pete Candoli (born Walter Joseph Candoli; June 28, 1923 – January 11, 2008) was an American jazz trumpeter and the brother of trumpeter Conte Candoli. He played with the big bands of Woody Herman, Stan Kenton, and many others, and worked extensively in the studios of the recording and television industries.
Contents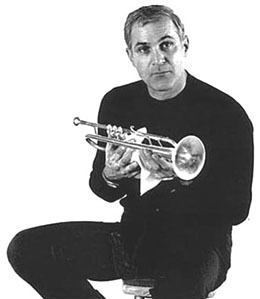 Pete candoli i can t get started
Career
Candoli's professional career began at the age of 13, when he became a member of the American Federation of Musicians. He quickly found a spot as lead trumpeter, and by 1940 had become a part of Sonny Dunham's band. In 1941 he left the band to replace Ziggy Elman of the Tommy Dorsey band. During this time the band performed in three films, Las Vegas Nights (1941), Girl Crazy (1943) and Upbeat in Music (1943). In 1944 Candoli joined the Teddy Powell band.
After 1945, Candoli worked with several bands including notably that of Stan Kenton. Later, he drifted into the "West Coast Jazz" and studio scenes. Despite his range, he rarely played lead, reserved instead for feature roles. He became a favorite collaborator of many influential musicians and performers, including Peggy Lee, Henry Mancini, and Frank Sinatra, and was widely sought for studio work. In 1957, Pete and Conte reunited to form the Candoli Brothers band. Candoli was also featured prominently on the DePatie-Freleng Enterprises cartoon series The Ant and the Aardvark, which utilized a jazz score for its theme and musical cues. He made a guest appearance on a 1957 episode of The Adventures of Ozzie and Harriet, during which Ricky sang the first song of his recording career. Also, Ozzie, Harriet, David, and Ricky all sang in a vocal quartet.
Awards
He was inducted into The International Jazz Hall of Fame in 1997. He was inducted into the "Big Band Hall of Fame" in 2003. He won the Down Beat, Metronome, Esquire "All American Band Trumpet Bronze Award".
Look magazine named him one of the seven all-time outstanding jazz trumpet players—the others being Louis Armstrong, Bix Biederbecke, Harry James, Bunny Berigan, Dizzy Gillespie and Bobby Hackett.
Musical style
Candoli's use of staccato was rare among modern jazz trumpeters. Despite his reputation for his high-note ability, he rarely used it unless called for by the conductor, band leader, or composer. More often, his solos began with low-to-mid-register staccato riffs which built into rolling cadenzas and ending, when appropriate, in high-note, bravura climaxes.
Strong evidence of his restraint can be found in his work on Peggy Lee's "Black Coffee", one of the first 33⅓ rpm long-play vocal albums. He appears on all of the original 10" tracks (recorded in 1953; expanded in 1956 to 12" with a different set of musicians).
Personal life
Candoli married several times, typically to other musicians, including singer-actress Betty Hutton and singer Edie Adams. He had two daughters, Tara Clair from singer-actress Vicky Lane, and Carolyn with Betty Hutton. In 1980, the trumpeter Jack Sheldon said, "I get a lot of my work playing at Pete Candoli's weddings. He's married a lot of people. Hardly fair, because Pete was married no more than three times and had lived his last 18 years loyally with his partner Sheryl Deauville Candoli." www.independent.co.uk His younger brother, Conte, achieved an arguably stronger critical reputation. They often worked together in anonymous recording gigs and in several joint albums on minor labels.
Both brothers were diagnosed with prostate cancer in later life. Pete Candoli died of complications from prostate cancer on January 11, 2008, at the age of 84. Conte Candoli died of the disease in 2001.
Discography
With Elmer Bernstein
The Man with the Golden Arm (Decca, 1956)
Sweet Smell of Success (Decca, 1957)
With Buddy Bregman
Swinging Kicks (Verve, 1957)
With Bob Cooper
Coop! The Music of Bob Cooper (Contemporary, 1958)
With Fred Katz
Folk Songs for Far Out Folk (Warner Bros., 1958)
Fred Katz and his Jammers (Decca, 1959)
With Stan Kenton
Popular Favorites by Stan Kenton (Capitol, 1953)
This Modern World (Capitol, 1953)
Kenton in Hi-Fi (Capitol, 1956)
With Junior Mance
Get Ready, Set, Jump!!! (Capitol, 1964)
Straight Ahead! (Capitol, 1964)
With Gerry Mulligan
Gene Norman Presents the Original Gerry Mulligan Tentet and Quartet (GNP, 1953 [1997])
With Shorty Rogers
Cool and Crazy (RCA Victor, 1953)
Shorty Rogers Courts the Count (RCA Victor, 1954)
Martians Come Back! (Atlantic, 1955 [1956])
Way Up There (Atlantic, 1955 [1957])
Shorty Rogers Plays Richard Rodgers (RCA Victor, 1957)
Portrait of Shorty (RCA Victor, 1957)
Chances Are It Swings (RCA Victor, 1958)
The Wizard of Oz and Other Harold Arlen Songs (RCA Victor, 1959)
With Pete Rugolo
Introducing Pete Rugolo (Columbia, 1954)
Adventures in Rhythm (Columbia, 1954)
Rugolomania (Columbia, 1955)
New Sounds by Pete Rugolo (Harmony, 1954-55, [1957])
Music for Hi-Fi Bugs (EmArcy, 1956)
Out on a Limb (EmArcy, 1956)
An Adventure in Sound: Brass in Hi-Fi (Mercury 1956 [1958])
The Music from Richard Diamond (EmArcy, 1959)
Behind Brigitte Bardot (Warner Bros., 1960)
Ten Trumpets and 2 Guitars (Mercury, 1961)
With Dan Terry
The Complete Vita Recordings of Dan Terry (Vita Records, 1952)
With Mel Torme
Mel Torme Sings Fred Astaire (Bethlehem, 1956)
Under the direction of D.L. Miller
Blues, when your lover has gone (Somerset, 1961 [1961])
With Quartet
From the Top (Dobre Records DR1023, 1978)
With Conte Candoli
The Candoli Brothers (Dobre Records DR1050, 1978)
References
Pete Candoli Wikipedia
(Text) CC BY-SA