Preceded by

Steve Luecke




Name

Pete Buttigieg




Rank

Lieutenant




Allegiance

United States




Party

Democratic Party




Political party

Democratic




Role

Mayor of South Bend







Full Name

Peter Paul Montgomery Buttigieg




Born

January 19, 1982 (age 33) South Bend, Indiana, U.S. (

1982-01-19

)


Alma mater

Harvard University Pembroke College, Oxford




Website

Government website Campaign website




Office

Mayor of South Bend since 2012




Education

Pembroke College, Oxford, St. Joseph High School, Harvard College, University of Oxford, Harvard University




Service/branch

United States Navy




Battles and wars

War in Afghanistan



South bend mayor pete buttigieg on indiana s young gun mayors
Peter Paul Montgomery Buttigieg ( ; born January 19, 1982) is the current and 32nd Mayor of South Bend, Indiana. A member of the Democratic Party, Buttigieg has been serving as mayor since January 1, 2012.
Contents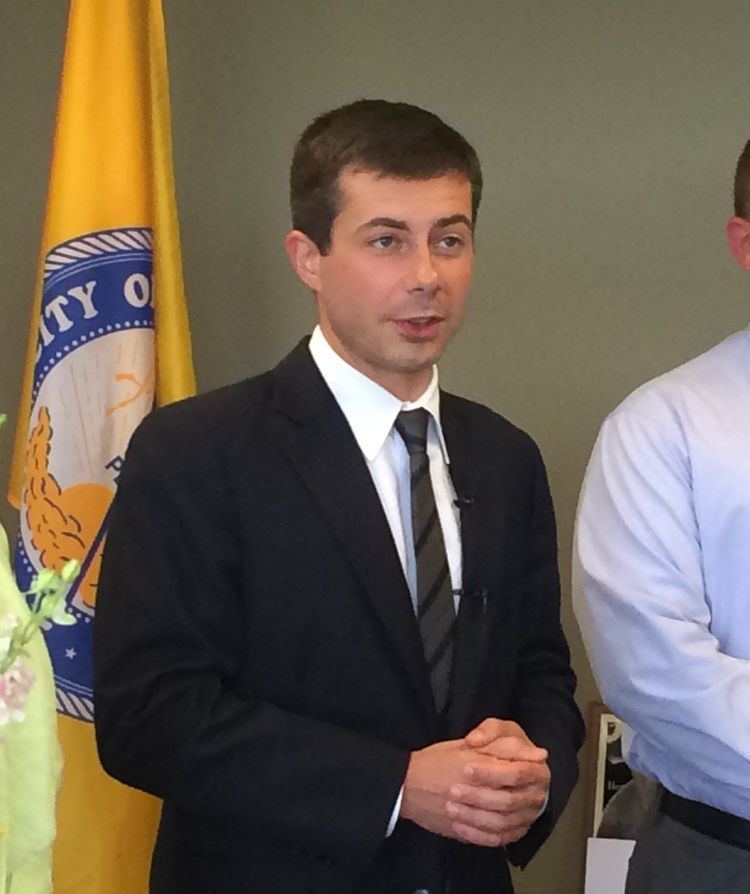 Buttigieg is a graduate of Harvard University, a Rhodes Scholar, and a veteran of the war in Afghanistan.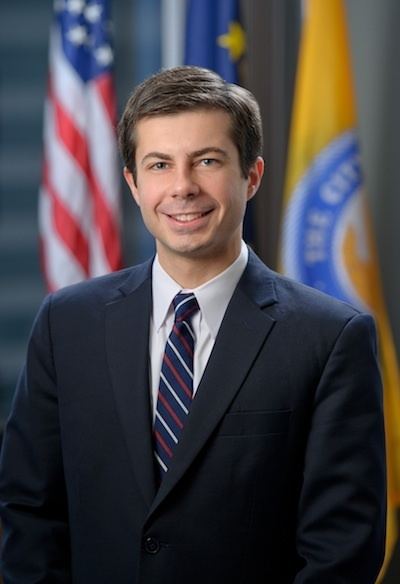 He has been mentioned as a possible candidate for President of the United States in the 2020 U.S. presidential election. If elected, Buttigieg would be the first openly gay President.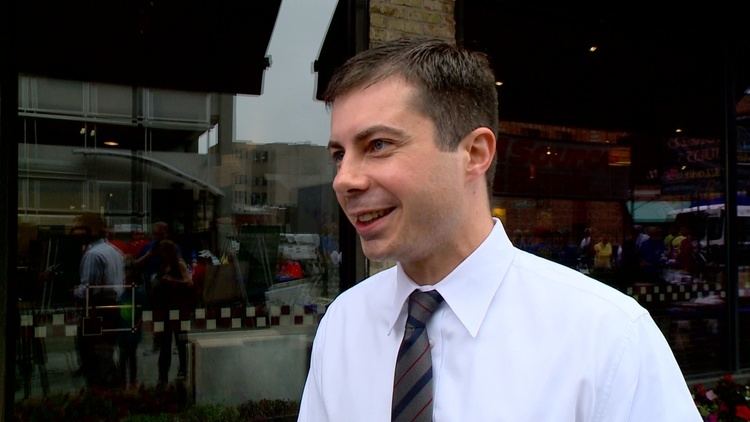 We the kids interview with pete buttigieg mayor of south bend in
Early life and education
Buttigieg was born in South Bend, Indiana, to parents Joseph A. Buttigieg and Jennifer Ann (née Montgomery). He is of Maltese and Scottish descent.
Buttigieg graduated from St. Joseph High School in 2000, where he was president and valedictorian of his senior class. In his senior year at St. Joseph's High School, he was honored by Caroline Kennedy and other members of President Kennedy's family during a May 22, 2000, ceremony at the John F. Kennedy Library for his prize-winning essay for the JFK Profiles in Courage Essay Contest. Buttigieg's winning essay centered on the integrity and political courage demonstrated by U.S. Congressman Bernie Sanders of Vermont, the nation's only Independent member of Congress. He was also selected as one of two Indiana delegates to the United States Senate Youth Program.
He attended Harvard College, where he was president of the Harvard Institute of Politics Student Advisory Committee and worked on the Institute's annual study of youth attitudes on politics. Buttigieg was also a member of Phi Beta Kappa.
Buttigieg graduated from Harvard in 2004, receiving his Bachelor of Arts magna cum laude in History and Literature and writing his thesis on the influence of Puritanism on U.S. Foreign Policy as reflected in the Graham Greene novel The Quiet American. Buttigieg received a first class honors degree in Philosophy, Politics and Economics in 2007 from Oxford University, where he was a Rhodes Scholar.
Early career and candidacy for Indiana State Treasurer
Before graduating from college, Buttigieg worked as an investigative intern at WMAQ-TV, Chicago's NBC news affiliate. Buttigieg also worked as an intern for Jill Long Thompson's 2002 congressional campaign, and later served as an adviser to her 2008 gubernatorial campaign.
After graduating, from 2004 to 2005 Buttigieg worked in Washington, D.C., as conference director for former U.S. Secretary of Defense William Cohen's international strategic consulting firm, The Cohen Group. He also spent several months working on Senator John Kerry's 2004 presidential campaign, where he was a policy and research specialist.
After graduating from Oxford, he then worked as a consultant at McKinsey and Company, a management strategy consulting firm, for three years, from 2007 through 2010.
He was the Democratic Party candidate in 2010 for State Treasurer of Indiana. Buttigieg lost to incumbent Richard Mourdock, garnering 37.5% of the vote.
Military service
Buttigieg was commissioned as a Naval intelligence officer in the Naval Reserves in 2009, and deployed to Afghanistan in 2013. After a seven-month deployment, Buttigieg returned to South Bend. He remains a lieutenant in the Naval Reserve.
Mayor of South Bend
Buttigieg was elected Mayor of South Bend on November 8, 2011 with 74% of the vote and took office on January 1 as the youngest mayor of a U.S. city with at least 100,000 residents.
In 2012, Buttigieg demoted the first African American police chief of South Bend, Darryl Boykins, and fired police communications director Karen DePaepe, following the revelation of taped telephone conversations between four white South Bend police officers and the spouse of an officer. The tapes were alleged to contain "racist content". Buttigieg elected to settle suits brought by Boykins, DePaepe, and the four officers out of court. The Common Council of South Bend sued the Mayor to release at least some of the tapes; this suit is still pending in state court.
In 2013, Buttigieg's replacement for Boykins as police chief, Ron Teachman, was subject to investigation for allegedly not supporting a fellow police officer during an nearby fight. Local advocates expressed concern that the officer Teachman allegedly failed to assist was African American. After a report by the Indiana State Police on the incident, Buttigieg concluded there was no discipline required of Chief Teachman, a decision that caused the head of the Board of Public Safety, Pat Cottrell, to resign in protest.. Cottrell and the officer Chief Teachman allegedly failed to assist, Lt. David Newton, requested that the report be released, which Mayor Buttigieg declined to do.
Mayor Buttigieg was named mayor of the year for 2013 by GovFresh.com, tying with former New York mayor Mike Bloomberg. In 2014, The Washington Post called Buttigieg "the most interesting mayor you've never heard of", citing his age, education, and military background. In 2016, The New York Times published an op-ed praising Buttigieg's work as mayor and boldy asking in the headline if he could eventually be elected as "the first gay president."
Buttigieg has made redevelopment a top priority of his administration. One of the signature programs has been the Vacant and Abandoned Properties Initiative, known locally as "1,000 Properties in 1,000 Days", which is a project to repair or demolish targeted properties across the city. The city had addressed 991 properties as of August 2015. The goal was completed by the scheduled end date for the program, November 24, 2015.
Buttigieg served for seven months in Afghanistan as a lieutenant in the Navy Reserves, returning to the United States on September 23, 2014. In his absence, Deputy Mayor Mark Neal, the City Controller for South Bend, served in the role of executive commencing in February 2014. Buttigieg returned to his role as mayor in October 2014.
Buttigieg announced that he would seek a second term on November 18, 2014. The Democratic Party primary was held on May 5, 2015, and Buttigieg won with 78% of the vote. On November 3, 2015, Buttigieg was elected to his second term as mayor of South Bend with over 80% of the vote.
Buttigieg was named a 2014 Aspen Institute Rodel Fellow. He was named a recipient of the John F. Kennedy New Frontier Fenn Award in 2015.
In 2016, Buttigieg drew national attention for the city's handling of an excessive force and civil rights case involving three South Bend police officers and an innocent African American teen, DeShawn Franklin. Suspected of a crime he did not commit, Franklin's home was entered at night by the officers without a warrant, and he was punched and Tasered during the encounter, but was ultimately not arrested. Buttigieg's administration offered the teen's family $15,000 in settlement. The family rejected this offer, and the case went to trial. A jury found that the officers had violated Franklin's civil rights, and he was awarded $18.
In 2016, Buttigieg authorized the city's first officer of diversity and inclusion, with direction to produce a strategic report on diversity and inclusion in city government. The report was issued on July 15, 2016. Buttigieg's approach on this issue and his hires and appointments to leadership as mayor have been criticized for a lack of diversity and transparency.
On Dec 19th, 2016, Reuters reported that South Bend had neighborhoods in which 31% of tested children were diagnosed with elevated lead levels in the blood: a rate six times higher than Flint, Michigan reported the same year. Buttigieg declared in his 2017 State of the City address that "the City has no specific officer, staff, or funding for health, [but] we will continue to actively support other health authorities in ensuring we live in a safe environment, especially for children." Buttigieg has been criticized by local officials and media for low levels of funding proposed in 2017 and 2018 to address a public health crisis located predominantly in neighborhoods with many low-income and African American residents.
On June 16, 2017, the Mayor's "Smart Streets" construction project concluded. The multi-year $25 million dollar initiative converted many downtown one-way streets to two way use, and added pedestrian and bike friendly amenities. The project became embroiled in controversy with the death of Tristan Moore, an 11 year old boy was hit by a car while crossing to the city's main bus terminal to get to school. The fatal accident occurred at an intersection whose traffic signal the project had removed. Mayor Buttigieg denied knowledge that the project had a role in the tragedy, pointing to the angle and location of the boy's crossing. Neighborhood leaders and Moore's family attorney criticized the Mayor for ignoring requests to reinstate the signal prior to the accident, delaying reinstatement of the signal, and for releasing insufficient data regarding the intersection's history.
On
2017 DNC chair election
On January 5, 2017, Buttigieg announced his candidacy for Chair of the Democratic National Committee in its 2017 chairmanship election. He "built a national profile as an emerging dark horse in the race for the chairmanship with the backing of former DNC Chairman Howard Dean." Buttigieg "campaigned on the idea that the aging Democratic Party needed to empower its millennial members." He withdrew from the race on the day of the election, in his nomination speech.
Personal life
On June 16, 2015, Buttigieg announced in an essay that he is gay. He is the first openly gay executive in Indiana.
References
Pete Buttigieg Wikipedia
(Text) CC BY-SA