Country

Colombia




Population

358,681 (2005)




Area

702 km2


Region

Andean




Mayor

Enrique Vasquez Zuleta




Colleges and Universities

Technological University of Pereira, Catholic Popular University of Risaralda


Points of interest

Matecana City Zoo, Lake Otun, Nevado del Quindio



Pereira is the capital city of the Colombian Department (governmental region) of Risaralda. It is located in the west of Colombia in the foothills of the Andes in a coffee producing area.
Contents
Map of Pereira, Colombia
Location
Pereira is located in the Central Cordillera (mountain range) of Colombia in the valley of the river Otun and part of the Cauca river valley. To the north is La Virginia and Marseille Dosquebradas. To the northeast is Santa Rosa de Cabal and to the east is Tolima. To the south is Quindio and Valle del Cauca and to the west is Balboa and Valle del Cauca.
Geography
The city follows the relief of the land with some steep or high areas. Its elevation is about 1,500 metres (4,900 ft). It is located in a zone of high seismic vulnerability.
History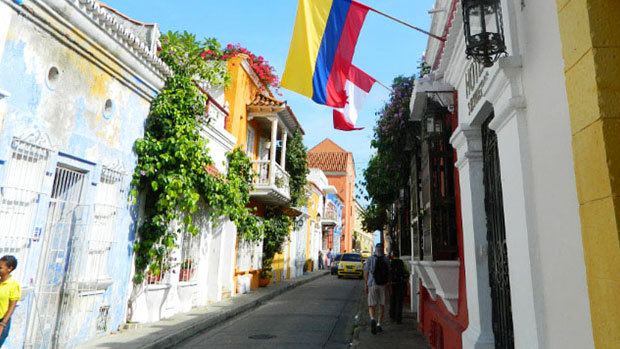 The indigenous people of Pereira were the Quimbaya, a community of gold artisans.
Economy
68.1 percent of Pereiras economy lies in the tertiary sector, 26.2 percent in governance and 5.7 percent in primary production. The economy is supported by good prices for oil, coal, nickel and coffee; microcredit ventures; provision of security in the city and region; and taxes on residents living abroad.
Places of interest
Matecana City Zoo, natural history museum and visitors train.
Technological University of Pereira, (planetarium and botanical garden of Pereira Technological University and Guaducto, a bamboo bridge).
Cathedral of Our Lady of Poverty.
Lucy Tejada, cultural centre.
Museum of Art, Pereira.
Jaime Mejia archaeological museum.
Sanctuary of Our Lady of Fatima.
Confamiliar recreation centre: Noahs farm eco-park, water park.
Olympic venues: village, pools, tennis courts, basketball courts and velodrome.
Botanical Garden of Marseille.
Plaza de Bolivar and the naked Bolivar statue.
Victorias City square mall.
References
Pereira, Colombia Wikipedia
(Text) CC BY-SA
(,)https://www.oattravel.com/media/images/trips/oat/bog/mediabarcarousel/2015/1_p4028(,)https://www.oattravel.com/media/images/trips/oat/bog/mediabarcarousel/2015/5_t32861(,)http://i216.photobucket.com/albums/cc15/Miss_Heavenly/South%2520America/Colombia52.jpg(,)https://www.oattravel.com/media/images/trips/oat/bog/mediabarcarousel/2015/4_t36837(,)https://www.oattravel.com/media/images/trips/oat/bog/mediabarcarousel/2015/2_t32892(,)http://www.hotel-scoop.com/wp-content/uploads/2013/03/combia-pereira.jpg(,)https://www.oattravel.com/media/oatwebsite/marketing/neolane-emails/bog/bog_edlp_t32424(,)http://i216.photobucket.com/albums/cc15/Miss_Heavenly/South%2520America/Colombia60.jpg(,)https://dbffkv15yp72v.cloudfront.net/production/reports/year/000/033/579/2e9a6ffb/daily_high_and_low_temperature_temperature_f.png(,)https://ssp.scottdunn.com/preview.php%3Falbum%3D5165925(,)https://ssp.scottdunn.com/preview.php%3Falbum%3D5168547(,)http://upload.wikimedia.org/wikipedia/commons/7/71/Tree_map_export_2009_Colombia.jpeg(,)https://www.oattravel.com/media/global/videos/oat/bog/bog-ss_t27930(,)http://upload.wikimedia.org/wikipedia/commons/a/a8/Densidad_pop_col_only_Colombia.png(,)http://www.hotel-scoop.com/wp-content/uploads/2013/03/movich-hotel.jpg
(,)http://cdn.drprem.com/travel/wp-content/uploads/2013/10/colombia-coffee-lanad-scape.png(,)https://s-media-cache-ak0.pinimg.com/736x/54/44/2f/54442f2342fac03044871c531d4e969a.jpg(,)http://www.travelmag.com/wp-content/uploads/2014/12/coffee.jpg(,)http://media-cache-ak0.pinimg.com/736x/41/6e/00/416e007d47a948655da0b61edca02140.jpg(,)http://media-cdn.tripadvisor.com/media/photo-s/01/30/85/59/pereira-landscape.jpg(,)http://www.freshpalace.com/wp-content/uploads/2014/01/Evening-Lights-Home-in-Pereira-Colombia.jpg(,)http://i.dailymail.co.uk/i/pix/2014/08/20/1408551447142_wps_3_DXHGEH_A_view_of_the_land.jpg(,)http://photorator.com/photos/images/gallery-house-casa-galera-in-pereira-colombia-album-in-comments32719.jpg(,)https://s-media-cache-ak0.pinimg.com/736x/7e/d0/d4/7ed0d40fac4d0e0377d7ef1da8857651.jpg(,)http://blogs.gonomad.com/roundworldphoto/files/2013/03/colombia-pereira-coffee-paul-shoul.jpg(,)http://media-cdn.tripadvisor.com/media/photo-s/01/30/84/ac/pereira-flowers.jpg(,)http://upmagazine-tap.com/wp-content/uploads/2014/09/ZonaCafeeira_Termales-de-Santa-Rosa_Pereira_Ribeiro_baixo-2.jpeg(,)http://api.ning.com/files/kOojQAsloqSjt4l5lK4jbp5jTABXKVuWYZ7gvsgeZEysHRZXudNo64STPZFPNQ6lNiwUv*afXT2vO06S4Y-Pl3T*bRiMW6/HotelFincaSpaPereiraColombia0.jpg(,)http://cache4.asset-cache.net/gc/501825851-colombias-coffee-landscape-gettyimages.jpg%3Fv%3D1%26c%3DIWSAsset%26k%3D2%26d%3DpzrcHQVtdk%252Br79Rdtm8zyuZeW%252BOLTSVxXDcNts%252BhWniMwHckRzWiyI8EhPpUzUlOFiMVI3SMUUHytbA3jtrk0A%253D%253D(,)http://mw2.google.com/mw-panoramio/photos/medium/77494959.jpg
(,)http://media-cdn.tripadvisor.com/media/photo-s/01/81/fc/cb/pereira.jpg(,)http://media-cdn.tripadvisor.com/media/photo-s/03/4b/2d/df/la-ruana-pereira.jpg(,)http://media-cdn.tripadvisor.com/media/photo-s/01/54/46/82/riosucio.jpg(,)http://www.colombiatravelguide.net/images/pereira_plaza_bolivar.jpg(,)http://cdn.gdol.com/app/courses/image/preview/6392.jpg(,)http://imgc.allpostersimages.com/images/P-473-488-90/27/2723/X5IND00Z/posters/krzysztof-dydynski-traditional-colombian-chivas-buses-with-painted-wooden-bodies-pereira-risaralda-colombia.jpg(,)http://i.ytimg.com/vi/g-nC-WQWmiU/hqdefault.jpg(,)http://i.ytimg.com/vi/KYNIVhuImNA/maxresdefault.jpg(,)http://www.4321.co.il/property/photographs7/i679328560.jpg
(,)http://media-cdn.tripadvisor.com/media/photo-s/04/50/91/4f/mountain-bike-tours-colombia.jpg(,)http://www.dearlina.com/images/colombia_images_04.jpg(,)http://www.dearlina.com/images/colombia_images_02.jpg
(,)http://i.gonoma.net/i/destinations/1003/coffee-triangle-images/jeep.jpg(,)http://ds-lands.com/data_images/top_cityes/pereira/pereira-11.jpg(,)http://famouswonders.com/wp-content/uploads/2010/03/Pereira-Colombia.jpg(,)http://media-cdn.tripadvisor.com/media/photo-s/00/11/1f/ee/panoramic-of-pereira.jpg(,)http://www.colombiatravelguide.net/images/pereira_bridge_skyline.jpg(,)http://www.big-world-out-there.com/z-pics/downtown-pereira-colombia.jpg(,)http://ds-lands.com/data_images/top_cityes/pereira/pereira-08.jpg(,)http://www.big-world-out-there.com/z-pics/pereira-colombia.jpg(,)http://famouswonders.com/wp-content/uploads/2010/03/Cali.jpg(,)http://bellezasdecolombia.galeon.com/viaducto.jpg(,)http://www.travelweekly.com/uploadedImages/All_TW_Destinations/Cen_So_America/2013/Colombia-Cartagena-Church.jpg