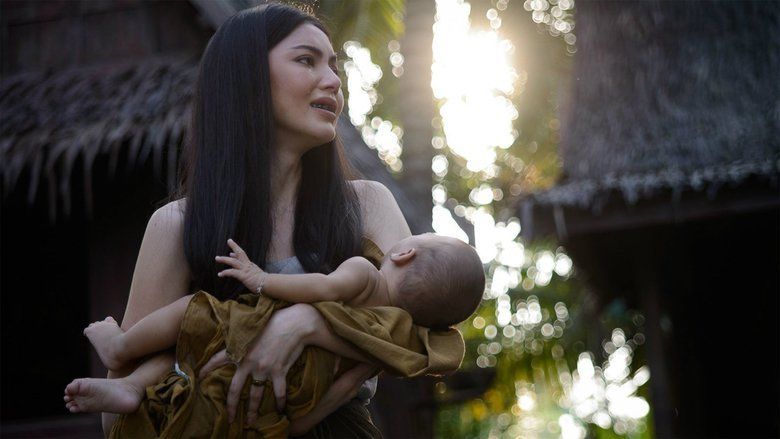 The story is set in mid-19th century Siam, during the era of King Mongkut and at the height of the Rattanakosin Dynasty, when Siam was plagued with wars with its neighboring kingdoms. Mak (Mario Maurer) was drafted to serve in a war, forcing him to leave behind his pregnant wife Nak (Davika Hoorne) at the town of Phra Khanong, not far from Central Bangkok. He was wounded during a battle and sent to a medical camp, where he met fellow soldiers Ter, Puak, Shin and Aey, who later became his best friends after he had saved them from certain death. Meanwhile, in Phra Khanong, Nak struggled alone painfully to give birth to the baby; she calls out for help, but she is too weak to be heard. Shortly after, rumors started circulating the village that Nak had died in labor and was now a ghost of a very powerful form haunting the house. The villagers in the neighborhood then heard her singing lullabies to her baby, terrifying them and forcing them to cower in fear. When Mak and his friends arrive back in Phra Khanong in the evening, they find the town completely silent. The five soon arrive at Mak and Nak's house during the night, and Mak introduces Nak to them. As it is now too dark to continue traveling, Mak's friends decide to stay. The following day, the men visit the village market but are shunned by the fearful community. A drunk villager attempts to shout out a warning to Mak but is forced down and hushed by her son. Mak's four friends then discuss what they had heard, but dismiss the rumors as ridiculous. Shin, however, while he was sent to fetch Mak, saw that the house was a dilapidated wreck that hadn't been maintained for months, that the baby cot that Mak and Nak's son, Dang, was supposed to be sleeping in, was rocking by itself, and then he saw Nak extending her arm to an unnatural length to retrieve a dropped lime under the house. The following day, Ter discovers a decomposed corpse behind the house wearing the exact same ring as Nak. The drunk villager who had also tried to warn them earlier also turned up mysteriously drowned. Soon, all four friends are convinced that she is a ghost. The friends then try numerous methods to convince Mak of the news, including a game of charades, and come within inches of being murdered by Nak, with only Mak's presence preventing her from doing so, and she scares them away. Worse, Mak dismisses all of their warnings, proclaims that they are no longer his friends, and kicks them out of their accommodations.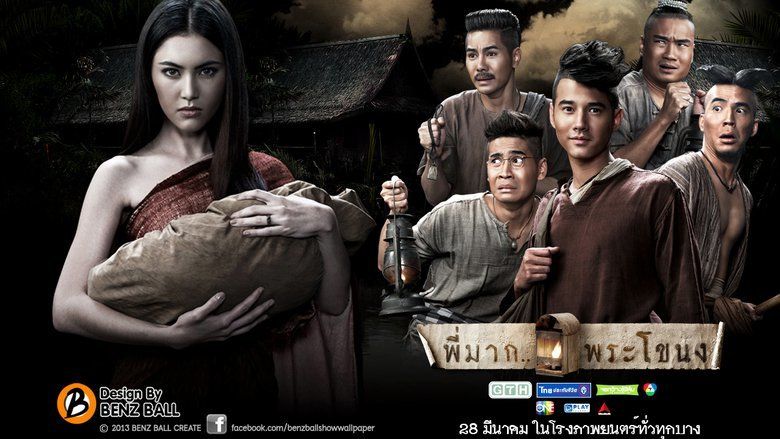 Later, Mak and Nak go out on a date in the town, visiting an amusement park. Mak's friends' attempt to separate the two by kidnapping Mak, but their plans are foiled when Nak discovers them and chases them away. Suddenly, during the getaway, Mak's old wartime wound reopens. His friends express surprise at how slowly it has healed, but Shin and Ter become convinced that he, not Nak, is the ghost, and their fears are seemingly confirmed when Mak reacts in pain when they attack him with holy rice. The friends then flee from their wounded friend and rescue Nak. While escaping in a boat, Mak 'returns' to them, walking into the river to them, but ends up almost drowning when he suffers cramps. As ghosts are not supposed to feel cramps, Mak is revealed to not have been a ghost, and he is rescued; when asked why he screamed when hit by the holy rice, he reveals that the rice had riddled his wound, making him yell out in pain. In the following confusion, Aey drops a ring identical to the one Mak, Nak, and the body behind the house had been wearing. Aey is immediately pronounced a ghost and kicked off the boat. The others then try to escape, but, as they had lost the paddles to the boat earlier, they cannot move. Nak then somehow produces a soaking wet paddle and hands it to Ter, who suddenly recalls that all of them had been thrown overboard, and had already drifted too far away for a normal person to recover. Ter then stands up on the boat to look between his legs at the group; Nak is revealed to have been the ghost all along, and the four remaining men, including Mak, retreat to a temple.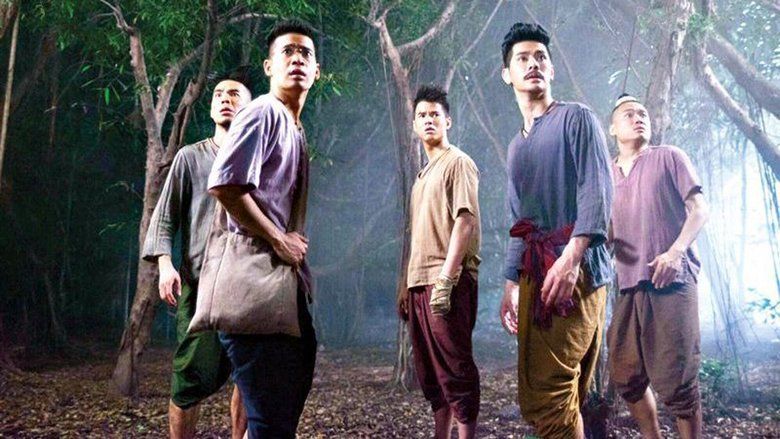 There, the men come under the protection of the local monk, armed with holy rice, holy water, and the temple is fortified with an enchanted 'safety ring.' Nak quickly appears, in her terrifying ghostly form, and attacks. Initially, the holy 'weapons' successfully keep Nak at bay, but, in a panic, coupled with Mak's struggle to get back to his wife, all of the holy rice and water are wasted, and the monk was accidentally kicked out of the "safety ring." The monk then fled the temple, leaving the four, who had since destroyed the 'safety ring' while trying to run, to face the angry Nak. A pale Aey then reappears, and it was revealed that he is also human; he was in possession of the ring because he had stolen it off of the corpse behind the house to finance his gambling. Nak angrily shouted at the five that she just wanted to be with her loved one, which the four friends argued against since they didn't believe the living can be with the dead, and accuse her of killing the drunk; Nak furiously denies her involvement and says that the drunk had drowned herself. Nak, in a combination of sadness, anger, and desperation, then threatens to kill Mak and take him to live with her, but stops when she sees how much she had been scaring her husband. Mak then revealed he knew the truth about Nak all along, having had his suspicions raised during the game of charades. He had already looked at Nak between his legs, which revealed her ghostly form, and found her decomposed corpse. However, even then, he is far more afraid of living without her than of her being dead. The two tearfully reconcile. His friends, seeing them reuniting, also tearfully reaffirm their friendship, and vow to never leave each other again. A flashback to Mak and Nak's first meeting is shown.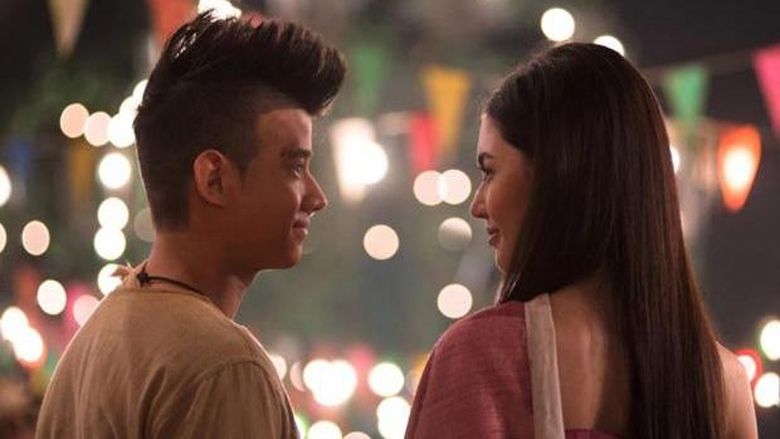 In the credit scenes, Mak, his wife and now his four friends live happily in the village. Nak uses her supernatural abilities to do chores, play charades (and helping Mak win for the first time), scare off villagers attempting to drive her away (who are led by the village drunk's son) and even run the town's 'haunted house' attraction. It is also revealed that her child, Dang, also possesses some of her abilities, even though he is still an infant.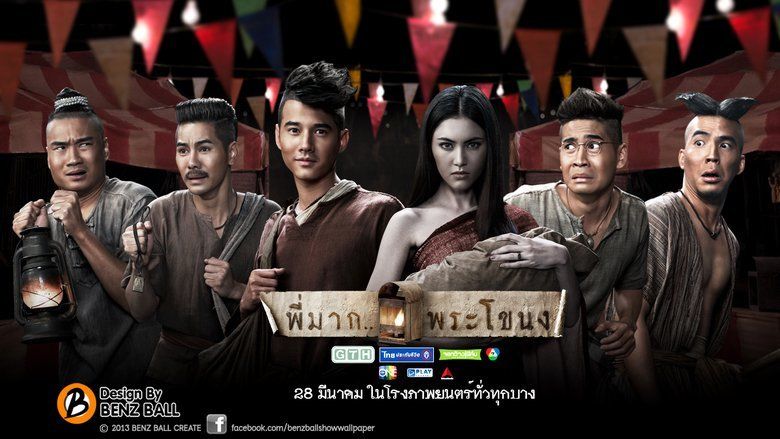 Pee Mak has earned more than 1 billion baht ($33 million) in revenue worldwide (mostly in Asia), and is currently the highest-grossing Thai film, beating the record of Ong-Bak and one of Asia's highest grossing films of all time. The film sold a record 16 million tickets worldwide. The film has been screened in Indonesia, Hong Kong, Myanmar, Cambodia, Australia, Malaysia, Laos, Vietnam, Taiwan, Singapore, Philippines, China, South Korea, parts of the South Pacific and parts of the United States.
Mario Maurer as Mak
Davika Hoorne as Nak
Kantapat Permpoonpatcharasuk as Aey (เอ,

rtgs

:

E

)
Nuttapong Chartpong as Ter (เต๋อ,

rtgs

:

Toe

)
Wiwat Kongrasri as Shin (ชิน,

rtgs

:

Chin

)
Pongsathorn Jongwilas as Puak (เผือก,

rtgs

:

Phueak

)