Name

Pedro Linares





Died

January 26, 1992






Pedro linares l pez inventor de los alebrijes
Pedro Linares Lopez (June, 29th, 1906 – January 25th, 1992) was a Mexican artisan born in Mexico City and was the creator of the paper maché figurines named alebrijes.
Contents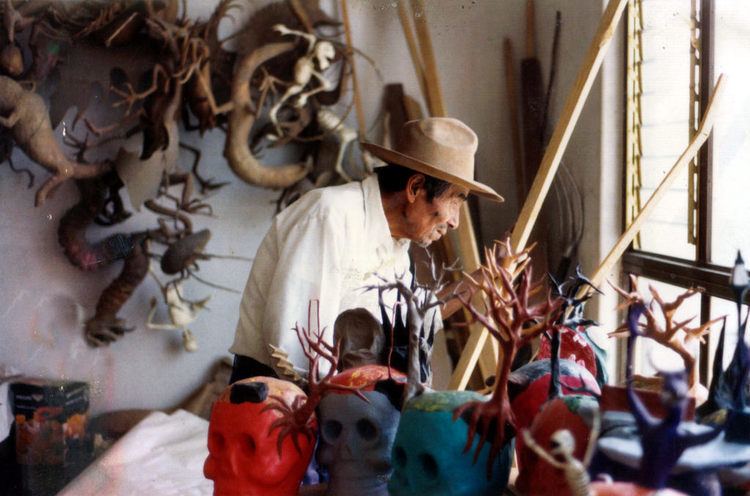 Pedro Linares started as a skilled maker of carton Judas figures and figurines for Diego Rivera, Frida Kahlo and many other artists from the Academia de San Carlos. The art form of alebrijes was created by Pedro Linares after he became ill at 30 years old, in México City. His own unique alebrijes came out of a dream, depicting his death and rebirth in a mountainous setting inhabited by these fierce creatures.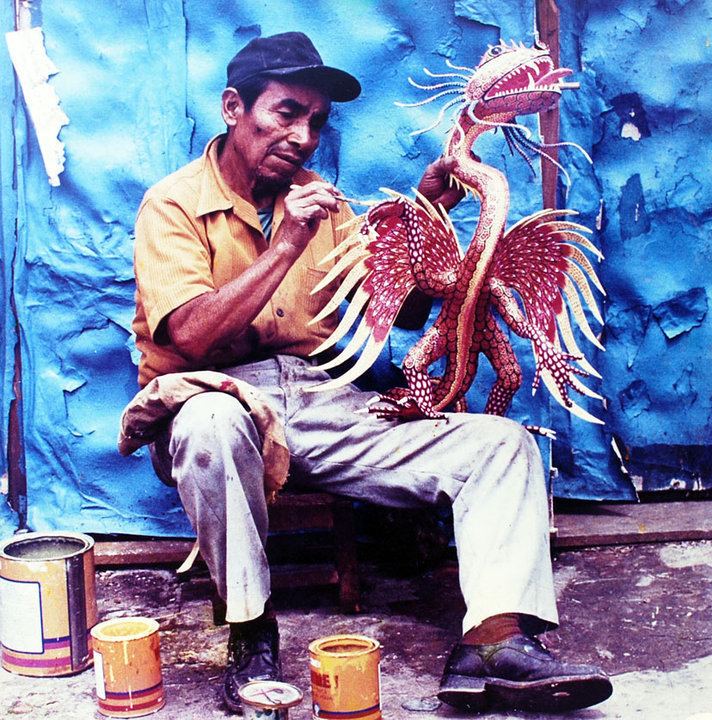 While he was in bed, unconscious, Linares dreamt of a strange place resembling a forest. There were trees, animals, clouds, sky, rocks, etc.; he felt no pain and he was very happy walking down there. Suddenly, rocks, clouds and animals turned into something strange, some kind of animals, but, unknown animals. He saw a donkey with butterfly wings, a rooster with bull horns, a lion with an eagle head, and all of them were shouting just one word: "Alebrijes." Every animal was shouting louder and louder: "Alebrijes, Alebrijes, Alebrijes!".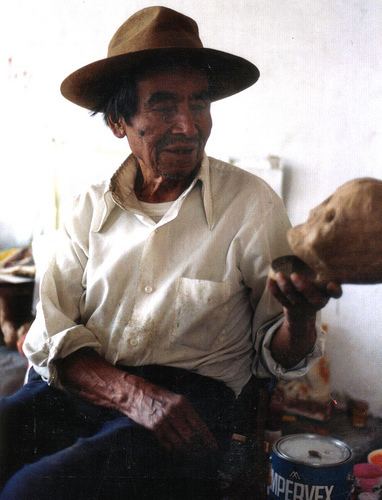 The sound was terrible, and Linares was not able to stay there for a long time; he got a terrible headache and he ran along a stone road where a man was walking. Linares asked the man for help as he wanted to escape. The man told him that he should not be there yet, and the man said that Linares had to walk by that road and a few meters ahead there was an exit. Linares ran and ran until he was in front of a narrow window, and he passed through that window and then woke up.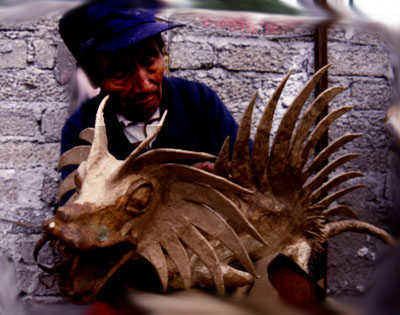 With the paste of the Judas figures running through his veins, Linares gave life to his vision and the art of making alebrijes was born. After Linares recovered, he started to remember his dream and he wanted his family and everybody to know about the animals he saw, so he took a piece of paper and he molded the figurines from his memory. Then he painted them as he saw them in his dream.
Soon Pedro Linares was known as the best artisan in Mexico. Imitation being the greatest compliment, alebrijes makers and artists popped up all over Mexico. These figures are prized in Mexico and in countries around the world. Diego Rivera himself stated that no one else could have fashioned the strange figures he requested. Work done by Linares for Diego Rivera is now displayed at the Anahuacalli Museum in Mexico City. Pedro Linares received the National Arts and Science award in the Popular and Traditional Arts category, the highest decoration to artisans granted by the Mexican Government. In 1990, two years after receiving this coveted prize, Pedro Linares, who had become a legend, died at the age of 86. Finally, Don Pedro went back to the magical world where he met the Alebrijes; but not without giving his three children and later his grandchildren a love for the craft keeping the Linares name synonymous with the refined art of cartonería.
Of course alebrijes continue to be produced by the Linares family and in other workshops across Mexico. They are exported to the most important galleries showing Mexican art, worldwide and are an excellent representation of Mexican talent.
Pedro linares artesano cartonero parte 1 wmv
References
Pedro Linares Wikipedia
(Text) CC BY-SA