Name

Paul Kuhr










Role

Musician · twitter.com/paulkuhr




Music groups

Novembers Doom (Since 1989), Subterranean Masquerade




People also search for

Tomer Pink, Cathy Jo Hejna, Chris Wisco




Albums

Amid Its Hallowed Mirth, Of Sculptured Ivy and St, The Pale Haunt Departure, The Knowing, To Welcome the Fade
Novembers doom interview with vocalist paul kuhr on the healing power of music rock heart 009
Paul August Kuhr, III, (born on December 4, 1971, in Berwyn, Illinois, USA), is an American musician, vocalist, lyricist, author, and graphic designer. He is the singer and founding member for the band, Novembers Doom.
Contents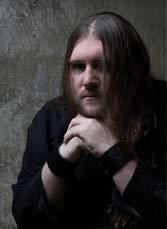 Music
Starting the band in 1989, his vocal style for Novembers Doom consists both of clean vocals and death growls.
Other projects Kuhr has been involved in vary from thrash metal in the 1980s in the form of Laceration (with fellow founding Novembers Doom member Steve Nicholson), to the late symphonic doom band Em Sinfonia. He was also in the band Subterranean Masquerade, where he used his growl, as well as his singing voice. Kuhr has also recorded his narrative vocals on the Draconian CD, Turning Season Within, and provided backing vocals on the track "Praise the Lowered" on the CD Deconstruction by Devin Townsend Project. Most recently, he has provided guest vocals on Funeral Doom band Broken Anatomy's second album, The Lazarus Regret.
Kuhr has also been credited as recording with the Chicago-based band Earthen, and most recently starting a new band (with fellow founding Novembers Doom member Steve Nicholson), a death metal band called These Are They.
Graphic design
Kuhr has worked as a freelance designer, creating CD covers, promotional posters, CD and DVD packaging, and website design. He currently maintains the website for his own band, Novembers Doom. He has worked on CD artwork for bands such as Novembers Doom, Macabre, Antimatter, Skepticism, Bethlehem, Katatonia, Enter Self, Em Sinfonia, Gorgasm, Council of the Fallen, Necrophagia, Broken Hope, Michael Angelo Batio, Jungle Rot, Disinter and Shroud of Bereavement.
Family
Kuhr was married to now ex-wife Arline, together they have a daughter, Rhiannon Autumn. Rhiannon has been the topic of three Novembers Doom songs, "Autumn Reflection" and "Swallowed by the Moon" on The Pale Haunt Departure, and "Twilight Innocence" on The Novella Reservoir.
On July 1, 2013, after almost 20 years of marriage, both Kuhr and Arline have called it quits and filed for divorce, which was finalized in November 2013. On October 19, 2013, Paul Kuhr began dating Nikki Miller. The couple remained together for a year until their engagement on December 19, 2014. Rhiannon is also raised by Nikki, and Kuhr.
Lyrics and health
In 2006, Kuhr released a lyrical explanation book titled The Wayfaring Chronicles. Within the pages of this book, Kuhr explains the root of his personal style of lyrical writing. A lot of it comes from multiple issues described as a disease in his spine. The first and most serious is an advanced form of Spinal stenosis. This is a condition due to narrowing of the spinal cord causing nerve pinching which leads to extreme pain, limping, lack of feeling in the lower extremities, with the likeliness of lower paralysis over time. The discs in the spine are degenerating causing the vertebrae to close in on the spinal cord itself. The second is a condition known as Ankylosing Spondylitis. This is a form of arthritis that primarily affects the spine, hips, and possibly other joints. It causes inflammation of the spinal joints (vertebrae) that cause severe, chronic pain. In some cases, this inflammation can lead to new bone formation on the spine, causing the spine to fuse in a fixed, immobile position. Spondylitis is the same disease Mick Mars is currently suffering from. Presently, there is no known cure for either disease.
References
Paul Kuhr Wikipedia
(Text) CC BY-SA