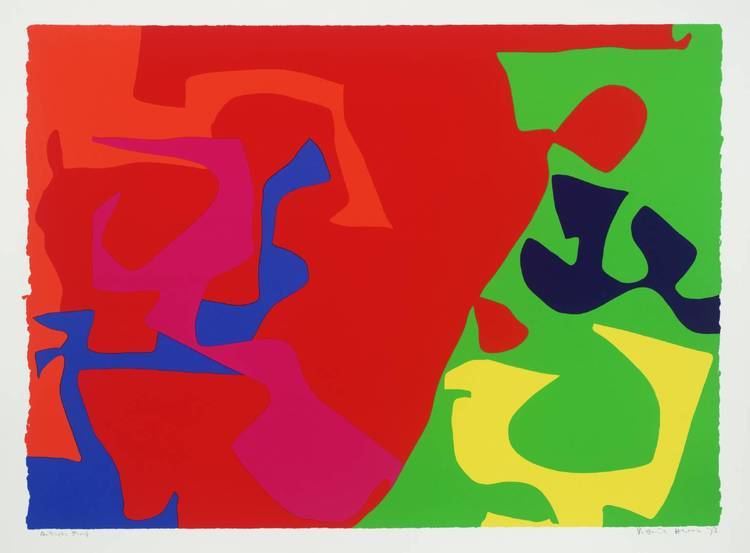 Born at Headingley, Leeds in Yorkshire in 1920, he was the son of Thomas Milner Heron and Eulalie 'Jack' Heron (née Davies), the first of four children (Michael, Joanna and Giles). His father was a clothes manufacturer, pacifist, socialist and leading member of the Leeds Arts Club. In 1925 the Heron family moved to West Cornwall where T M Heron took over the running of Crysede and four years later the family moved to Welwyn Garden City where Tom founded the firm Cresta Silks and was to become the original mind behind Utility Clothing during the war. It was here at his new school that Patrick Heron met his future wife Delia Reiss, daughter of Celia and Dick Reiss (R.L.Reiss (1883-1959)Richard Leopold Reiss, co-founder of Welwyn Garden City).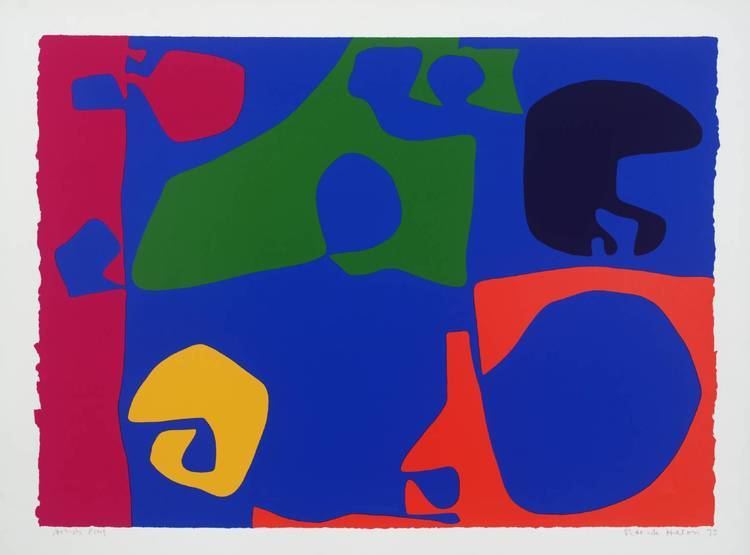 He attended St. George's School in Harpenden and on a school visit to the National Gallery, London in 1933 saw paintings by Paul Cézanne for the first time. He immediately began to paint in a Cézanne-influenced style. Shortly after this he was asked to make designs for Cresta Silks and continued to design for Cresta until 1951. When he was 17 he attended The Slade School of Art for two days a week, returning to the West Country to draw the landscape. In World War II he registered as a conscientious objector and worked as an agricultural labourer for three years, then at the Leach Pottery at St Ives in 1944–45, where he met Ben Nicholson, Barbara Hepworth and many other leading artists of the St Ives School. He had just seen Matisse's The Red Studio, exhibited at the Redfern Gallery, London and soon after this completed what he later considered to be his first mature work, The Piano in 1943.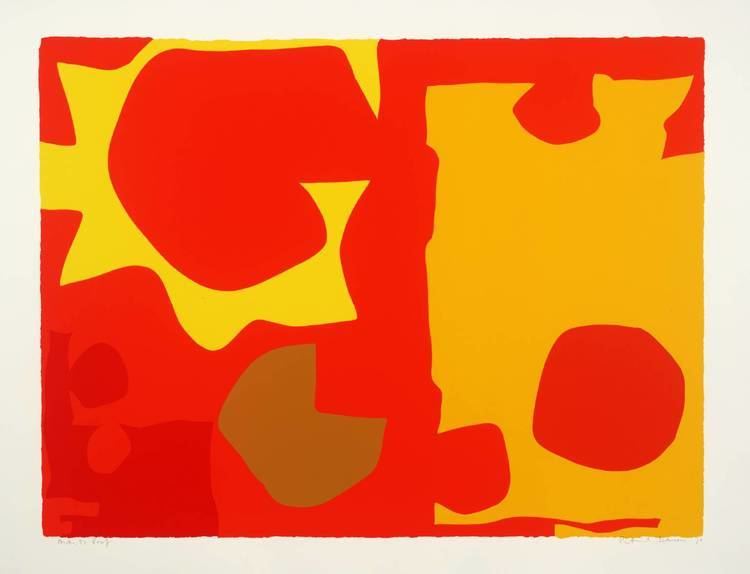 The Georges Braque exhibition at the Tate Gallery in 1946 deeply impressed him and he wrote an essay on Braque for The New English Weekly. Then up to 1953 he spent time in Europe visiting Paris, Provence and Italy. Heron visited Braque in his Paris studio and presented him with the New English Weekly article. His first one-man exhibition was at the Redfern Gallery in London in 1947. In 1953 he organised, wrote the catalogue and exhibited in Space in Colour, an exhibition of ten contemporary artists, at Hanover Gallery, London. Following this he exhibited twelve paintings at the Il Bienal di São Paulo, Brazil. The same year he began teaching at Central School of Arts and Crafts in London and continued there until 1956. In 1956 he saw, and praised highly the American Abstract Expressionists who showed their work for the first time in England at the Tate Gallery. He was inspired by this group of eight painters, their confidence and the large scale and flatness.
A development towards abstraction had been evident in his paintings, for example, Square Leaves (1952) and Winter Harbour (1955) The effect on Heron of the New York City painters, together with his move to live at Eagles Nest, overlooking the cliffs at Zennor, that year was a pivotal point in the transformation into his now characteristic language of interlinking forms; his balancing of colour and space. Heron's deepest influences were Braque, Matisse and Bonnard and he was connected first of all to the pure abstraction of European lineage, represented by Naum Gabo and Pierre Soulages.
"Heron used that most rare and uncanny of gifts: the ability to invent an imagery that was unmistakenly his own, and yet which connects immediately with the natural world as we perceive it, and transforms our vision of it. Like those of his acknowledged masters, Braque, Matisse and Bonnard, his paintings are at once evocations and celebrations of the visible, discoveries of what he called 'the reality of the eye' ".
Patrick Heron's writing about art began when in 1945 he was invited by Philip Mairet, the editor of The New English Weekly to contribute to the journal. His first published article was on Ben Nicholson, followed by essays on Picasso, Klee, Cézanne and Braque. Two years later he became art critic of the New Statesman until 1950. He became London correspondent to Arts Digest, New York (later renamed Arts(NY)). The Changing Forms of Art, a selection of his criticism was published in 1955. A further selection of writings, edited by Mel Gooding, was published in 1998 to coincide with his Tate Gallery retrospective exhibition
In 1966, 1968 and 1970 he published a series of articles in Studio International questioning the perceived ascendancy of American artists. His final essay on the subject was in a closely worded article of some 14,000 words published over a period of three days in The Guardian in October 1974.
He defended the independence and autonomy of the English Art Schools, resisting their integration into the polytechnic system. The publication of his article 'Murder of the art schools' in The Guardian in 1971 precipitated an enormous correspondence over a period of six weeks. The article was reprinted in Patrick Heron on Art and Education, published by Bretton Hall Wakefield to coincide with presentation of Honorary Fellowship of Bretton Hall, University of Leeds and a one-man show of gouaches.
In 1947 Heron began a series of portraits of T.S.Eliot. The final cubist version, painted in 1949, was acquired by the National Portrait Gallery in 1966. His daughter Katharine was born early in 1947, followed by Susanna in 1949. The summer of 1947 was spent in St Ives (as were consecutive summers until 1956 when the family moved permanently from London to Cornwall) followed by his first London exhibition at Redfern Gallery in October. Heron's writings were admired by American art critic Clement Greenberg who sought him out in London in 1954. The friendship they formed eventually disintegrated when they disagreed as judges of the John Moores Prize Exhibition in 1965.
In April 1956 the family moved from London to Eagles Nest in west Cornwall, and in June he exhibited 'Tachiste Garden Paintings' at Redfern Gallery. The following year his first Stripe paintings were exhibited in a group exhibition at the Redfern Gallery, Metavisual Tachiste Abstract (exhibition title invented by Delia Heron). Towards the end of the next decade Alan Bowness wrote: "I can think of few more disconcerting pictures shown in England in the last twenty years than Patrick Heron's striped paintings of 1957."
"Heron's Garden Paintings of 1956 mark a singular achievement within British Art of the period. With these canvases Heron found a route towards abstraction, not of a given motif, but instead formed from the formal balance achieved between the visual reality of what he saw in the garden at Eagles Nest and the pictorial reality of what he painted. The resulting paintings were executed at a remove from an idea of a representational subject and so freed Heron to deal directly with a pictorial reality.
In 1958, he moved to Ben Nicholson's former studio at Porthmeor, St Ives, and two years later he held his first exhibitions in New York at the Bertha Schaefer Gallery and at the newly arrived Waddington Galleries in London."The American critical response was enthusiastic and perceptive. Dennison, in Arts (April 1960) was struck by the subtlety and richness of his colour and ....He was able to discern a crucial distinction " Where Rothko arrives at an impersonal and yet lyrical grandeur, Heron develops a personal image...." ....For Stuart Preston of The New York Times, Heron was ' balancing [his specific, squarish shapes] in compositions of momentary equilibrium. Their state of suspended animation gives his pictures their extraordinary lightness despite the positive existence of his forms.'
He visited Australia in 1967 and 1973, exhibiting at the Bonython Gallery, Sydney. He delivered the Power lecture in Contemporary Art entitled The Shape of Colour. He wrote, "There is no shape that is not conveyed to you by colour, and there is no colour that can present itself to you without involving shape. If there is no shape then the colour would be right across your retina ".
In 1978 he delivered the William Doty Lectures in Fine Arts at University of Texas at Austin entitled 'The Colour of Colour' coinciding with a presentation of over thirty large canvases from the previous twelve years. This was the culmination of the 'wobbly hard-edge' period, works filled with intense fields of unadulterated colour and spatial brushwork "with an immediacy of sensational impact ... only possible in the actual relation of spectator to painting". On the same visit Patrick and Delia Heron were made honorary citizens of Texas by order of the Secretary of State.
Delia died quite suddenly and unexpectedly at Eagles Nest in 1979. For some years Patrick was unable to paint. He returned to drawing and slowly a foundation for the later Garden paintings emerged (see 'Red Garden Painting : 3–5 June 1985' illustrated above, completed in time for the retrospective at the Barbican the same year).
From 5 November 1989 to 28 February 1990, Heron was artist in residence at the Art Gallery of New South Wales. During this period he produced six large paintings and forty-six gouaches creating "...the final great breakout into the freely executed paintings inspired by his new acquaintance with the Royal Botanic Gardens, Sydney and, once more, his abiding love, the garden at Eagles Nest."
In 1994 his Exhibition "Big Paintings" was held at Camden Arts Centre. Heron's largest and most ambitious paintings were 15–22 ft long.
"One major change that came about in Heron's painting as a result of his time in Sydney, was a greater awareness of the white primed canvas as a colour space in its own right. ...the Sydney Garden Paintings gave Heron the licence to create works that were seemingly quickly wrought and sparsely painted – which even appear at first to be incomplete or negligent. One's expectations of what should be are affronted. Nevertheless, this reaction belies a complexity that the artist worked through in his last paintings ... and reached a highpoint ... in 1998".
"His last paintings were full-on, risky, filled with bright squiggles, painterly flurries and cartoon doodles. They should have been chaotic and absurd, but they were instead open and vital, eye-rocking and beautiful. Heron's retrospective was ravishing, and had the vitality of a much younger artist."
He continued painting until the day before he died. He died peacefully at his home in Zennor, Cornwall, on 20 March 1999 at the age of 79. He was survived by both his daughters, Katharine Heron, now an architect, and Susanna Heron, a sculptor.
On 24 May 2004, the Momart warehouse fire destroyed a number of Heron's most important works.
Patrick Heron's paintings are in public collections worldwide.
He held retrospective exhibitions of his work at Wakefield City Art Gallery Hepworth Wakefield (Paintings and Drawings, 5 April – 3 May 1952), in 1965 at Hume Tower, Edinburgh University (with Bryan Wynter), at the Museum of Modern Art, Oxford in 1968, the Whitechapel Art Gallery in 1972 and at the Barbican Art Gallery in 1985. A major retrospective exhibition of his work was held at Tate Britain in 1998 selected by David Sylvester.
Heron won the Grand Prize at the John Moores Prize Exhibition in Liverpool in 1959 and the silver medal at the São Paulo Art Biennial in 1965. In 1978 Patrick and Delia Heron were made Honorary Citizens of Texas by Order of the Secretary of State. He was awarded an Hon. D.Litt. in 1982 by the University of Exeter and in 1986 an Hon. D.Litt.by the University of Kent at Canterbury, by Chancellor Jo Grimond whose portrait he had painted for The Scottish National Portrait Gallery. In 1987 he was awarded an Honorary Doctorate by the Royal College of Art and in 1989 he was made an honorary PhD, CNAA by Winchester School of Art, in 1992 an Honorary Fellow of RIBA and in 1996 an Honorary Fellow of Bretton Hall, University of Leeds. He turned down a Knighthood under Margaret Thatcher and declined to become an RA. He was a Trustee of the Tate Gallery from 1980–1987.
Patrick Heron made several Public Works, in 1992 he designed the coloured glass window for Tate St.Ives and in 1996 a site specific outdoor installation at Stag Place 'Big Painting Sculpture' in collaboration with his son in law Julian Feary of Feary and Heron Architects.
Over sixty paintings by Patrick Heron are held in public collections in Britain.
Paintings in the Tate collection can be seen online at Tate Collection Online and at the National Portrait Gallery.
Aberdeen Art Gallery; Cecil Higgins Art Gallery, Bedford; C.E.M.A., Belfast; Bristol City Art Gallery; Fitzwilliam Museum, Cambridge; Eliot College, University of Kent, Canterbury; National Museum of Wales, Cardiff; Bishop Otter College, Chichester; Towner Art Gallery, Eastbourne; Scottish National Portrait Gallery, Edinburgh; Scottish National Gallery of Modern Art, Edinburgh; Exeter Art Gallery; Cornwall House, Exeter University; Abbot Hall Art Gallery, Kendal; Leeds City Art Gallery; Leicestershire Education Committee, Leicester; Arts Council of Great Britain, London; Barclays Bank Collection, London; British Broadcasting Corporation, London; British Council, London; British Museum, London; Contemporary Art Society, London; Calouste Gulbenkian Foundation, London; National Portrait Gallery, London; Shell-Mex Limited, London; Peter Stuyvesant Foundation, London; Tate Gallery, London; Victoria & Albert Museum, London; Granada Television, Manchester; National Westminster Bank Contemporary Art Collection, Manchester; Manchester City Art Gallery (Rutherston Collection); Hatton Art Gallery, Newcastle University; Norwich Castle Museum; Oldham Art Gallery; Merton College, Oxford; Pembroke College, Oxford; New College, Oxford; St John's College, Oxford; Nuffield College, Oxford; Plymouth City Art Gallery; Southampton Art Gallery; University of Stirling; Wakefield City Art Gallery; University of Warwick. Art Collection, University of Stirling and others not listed
University of Galway, Ireland; Calouste Gulbenkian Foundation, Lisbon; Boymans-van Beuningen Museum, Rotterdam; Peter Stuyvesant Foundation, Amsterdam; Art Gallery of Western Australia, Perth; Power Gallery of Contemporary Art, Sydney University; Queensland Art Gallery, Brisbane; Art Gallery of South Australia, Adelaide; Art Gallery of New South Wales, Sydney; Art Gallery of Ontario, Toronto; London Art Gallery, Ontario; Montreal Museum of Fine Arts; Musée d'Art Contemporain de Montreal; Vancouver Art Gallery; Setagaya Art Museum, Tokyo; Ohnishi Museum, Kogawa Prefecture; Albright-Knox Art Gallery, Buffalo, New York; Albuquerque Museum, New Mexico; Brooklyn Museum, New York; Carnegie Institute, Pittsburgh, Pennsylvania; The Metropolitan Museum of Art, New York; Mint Museum of Art, Charlotte, North Carolina; Museum of Art, University of Michigan, Ann Arbor; Smith College Museum of Art, Northampton, Massachusetts; Art Museum, University of Texas at Austin; Toledo Museum of Art, Ohio; Frederick R Weisman Foundation, Los Angeles; Yale Center for British Art, New Haven, Connecticut. and others not listed
The wrong portrait of Patrick Heron was published in Adrian Clark's book (British and Irish Art 1945–1951: From War to Festival, Hogarth Arts, 2010). Portraits of the artist Patrick Heron can be found at the National Portrait Gallery.