Park was born in 1931 in Yecheon, Gyeongbuk, South Korea. While he spent his childhood in Yecheon, he soon moved out to Seoul where he studied at the Hong-Ik University, Seoul, South Korea before graduating in 1954 and in 2000 he received an honorary doctorate from the same institution. He is most famous for his Ecriture series which he began in the 1970s.
He founded the Seo-bo Art and Cultural Foundation, Seoul in 1994 and remains its president.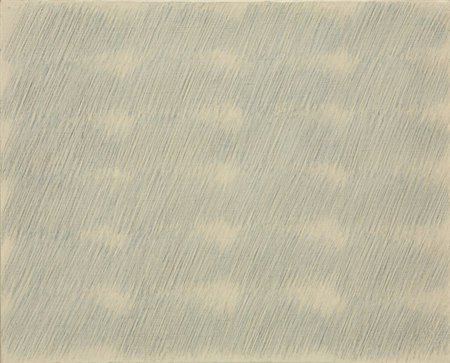 Park's visual language begins with the Korean Civil War in 1950. He had only just entered Hong-Ik University to study art, but instead the interruption of war brought about what one might call a "crash-course". He said many times, "Just imagine, I had to do all the things that Dada did, plus what the post-war abstraction artists did - there are some things you cannot do anything about in life - but I guess it was just my fate."
In a similar vein to Paul Klee's famous words, "The more horrifying this world becomes (as it is these days) the more art becomes abstract", Park turned toward abstraction in the 1950s. None of his works from the early days of his career were preserved, and only a photograph of his work, Sunny Spot (1955) remains. The artwork was part of an infamous exhibition titled Four Artists' Show in May 1956, which was a group exhibition composed of Park, Kim Young Whan, Kim Choong Sun and Moon Woo Shik. The show was a resistance against the old art order in Korea that had its roots since the Japanese colonial days.
Park and his tutelage of artist friends founded Hyundae-Mihyup in 1957. Bang Geun Tack, who will later become a well-known art critic in Korea, recognized Hyundae-Mihyup's art as Informel.
Cheon Seung-Bok, a journalist for the Korean Republic, describes Park's artistic style as such:
"In a grammatical sense, I must say that it is hard to call his work painting, for he is a conscious action painter who tackles curious metal and chemical material and not much real paint, which is too dear for him to use. But to say that action painting like his is recondite,and therefore it is not painting, is like saying that advanced mathematics like differential calculus is not in the field of mathematics.
Seo-Bo never buys normal canvases.Instead, he goes out to a scrap shop in an odd corner of the East Gate second-hand market where he picks up a large patch of used tent canvas. This canvas material is usually full of dust and holes but the price is very reasonable for this artist who can hardly sell even one painting a year.
How does he paint a picture? A maggot in his head bites while he rasps dust off the home-made canvas. Then he needles some pieces of used hemp cloth onto the canvas, cements them, pastes copper or bronze powder, burns the surface with a torch lamp, and then corrodes parts of it with chemicals. The result is a complex of material in greyish black, white and on some spots, shimmering red, and this bears an air of mystery that conveys something like the undecipherable signature of a shaman.People complain that paintings like his are hardly understandable.
A painting is silent, but a good painting has compelling voices of silence. With these voices, an action painter must communicate the continuous dichotomy between the desire to give direct expression to a feeling and the desire to create pure harmony, which is a conflict inherent to the development of modern art."
Park went to Paris in 1961 with the intention of staying for a short while, but due to unforeseen circumstances, he ended up living in Paris for over a year. During his time in Paris, his artistic tendency and outlook changed significantly, which ultimately resulted in his exiting the Art Informel scene toward his own artistic formulation, the Primordialis series in 1962. Park's comments on the Parisian art scene was as such:
"At the moment, the Parisian art scene is saturated with the Art Informel that was initiated by Michel Tapié. This change is viewed by some artists as the signalling of a re-emergence of figuration, and others even say that the reversion to the figurative art is a due course set in the history of art. I think that they are ridiculing its value. It was a lazy way of acknowledging its value. Yes, it is true that Art Informel has pervaded the art scenery. Supposing that you look at it as a crisis, then this "crisis" stems from the contradiction within the abstractive art, and not from the reappearance of the figurative art. And another indirect reason for the current symptom in the art scene is that many people indiscriminately picked up abstraction."
Toward the end of the 1960s, Park began experimenting in new forms, the Hereditarius series. Oh Kwang Soo, art critic, described his works as such:
"At the 13th Contemporary Art Exhibition of Chosun Daily Newspaper, there are several artworks which are difficult to understand at a single glance. ... In Park Seo-bo's work, there is a taxidermic form without the actual human body in casual posture and the image of a emptied human figure on the canvas. The suggestion of these two situations means to convey a condensed happening at a single moment. The gap between the painting on the wall and the posing empty taxidermy signifies the distances (between home and office) and therefore time."
Then in June 1973 at Tokyo Gallery, Park began his ongoing journey through the Ecriture series. This is what Park said at the time:
"I painted nothing, my work had no form, no emphasis, and no ins-and-outs, except for the pure vibration coming out of not doing anything – an action through non-action.[…] Anyone can draw lines, but my lines are the endemic phenomenon which takes place only in me. I feel and reciprocate the resistance of the bouncy canvas,then I feel replete with an impulsive sensation. In this way I keep being gravitated into the canvas. It is similar to cultivating the religious spirit[…]. I started from where there was no form, or no image – where it was impossible to express."
SELECTED SOLO EXHIBITION include:
2014 PARK, SEO-BO "ECRITURE" Galerie Perrotin, Paris
2012 Art Toronto 2012, Wellside Gallery,Booth No.1100, Toronto, Canada
2009 Korea International Art Fair, Wellside Gallery,Booth No-C.26, COEX, Seoul
2009 Empty the mind, ARARIO NEW YORK, NEW YORK
2008 KIAF 2008 (Korea International Art Fair), Wellside Gallery, COEX/ Indian Hall, Seoul
2008 CIGE 2008 (China International Gallery Exposition), Wellside Gallery, China World Trade Center, Beijing
2007 ARARIO BEIJING, Beijing
2007 PARK, SEO-BO Today Playing with Color, Gyeonggido Museum of Art, Ansan
2007 KIAF 2007, Wellside Gallery, COEX/ Indian Hall, Seoul
2007 CIGE 2007, Wellside Gallery, China World Trade Center, Beijing
Hirshhorn Museum and Sculpture Garden, Washington, D.C.
Musée d'art moderne de Saint-Étienne, Saint-Étienne
Leeum Samsung Museum of Art, Seoul
The National Museum of Contemporary Art, Seoul.
Walker Hill Art Center, Seoul.
The Contemporary Museum of Hong-lk University,Seoul.
The Council House, Racine, Wisconsin U.S.A.
The Ho-Am Art Museum, Seoul.
Fukuoka Art Museum, Fukuoka Japan.
Museum of Contemporary Art, Tokyo.
Ohara Museum, Kurashiki Japan.
The Museum of Modern Art Toyama, Toyama Japan.
The Museum of Contemporary Art, Hiroshima Japan.
Son Je Museum of Contemporary Art, Kyung Ju Korea.
Gidang Art Museum, Cheju Korea.
Sculpture Park, The Shin Chon Jee Art Museum, Cheju.
Shimonoseki City Art Museum, Shimonoseki Japan.
Kwangju City Art Museum, Kwangju Korea.
The Museum of EWha Women's University, Seoul.
Pusan Metropolitan Art Museum, Pusan.
POSCO Art Museum, Seoul.
Mie Prefectural Art Museum, Mie Japan.
Han-Lim Art Museum, Taejeon.
Total Museum, Seoul.