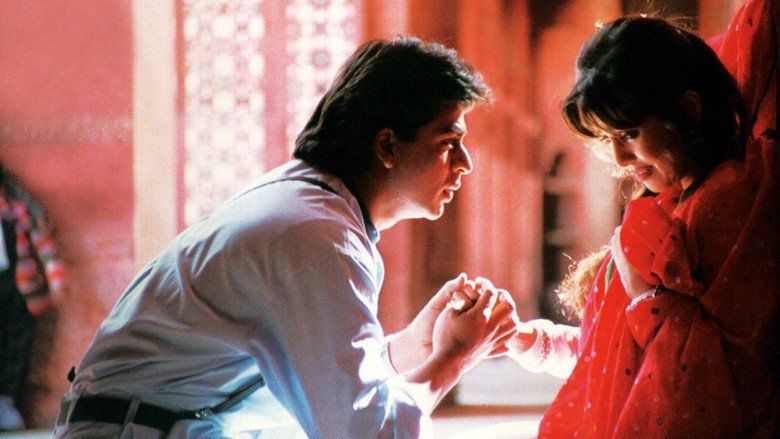 Pardes is a story that revolves around Arjun (Shah Rukh Khan) and Ganga (Mahima Chaudhary).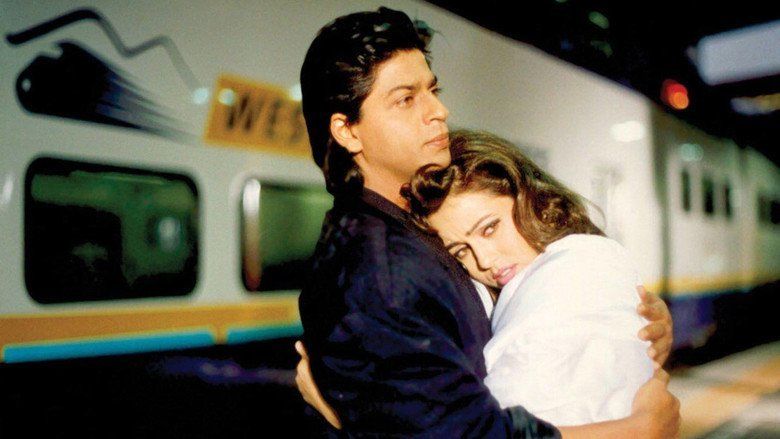 Kishorilal Saagar (Amrish Puri), a wealthy Indian businessman living in America, visits his old friend Suraj Dev (Alok Nath) in India. During his stay at the conservative, traditional Indian household, he gets to know Suraj's eldest daughter, Ganga, who shares his love for India and Indian culture. Ganga's younger siblings are enchanted by the uncle from America, and because they perceive Western culture and values to be so desirable, they cook up a plan to impress him with an English song. Unimpressed, he sings back a hymn-like song in a more traditional Indian style, "I love my India." Ganga joins in this song, expressing her equal love for India. The song emphasises the movie's theme in key moments.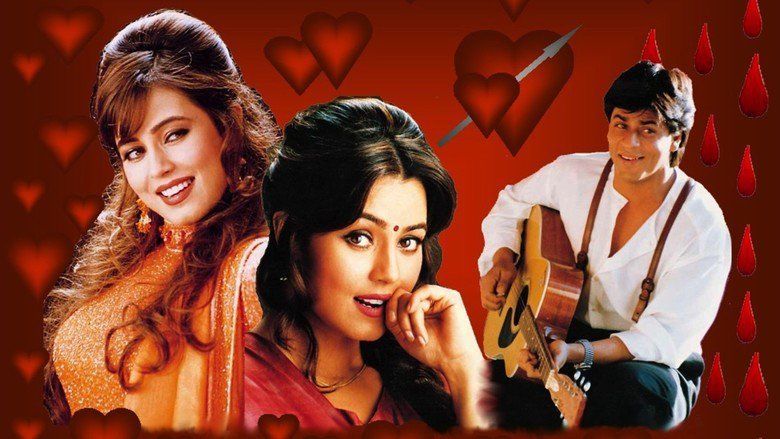 Kishorilal asks Suraj to promise Ganga as a bride for his westernised son, Rajiv (Apoorva Agnihotri). He is convinced that Ganga will be not only a perfect bride, but the way treasured Indian values are revived and passed on in his Americanized family and large circle of Indian friends and business acquaintances. Suraj's family accepts the proposal. Kishorilal knows he will have a tough time trying to convince his son to marry or even meet Ganga. Back in America, he asks his foster son, Arjun (Shahrukh Khan) to help his plan along. Arjun, who has been working in Kishorilal's personal garage and making music with his band, is being interviewed as the composer of the new musical hit "I Love My India". However, when Kishorilal calls to ask for his help, his loyalty to his uncle is so strong that he cuts the interview short.
Arjun flies to India ahead of Rajiv to set the stage for him to meet Ganga, unintentionally offending Ganga's family with a barrage of orders that includes removing farm animals from sight and relocating their servant. When "Ganga" is first introduced, she is hideously made up, with horn-rimmed glasses and buck teeth, sending Arjun into a panic about the success of Kishorilal's plans. Later, when he meets the authentic Ganga, he is entranced, and in an effort to make up for his offensive behaviour, promises to be a trustworthy friend. Immediately after they shake hands, Ganga moves the farm animals and the servant back into the enclosed yard. She explains to Arjun that her family loves all who are a part of it, even animals and servants, in contrast to Arjun's apparent and somewhat Western view that they are not very important.
When Rajiv arrives, he also acts offensively; sometimes intentionally, and sometimes because he has no idea of what Indians consider rude or inappropriate. But Arjun, despite his own attraction to Ganga, smooths the way out of loyalty to Rajiv and Kishorilal. In his determination to help the marriage come to pass, Arjun deceives Ganga about Rajiv's character and habits; he assures her that Rajiv is a "nice guy"; he also covers up for Rajiv, telling Ganga the cigarettes she found in Rajiv's room are his own. Rajiv and Ganga agree to the wedding.
The engagement is set in India, but the families agree that Ganga should come to America before the wedding. Ganga arrives in America, and is hurt to hear her traditional dress and "foreign" manners despised by Rajiv's snaky mother at a party in her new home. However, at a very large and influential gathering arranged by Kishorilal, she is invited to sing. She sings "I love my India" and receives warm, sincere applause. In her new surroundings, her only friend and confidant is Arjun, with whom she begins to form a special bond. Little by little Ganga realises that Rajiv isn't the person Arjun portrayed him to be. Rajiv not only seems eager to leave her at home whenever possible, with little explanation or apology; when he does bring her out with his friends, he smokes, gets drunk and acts like a bully. At one party, he is drinking and flirting with other women while a Western man begins dancing too closely with Ganga; though Rajiv ignores the situation, Arjun loses his temper and fights the man to the ground. Later, Ganga is shocked to discover pictures of Rajiv with his girlfriend that clearly show he has had a sexual relationship with her. She is also astonished to find that Kishorilal's family treats Arjun, a near relative and loyal friend, as a servant, contemptuously dismissing the idea of his joining them for dinner or even eating in the same house.
When Rajiv abandons Ganga for dinner with his girlfriend, who he is still seeing, Ganga confronts Arjun. Arjun justifies Rajiv's behaviour, reminding Ganga that Rajiv lives like an American, and that she should not make a fuss about such a petty affair. This exchange leads to a key monologue from Ganga. Infuriated that Arjun sees Rajiv's casual, unapologetic unfaithfulness as a "petty affair", she tells him that she demands love – the kind of love he (Arjun) gives others. Rejecting "love" that is less, she further rejects being made into a decoration to fit into Kishorilal's palatial mansion. Arjun realises that he has fallen in love with Ganga, but because of his immense loyalty to Kishorilal, he continues to encourage her to stay with the engagement and worry about "changing" Rajiv later.
On the next day, Arjun's birthday, he is depressed and wants to be alone. However, Ganga finds out and asks Rajiv to go with her to wish Arjun a happy birthday. Rajiv rudely refuses, making it clear he also views Arjun as some kind of servant. Ganga visits the garage without Rajiv, joining a surprise party thrown by Arjun's band mates. Inevitably, Rajiv's hostile aunt Neeta notices the growing friendship between Ganga and Arjun and warns Kishorilal. He arranges for Arjun to leave the city immediately, telling him he has been promoted, and must start with a board meeting the following morning in another city. Kishorilal then informs Rajiv, who is on his way to another party in Las Vegas, that he must take Ganga with him. In Las Vegas, Rajiv gets drunk and reveals his true contempt and hatred for India; he derides Indians as "hypocrites", and "stupid". Ganga heatedly responds that Indians hate America's drug-riddled, amoral alternative. Furious, he tries to rape Ganga; after a violent struggle, she knocks him unconscious and flees. Kishorilal starts making calls to try to track the missing Ganga down, but Arjun goes looking for her and finds her crying at a train station with her clothes torn. He tries to persuade her to go back to Kishorilal's home, but she refuses. Arjun promises to protect her and help her get back to her family in India.
Just after they arrive at her home in India, Kishorilal calls Ganga's father Suraj. Believing Arjun eloped with his daughter, Suraj tries to kill him with a family sword that hangs on the wall. Arjun seizes the sword and swears to Ganga's faithfulness and chastity. Then Arjun leaves, intending never to return. Meanwhile, Suraj locks Ganga in a shed, breathing threats of murder. Ganga's siblings and grandmother sneak in and advise her to run away with Arjun. Ganga realises that she is in love with Arjun, and with their help, secretly leaves the home. By this time, Kishorilal has arrived in India with Rajiv.
Ganga catches up with Arjun at a temple, and demands he confess his love. Still loyal to Kishorilal, he refuses, insisting that he does not love her. Ganga is devastated, but before he walks away, Rajiv turns up with several thugs to kill Arjun but Ganga protects Arjun. She's then confronted by Rajiv for this. In the ensuing fight, Arjun takes a terrible beating before getting the upper hand. Kishorilal arrives with Suraj just as Arjun is about to kill Rajiv. Kishorilal furiously suggests that Arjun "honorably" kill himself with a conveniently handy gun, and demands Arjun "tell the truth" about how he came to be in India with Rajiv's promised bride.
This leads to the second key monologue of the film. Arjun confronts Kishorilal with not wanting to know the truth; people who want the truth, don't ask for it with a gun. He accuses Kishorilal of having become a true Westerner after all, since his wealth has eviscerated his compassion and ability to examine the truth when it doesn't match what he wants it to be. Confessing that he does, in truth, love Ganga, he affirms that he never pursued her and has acted honourably, while Rajiv in every way rejected honourable action and lied about how Ganga came to have returned so suddenly to India; not only was Ganga (personification of the most valued aspects of Indian culture), unable to merge with Western culture, Western values (in the person of Rajiv) almost utterly ruined Ganga. Ganga confirms Rajiv's attempted rape, which shocks everyone, then tells her father she is willing to die by whatever means he chooses; poison, fire, or hunger. This pivotal scene both verbalises and symbolises how good, happy, pure Ganga (Indian values), instead of being able to uplift and enrich Rajiv (Western values), has been sacrificed to the unsuccessful attempt to merge India with the West. Ironically, it also highlights one way in which Western culture can be viewed as more just and compassionate than Indian culture, since a Western bride can break off an unsuitable engagement without risking death at the hands of outraged family members.
Moreover, but realising he has indeed heard the truth, Kishorilal affirms that Ganga will marry his son. Rejecting Rajiv (and, symbolically, his own Western compromises), he embraces Arjun as his true son, and along with Suraj and his family blesses the engagement between Arjun and Ganga.
Shahrukh Khan as Arjun Sagar, Kishorilal's foster son who is also a talented singer.
Amrish Puri as Kishorilal, a wealthy businessman who lives in America.
Mahima Chaudhry as Kusum Ganga a.k.a. Ganga, Rajiv's wife to be who falls in love with Arjun.
Apurva Agnihotri as Rajiv, Kishorilal's son and Arjun's foster brother.
Alok Nath as Suraj Dev, Ganga's father
Akshata Rao as Narmada, wife of Suraj Dev
Dina Pathak as Suraj's mother
Himani Shivpuri as Kulwanti
Madhuri Bhatia as Neeta, Rajiv's aunt who despises Ganga.
Smita Jaykar as Paddy
Pawan Malhotra as Sharafat Ali
Prachi Save as Daksha
Aditya Narayan as Potla (Ganga's little brother)
Ajay Nagrath as Daboo (Ganga's little brother)
Samta Sagar as Sonali
Subhash Ghai as Singer on the boat (special appearance)
Rakesh Thareja as Paul (Rajiv's friend)
The soundtrack was composed by the duo of Nadeem Shravan while the lyrics can be credited to Anand Bakshi. It was released under the label of Tips Music Films. The album was very successful amongst the audience. The tracks "Do Dil Mil Rahe Hai", "I Love My India", "Meri Mehbooba", "Yeh Dil Dewaana", "Jahan Piya" were immensely popular with songs being played till date. Music director duo Nadeem-Shravan received a Filmfare nomination for the album and won a Star Screen Award for Best Music Director. Ghai wanted A.R.Rahman to compose the music of this film but Rahman politely declined the offer since Ghai wanted the tunes ready in less than two months.
Track list
Pardes grossed ₹34.83 crore (US$5.4 million) in India and $1.7 million (₹6.12 crore) in other countries, for a worldwide total of ₹40.95 crore (US$6.4 million), against its ₹10 crore (US$1.6 million) budget. It had a worldwide opening weekend of ₹3.40 crore (US$530,000), and grossed ₹6.19 crore (US$970,000) in its first week. It is the 4th-highest-grossing film of 1997 worldwide.
It opened on Friday, August 8, 1997, across 210 screens, and earned ₹61 lakh (US$95,000) nett on its opening day. It grossed ₹2 crore (US$310,000) nett in its opening weekend, and had a first week of ₹3.64 crore (US$570,000) nett. The film earned a total of ₹22.83 crore (US$3.6 million) nett, and was declared "Super Hit" by Box Office India. It is the 4th-highest-grossing film of 1997 in India.
It earned $1.7 million (₹6.12 crore in 1997) outside India. Overseas, it is the 2nd-highest-grossing film of 1997 after Dil To Pagal Hai which grossed $3.3 million (₹12.04 crore in 1997).
Pardes received mixed reviews from critics. Praise was given to the music, however aspects of the script were criticised.
India Today cites it as one of the first major Bollywood pictures to succeed in the United States.
In their book, New Cosmopolitanisms: South Asians in the US, Gita Rajan and Shailja Sharma view the film as a dichotomous depiction of the good NRI versus bad NRI, with Khan depicting the good immigrant, who assists the rowdy Indian American playboy Rajiv (Apurva Agnihotri), the bad. Khan's character of Arjun is perceived as a metaphor for cosmopolitanism or Indian cultural nationalism in the wider sense, in direct contrast to Rajiv who represents wealthy Westernization and all its negative vices and connotations.