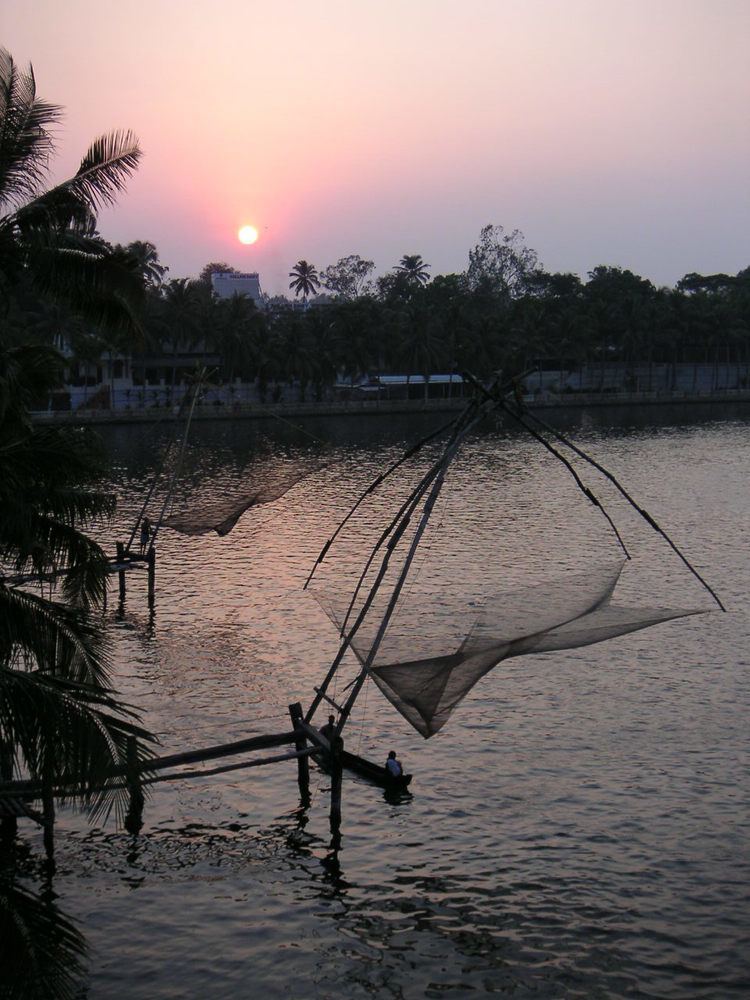 The lakes and sea coast of Paravur attract visitors and foreigners with the main attraction the interconnection of Paravur Kayal (lake) and the Arabian Sea. Paravur lies 21 kilometres (13 mi) from Kollam by road and can be reached within 15 minutes (13 kilometres (8.1 mi)) by train from Kollam Junction.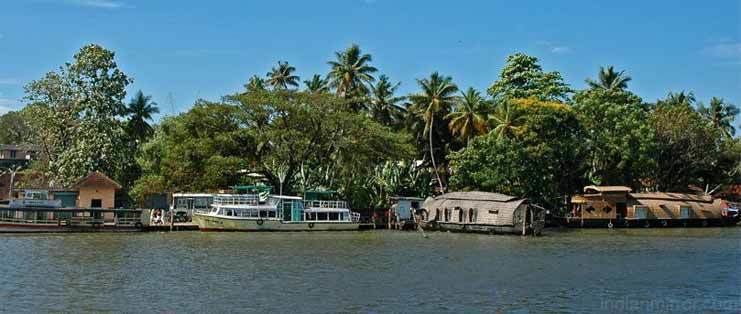 Paravur Municipality consists of Kottapuram, Koonayil, Thekkumbhagam, Chillakkal, Perumpuzha, Nedungolam, Pozhikara, Maniyamkulam, Kurumandal, Kottamoola, Attinpuram & Kochalummoodu. Paravur Municipality is a Grade-II Municipality of Kerala.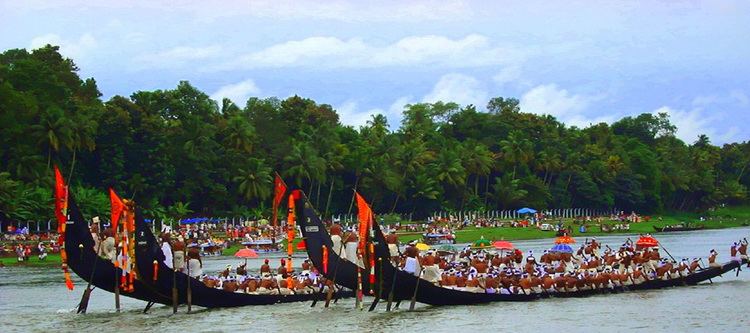 Paravur is located at 8.78 N 76 E. It has an average elevation of 10 metres (32 feet). Paravur, 21 kilometers from the Kollam, is a narrow skirt of land stretching in between the backwaters and the sea. The famous Varkala beach is a mere 12 kilometres drive from here and Thiruvananthapuram is 53 kilometres away from Paravur. There is an elevation of 6 metres above sea level, extending to 16 metres on the inland.
As of 2011 India census, Paravur has a population of 43,739 (38,652 is the urban population and 5,087 is the village population). Males constitute 47% of the population and females 53%. Paravur has an average literacy rate of 79%, higher than the national average of 59.5%: male literacy is 81%, and female literacy is 77%. In Paravur, 10% of the population are under 6 years of age. Total number of households are 9,155.
Pozhikara was the administrative headquarters of Paravur. Remnants of the old fort, Thaana (police station) and Anchalappees (post office) still remain. A mint of the erstwhile Travancore Kingdom for printing and punching their currencies was once situated at Paravur. Paravur panchayat was formed in 1936 as one of the four panchayats sanctioned by Sir C.P.Ramaswamy Iyer (Diwan-Travancore). The others were Boothapandi, Nedumangadu, and Perumbavoor. The so formed Paravur panchayat included nine territories-Thekkumbhagam, Kottappuram, Kongal, Pozhikara, Kurumandal, Koonayil, Kalakkode, Bhoothakkulam and Nellettil. Sree Ramavarma koyi thampuram from Kilimanoor Palace was the first executive officer of the panchayat. The first election for Paravur panchayat was held in 1942 and Sri Achuthan Pillai became the first elected panchayat president. Later Paravur became a Municipality on May 1, 1988. For the first seven years it was ruled by special officers. In 1995 after the first Municipal election, Smt. Bhanumati became the first Municipal Chairperson. In April 2016, over 100 people were killed in a fireworks explosion at a local temple in the town.
There are so many important roads in Paravur, connecting Kollam city and neighbouring towns like Varkala, Chathannoor, Parippally, Poothakkulam. The 14.1 km long Paravur-Kollam Coastal Road is connecting Kollam city with Paravur, via Kollam Beach, Paapanasam Beach, Kakkathoppu, Mukkom, Thanni and Pozhikara.
Paravur Municipal Bus Stand is the one and only bus stand in Paravur municipal town of Kollam district, Kerala. The bus stand construction project was implemented by the Municipal council of Paravur before some years.
Paravur railway station, an "Adarsh station", is situated at a distance of half kilometer away from the heart of Paravur town. It is a 'D-Class' railway station coming under the Southern Railway Zone. Paravur is connected to various cities in India like Kollam, Trivandrum, Kochi, Calicut, Palakkad, Thrissur, Bengaluru, Chennai, Mumbai, Madurai, Kanyakumari, Mangalore, Pune, Salem, Coimbatore, Trichy and Tirunelveli through Indian Railways.
The National Centre for Earth Science Studies in Thiruvananthapuram has carried out a Coastal Regulation Zone(CRZ) mapping during March 2014 to June 2014. The field data was generated from 33 coastal villages of Kollam district and Paravur Municipality. Lakes like Paravur, Ashtamudi and Kayamkulam are the major backwaters of the district which are interconnected by T.S Canal. Pozhikkara & Thekkumbhagam-Kappil are the small tidal inlets identified in the district. The CRZ-II is the developed areas(with more than 50% build-up area) in legally designed Kollam Municipal Corporation and Paravur Municipality urban areas. Kollam Municipal Corporation and Paravur Municipality are highly developed with a very high potential of further development, the CRZ in the Corporation and Municipality, other than CRZ I, CRZ IV and open spaces such as parks and play grounds is considered to have build up area more than 50% and hence categorized as CRZ II.
As part of the industry sector development plans of Kollam district, an IT Park would be setting up at Paravur Municipal area in an extent of 5 acres of land. The land can be acquired with the assistance of Land Use Board or Paravur Municipality. rail-Road linkages will be established. The Government also have plans to set up a Coir manufacturing unit and a Handloom unit at Paravur and considering the possibilities for setting up a food park also.
Over 100 were dead and 350 injured after an explosion during fireworks display, in the Kollam temple accident. The fire broke out around 3.30 am on 10 April 2016 during a fireworks display at a ground next to the temple packed with 10,000 to 15,000 people attending a festival. Officials say a spark during the fireworks - for which the temple allegedly had been denied permission - ignited a separate batch of firecrackers stored in preparation for the New Year festival of Vishu on Thursday.
Some of the government offices in Paravur are Municipal Office Muncif Magistrate Court, Judicial First-class Magistrate Court, Sub-treasury Office, Kerala State Electricity Board Office, Fire Station, Police Stations, Employment Exchange, Village Office, Post Office, Agro bazaar(9th in the state) and Veterinary Preventive Clinic.
Late K.C. Kesava Pillai 1868-1914 (Carnatic Music Composer, Poet)
Late. Paravur G.Devarajan (Music Director)
Late. Paravur Ramachandran (Actor)
C.V Padmarajan (Ex-Finance Minister of Kerala)
P. K. Gurudasan, MLA (Former Labour Minister of Kerala)
" Brigadier G. VENU ", INDIAN ARMY.
Kanakku Chempaka Raman Pillai, (Finance Minister under Velu Thampy Dalawa and rebuilt Puttingal Temple)
Paravur Kesavan Asan, (Scholar and was the guru of Maha Kavi K.C.Kesava Pillai)
Villu Narayanan Vaidyan Kochu Veedu, (Physician, Travancore Palace)
Bhoothakulam Paramu Pillai Asan, (Kathakali Artist)
K.M. Basheer, (First freedom fighter of Paravur arrested by British for hoisting Congress flag in the Paravur Railway Compound)
P. Ravindran, (Ex-minister Kerala for Industries, Labour and Forests)
Paravur Sadanandan Pillai, (Kathakali artist)
Köppen-Geiger climate classification system classifies Paravur's climate as tropical wet and dry (Aw).