India




Malayalam, English




Kerala




Kannur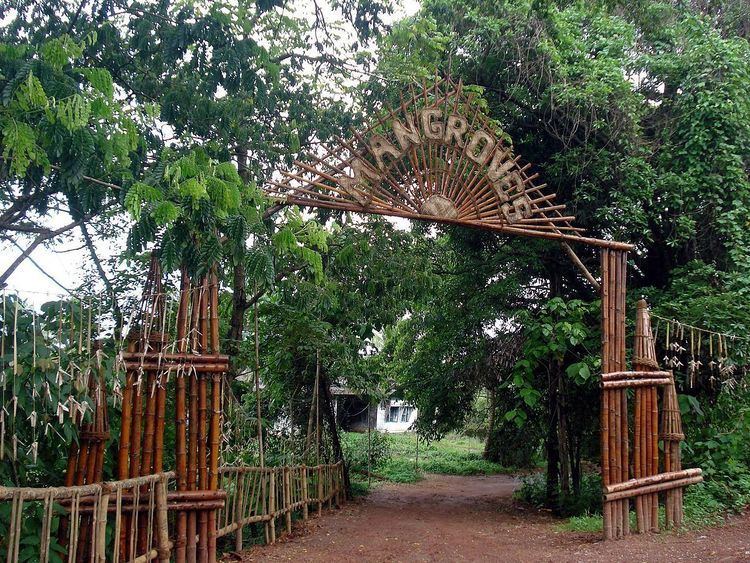 Pappinisseri is a census town in Kannur district in the Indian state of Kerala.
Pappinisseri is located at 11.95°N 75.35°E? / 11.95; 75.35. It has an average elevation of 1 metres (3 feet).
Pappinisseri comprises two villages viz Pappinisseri and Aroli. Two major roads viz NH 17 and Kannur-Payyannur Highway goes through Pappinisseri. Though the Pappinisseri village provides spaces for the both of these major roads, Aroli is home for only NH 17. The Pappinisseri Panchayat can be described as situated on Kannur-Payyannur highway, near Valapattanam in Kannur district of North Malabar region in the Indian state of Kerala.
Major portion of Pappinisseri is surrounded by Baliapatam river which stretches from Mankkadav at the East to CRC at the West. Pappinisseri has many beautiful scnes of small islands and Hills. Pampuruthi is a very famous and beautiful islands in the Baliapatam river. Vadeswaram Hill popularly known as Kailasam of Kerala is famous for its scenic beauty. Pappinisseri shares borders with Kalliasseri to the north-east and Valapattanam to the south-west.
Pappinisseri is a rail head (Nearest Major Railway Station is Kannur). Calicut International Airport is the nearest airport. Kannur Airport is under construction near Mattannur.
Pappinisseri is famous for:
Moonnu Pettumma Palli
Sree Vadeswaram Shiva Temple,
Aaron Church,
Mankadavu Juma Masjid,
Keecheri Juma Masjid
Keecheri Paalottu Kavu,
Visha Chikilsa Kendram
Tile Works,
Cotton Factory
M.V. Raghavan
Mangroove theme park
keechery juma masjid
Visha Chikilsa Kendram
keecheri sree palotukave temple
Pampanthuruthi island
The long cave starts from Keecheri Hill and ends at Vadeswaram Pond
Scene of Valapattanam River
1. ** From Paalam 2. ** From Kalloori
Various hills
Kolathuvayal
keecheri hill
keechery thaava
Mankadavu JumaMasjid, Kadavu
Pappinisseri Wikipedia
(,)https://fbexternal-a.akamaihd.net/safe_image.php%3Fd%3DAQB9W9Zkv83mddDu%26w%3D720%26h%3D1083%26url%3Dhttp%253A%252F%252Fupload.wikimedia.org%252Fwikipedia%252Fcommons%252Fthumb%252Ff%252Ff0%252FGulikan_vellattam.jpg%252F720px-Gulikan_vellattam.jpg(,)http://www.jangomart.com/assets/uploads/LR_Infotech_Systems.jpg(,)http://allthecities.com/system/panoramas/pictures/000/893/383/original/original.%3F1380269860(,)http://images2.mygola.com/d8e14449d3c7f93c0ee425f032a3838e_1390523323_l.jpg(,)https://fbexternal-a.akamaihd.net/safe_image.php%3Fd%3DAQBdx8HIfaUb-sMf%26w%3D720%26h%3D429%26url%3Dhttp%253A%252F%252Fupload.wikimedia.org%252Fwikipedia%252Fcommons%252Fthumb%252F5%252F55%252FParassini.jpg%252F720px-Parassini.jpg(,)http://images4.mygola.com/9764806b128a59eaea508365dd9dc289_1394375555_l.jpg(,)http://static.panoramio.com/photos/large/52801406.jpg(,)https://fbexternal-a.akamaihd.net/safe_image.php%3Fd%3DAQAuUsw2MhBwyqrp%26w%3D720%26h%3D696%26url%3Dhttp%253A%252F%252Fupload.wikimedia.org%252Fwikipedia%252Fcommons%252Fthumb%252F3%252F32%252FPython_molurus_molurus_2.jpg%252F720px-Python_molurus_molurus_2.jpg(,)http://mw2.google.com/mw-panoramio/photos/medium/10588244.jpg(,)http://mw2.google.com/mw-panoramio/photos/medium/10588122.jpg(,)http://mw2.google.com/mw-panoramio/photos/medium/10581812.jpg(,)http://mw2.google.com/mw-panoramio/photos/medium/20657756.jpg(,)http://mw2.google.com/mw-panoramio/photos/medium/7682910.jpg(,)http://mw2.google.com/mw-panoramio/photos/medium/55907161.jpg(,)https://www.homeinner.com/wp-content/uploads/2014/12/698895-wpcf_490x300.jpeg(,)https://www.homeinner.com/wp-content/uploads/2014/12/135948-wpcf_490x300.jpeg
(,)http://www.thehindu.com/multimedia/dynamic/00167/23TVKRMANGROVE_PARK_167377f.jpg(,)http://2.bp.blogspot.com/-Gf0pXHgRTSQ/T04aIjKsbHI/AAAAAAAAALo/dWLgsKxibEs/s1600/041.jpg(,)http://www.nivalink.com/watermark.ashx%3FImageUrl%3Dhotelimages/uploads/102520131341055824707.jpg(,)http://static.manoramaonline.com/portal/MM_Photo_Galleries/Environment/Zero_Waste_Phase_II_Road_Show_KNR/ems_01.jpg(,)http://static.manoramaonline.com/portal/MM_Photo_Galleries/Environment/Zero_Waste_Phase_II_Road_Show_KNR/ems_02.jpg(,)http://mw2.google.com/mw-panoramio/photos/medium/26480882.jpg(,)http://mw2.google.com/mw-panoramio/photos/medium/10589982.jpg(,)http://static.manoramaonline.com/portal/MM_Photo_Galleries/Environment/Zero_Waste_Phase_II_Road_Show_KNR/ems_04.jpg(,)http://static.manoramaonline.com/portal/MM_Photo_Galleries/Environment/Zero_Waste_Phase_II_Road_Show_KNR/ems_03.jpg
(,)http://www.nivalink.com/watermark.ashx%3FImageUrl%3Dhotelimages/uploads/73020130959347078209.jpg(,)https://fbexternal-a.akamaihd.net/safe_image.php%3Fd%3DAQDbofAQgBQEiAaa%26w%3D720%26h%3D595%26url%3Dhttp%253A%252F%252Fupload.wikimedia.org%252Fwikipedia%252Fcommons%252F7%252F7b%252FTaliparamba-skyline.jpg(,)http://allthecities.com/system/panoramas/pictures/000/899/305/original/original.%3F1380277641(,)http://allthecities.com/system/panoramas/pictures/000/899/306/original/original.%3F1380277643(,)http://upload.wikimedia.org/wikipedia/commons/b/b8/Vismaya_rainwater.jpg(,)https://fbexternal-a.akamaihd.net/safe_image.php%3Fd%3DAQCTiFqZFRMyPM36%26w%3D720%26h%3D540%26url%3Dhttp%253A%252F%252Fupload.wikimedia.org%252Fwikipedia%252Fcommons%252Fthumb%252F6%252F6e%252FChandragiribridge.JPG%252F720px-Chandragiribridge.JPG(,)http://allthecities.com/system/panoramas/pictures/000/899/307/original/original.%3F1380277644(,)http://i1.ytimg.com/vi/BM8k3-ZHA9I/0.jpg(,)http://upload.wikimedia.org/wikipedia/en/archive/5/58/20100208082430!Nadapuram_Masjid_Great_Bath.jpg(,)http://i.ytimg.com/vi/s2qlDHJG0cQ/0.jpg(,)http://i.ytimg.com/vi/DeBwHpLxAoY/0.jpg