Occupation

RingmasterPeg-seller

Affiliation

Pandemonium Carnival




Created by

Reece ShearsmithSteve PembertonMark GatissJeremy Dyson

Spouse(s)

Mama LazarouReenie CalverBrian MorganKatie MorganRevd Bernice WoodallRevd Bernice Woodall's motherCharlie HullNumerous others

First appearance

Royston Vasey" ("Destination)

Similar

Julian and Sandy, The Pin (comedy act), Roy D. Mercer
Stealing wives with papa lazarou syronesis
Papa Lazarou is a fictional character in the BBC TV comedy programme The League of Gentlemen. He appeared in three episodes – the first episode in the second series, the Christmas special, and the final episode of the third series – and in the film The League of Gentlemen's Apocalypse. The character is part-written by and played by Reece Shearsmith. Papa Lazarou has been listed as both the 8th and 14th most popular sketch of all time with British audiences, according to the Radio Times and Channel 4, respectively.
Contents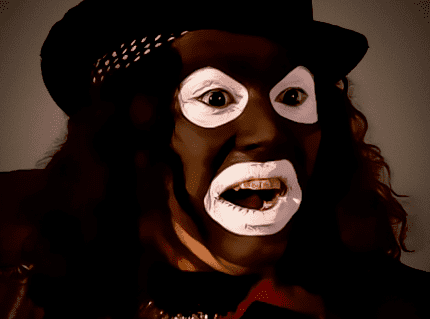 Papa lazarou seeking dave
Character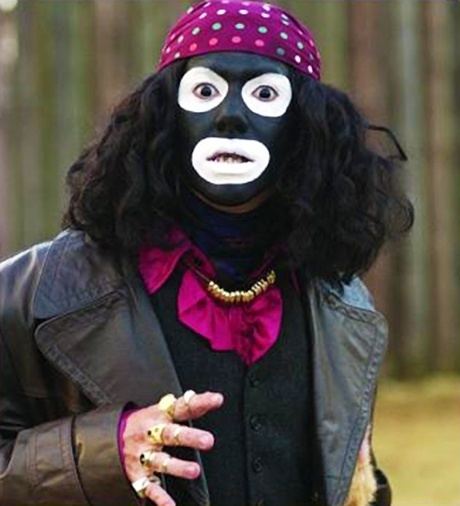 Papa Lazarou is a demonic circus master and collector of wives. He has a rasping voice, an indefinable accent, and blackface minstrel's make up. In his first appearance he runs the Pandemonium Carnival, and has three diminutive helpers called Simba, Pebbil and Tiktik. He is seen to collect wives by forcing his way into women's homes posing as a humble peg-seller, then talking gibberish at them until they hand over their wedding ring. Once they do this he exclaims, "You're my wife now!"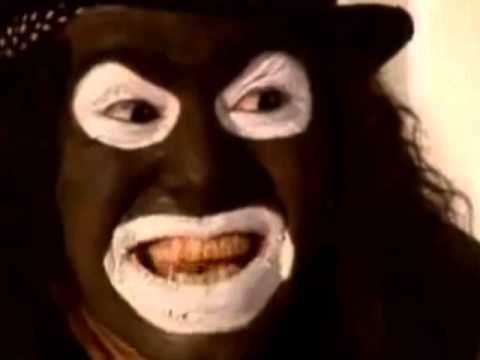 Despite originally only appearing in one episode the character instantly became one of the most popular, and returned in the third series. He also has important supporting roles in the Christmas special and The League of Gentlemen's Apocalypse, and appears in both of the League's live shows.
The character is one of the most bizarre and mysterious of the League's. Some of the women in his 'book of wives', seen in series three, appear to have lived over a century ago. This hints at the character's unnatural lifespan. He has the supernatural gift of being able to speak with the voices of deceased people he has never met. However he cannot commune with the dead, as evidenced in the unconvincing medium act he performed when his circus came to Royston Vasey. His first visit to the town ends when the noses of the circus audience start bleeding simultaneously. Out-weirded by Royston Vasey, he and the other circus performers flee. When he returns it is in the guise of Keith Drop, an actor whose identity he stole. As Keith, he gets a job at the charity shop. This leads to his discovery when the husband of one of Lazarou's abductees finds some of his wife's jewellery among Keith's donations. Lazarou evades capture however, and it is revealed that he imprisons his wives and anyone who tries to follow him inside circus animals. In the third series audio commentary the League revealed this is just one of a number of things (many of which haven't been shown) that he does with his captives.
Appearance
Lazarou's face really is black and white, and he has to cover it with white foundation to appear normal. He learned the makeup skills needed for this from his various wives.
His teeth are yellow, and his hands are covered in rings - the wedding rings of his 'wives'. His hair is long, black and frizzy, and bears a notable resemblance to Jeremy Dyson's hair, who unlike the others, does not appear as any regular characters.
Keith Drop
Keith Drop is Papa Lazarou's alter-ego who first appeared in the third series of the League of Gentlemen. Lazarou uses the makeup tips he has gleaned from his wives to effect a very convincing transformation. As Keith he helps out in the charity shop with Reenie Calver (whose friend, Vinnie Wythenshaw has been killed in an accident). This was merely a front for Lazarou to gain more wives.
He is keen on amateur dramatics and is doing a production of The Diary of Anne Frank, featuring the character Pam Doove as a Nazi.
He eventually gets rumbled when Brian Morgan comes into the shop looking for the missing pieces to his board games. Drop inadvertently gives Brian the brooch his wife Katy Morgan was wearing the day she mysteriously disappeared — which coincided with the carnival coming to town. Keith is unable to ward him away from the subject and tries to kill him. However, Reenie Calver hits him over the head and they restrain him. He manages to escape and, when they follow him, he imprisons them in his circus animals cages.
When Brian breaks into Papa's home he realises that Keith was a real person whose identity Papa assumed. The fate of the real Keith was not revealed.
Origins
Despite being one of the more bizarre characters in the series, Papa Lazarou was in fact based on a real person, Peter Papalazarou, who was the landlord of a flat in which Reece Shearsmith and Steve Pemberton lived. When he called, he would only ever ask for "Steve" (Pemberton), and would refuse to talk to Shearsmith. In a gruff voice he would inquire, "Hello Steve?", then when told by Shearsmith that Pemberton was not present he would reply, "Ok, is Steve there?". Both this and his saying, "This is just a saga now", were adapted into the script. On one occasion the landlord said, "I've got a hoover, Steve, belonging to you." This was also incorporated, 'hoover' becoming 'pegs', the selling of which appears to be Papa Lazarou's cover for his true diabolical purpose.
Papalazarou is a common Greek last name.
References
Papa Lazarou Wikipedia
(Text) CC BY-SA