Pampha Bhusal (Nepali: पम्फा भुसाल) is a Nepalese politician, belonging to the Unified Communist Party of Nepal (Maoist). She is a Central Committee member of UCPN(Maoist). On December 30, 2007 she was appointed as Minister for Women, Children and Social Welfare.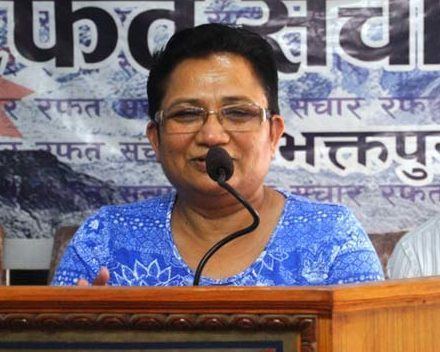 At the beginning of the 1990s, Bhusal was studying Sociology at the Tribhuvan University in Kirtipur. In 1990, the car of the queen was attacked following a teej programme organized by the All Nepal Women's Association. Following this incident, an arrest warrant was issues for Bhusal.
On August 12, 2002, Interpol issued a red corner notice for Bhusal.
In September 2007, she had been appointed as the ambassador of Nepal to France. However, she did not take charge, as the government of France denied to give her the 'agreemo' needed.
In April 2008, she won the Lalitpur-3 seat in the Constituent Assembly election.
In August 31, 2008, Pampha Bhusal was appointed as the General Administration Minister in the Maoist led coalition government.