Indonesia




Central Kalimantan




220,962 (2010)




University of Palangka Raya


2,678.51 km2


July 17, 1957




Riban Satia



Palangkaraya is the capital of the Indonesian province Central Kalimantan, also famously known as Central Borneo situated between the Kahayan and the Sabangau rivers. The closest airport serving the city is Tjilik Riwut.
The city had a population of 220,962 inhabitants at the 2010 Census (compared with 158,770 at the previous Census in 2000), with an average population density of 92.1 per km² (Indonesian Population Census 2010 results). The latest official estimate (as at January 2014) is 236,601.
The city was built in 1957 (Emergency Law 10/1957 on the establishment of the Autonomous Region Central Kalimantan Level I) on wilderness that opened through the Pahandut village alongside Kahayan river banks. Palangkaraya is the largest city by land area in Indonesia.Most of the area is still forested, including protected forests, nature conservation areas, and Tangkiling Forest.
Kalimantan Tengah (Central Kalimantan) province was established on 23 May 1957. The First Indonesian President, Sukarno, initiated construction of the city of Palangkaraya, the capital of the new province. Initially, Palangkaraya was prepared as the new capital of Indonesia to replace Jakarta; a proposal that was discussed until recently. To support this process, many iconic buildings were built to reflect the idea of Greater Indonesia. For example, the Bundaran Besar (Big Roundabout) in downtown Palangkaraya consists of a meeting of eight roads that symbolizes the eight great islands of Indonesia (Java, Sumatra, Sulawesi (Celebes), Kalimantan (Indonesias Borneo), Bali, Nusa Tenggara Islands, and Papua). This makes Palangkaraya one of the most well-constructed planned cities in Indonesia.
According to the Gazette van Indie Nederlandisch 1849, Great Dayak areas including areas in this part of zuid-Ooster-based Besluit van den afdeeling Minister van Staat, Gouverneur-Generaal van Nederlandsch-Indie, on August 27, 1849, No. 8. Establishment of Central Kalimantan province through a long process that culminated on May 23, 1957 and was confirmed by the Emergency Law No. 10 of 1957, which is on the establishment of the Autonomous Region Level I of Central Kalimantan. Since then the province of Central Kalimantan is officially an autonomous region, as well as the anniversary of Central Kalimantan province.
The first pillar of Palangkaraya City development was done by the President of the Republic of Indonesia at the time, Soekarno on July 17, 1957 marked the inauguration of the monument to the provincial capital of Central Kalimantan in Pahandut. Then, based on Law No. 21 of 1958 that which was formerly Provincial Capital Pahandut was renamed to Palangkaraya.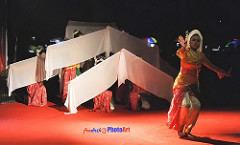 The city is famous for local dishes both delicious and healthy such as juhu asem patin baung (catfish and herba stew almost like Thailand Tom Yam in term of flavour), pais patin (steamed catfish and herba inside banana leaf), patin bakar (grilled river catfish,very recommended), nasi kuning (yellow rice), and juhu tana (rattans shoots soup which is bitter,but also act as medicine), soto banjar and ketupat kandangan. Japanese dishes such as suki and Oriental dishes are also popular. Other delicacies are Lempok (durian sweets), Amplang (fish crackers), Kue Cincin or Wadai Cincin (bread-shaped four rings).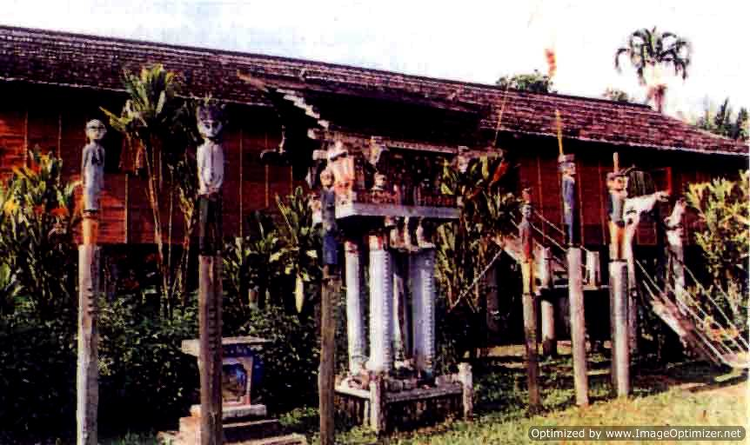 There are two main traditional markets in Palangka Raya, Pasar Besar (The Big Market) and Pasar Kahayan, where many types of goods are sold.

The Nyaru Menteng Orangutan Rescue and Rehabilitation Centre is close to Palangkaraya. The Center is within the boundaries of the Nyaru Menteng Arboretum, a 62.5 hectares (154 acres) lowland peat swamp forest ecosystem, founded in 1988 by the Ministry of Forestry Regional office of Central Kalimantan. It is operated by the Borneo Orangutan Survival Foundation, and founded and managed by Lone Droscher Nielsen. The Centre was featured on Animal Planets award-winning series Orangutan Island, the BBCs Orangutan diary, Saving Planet Earth and Growing Up... Orangutan (BBC/Discovery Channel), and in the 2008 Australian documentary-drama, The Burning Season. Good Morning Kalimantan (BBC Knowledge) are BBC Documentary that showing Palangkaraya and Yayasan Kalaweit led by Chanee struggles to save Gibbons (Uwa-uwa) and wild animals.
Palangkaraya Wikipedia
(,)http://cache.virtualtourist.com/3303786-palangkaraya_landmark-Palangkaraya.jpg(,)http://cache.virtualtourist.com/1003607-riverside_palangka_raya-Palangkaraya.jpg(,)http://www.jokar.com.au/blog/wp-content/uploads/Palangkaraya_20140927_0020.jpg(,)http://www.insideindonesia.org/images/stories/edition_112/kurniawan/2_low_visibility.jpg(,)http://projectingindonesia.com/wp-content/uploads/2013/03/Palangkaraya-river-cruise-.jpg%3F5beb72(,)http://upload.wikimedia.org/wikipedia/commons/3/30/Borobudur_ship.JPG
(,)http://farm7.static.flickr.com/6148/5993228517_5a6ce5b0df_t.jpg(,)http://aminus3.s3.amazonaws.com/image/g0021/u00020863/i01435273/34ae38b2902830370ebb4f7ae9dbe998_large.jpg(,)http://www.endramartini.com/wp-content/uploads/2013/11/SAM3449s.jpg(,)http://1.bp.blogspot.com/QY3IlNVfqI/TaK5Wf8-EhI/AAAAAAAAAM8/ta1Ke0s-05k/s1600/_MG_1676%2B.jpg(,)http://4.bp.blogspot.com/-7AGzA2MGTbg/UrEVINSJBGI/AAAAAAAADs4/42r6LkDw7og/s1600/DayakDancerSolo.jpg(,)http://mw2.google.com/mw-panoramio/photos/medium/19135592.jpg
(,)http://chictraveler.wpengine.netdna-cdn.com/wp-content/uploads/2010/10/Picture-132.png(,)http://indonesia-tourism.com/blog/wp-content/uploads/2010/07/palangka.jpg(,)http://media-cdn.tripadvisor.com/media/photo-s/06/28/2f/9c/rumah-tjilik-riwut-gallery.jpg(,)http://www.asiaworldindonesia.com/wp-content/uploads/yootheme/widgetkit/lightbox/kalimantan/palangkaraya.jpg(,)http://media-cdn.tripadvisor.com/media/photo-s/03/9c/e5/f7/timbel-kumplit.jpg(,)http://www.cleartrip.com/places/hotels//5384/538476/images/4635781_w.jpg(,)http://v2.garudamagazine.com/images/img_des_palangkaraya3_sep2010.jpg(,)http://www.cleartrip.com/places/hotels//5384/538476/images/4635776_w.jpg(,)http://www.worldbeautifulcities.com/wp-content/uploads/2012/12/Kahayan-Bridge.jpg(,)http://www.cleartrip.com/places/hotels//6425/642545/images/14961406_w.jpg
(,)http://farm6.static.flickr.com/5188/5615421127_3361aba4f1_m.jpg(,)http://www.borneotourgigant.com/dayaklonghouse.jpg.bmp(,)http://imagebank.parekraf.go.id/i.php%3F/upload/2014/05/14/20140514224622-c5d89de5-sm.jpg(,)http://blog.interkultur.com/wp-content/uploads/2013/09/2013_09_30_Coro_fantastico_Sola_fide.jpg(,)http://www.choir-tv.com/cache/c4e910eb59bc9cd6c54c77ffb75d5128.jpg(,)http://media-cdn.tripadvisor.com/media/photo-s/04/29/62/f2/bukit-tangkiling.jpg(,)http://bombasticborneo.com/wp-content/uploads/2014/12/Sandung-Dayak-ancestral-bone-houses-Tiwah-Hindu-Kaharingan-Kalimantan-18.jpg(,)http://v2.garudamagazine.com/images/img_tn_dayak_june2007.jpg(,)http://www.trekaboutphotography.com/Photography-Workshops/styled-4/page83/files/beautiful-java-girl.jpg(,)http://indonesiaarchipelago.com/wp-content/uploads/2010/04/Dayak.jpg(,)http://indonesiaarchipelago.com/wp-content/uploads/2010/04/dayak1.jpg