Directed by

Francis Kathiravan

Theme music composer

Ilaiyavan

Also known as

ஆண்டாள் அழகரின் அடுத்த தலைமுறைகள்

Genre

Tamil soap operaRomanceFamily Drama

Written by

(Story)Francis KathiravanS. Ramana Girivasan(Screenplay)Francis KathiravanS. Ramana Girivasan(Dialogue)Priya Thambi

Starring

Vignesh KarthickSoundarya Bala NandakumarSyed Anwar AhmedSameera Sherief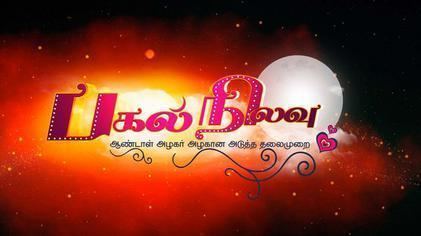 Pagal Nilavu (Tamil: பகல் நிலவு) is an Tamil Romance soap opera that airs on STAR Vijay. The show premiered on 9 May 2016 on Monday to Saturday at 6:30PM IST. The Serial is an Sequel of Andal Azhagar Serial Season 2, New and Next Generation.
Contents
The show stars Vignesh Karthick, Soundarya Bala Nandakumar, Syed Anwar Ahmed and Sameer Sherief among others. It was Produced by K. J. Ganesh and director by Francis Kathiravan.
Plot
Serial story revolves around Revathy (Sindhu Shyam), Collector return to the native place with her son Karthick (Vignesh Karthick), Sakthivel (Uday Mahesh) is a Minister he is with his Second wife Malarvizhi and their son Prabhakaran (Syed Anwar Ahmed) and daughter Thamizhselvi (Sreenidhi Sudarshan). Karthick has revenge with Sakthivel's family, meanwhile Andal (Mona Kakade), sister of Sakthivel and Azhagar (Manmohan), brother of Revathy and their daughters Revathy (Soundharya Bala Nandakumar) and Sakthi (Sameera Sherief) are trying to unite the family and so they love Karthick and Prabha. Karthick, Prabha, Jr. Revathy and Jr. Sakthi join the same college. Karthick and Jr. Revathy fall in love for each other likewise Prabha and Jr. Shakthi too fall for each other. Though they belong to the same family they all are rival among themselves. Elder ones of the family decide not to marry their child to relations. Karthick and Prabha clash at each other often. Though Sakthi live with is second wife Malar he has unforettable love towards his first wife Revathy. So he comes often to see Revathy and his son Karthick. This make both Revathy and Karthick uncomfortable. When Revathy was about to be arrested for 1 crore rupee bribe case, though she is innocent, Sakthi confess that it was his money to save Revathy. Malar who gets angry throws Sakthi out of the house and he also loses his minister post. A guiltful Revathy takes Sakthi to her home to help him. Whether Karthick understands father Sakthi's love, Prabha accepts Karthick as his brother.whether they reunite or not will be shown in the upcoming episodes.
Cast
Vignesh Karthick as Karthick
Syed Anwar Ahmed as Prabhakaran "Prabha"
Soundarya Bala Nandakumar as Junior Revathy
Sameera Sherief as Junior Sakthi
Sindhu Shyam as Revathy
Udhayabhanu Maheswaran as Sakthivel "Sakthi"
Manmohan as Azhagarsamy "Azhagar"
Mona Kakade as Andal
Suzane George/ Dr. Sharmila as Malarvizhi "Malar"
Subbaiah as Aaruchamy
K. Natraj as Chidhambaram
Sheela as Viji
Priya as Vadivu
Gemini Mani as Poosari
Raghavan as Dinesh
Pavithra as Karthika
Chitra P. S. as Kayal
Sreenidhi Sudarshan as Thamizhselvi "Thamizh"
Vanitha Hariharan as Nikhila "Nikki"
Rathnaraj as Malarvizhi's brother
Raghavendran as Palsamy
Mani K. L. as Mani
Ramesh Nallayan as Karthik's friend
Anand Amirthalingam as Vinay
Shivakanth as Shiva
Krishna Kumar as Krishna
Manikandaraj Major as Vigilance officer
Karthik as Senior student
Jeevanantham as Kuruvi
R. Shyam as Rathnam
C. Sathya (special appearance)
International broadcast
The Series was released on 9 May 2016 on STAR Vijay. The Show was also broadcast internationally on Channel's international distribution. It airs in Sri Lanka, Singapore, Vietnam, Japan, Canada, Hong Kong, United States, Europe, Malaysia, Mauritius and South Africa on STAR Vijay. Its episodes on their app hotstar. Also airing in South Africa an English dubbed version of "The Journey" on Zee World (DStv 166).
on Asian Television Network It airs Monday through Friday at 8:00PM CST with English Subtitle.
References
Pagal Nilavu (TV Series) Wikipedia
(Text) CC BY-SA