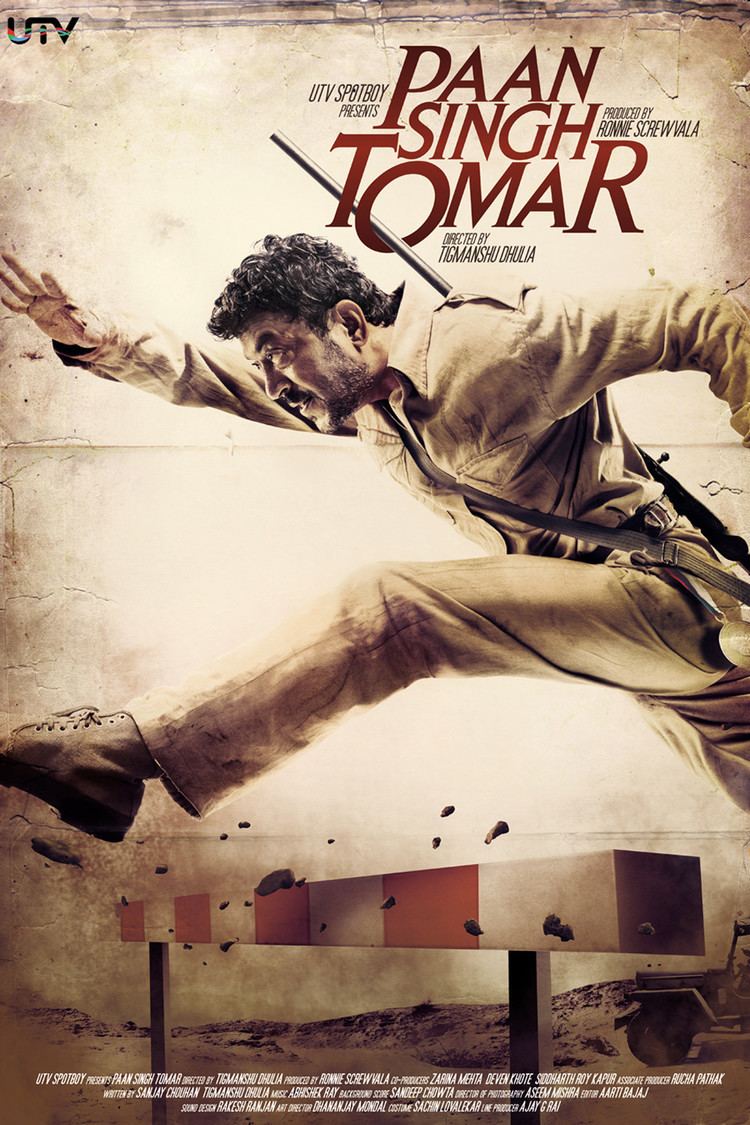 A reporter interviews Paan Singh Tomar (Irrfan), a dacoit who is in the news for killing nine people of a community. Answering questions about himself, the story goes in a flashback from the year 1950. Paan Singh works in the Army while his wife and mother live in Morena. He surprises his seniors in the Army with his athletic skills. Though he was not interested in sports, he joins the sports division because there were no limits on their diet. Picked for the 5000 metres race's training, he was persuaded to run for the 3000 metre steeplechase by his coach. He participates in the Indian National Games and wins the gold medal in the steeplechase event 7 years in a row. In 1958 he participates in the Asian Games at Tokyo, but couldn't win because of his inability to adjust with the track spikes only given to him in the final event. He felt frustrated when he was not allowed to go the borders to fight in the 1962 and 1965 wars because sportsmen were not allowed to fight in them. In 1967, he participated in the International Military Games and wins the gold medal in the steeplechase.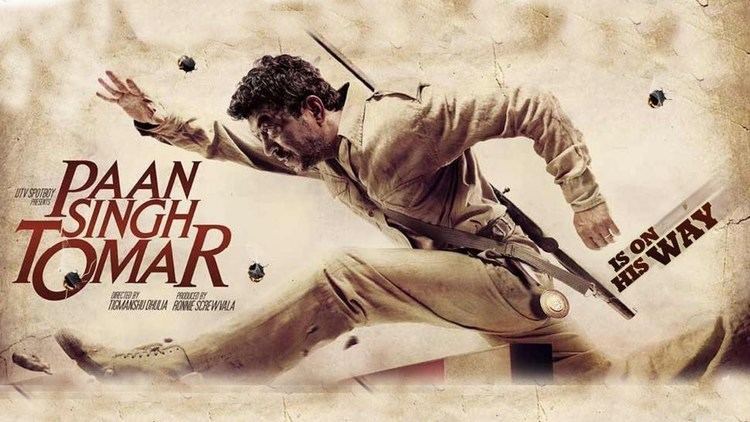 His elder brother from his native place visits him and tells about an illegal acquisition by Bhanwar Singh, his relative. Paan Singh retires from the Army to settle his family disputes, despite being offered a position as the coach in the army. On arriving home, he tries to resolve the issue with Bhanwar Singh. He seeks help from the District Collector and local police station, but no help is provided. His son is beaten badly by Bhanwar Singh and his goons. Paan Singh then orders his son to rejoin the army and stay away from the dispute. Bhanwar Singh and his goons try to kill Paan Singh and his family. Most of his family manages to escape but his mother is brutally murdered. Paan Singh decides to avenge his mother's death. He becomes a baaghi who wreaks havoc in the Chambal Valley. He forms a gang of few people who are his relatives and are in problem because of Bhanwar Singh.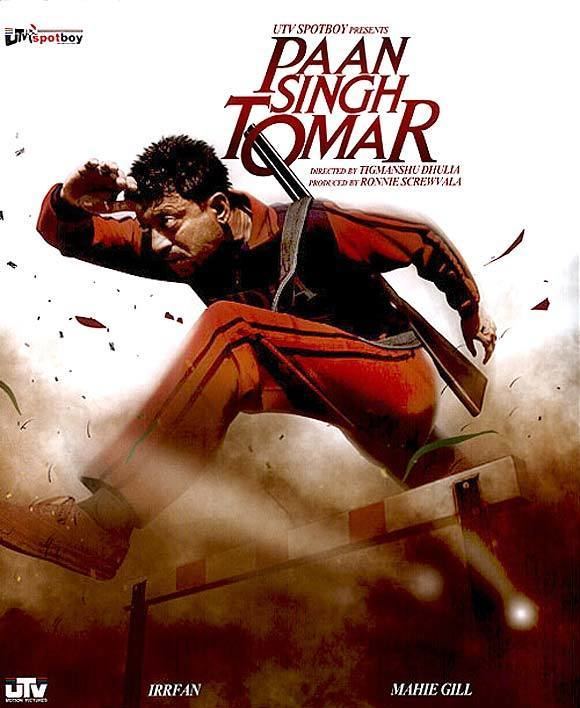 Pann Singh then arranges money by extorting the money of kidnapped wealthy businessman of the area to arrange money and arsenal for his gangs so that they can make a proper gang.After arranging all the necessary arrangement of arms and ammunition for gang members, he arrange a major attack on Bhanwar Singh who has a police protection but Bhanwar Singh got killed by Paan Singh Tomar after a brief chase.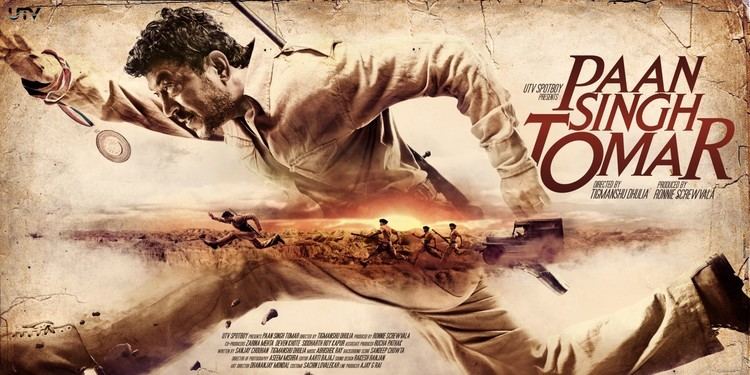 Then, in order to take revenge for his brother death, he kills an 9 villager of, who became police informers and told police about his hideout. This event creates havoc in the public, administration and also among the other gangs of Dacoit who argues with him to surrender so that manhunt by the police would come to a halt but he denies that.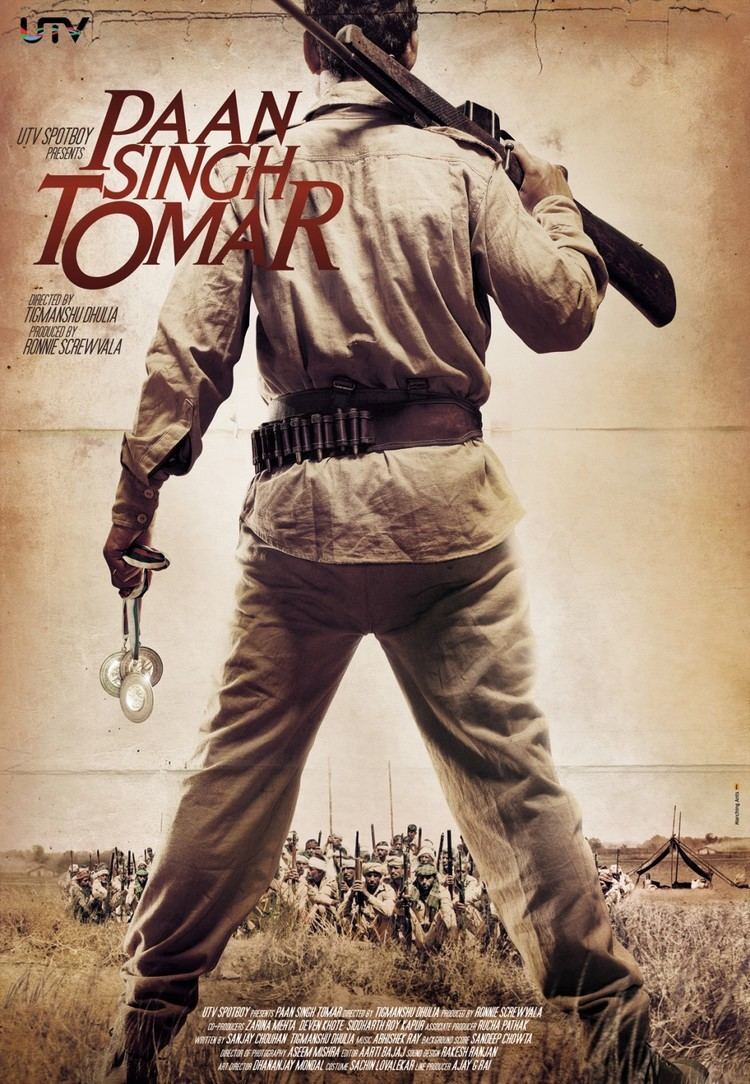 The interview with the reporter ends here and the interview is published in the newspaper and causes a sensation. The police continued in their search for Paan Singh Tomar, who decides to lie low for a while. He meets his family and his coach in the army who request that he surrenders. Paan Singh refuses to surrender on the principle that while he was a sportsman holding a national record, nobody came to help him with his problems, and the moment he turned a rebel, everyone wants him to be arrested. When the gang reconvenes after a month's hiatus, one of the members Gopi (Nawazuddin Siddiqui) who had turned a police informer betrays the gang and gives them away to the police. A shootout ensues where all members of the gang, including Paan Singh, are killed by Yashwant Singh Ghuraiya, a police officer.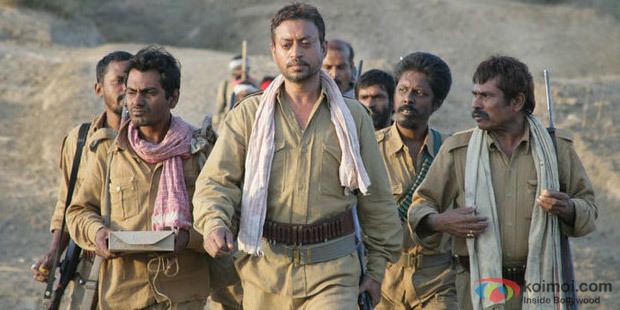 Irrfan Khan as Paan Singh Tomar
Mahi Gill as Indira
Vipin Sharma as Major Masand
Imran Hasnee as Matadeen Singh Tomar
Nawazuddin Siddiqui as Gopi
Zakir Hussain as Inspector Rathore
Jahangir Khan as Bhanwar Singh (Daddaa)
Sitaram Panchal as Ramcharan
Rajendra Gupta as H.S. Randhawa (Sports Coach)
Swapnil Kiran as Hanumant (Paan Singh's Elder Son)
Brijendra Kala as Journalist
Rajiv Gupta as Corrupt Cop
Ravi Sah as Paan's nephew Balram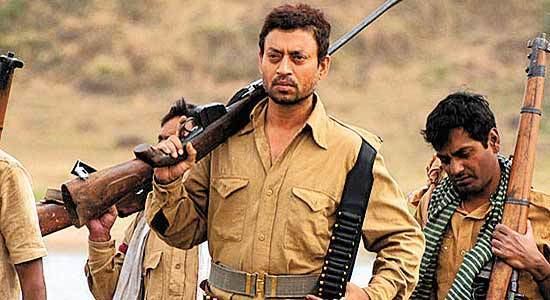 Director Tigmanshu Dhulia first learned about Tomar while working on the set of Bandit Queen in Chambal. Intrigued that Tomar was largely forgotten despite holding several records, he resolved to make a film about his life. Dhulia researched the film's background for two years, interviewing Tomar's surviving family members and visiting his native village in Bhind.
Dhulia wanted to make the film after fully researching on Tomar. But that would need a lot of money. So this caused Dhulia to work on it over 10 years.
The film was shot in ravines of Chambal, in Dholpur and in the actual barracks Tomar lived in at Roorkee. To prepare for his role, Irrfan Khan trained rigorously with steeplechase coaches, even breaking his ankle at one point during the filming. He called the experience "the most physically and mentally demanding film of my career".
The film has also been shot in the uphills of one of the oldest army cantonments in India, Roorkee Cantonment. The Dramatics Team of the Indian Institute of Technology, Roorkee also helped in the several scenes shot in the cantonment.
Paan Singh Tomar achieved universal critical acclaim among the critics. According to review aggregator ReviewGang, professional critics have given the film a rating of 7.5 out of 10.
Rajeev Masand of IBN awarded the film 3.5 out of 5 stars, praising Khan's performance and said "Directed competently by Dhulia, who's familiar and comfortable even with the dusty terrain, Paan Singh Tomar is made with great attention to detail, and paints an honest, realistic picture of an India few of us can claim to know."
Avijit Ghosh of The Times of India rated the film 4.5 out of 5 stars and said "Sportsmen and outlaws inhabit two different universes. One shines amidst the bright lights of glory, the other haunts the ravines of notoriety. But in director Tigmanshu Dhulia's biopic, Paan Singh Tomar, the two worlds collide. And the result is a rather exquisite blend of drama, humour and tragedy; altogether eminently enjoyable good cinema".
Aseem Chhabra for Rediff.com gave the film 3.5 out of 5 stars and said "The tragedy of Paan Singh Tomar and Irrfan Khan's execution of the role are both compelling."
Taran Adarsh of Bollywood Hungama gave the film 3.5 out of 5 stars and said "Paan Singh Tomar shatters the standard rules of this genre. Besides, the film makes you cognizant that serious cinema can be uniformly delightful, like any other enthralling entertainer."
Blessy Chettiar of DNA rated the film 4 out of 5 stars and said, "Gritty and power packed, Paan Singh Tomar is a tribute to the unsung heroes of sports in India. Dhulia's direction and Irrfan's integrity will make [it] among the best movies of recent times.". Shubhra Gupta of The Indian Express gave the film 4 out of 5 stars and said "Paan Singh Tomar is a completely gripping, near-flawless film, with such few dodgy parts as to be negligible.".
The New York Times praised the film and especially Khan's performance, saying "Without romanticizing Paan Singh Tomar, he shows his basic honesty and gives him real depth. As an actor Mr. Khan rarely does the expected. You can't take your eyes off him.". Mathures Paul of The Statesman gave the film 4 out of 5 stars and wrote "Paan Singh Tomar is a skillfully narrated tale of one man who rises against the odd." Filmmaker Anurag Kashyap praised this movie and said "What a powerful film, powerful character, go watch the film. Turn it into what no-one believed it could be.".
Paan Singh Tomar grossed ₹65.0 million (US$1.0 million) nett in week one. The movie managed to gross ₹35.0 million (US$550,000) nett in week two. The movie collected ₹30 million (US$470,000) in its third week and was declared a semi-hit by Box Office India.
Winner