Preceded by

Conrad Festa




Spouse(s)

Jane Oas Benson





Name

P. Benson




Succeeded by

Glenn F. McConnell







Children

Jeffery, Laura, and Alison




Alma mater

University of Florida New York University Bucknell University




Education

Bucknell University, University of Florida, New York University




Books

Excel Manual for Statistics f, Statistics for Business, Statistics for Business, Stats for Business and Econ, Student's Solutions Manual
President Benson Remarks at Economic Outlook Conference
Overview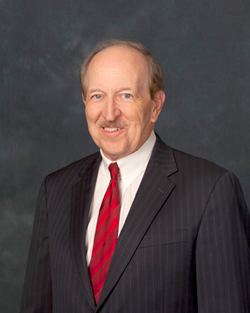 P. George Benson is a former President of the College of Charleston (2007-2014), where he is currently a Professor of Decision Sciences. Professor Benson serves on the boards of directors of three public companies: AGCO Corporation (Duluth, Ga.), Crawford & Company (Atlanta, Ga.), and Primerica, Inc. (Duluth, Ga.). He is the Lead Director of Primerica's board and chairs the Corporate Governance Committees of all three boards. He is the Chairman of the Board of the Foundation for the Malcolm Baldrige National Quality Award. He serves on the board of the Gaillard Management Corporation, the governing board of the nonprofit Charleston Gaillard Center. In addition, he is a member of the advisory board of NBSC in Columbia, S.C., a unit of Synovus Financial Services Corporation, headquartered in Columbus, Ga. He previously served on the boards of publicly traded Nutrition 21, Inc., private startup Signal One Safety, and Athens First Bank and Trust Company.
Contents
Professor Benson came to the College of Charleston from his position as dean of the University of Georgia's Terry College of Business, a post he assumed on July 1, 1998. Prior to that, he served for five years as dean of the Rutgers Business School at Rutgers University, and from 1977 to 1993 was a faculty member in the Carlson School of Management at the University of Minnesota.
Malcolm Baldrige National Quality Award
In 1997, Professor Benson was appointed by U.S. Secretary of Commerce Mickey Kantor to a three-year term as one of nine national judges for the Malcolm Baldrige National Quality Award. In 2004, U.S. Secretary of Commerce Donald Evans appointed him to a three-year term on the Board of Overseers for the Baldrige Award. In April 2005, U.S. Secretary of Commerce Carlos Gutierrez appointed him to a two-year term as Chairman of the Board of Overseers. The Board of Overseers advises the director of the National Institute of Standards and Technology (NIST) and the U.S. Secretary of Commerce on the conduct of the Baldrige Award program and how well it is serving the nation.
In 2007, Professor Benson was elected to the Board of Directors of The Foundation for the Malcolm Baldrige National Quality Award and in 2013 he became chair of the Board, a post he still holds today.
College of Charleston
At the College of Charleston, President Benson launched numerous initiatives designed to improve the College's operations and future development. These included reorganizing and streamlining the reporting structure of the senior administrative leadership; rebuilding the College's Institutional Advancement Division; creating a Legal Affairs Office; an Office of Economic Development; an Office of Environmental Health and Safety; an Office of Sustainability; and an Office of Institutional Events; strengthening the Office of Government Relations; and developing a new master plan for the campus.
He instituted a new performance-based merit review system for evaluating and rewarding faculty and acquired state approval for the College's long-sought-after MBA degree program. He established new student safety and security programs, including the Cougar Shuttle and Cougar Alert.
Most notably, he led a comprehensive strategic planning process involving faculty, staff, students, alumni, friends, legislators, and other important constituents across the state and the nation. The resulting plan articulated the College's purpose, vision, core values, and future priorities, and established a new financial model for the College. The College's Board of Trustees approved the Strategic Plan in October 2009.
Professor Benson also led the development of the College's first-ever Diversity Strategic Plan, which was approved by the Board in April 2012.
He launched and actively supported the R.E.A.C.H. Program to enable students with mild intellectual disabilities to pursue a college education.
He emphasized the importance of expanding graduate and continuing education -- including the establishment of select doctoral programs -- to support the rapidly transforming economy of Charleston. To accommodate this expansion, he developed a new North Campus that opened in 2015 and authorized the creation of a School of Professional Studies.
He also developed a vision for and led the transformation of the College's 881-acre Dixie Plantation on the Stono River into a research and teaching campus dedicated to environmental sciences and sustainability.
Professor Benson and his development team achieved five consecutive years of record-breaking fundraising. They planned and launched a comprehensive fundraising campaign that raised over $100 million, the most successful campaign in the college's history, by a wide margin.
Today, the College of Charleston is more integrated into the Charleston community and more focused on the community's needs, including economic and social development.
University of Georgia
At the University of Georgia, Professor Benson led the establishment of a customized MBA program for IBM Business Consulting Services. He initiated an Evening MBA program in Atlanta; an Evening MBA program for the U.S. Department of Energy at the Savannah River Site, Aiken, S.C.; an Executive MBA program in Atlanta; and a music business program on the Athens campus. In 2000, he established a successful monthly breakfast speaker series in Atlanta known as Terry Third Thursday.
Professor Benson led the establishment of two new research centers: the Institute for Leadership Advancement and the Center for Information Systems Leadership. He also fostered the development of several innovative executive education programs, including a nationally accredited Directors' College for current and prospective corporate directors and a quarterly roundtable for Chief Financial Officers.
Professor Benson and his development team raised over $45 million for the Terry College.
In May 2005, the Terry College opened a 28,000 square foot executive education center in the Buckhead section of Atlanta. It is the home for the Executive MBA program, the Directors' College, Terry Third Thursday, the Evening MBA program, and several executive programs. Professor Benson led the planning, acquisition, design, and development of the center.
He also developed the vision and the initial architectural plans for the Terry College's new five-building Athens campus that is currently under construction.
Terry's MBA and undergraduate programs are consistently ranked among the top 20 public programs in the U.S.
Professor Benson was a bimonthly columnist for Georgia Trend, a statewide business and politics magazine from 1998 – 2006. During that same period, he delivered over 100 economic outlook speeches across the state of Georgia.
Rutgers University
Professor Benson served for five years as dean of the Rutgers Business School at Rutgers, The State University of New Jersey. He was dean of the Graduate School of Management, the School of Management at Newark, and the School of Business at New Brunswick. He led the merger of these schools in 1996. He established executive MBA programs in Beijing and Singapore; and started off-campus, part-time MBA programs, including one in partnership with Merrill Lynch at their corporate campus near Princeton, N.J. In 1996, Business News New Jersey named Dean Benson one of the "Top 100 Business People in New Jersey."
University of Minnesota
In spring of 1976, Benson was hired as an assistant professor in the Department of Management Sciences at the University of Minnesota's Carlson School of Management. He moved to Minnesota in late December 1976 and began teaching in January 1977. He was promoted to associate professor with tenure in May 1982. Benson taught statistics, quality management, and decision analysis, and from 1983 to 1988 was head of the Decision Sciences Area. In 1992, he became director of the Operations Management Center.
Research Interests and Publications
Professor Benson's research interests include quality management, strategic planning, belief formation, judgmental forecasting, and applied statistics. He has consulted nationally in the areas of applied statistics, quality management, and employment discrimination. For many years, he was active in the national initiative to improve the teaching of statistical thinking and quality management in schools of business.
Professor Benson's publications span several fields, including decision analysis, operations management, statistics, finance, and economics. His work has been published in many academic and professional journals including: Management Science, Decision Sciences, The Journal of Quality Technology, The Journal of Production and Inventory Control, The American Statistician, Organizational Behavior and Human Decision Processes, The Journal of Forecasting, The International Journal of Forecasting, The Journal of Finance, The Journal of Financial and Quantitative Analysis, and The Journal of Behavioral Decision Making.
In 1978, Benson co-authored with Jim McClave what became one of the leading textbooks in business statistics. The 13th edition of Statistics for Business and Economics was published in 2017 by Pearson Prentice Hall. In 1994, Terry Sincich joined McClave and Benson as a co-author.
Family, Education, and Early Career
Benson was born in Lewisburg, Pennsylvania to Paul Benson (1911-1975) and Anna Louise Stolz Benson (1921-2014). His father was the Founder and CEO of Royal Imprints, Inc. and his mother taught mathematics in the Navy's V-12 Program at Bucknell University. In 1951, Benson's brother Charles ("Chuck") Edward Benson was born. In 1960, his father sold Royal Imprints and returned to teaching statistics and mathematics at Bucknell University, which he had done for several years in the 1940s. After being a homemaker in the 1950s, his mother returned to teaching math at Milton Junior High School in September 1960, and from 1961-65 she was the girls' guidance counselor at Milton Jr. High. During this time she worked on a Master of Science degree in Education at Bucknell, which she received in 1965. She then became a guidance counselor at Lewisburg Joint High School from September 1965 until she retired in 1983.
Benson graduated from Lewisburg Joint High School in 1964. He attended Bucknell University in his hometown, graduating with a Bachelor of Science degree in Mathematics in 1968. While a student at Bucknell, Benson joined the Kappa Chapter of the Sigma Chi Fraternity and played varsity golf. Following graduation, he worked as a Management Analyst in the area of personnel planning for the U.S. Army Security Agency (ASA) in Arlington, Virginia. He assisted in determining the Agency's personnel needs worldwide. He did on-site evaluations for ASA posts in Massachusetts, Hawaii, Ethiopia, and Virginia. In June 1969, Benson joined Bell Telephone Laboratories in Whippany, N.J. as a Computer Program Design Engineer and Member of Technical Staff. He was part of a team responsible for developing and maintaining AT&T's first data management system. While at Bell Labs, Benson did graduate work in operations research in the Engineering School of New York University. In September 1971, he entered the management science PhD program in what is now the Warrington College of Business at the University of Florida. He received a PhD in Decision Sciences with minors in statistics and economics in August 1977.
Professor Benson is a third-generation academician. His maternal grandfather, Paul Georg Stolz (May 13, 1881- September 23, 1957), led the School of Music and later the Department of Music at Bucknell University for about forty years during the first half of the Twentieth Century. His paternal grandfather, Nelson Peter Benson (1878-1929), was an English professor at what is now Lock Haven University in Lock Haven, Pa. He later became the Superintendent of Schools for the city of Lock Haven. He also taught in Summer School for Bucknell University.
Professor Benson was married to Jane Oas of Wayzata, Minnesota on July 17, 1982. Jane was born on May 24,1954. She holds a Bachelor of Science in education degree and an MBA, both from the University of Minnesota. While a student at Minnesota, Jane was a member of the gymnastics, field hockey, and track teams. She was a Big Ten Sprint Champion and participated in the 1972 and 1976 Olympic Trials. The Bensons have three children, Jeffery George born on June 17, 1984; Laura Jane born September 10, 1986; and Alison Louise born July 12, 1988. Jeff and Laura are graduates of the University of Georgia in 2008 and 2009, respectively. Alison is a 2010 graduate of the College of Charleston. Jeff is Lead Estimator for Carolina Custom Installations, a commercial flooring company in Charlotte, N.C. Laura is a marketing and communications professional with Jackson Spalding in Atlanta. Alison worked in commercial real estate in New York City and Atlanta from 2010-2017 and is currently pursuing an MBA at the College of Charleston. Jeff is married to Catherine "Cat" Burch from Athens, Ga. Laura is married to Cameron Griffin from Pittsburgh, Pa.
Awards and Honors
In September 1996, Benson was named one of "The Top 100 Business People in New Jersey" by Business News New Jersey for "...giving new life to business education at Rutgers by tapping into the business community."
Also in 1996, he received the New Jersey Small Business Development Center's Outstanding Leadership Award for "...forging links between entrepreneurship and academics."
In 1997, Bucknell University presented him an Alumni-Athlete Achievement Award.
In 2000, Benson was named a Fellow of the Decision Sciences Institute.
In 2003, he was inducted into Gridiron at the University of Georgia.
In 2004, Sigma Chi Fraternity named him a Significant Sig.
In 2008, he received an Honorary Doctor of Humane Letters degree from The Citadel.
In 2011, Professor Benson was awarded the Milliken Medal of Quality from the South Carolina Quality Forum. The Milliken Medal is named in honor of the late Roger Milliken, former President and CEO of Spartanburg-based Milliken & Company. The award recognizes individuals who have demonstrated leadership, innovation, and outstanding achievement in the implementation of quality systems in their organizations and who have been an inspiration to other leaders and organizations in South Carolina.
In 2014, he was named a Distinguished Alumnus of Lewisburg High School, Lewisburg, Pa.
In December 2015, Professor Benson received the Outstanding Director Award from the Atlanta Business Chronicle for his service as Lead Director of Primerica's Board of Directors.
References
P. George Benson Wikipedia
(Text) CC BY-SA