Covid-19
5

/

10

1

Votes

Alchetron

Rate This




Ten Shimoyama




Toho Co., Ltd.




Japanese






Horror





Japan






Shukei Nagasaka

,

Goro Nakajima




2001 (2001)




Megumi Okina

(Nami Kikushima / Naomi Kaizawa),

Youichirou Saitou

(Kouhei Matsudaira),

Kouji Oukura

(Shinichi Ukita),

Reiko Matsuo

(Touko Ozeki)


Horror, Science Fiction, Japanese Movies, World cinema




Related Ten Shimoyama movies



Otogirisou (弟切草, Otogirisō, lit. "St John's wort") is a Japanese horror movie directed by Ten Shimoyama and released in 2001. It is based on the visual novel Otogirisō by Chunsoft featured on the SNES gaming console.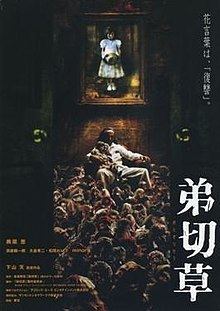 The movie starts by showing random images of candles, porcelain dolls, walls, rope and metal chain and later we learn that it was actually a short skit created by a group of 3 adolescents, Toko, Kohei and Shinichi. The three of them are discussing the result of their work and the story zooms in to the game again. The game is about a girl named Nami whose mother died during her birth. Nami later receives the will of her deceased father that states that she has inherited a large fortune.
The next day, an illustrator called Nami enter the workroom of the 3 adolescents. Toko thanks Nami for her drawing and Shinichi praises Nami's work. Nami then goes up stairs to meet Kohei who is sleeping on the rooftop. We then learn that Nami and Kohei used to be a couple but they broke up and now Kohei is using Nami as his model in the game they are developing.
The scene shifts to a car containing Nami and Kohei. Nami tells Kohei that she was wondering why she was abandoned. Kohei tells her that her mother died when she was born and her father could not have raised her alone. Then they arrive at a big abandoned house where Nami was born. Nami tells Kohei about her dreams while Kohei records everything using his handicam. The caretaker of the house approaches them and hands Nami the house key. Both of them enter the gate and Kohei notices that the garden is full with St. John's Wort. Nami tells him that St. John's Wort was the last word of the aunt who raised her and Kohei said that the meaning of St. John Wort is revenge in very old poems.
Inside the house, Kohei records every detail of the house with his handicam and notices a staircase and asks Nami whether it is the same as the staircase that she saw in her dream but Nami said it was not. Kohei then admires paintings made by Kaizawa Soichi hung on the wall and we learn that actually he was Nami's father. Nami later tries to unlock a door but the key did not fit. Then both of them go to explore the rooms that were connected to the main hall.
Later, they find a portrait of Kaizawa Soichi made of oil painting hung on the wall and then they moved to the kitchen. Kohei then tells Nami that she must have gotten her talent from her father. When they return to the main hall, Nami stares at a portrait of a woman that they suspect is a portrait of her mother. Both of them move upstairs and find a room full with porcelain dolls.
They enter another room and see a portrait of a baby girl and a baby crib. Next to the room was another room with a small table with playing cards on top of it and 2 chairs facing each other and a cupboard. Nami checks the inside of the cupboard and they left for the main hall.
Megumi Okina (Nami Kikushima/Naomi Kaizawa)
Yōichirō Saitō (Kōhei Matsudaira)
Kōji Ōkura (Shinichi Ukita)
Reiko Matsuo (Tōko Ozeki)
Minoru (Soichi Kaizawa)
Otogiriso was released theatrically in Japan on January 27, 2001. It was released in both an English-dub and subitlted edition directly to home video by Asylum Home Entertainment in the United States on March 23, 2004.
Otogirisō (film) Wikipedia