Oscar Washington Tabarez Sclavo ([ˈoskar taˈβaɾes]; born 3 March 1947), known as El Maestro (The Teacher), is a Uruguayan football manager and former footballer, who played as a defender. He is currently the manager of the Uruguay national team.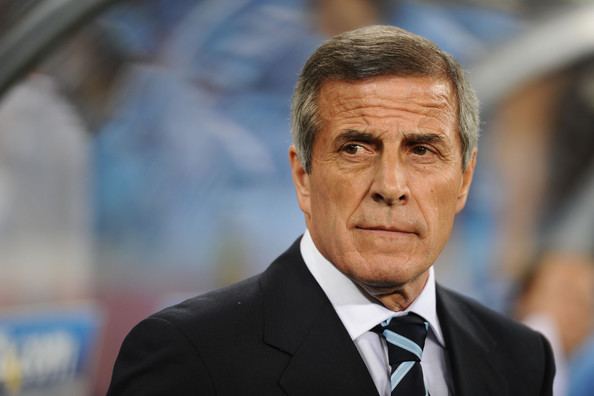 After an unassuming career as a player and after working as a primary school teacher, he embarked on an extensive coaching career which has lasted more than 30 years and included coaching teams in Colombia, Argentina, Italy and Spain. Tabarez managed the Uruguay national football team from 1988–1990, returning to the job for a second time in 2006. He led the team to fourth place in the 2010 FIFA World Cup, and to victory in the 2011 Copa America. With Tabarez, Uruguay qualified for three World Cups, achieving the round of 16th two times, and one semifinal. Actually, Tabarez share the record for the head coach with most World Cup Qualifying games in South America ( 46, Shared with Francisco Maturana), but with the singularity that he only manages the Uruguay National Football Team. Tabarez also share with Maturana the 4th place for the national team manager with most games in Copa America, participating in four tournaments(1989-2007-2011 and 2015), and eventually will surpass him at Copa America Centenario.
During his 12-year senior career, Tabarez played mainly for modest clubs, representing Sud America, Sportivo Italiano (Argentina), Montevideo Wanderers, Fenix, Puebla in Mexico and Bella Vista, retiring at the age of 32.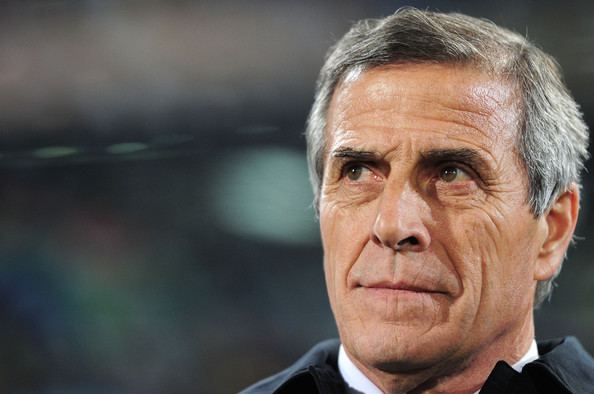 In 1980, a year after retiring as a player, Tabarez took up coaching at Bella Vista. The following year, he was named the Uruguay under-20s manager. He would coach the side on two separate occasions. He subsequently worked in many clubs in his country, without settling anywhere. However, in 1987, he led national giants C.A. Penarol to their fifth Copa Libertadores, beating America de Cali. This success was fundamental in his appointment as manager of the Uruguayan national team, which he led to the Round of 16 of the 1990 FIFA World Cup in Italy, losing against the hosts. He later coached Argentine League giants Boca Juniors for two years.
In 1994 Tabarez moved to Italy to manage Serie A side Cagliari Calcio. After leading them to ninth place in the 1994–95 season and tenth place in the 1995–96 season, Tabarez was hired by A.C. Milan, but his spell would only last a few months: after an Italian Supercup defeat against ACF Fiorentina, at the San Siro, a 2–3 loss at Piacenza Calcio for the league cost him his position. He was replaced by Arrigo Sacchi, and the Rossoneri eventually finished 11th.
Tabarez then worked with Real Oviedo in Spain, with the Asturias club eventually only maintaining top division status in the promotion/relegation play-offs against UD Las Palmas, winning 4–3 on aggregate. He then returned to Cagliari, being sacked after one draw and three losses.
After two years in Argentina, with Club Atletico Velez Sarsfield and Boca, Tabarez spent four years away from football management. In 2006, after Uruguay had failed to qualify for three out of the preceding four FIFA World Cups, he took charge of the national team. His first tournament saw the side take fourth place in the 2007 Copa America, in Venezuela.
After a successful play-off against Costa Rica, Tabarez and the Charruas qualified for the 2010 FIFA World Cup in South Africa,first winning group A (Uruguay did not win its group since 1954 FIFA World Cup in Switzerland, 56 years prior). In South Africa the national team reached the semi-finals for the first time in 40 years, only conceding five goals in six matches until that point. Uruguay ended the competition in fourth place, after a 2–3 defeat against Germany.
In the 2011 Copa America Tabarez led Uruguay to its 15th victory in the tournament, with the national side winning three games and drawing three in Argentina, and only conceding three goals. With these wins, Uruguay became the country with the most wins in the history of the Copa America. In 2011 and 2012, under Tabarez's leadership, Uruguay remained undefeated in 18 consecutive games (from June 2011 to August 2012), a national team record previously set by Juan Carlos Corazzo . Tabarez then led Uruguay in its qualification to the 2014 FIFA World Cup in Brazil, defeating Jordan in two play-off games, and thus becoming the first Uruguayan manager to do so in two consecutive World Cups. In Brazil, after an opening defeat to Costa Rica (3–1), followed by two wins (2–1 vs England, 1–0 vs Italy) to finish its group stage, Uruguay reached the round of 16th, the third time for Tabarez with Uruguay in a World Cup. This also marked the first time an Uruguayan team defeated a European opponent for the first time in 44 years, the last time being a win against the Soviet Union during the 1970 FIFA World Cup in Mexico. Without Luis Suarez in the lineup, Uruguay lost to Colombia (0-2) in the round of 16, marking an unusual early world cup exit for the Uruguayan side. On June 19th the Asociacion Uruguaya de Futbol made a video tribute to celebrate 150 games of Tabarez as National Team Manager. After the 2015 Copa America in Chile, he was suspended for 3 official games for the incidents of the Chile-Uruguay match, in which Edinson Cavani was suspended for 2 games also. Despite this, and with the help of Celso Otero assisting in the bench, Uruguay won its first two games in the 2018 FIFA World Cup qualification, the first time since the 1966 FIFA World Cup qualification, and wining for the first time in La Paz against Bolivia. After the game againts Chile (3-0 victory) Tabarez reached Francisco Maturana as the south american coach with most games in the CONMEBOL qualifiers, but with Tabarez always coaching only Uruguay National Football Team. He is part of a List of Football Managers with Most Games, and as of November 2015, Oscar Washington Tabarez is very close to the record hold by Sepp Herberger (167) and Morten Olsen (163) as the national team manager with most games as national football with the most games with one national team, leading a selected group with 100 games or more, that includes: Hugo Meisl, Alf Ramsey, Mario Zagallo, Helmut Schon, Carlos Alberto Parreira, Joachim Low, Lars Lagerback, Bruce Arena, Berti Vogts, Guillermo Stabile, Walter Winterbottom and Vicente del Bosque.
Win Draw Loss
As of 17 November 2015.
Penarol
Copa Libertadores: 1987
Intercontinental Cup: 1987 (Runner up)
Boca Juniors
Primera Division: 1992 Apertura
Supercopa Masters: 1992
Uruguay
Pan American Games: 1983
FIFA World Cup: 2010 (Fourth place)
Copa America: 2011
South American Coach of the Year: 2010, 2011
Aside from his career in football, Tabarez also worked as a teacher.