Italy




Province of Terni


281 km2


Umbria




Giuseppe Germani (DP)



Orvieto is a city and comune in the Province of Terni, southwestern Umbria, Italy situated on the flat summit of a large butte of volcanic tuff. The site of the city is among the most dramatic in Europe, rising above the almost-vertical faces of tuff cliffs that are completed by defensive walls built of the same stone called Tufa.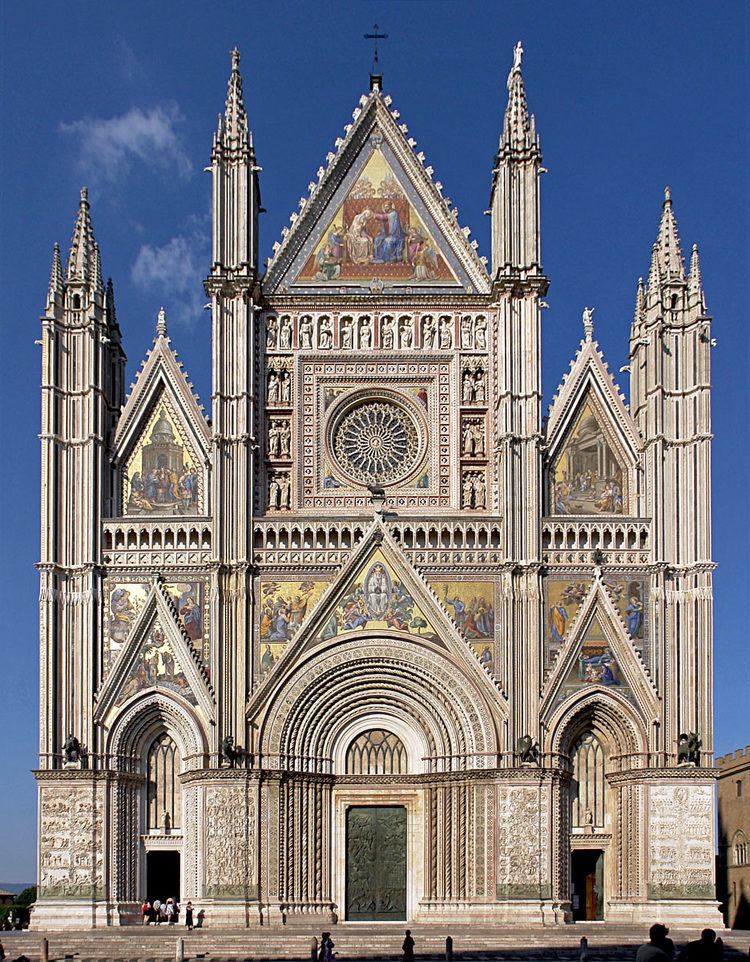 The ancient city (urbs vetus in Latin, whence "Orvieto"), populated since Etruscan times, has usually been associated with Etruscan Velzna, but some modern scholars differ. Orvieto was certainly a major centre of Etruscan civilization; the archaeological museum (Museo Claudio Faina e Museo Civico) houses some of the Etruscan artifacts that have been recovered in the immediate neighbourhood. An interesting survival that might show the complexity of ethnic relations in ancient Italy and how such relations could be peaceful, is the inscription on a tomb in the Orvieto Cannicella necropolis: mi aviles katacinas, "I am of Avile Katacina", with an Etruscan-Latin first name (Aulus) and a family name that is believed to be of Celtic ("Catacos") origin.
On 15 November 1290, Pope Nicholas IV laid the cornerstone for the present building and dedicated it to the Assumption of the Virgin, a feast for which the city had a long history of special devotion. The design has often been attributed to Arnolfo di Cambio, but the prevailing modern opinion is that the master mason was an obscure monk named Fra Bevignate from Perugia. The church is striped in white travertine and greenish-black basalt in narrow bands, similar in many ways to the cathedral of Siena and other central Italian cathedrals of that era. In the following decade, cathedral authorities called Sienese architect and sculptor Lorenzo Maitani to stabilize the building and design a facade. He enlarged the choir and planned a transept with two chapels (c. 1308-1330), spaces that were not finished until long after his death. The Cathedral has five bells, tuned in E flat, which date back to the renaissance.
The facade (illustration at right) is particularly striking and includes some remarkable sculpture by Lorenzo Maitani (14th century). Inside the cathedral, the Chapel of San Brizio is frescoed by Fra Angelico and with Luca Signorellis masterpiece, his Last Judgment (1449–51). The Corporal of Bolsena, on view in the Duomo, dates from a eucharistic miracle in Bolsena in 1263, when a consecrated host began to bleed onto a corporal, the small cloth upon which the host and chalice rest during the canon of the Mass.
The white wine of the Orvieto district, to the northeast of the city, is highly prized; red wines are also grown. Orvieto is a member of Cittaslow, the slow food movement. Orvieto has many restaurants, or ristoranti. One of Orvietos specialty dishes is truffle pasta.
Orvieto Wikipedia
(,)http://www.wondermondo.com/Images/Europe/Italy/Umbria/Orvieto_cathedral.jpg(,)http://www.degeneratepress.com/postmodernlove/web_images/orvieto_duomo_relief.jpg(,)http://upload.wikimedia.org/wikipedia/commons/3/35/Signorelli_Resurrection.jpg(,)http://www.riha-journal.org/articles/2014/2014-jan-mar/special-issue-art-design-history/petherbridge-graphic-intersections/rihajournal_0085_petherbridge_html_5f54ad3e.jpg(,)http://paintingpizzaandperugino.files.wordpress.com/2013/01/wpid-photo-24-apr-2012-18251.jpg(,)http://www.anticavetreria.net/sites/default/files/styles/large/public/3%2520a..%2520Orvieto%2520Mosaics.JPG%3Fitok%3DD69V5GUl(,)http://www.inorvieto.it/upload/vite_duomo.jpg(,)http://image.slidesharecdn.com/2e-renaissance-120228173303-phpapp02/95/early-renaissance-italy-14001500-55-728.jpg%3Fcb%3D1330451067(,)http://media.sdreader.com/img/photos/2013/11/12/orvieto_cathedral_1_t670.jpg%3Fb3f6a5d7692ccc373d56e40cf708e3fa67d9af9d(,)http://www.italian-renaissance-art.com/images/Signorelli-Antichrist.jpg
(,)http://cache.graphicslib.viator.com/graphicslib/thumbs674x446/2390/SITours/assisi-and-orvieto-day-trip-from-rome-in-rome-127882.jpg(,)http://www.orvietohotelduomo.com/upload/norcineria.jpg(,)http://www.umbriaintour.com/public/images/Orvieto/quartiere%2520medievale.jpg(,)http://casteldifiori.com/Bilder%2520Castel%2520di%2520Fiori/seite%2520orvieto.jpg(,)http://cdni.condenast.co.uk/646x430/o_r/orvieto_cnt_15jun11_ist_b.jpg(,)http://fontanaro.files.wordpress.com/2011/07/orvieto_-pozzo_di_-san-patrizio1.jpg(,)http://www.umbriaintour.com/public/images/CUCINA/IMG_0668.JPG(,)http://www.trips2italy.com/media/catalog/category/cache/763-295-orvieto_umbria_city.jpg(,)http://www.inorvieto.it/upload/orvieto_con_gusto.jpg(,)http://www.italythisway.com/images/orvieto.jpg(,)http://shopping.orvietoonline.com/catalogo/images/ssejqQABf1.jpg