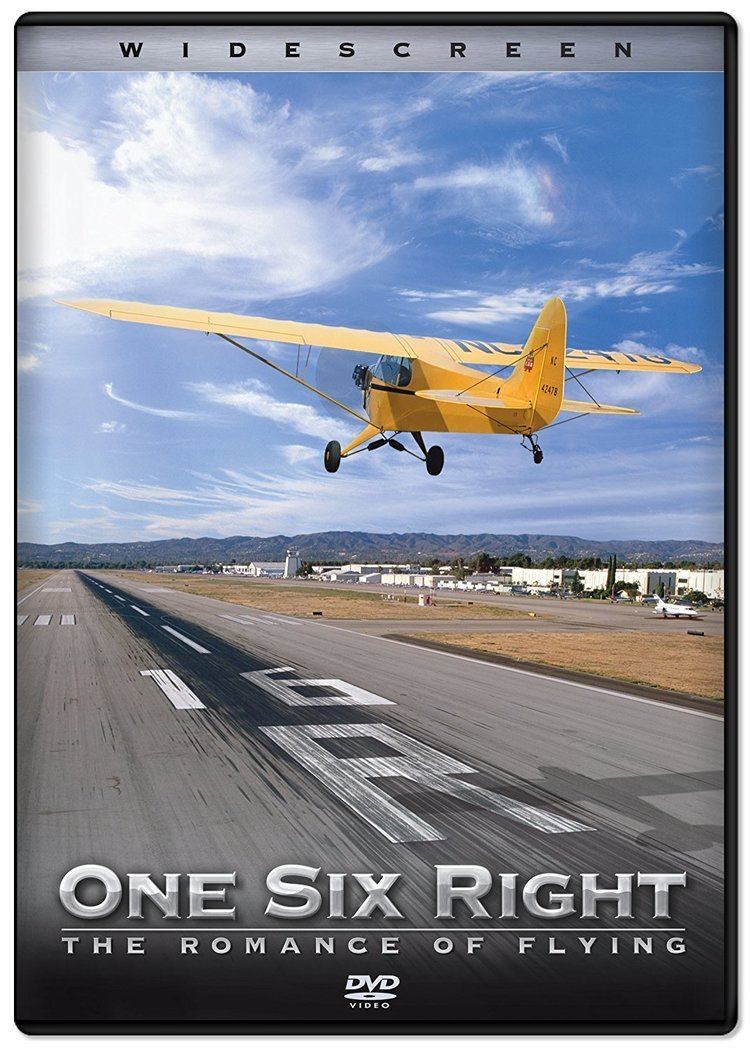 One Six Right depicts local airports through the life, history and struggle of Southern California's Van Nuys Airport. The film contains aerial sequences and stories told by pilots, air traffic controllers, historians and flight enthusiasts, including well-known faces such as Sydney Pollack, Lorenzo Lamas, Paul Moyer, Hal Fishman, Desiree Horton and many others. It uncovers the history of the airport where Amelia Earhart broke a world speed record over its runways, and where Marilyn Monroe was discovered while working in its hangars; scenes from Casablanca were filmed on the grounds as well.
A historical perspective of airplanes from the 1920s to the business jets of today frames appreciation for the significance of all general aviation airports as a critical component of the communities they serve. Located in the heart of the San Fernando Valley, VNY is today the world's busiest general aviation airport and contributes over $1 billion each year to the southern California economy.
One Six Right explores common misconceptions about general aviation airports, which are often criticized for noise pollution and viewed as exclusive playgrounds for the rich. The film creates an awareness of the threat to these community airports through staggering statistics of airports that no longer exist, and the rapid rate at which they are continuing to close: one per week in the U.S. These smaller and often forgotten airports are the foundation of the aviation industry, contributing to global commerce and the breeding ground of the pilots of tomorrow.
The One Six Right DVD made news by selling over 10,000 units independently in its first two weeks of release. By March 2006, Brian J. Terwilliger (Producer/Director) made the cover of The Hollywood Reporter in an article titled Filmmaker Takes Flight to DVD. Brian's determination to maintain all distribution rights was a noted departure from the common practice of selling rights to a third party distributor. During the first year of distribution, One Six Right's website became a leading example of successful independent film distribution by developing a viral marketing strategy that included multiple levels of consumer awareness allowing the film to develop significant presence within its niche audiences worldwide.
Filmed entirely in high definition, One Six Right took an industry leading position as the first independently financed and produced film shot in high definition and distributed on DVD in both SD and HD formats. It was also the first documentary and the first aviation film released this way.
The HD DVD was a popular demonstration disc because of its HD special features and has since been replaced by the more popular and widely used Blu-ray Disc format. One Six Right was released on Blu-ray December 2015, to celebrate the 10th anniversary.
In partnership with Sony Electronics, the One Six Right national tour covered twelve U.S. cities between July and December 2006 and showcased Sony's SXRD 4K large venue digital projectors. Completely self-funded by ticket and DVD sales at each venue, the tour received notable coverage within the entertainment industry as pioneering HD theatrical exhibition. The Hollywood Reporter covered the tour's success in the November 13, 2006, "Leadership in Hollywood" special edition in an article titled "Digital do-it-yourself".
The tour began at the annual Experimental Aircraft Association's (EAA) AirVenture Oshkosh airshow and convention. Sony Electronics and Bose installed a 44-foot (13 m) wide screen and a 5.1 channel digital surround system in the AirVenture Museum.
The tour ended on December 2, 2006 with a finale screening at the 64,000-square-foot (5,900 m2) Syncro Aviation hangar at Van Nuys Airport. Sony created a custom SXRD 4K high definition 5.1 digital surround sound movie theater in the east half of hangar with 1,300 seats for the audience.
The west half of the hangar was transformed into an aviation museum, displaying 16 of the actual aircraft shown in the film. These included two P-51s, a DC-3, Piper Cub, Fleet biplane, Staggerwing Beech, two Pitts biplanes, an F-5 Freedom Fighter and T-38 Talon jet, a T-6 Texan, A-26 Invader, B-25, Cirrus VK-30 and Cessna 172.
Also on display were the actual high-definition cameras used to make the film and the helicopter and its gyroscopically stabilized Gyron camera system that shot the aerial sequences. Two hundred sixty movie lights provided dramatic museum-style lighting from above.
After the film played at the tour finale, producer/director Brian J. Terwilliger presented EAA president Tom Poberezny with a $15,395 donation to EAA's Young Eagles charity. The money was the result of a $5 per DVD donation from sales on the EAA website (during July 2006) and also during the previous EAA AirVenture Oshkosh airshow where the distributors of One Six Right collectively sold 3,079 DVDs.
To commemorate the film's 10th anniversary, One Six Right was digitally remastered in 1080p HD from the original High Definition footage. The Anniversary Edition Blu-ray includes all special features from the original DVD release, all content from "One Six Left" (The Companion DVD), plus 10-minutes of new footage — all in HD. It became available in 2015.
On September 22, 2006, One Six Right was exhibited to the United States Congress on Capitol Hill in Washington, D.C. This special screening was organized and sponsored by the Aircraft Owners and Pilots Association (AOPA), the General Aviation Manufacturers Association (GAMA), the National Air Transportation Association (NATA) and the National Business Aviation Association (NBAA).
In the Spring of 2005, AOPA sent a complimentary copy of One Six Right to every member of Congress who was a private pilot. Additionally, AOPA sent over 1,400 DVDs of One Six Right to all their airport support network volunteers in hopes of inspiring local community discussions on the importance of general aviation.
On November 15, 2005, AOPA President Phil Boyer awarded Brian J. Terwilliger with AOPA's Special Citation for Excellence for promoting General Aviation through the art of filmmaking.
One Six Right has also been incorporated into the curriculum of many educational programs and is frequently used to educate students on the workings and importance of the General Aviation industry as the foundation to all aviation commerce worldwide.
In response to hundreds of grass-roots organized screenings, the distributors of One Six Right have created a public performance licensing process.
The Making of One Six Right featurette was released in 2006 on a companion DVD titled One Six Left - The Companion DVD. This twenty-four-minute-long special feature showcased the six-year journey that brought One Six Right from conception to theatrical premiere.
In December 2006, Apple Inc. showcased on their website a profile featuring the story of the making of One Six Right.
Apple Inc. products used on this film: G5, G4, Xserve RAID, HD Cinema Display, FCP 4.5, FCP 5, Compressor, DSP 2, DSP 4, Cinema Tools, QuickTime, iTunes, iPhoto
Processed on Macs for this film: DV offline edit, HD online edit, design and render for all graphics, visual effect shots, photo restoration, DVD sleeve, insert, and label design, movie poster design, HD color correction, 30P to 24P frame rate conversions, and final output to D5
December 25, 2006, One Six Right had its world television premiere on Discovery HD Theater (now HD Theater), a sister network to The Discovery Channel.
By its 12th month of distribution, over 45,000 One Six Right products had been sold to consumers worldwide.
By December 2006, a full line of branded merchandise had been produced and made available. Products included a Flexfit hat, a 2007 14-month calendar, a CD soundtrack, a 1/20th scale Piper Cub replica, an HD DVD and One Six Left - The Companion DVD.
By March 2007, One Six Right products were available internationally through pilot shops and entertainment stores in Australia, North America, Europe, Africa and Asia.
On December 1, 2015, the "Anniversary Edition" Blu-ray was released for worldwide distribution.
One Six Right is rated "G" for "General Audiences or All Ages Admitted" by the MPAA Film Rating System.